Quick and easy chocolate avocado mousse pudding that can be made in a few minutes with just three ingredients. Full of nutrition, heart-healthy fats, protein and with a rich deep chocolate flavour.
Suitable for vegan, oil-free, paleo and plant-based whole food diets. Can be made raw vegan or nut-free, see options below.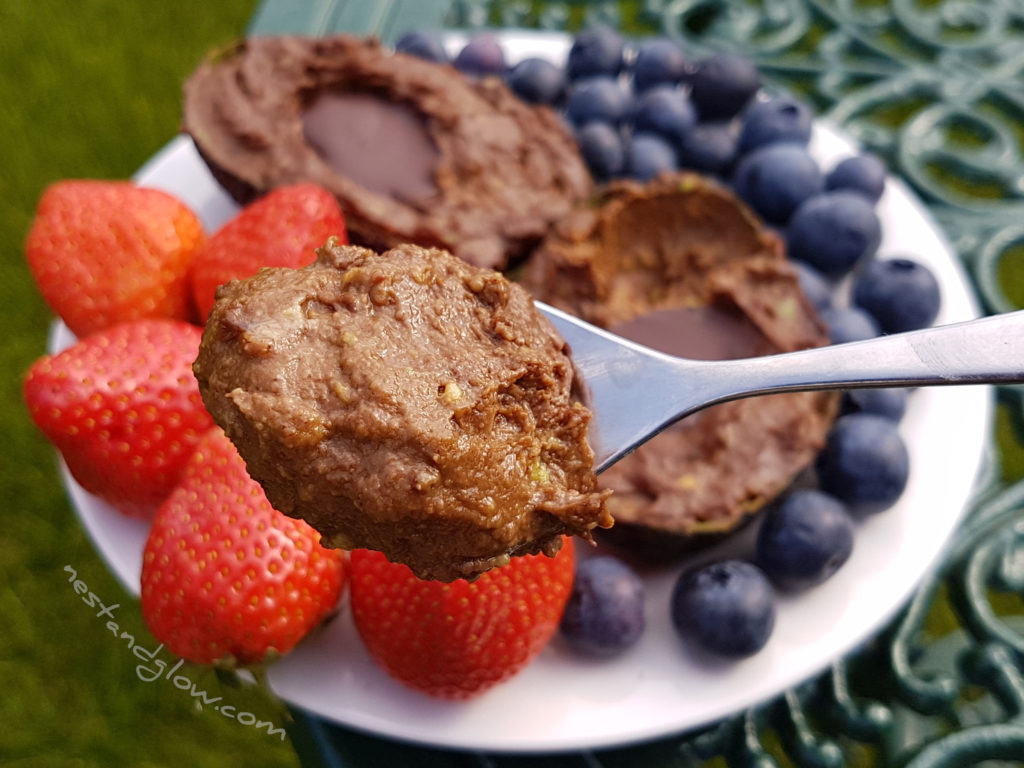 This chocolate avocado may look a bit lumpy but honestly was trying to make something without getting the blender out and making minimal mess. Do blend if you prefer something much smoother.
Lots of people can only taste the avocado in something chocolate avocado once they're aware it's there! With that in mind it's obvious this is an avocado as it's served in the shell so maybe not the best recipe for a skeptic.
Chocolate Avocado Nut Pudding Video
Play on YouTube or view no music video recipe
Very dark 84% cacao chocolate works really well in this recipe as the dark chocolate gives a rich deep flavour. Very dark high cocoa chocolate has a small amount of sugar making it the healthy choice.
For sweeter tooths use a sweet chocolate or add some sweetener like maple syrup. This can be made totally sugar free by using a chocolate with a healthy sweetener such as xylitol (birch tree sap).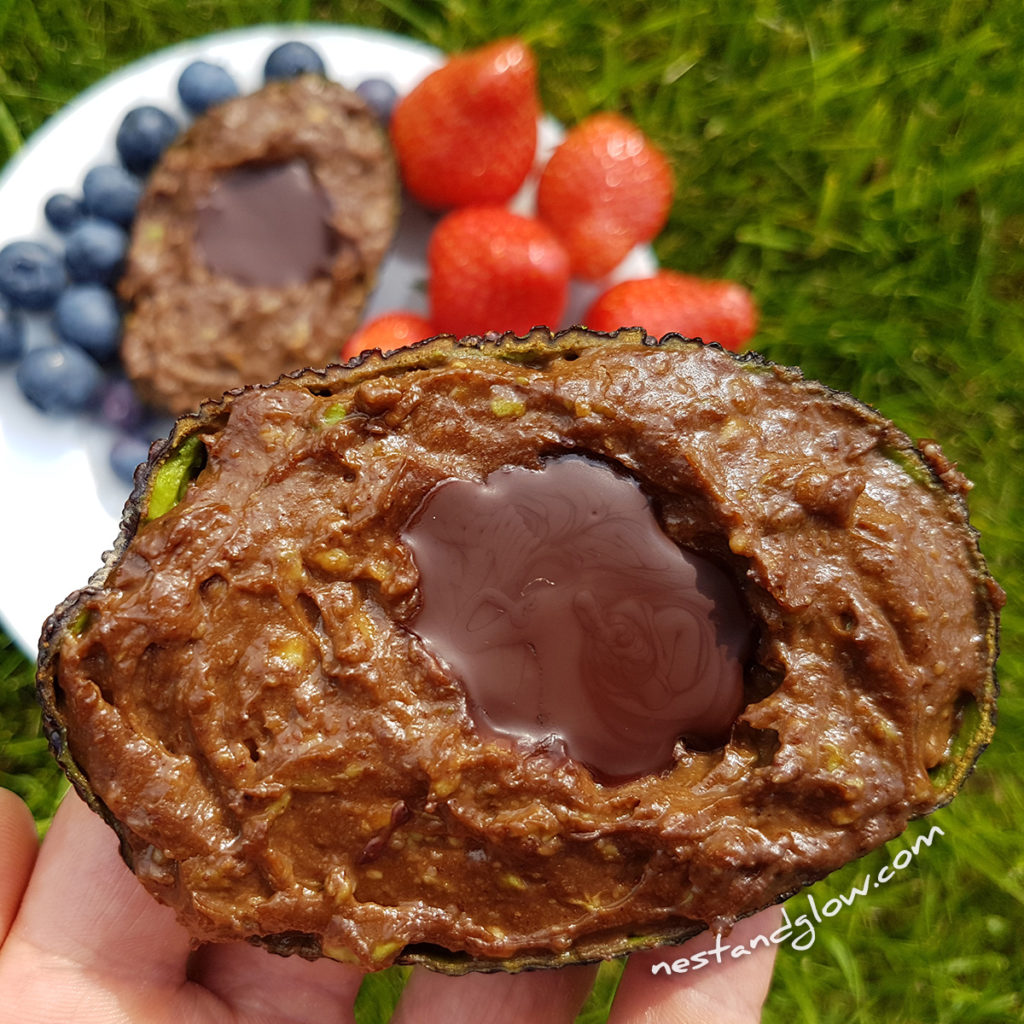 This recipe works great with any nut butter but here almond butter was used. Peanut butter works just as well. Use smooth or chunky to suit your tastes.
Make nut-free by changing the peanut/almond butter for sunflower seed butter. Seed butter is more difficult to source but you can make your own by blending sunflower seeds for 10-12 minutes until they become creamy.
Sunflower seed butter gives a different, but also delicious, taste as it's more earthy and less sweet.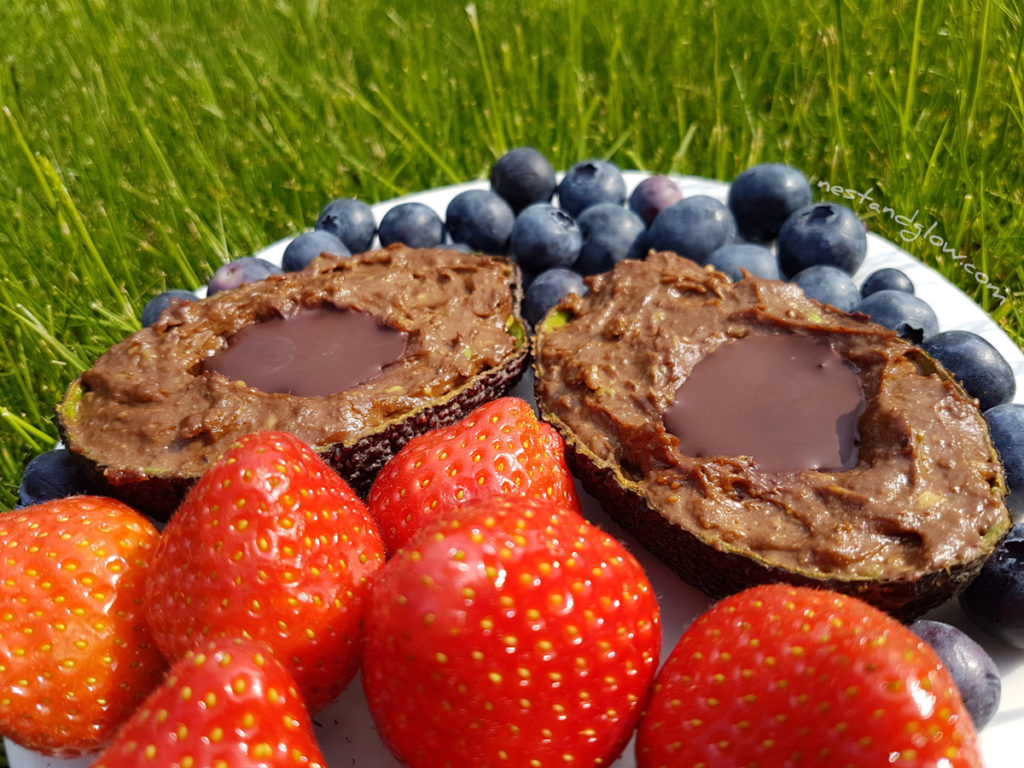 Make this recipe raw vegan by replacing the chocolate with 1-2 tbsp of raw cacao powder and 1-2 tbsp of natural sweetener like maple syrup.
Can be made with cocoa/caffeine free by replacing the chocolate with carob powder. Carob is also high in antioxidants, calcium and magnesium like cacao. It doesn't have the same depth of flavour but if you are sensitive to caffeine it's a great alternative. I avoid caffeine after mid-afternoon and will often have this with carob in the evening.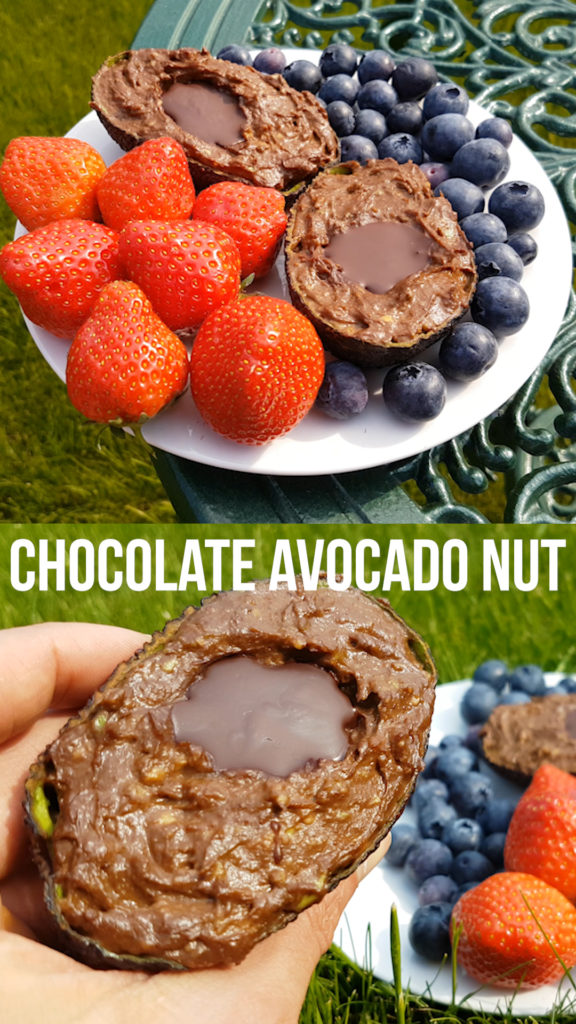 Yield: 2 chocolate avocado puddings
Chocolate Avocado Pudding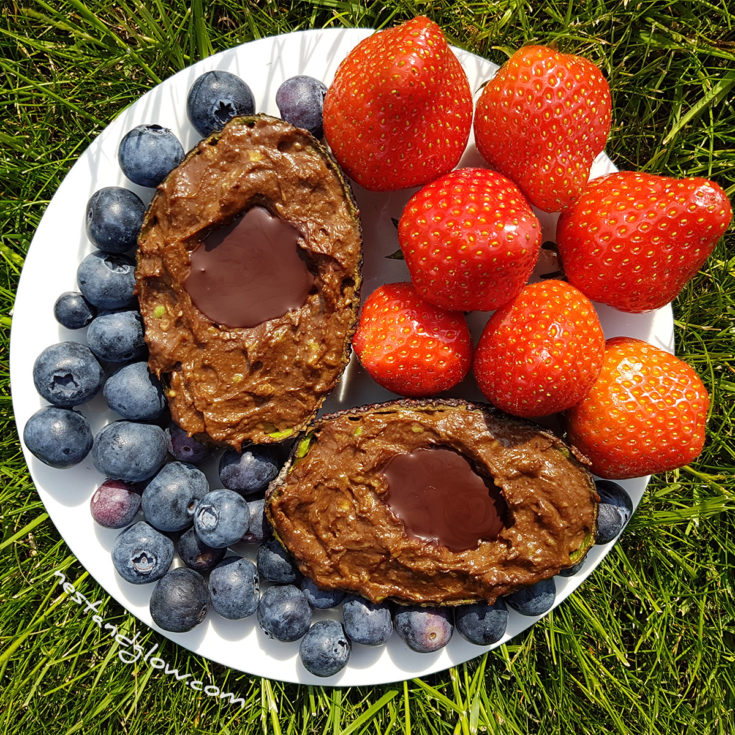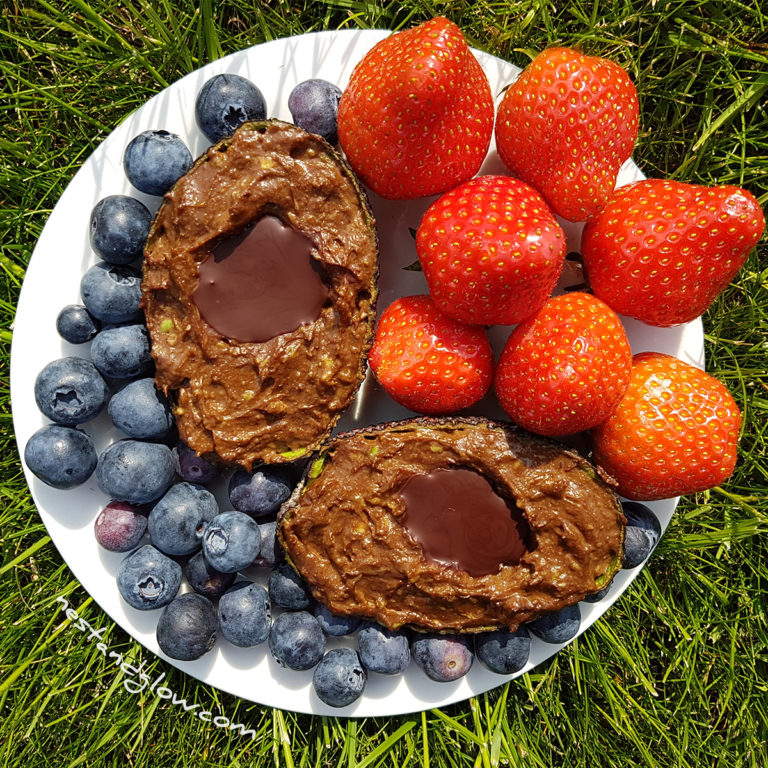 3-ingredient easy avocado mousse made with chocolate, avocado and nut butter. Easy to make and healthy chocolate pudding full of healthy fats, protein and nutrition. Can be made in a few minutes and has a rich chocolate flavour
Ingredients
1 large Avocado
2 tbsp Almond butter or Peanut Butter
1.5 oz 45g Chocolate
Instructions
Melt the chocolate using a double boiler.
Cut the avocado in half carefully and retain the skins for filling.
Scoop out the flesh from the avocado.
Mash the avocado flesh with a fork then mix in the nut butter and 3/4 of the melted chocolate.
Spoon the mixture into the avocado skins and make a small hole for the chocolate stone.
Pour the remaining chocolate into the hole just made and chill to set.
Enjoy chocolate avocado pudding within 3 days and keep chilled.
Nutrition Information
Yield
2
Serving Size
1
Amount Per Serving
Calories

375
Total Fat

29g
Saturated Fat

8g
Trans Fat

0g
Unsaturated Fat

19g
Cholesterol

5mg
Sodium

101mg
Carbohydrates

26g
Fiber

8g
Sugar

13g
Protein

7g
Check out my Salted Caramel Chocolate Avocado Pudding recipe or my April Fools chocolate avocado if you like this recipe.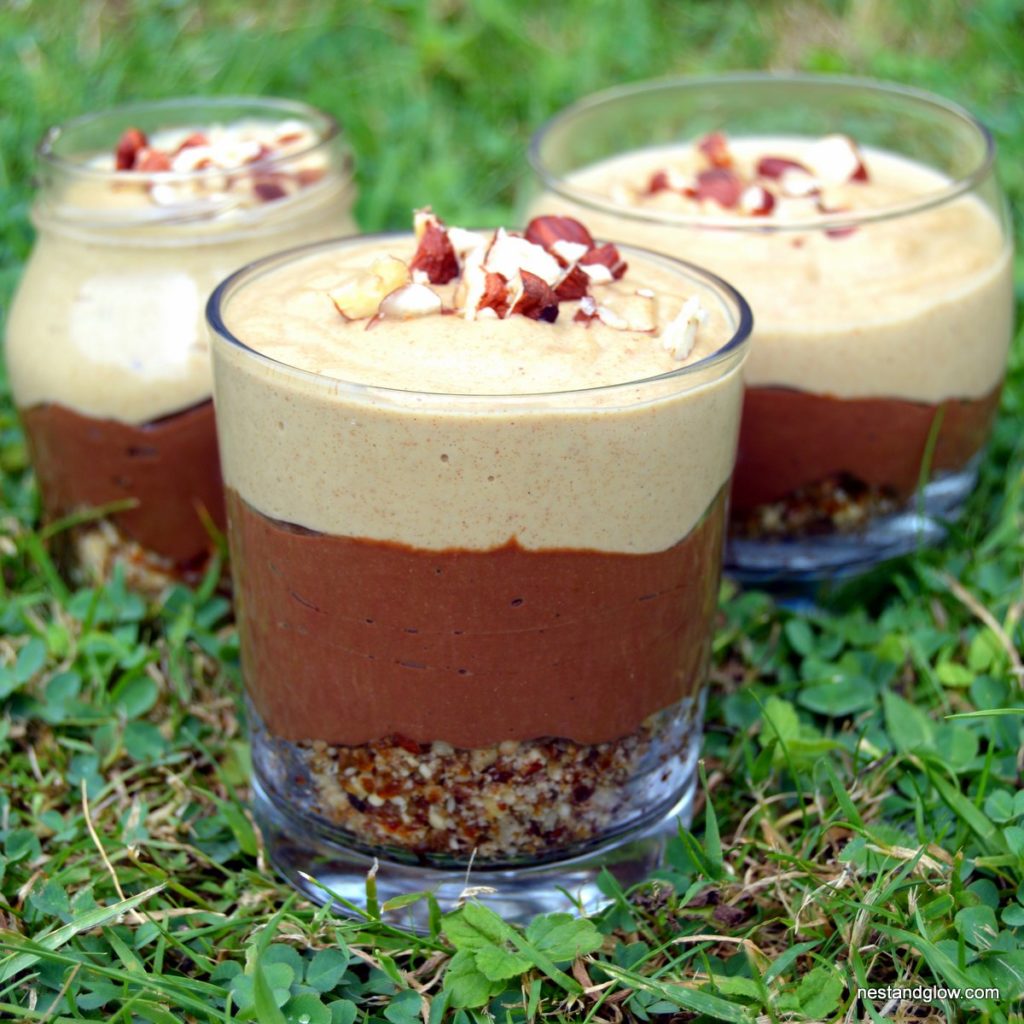 Mousse comes from the French word of Mus that means foam. Some mousses can be light and airy while others thick and creamy. As all my recipes are plant based and healthy they are thick and creamy as its difficult to incorporate air into a healthy mousse.