Rich vegan chocolate coconut mousse recipe that's made with coconut milk that takes minutes to make. It's thick, rich, creamy, dairy-free and suitable for vegan, paleo and refined sugar-free diets. Chocolate mousse made from just 6 ingredients that you probably have already in your cupboards.
A very easy no-cook dairy-free chocolate mousse recipe using heart healthy coconut fats to naturally set this dessert.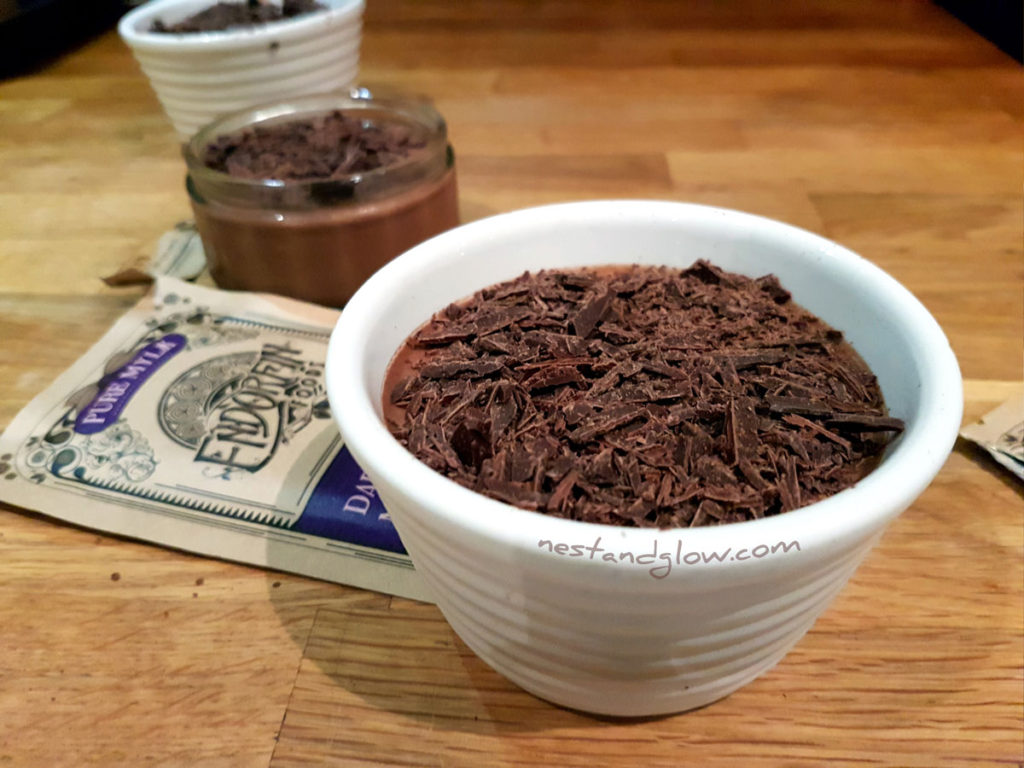 Coconut milk is made using the white meat of the mature coconut. Coconut meat is usually shredded, soaked in water, blended and filtered to make milk. This removes most of the fibre but retains the fat of the coconut.
If you are feeling adventurous you can make your own coconut milk using the instructions in my golden tempeh curry. While saying in Bali I discovered that locals do not buy coconut milk – they made it. Luckily I travelled with a mini blender and the kitchen where I was staying had a strainer so I was able to make fresh coconut milk. Fresh coconut milk is more nutritious as pasteurising and canning does result in a lower amount of goodness in coconut milk.
Fresh coconut milk might not set as firm as tinned in this chocolate mousse. However if you use just a small amount of water to make fresh coconut milk it should still set firm enough when left overnight in the fridge.
For the photos/video of this chocolate mousse, we used 85% dark chocolate roughly chopped and sprinkled on top. You can use any type of chocolate you prefer but I usually use a very dark chocolate as the bitter taste blends really well with this smooth creamy dessert. Plus very dark chocolate is vegan, low sugar, dairy free and high in antioxidants. Do always check your dark chocolate to make sure its vegan as some cheaper brands add butter oil as a cheap replacement for cacao butter.
Berries also work very well topped on this dairy free chocolate mousse such as raspberries, Incan berries and strawberries. Incan berries are otherwise known as cape gooseberries, golden berries, Peru cherries and physalis peruviana to name just a few!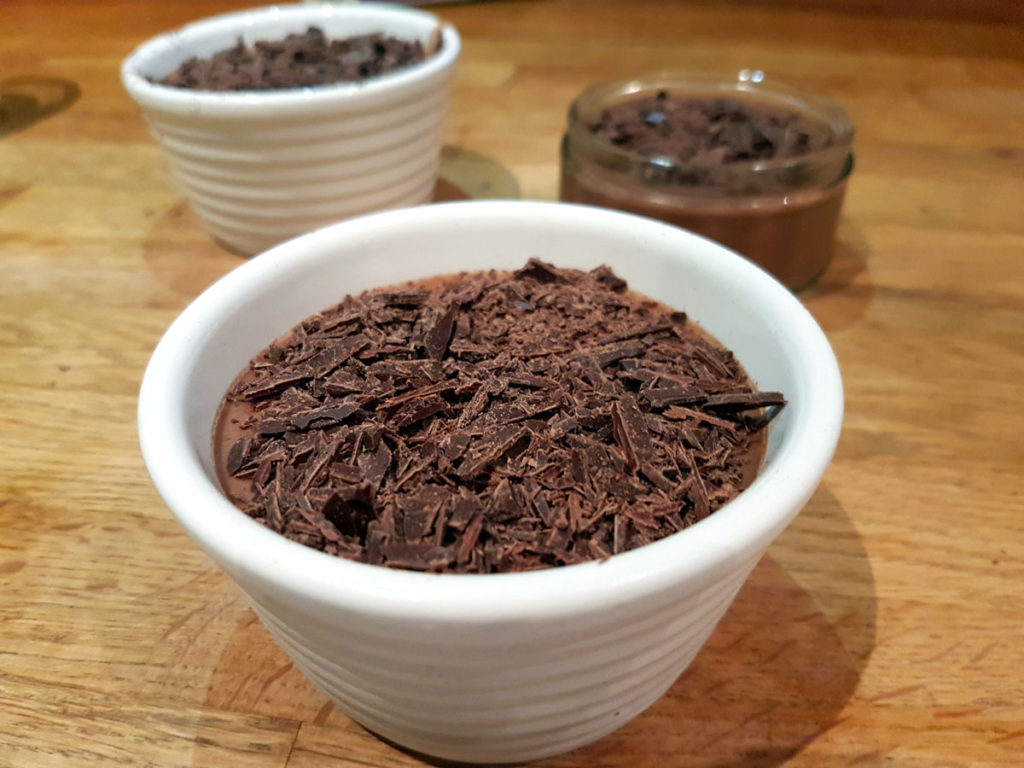 I've always made this vegan chocolate mousse with full-fat coconut milk, this is creamy enough to make the mouse set just like a traditional mouse. With low-fat coconut milk, the cacao mousse won't set so I recommend to only use full fat.
When making coconut chocolate mousse do check that your coconut milk is high in coconut. Some brands are as low as 30% coconut and others are 60% or more. Aim to get a brand that is at least 60% coconut.
If you are looking to reduce your fat amount, although coconut fat is healthy and fat is not the enemy, just make a smaller version of this chocolate coconut mousse.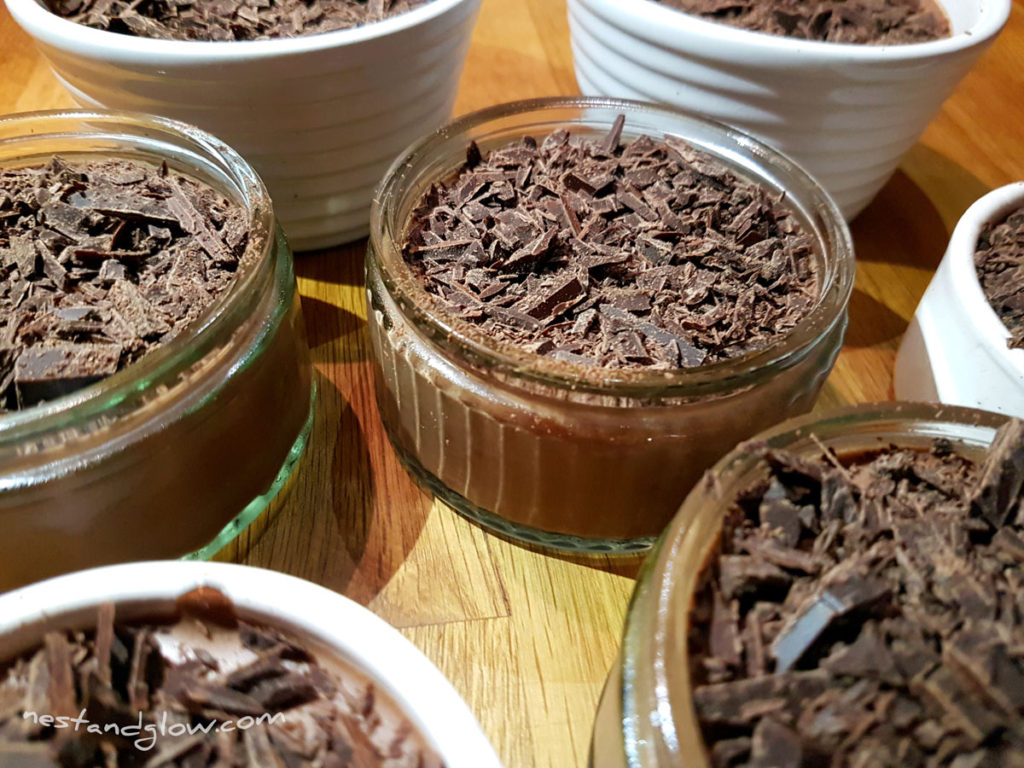 As always I use heaped tablespoons for dry ingredients, so this mousse recipe calls for 4 heaped tablespoons of cocoa/cacao. This is technically the same ingredient as cacao is just Spanish for cocoa but most times raw cocoa is branded as cacao. Meaning cacao is often shorthand to mean raw. I like to use raw cacao powder as its higher in antioxidants and has not been treated with an alkali.
As with all of my recipes, this is designed to be simple and easy to make. Don't feel limited by the ingredients here and add anything else you like! I think that cayenne pepper is a great addition to this chocolate mousse to give it a kick and bring out the deep chocolate flavour.
If you add anything extra please comment below or tag me on social media @nestandglow to share!
Big thanks to my friend Randy who gave me the chocolate mousse recipe and made the mousse in the video, while I stood on a chair with my phone recording. That's why the quality of the chocolate mousse video isn't quite the same as my other recipes!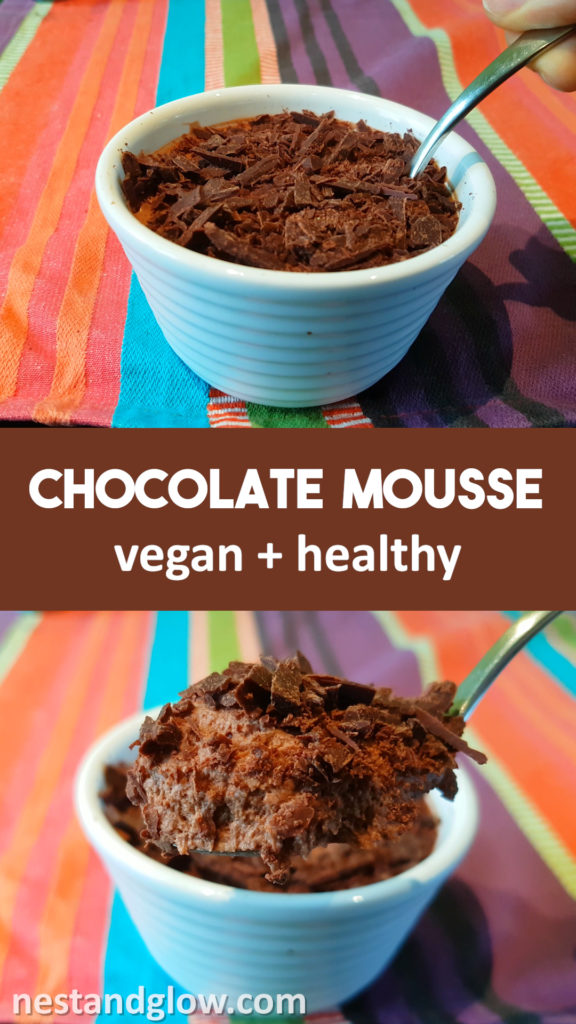 Yield: 5 mousses
Chocolate Coconut Milk Mousse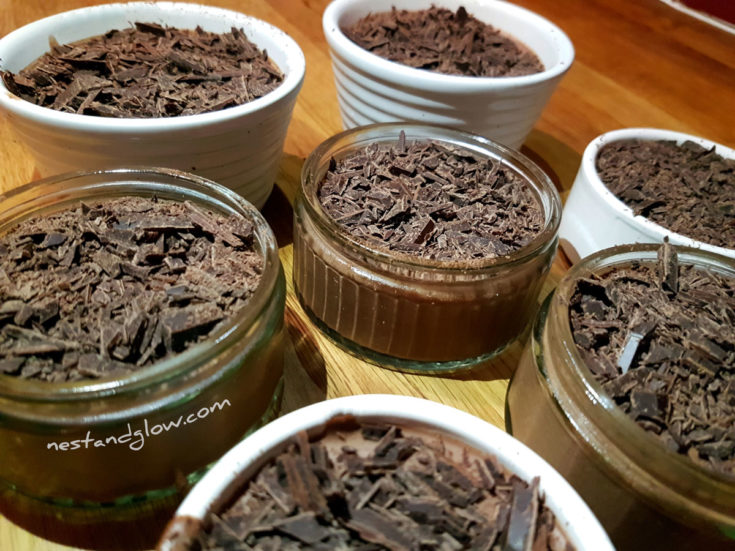 Vegan and dairy free mousse made from coconut milk. Easy to make and full of goodness from cacao. You can use any sweetener you like for this coconut mousse.

Prep Time 5 minutes

Additional Time 2 hours

Total Time 2 hours 5 minutes
Ingredients
2 cans of coconut milk, not low fat (400ml cans)
4 tbsp cocoa/cacao powder
4 tbsp sweetener maple syrup/coconut nectar/any liquid sweetener
2 tsp vanilla extract
a pinch of salt
3.5 oz/100g chocolate, optional but delicious
Instructions
Shake the coconut milk and open the tins.
Pour into a bowl and whisk until it's all combined.

Add the cocoa/cacao, salt, vanilla and whisk while adding the sweetener.

Wisk for 1 min with an electric whisk or 2-3 mins with a manual whisk until it starts to
thicken a bit. Scrape the sides half way through to ensure everything gets combined.

It will still be pourable, see the video for consistency, but will set in the fridge.

Pour mousse mixture into your serving dishes and place in the fridge for at least two hours.

Finely chop the chocolate, sprinkle on top and serve.

The vegan chocolate mousse will last a few days in the fridge.
Recommended Products
Links maybe affiliated, meaning I earn a commission from purchases but at no extra cost to yourself.
Nutrition Information
Yield
5
Serving Size
1
Amount Per Serving Calories 347Total Fat 35gSaturated Fat 31gTrans Fat 0gUnsaturated Fat 2gCholesterol 1mgSodium 51mgCarbohydrates 9gFiber 0gSugar 4gProtein 4g
If you like this recipe check out my "Nutella" chocolate hazelnut mousse – it's very similar to this recipe apart from hazelnuts are added to make it a healthy vegan take on Nutella.