This recipe for healthy raspberry chocolate doughnut peaches is easy and fun. The peaches have a chocolate shell and a thick layer of raspberry cashew cream. They are vegan, gluten-free and healthy. They do contain a tablespoon of date syrup but this can be replaced with any liquid sweetener like maple syrup or left out if you like it less sweet.
I'm using an 80% dark chocolate to cover the doughnut peaches as I like the bitterness with the sweet fruit. However you can use any chocolate for the glaze.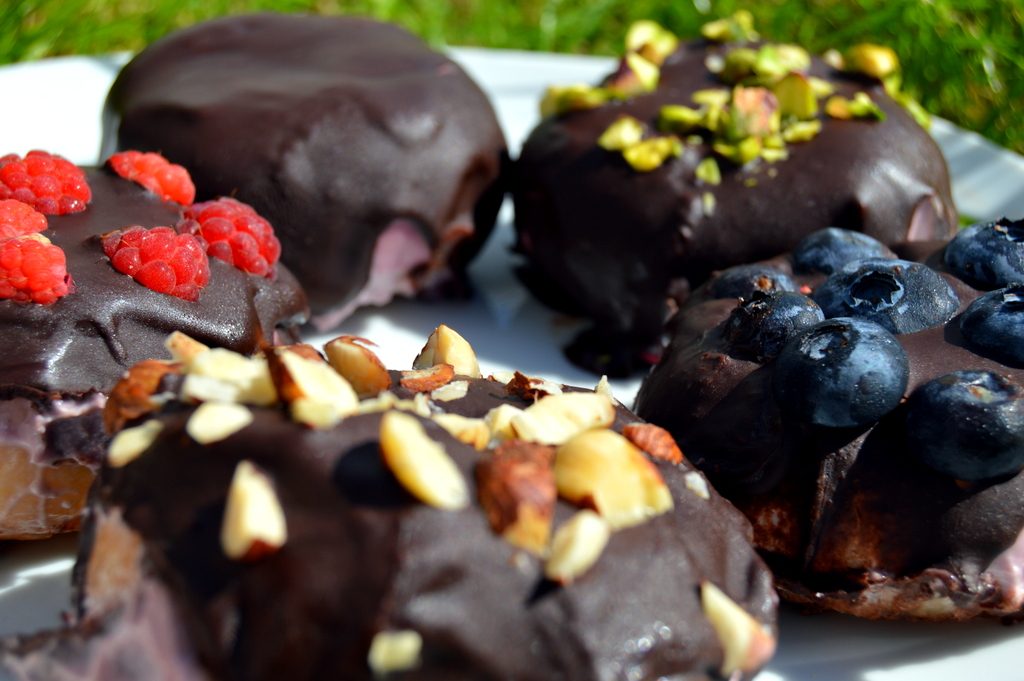 Doughnut peaches are only in season for a short time during the summer. They can also be called Saturn peaches. Once they are ripe enough the stone should just push out. Doughnut nectarines work just as well.
You can make a raw food version of this by mixing 1/3 cacao, with 1/3 coconut oil and 1/3 sweetener for the chocolate shell. I usually make the raw food version but for the video I use a bar of very dark chocolate to make it more accessible.
To make a healthy alternative to coconut oil check out my recipe for 100% coconut butter with nothing but pure coconut and nothing taken away.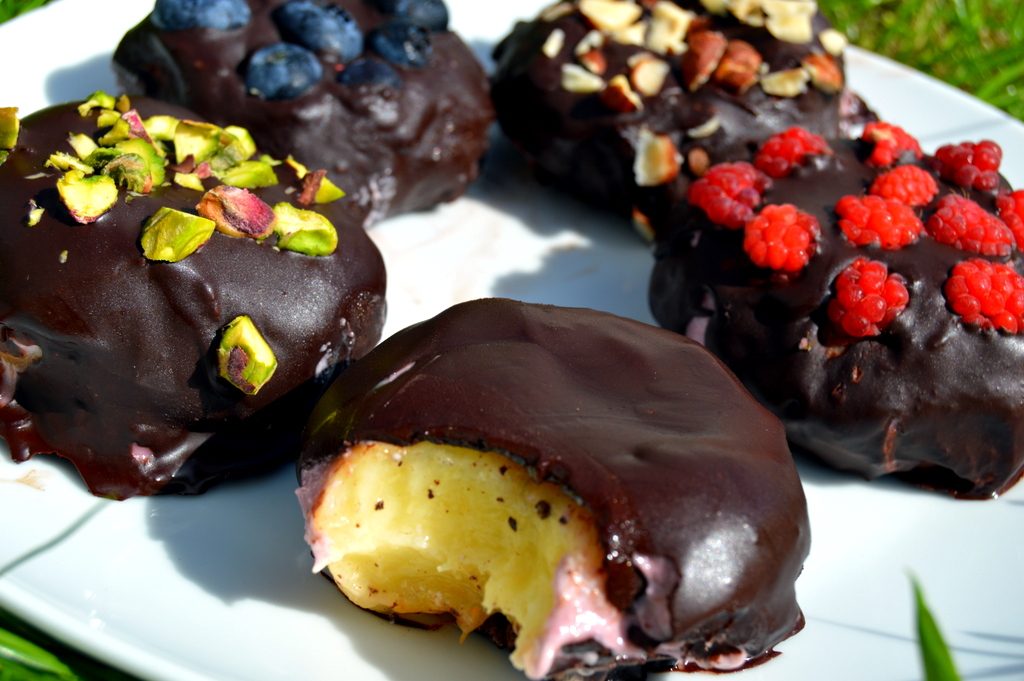 Top with anything you like – I just used an assortment of colourful fruit and nuts to make them visually appealing.
My favorite version of these healthy doughnuts are the ones topped with nuts like hazelnuts or pisacahos. They give a great texture and taste to the doughnut peach.
I'm not going to lie these chocolate doughnuts are difficult to eat so you might want to use a knife and fork. Although it's worth it as they taste every bit as good as they look and you'll actually feel good after eating one.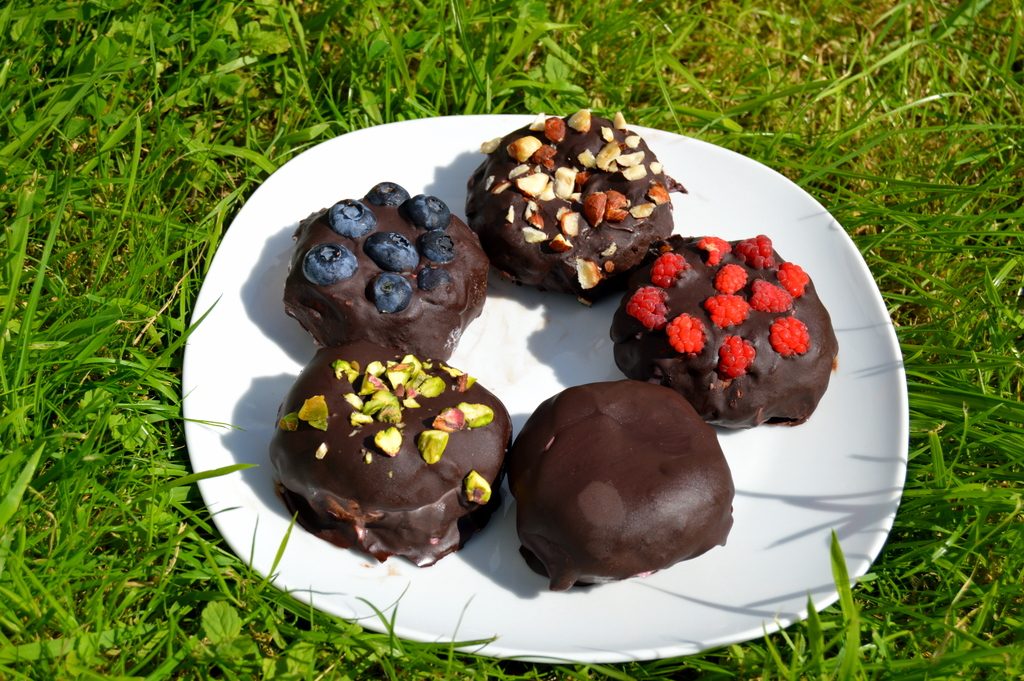 What can be easier than using an actual doughnut peach to make this gluten, flour and egg free doughnuts? They are of course not deep fried and free of any transfats.
Please do excuse the finger prints on the chocolate – it's much harder than it looks to get a picture of something covered in chocolate in the middle of the summer. Often I'm on my hands and knees for an hour trying to make sure I get enough photos and videos so that someone actually sees the recipe.
Yield: 5 healthy doughnuts
Raspberry Chocolate Doughnut Peaches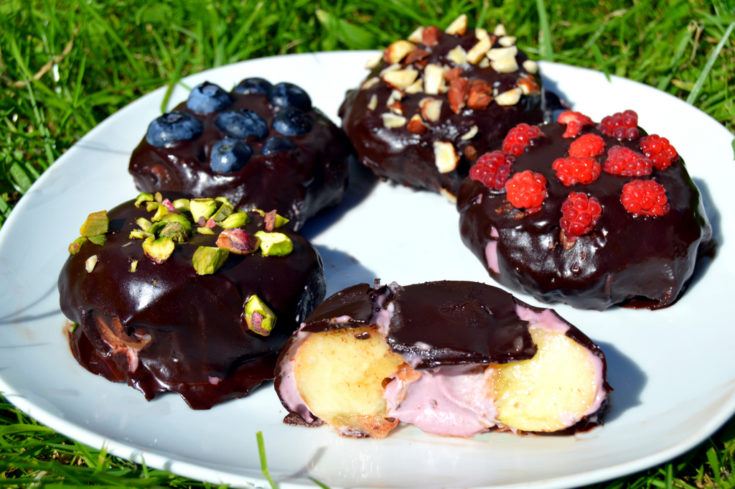 A fun way to make healthy doughnuts that are full of goodness with no junk. Full of fruit and nutrition. Cover in a very dark chocolate to get a burst of antioxidants

Prep Time 10 minutes

Additional Time 20 minutes

Total Time 30 minutes
Ingredients
Doughnut peaches, 5 de-stoned and peeled
Raspberries, 1 cup / 125g
Cashew nuts, 1 cup / 150g
Date syrup, 1 tbsp
Vanilla, 1 tsp
Coconut oil / cream, 2 tbsp
Chocolate, 4.4oz / 125g
Fruit and nuts to top, such as raspberries, blueberries, pistachios and hazelnuts
Instructions
Push out the stone and peel all of the peaches, make sure to not break the fruit.

Put peaches in the freezer for about 30 minutes.

Push the raspberries through a sieve using a wooden spoon and collect all the raspberry juice.

Melt the coconut oil / cream.

Blend together the raspberry juice, cashews, date syrup, vanilla and melted coconut until smooth.

Pour the raspberry cream into a bowl and cover each peach with it. Then place on a non stick sheet in the freezer for 30 minutes.

Melt the chocolate then spoon it over each peach until they are covered. Put back on non stick sheet in the fridge.

Enjoy immediately or store in the fridge where they will last a couple of days.
Recommended Products
Links maybe affiliated, meaning I earn a commission from purchases but at no extra cost to yourself.
Nutrition Information
Yield
5
Serving Size
1
Amount Per Serving Calories 289Total Fat 19gSaturated Fat 7gTrans Fat 0gUnsaturated Fat 11gCholesterol 7mgSodium 128mgCarbohydrates 28gFiber 4gSugar 18gProtein 6g
How to eat donut peach
You know when they are ripe as the stone will just push out. Making them the easiest stone fruit ever to eat! If it won't push out easily then it's not ripe so place somewhere warm or in a paper bag with a banana or apple to ripen.
They're also commonly known as Saturn peaches and were created by a mutation of the normal peach in China.