Easy recipe for a raw vegan cheese made from sunflower seeds. Sunflower cheese slices, grates and melts so you can use it in place of regular cheese in most recipes. Heart-healthy cheese that tastes great, is cheap to make and doesn't take long – what isn't there to love about this recipe? This seed cheese is one of my staples that I often have a batch of in the fridge.
I use fresh garlic and onion as these are widely available and have the most nutrients. You can replace with garlic and onion powder if you prefer, about tsp of each gives the same flavour.
Turmeric gives the sunflower cheddar a bright yellow colour and adds valuable nutrients. You really don't taste the turmeric in this recipe so do add it even if you don't like the taste. As it's mainly sunflower seeds in this vegan cheese it is grey without at least a pinch of turmeric.
The natural and heart-healthy fats in the sunflower seeds are great for giving optimum absorption of the turmeric goodness.
This is a quick and easy vegan cheese recipe as it isn't fermented so it can be made in a few minutes and sets quickly.
Play Vegan Cheese Video Recipe on YouTube
In the sunflower cheese recipe I usually double the amount of cayenne pepper as I like a bit of a kick. Also you may want to add half a tsp of salt into the recipe, I tend to just have the saltiness from the miso but some might find it a bit bland without it.
The miso is just to give the salty and umami flavour to this vegan seed cheese. Miso paste is added after cooking so that none of the nutrients are destroyed. If you can use fresh unpasteurised live miso as it's the most nutritious. It works great without miso if you don't have any – just add some salt instead.
Sunflower vegan cheese is great on a cheese board along with smoked cashew cheese and pistachio cheese. If you are allergic to nuts or on a budget this seed cheese recipe is perfect!
This vegan cheese can be frozen if you like. I recommend to freeze in wedges and enjoy within 3 months. Just defrost at room temperature for a few hours or overnight in the fridge.
I often call this a vegan sunflower cheddar as it has a mild cheesy taste similar to the popular cheddar. Some may not like calling this vegan Cheddar but I actually live next to Cheddar in Somerset so this vegan cheese is way more cheddar than most cheddar cheese!
This vegan "cheese" uses sunflower seeds as the base. This means that it is significantly cheaper than using nuts such as macadamia or cashew. It's actually raw as most sunflower seeds will sprout whereas most nuts will not.
The agar agar is cooked in this recipe, but this is just the thickening agent and nutritionally void. The rest is raw and all the nutrients of the seeds and other ingredients are intact so I would still consider this a raw dish, but some purists raw foodists may disagree.
This is a sprouted sunflower seed cheese as the seeds are soaked in water to start to germinate and activate. It makes it much easier for the body to digest all of the goodness.
Yield: 10 servings
Sunflower Cheddar Cheese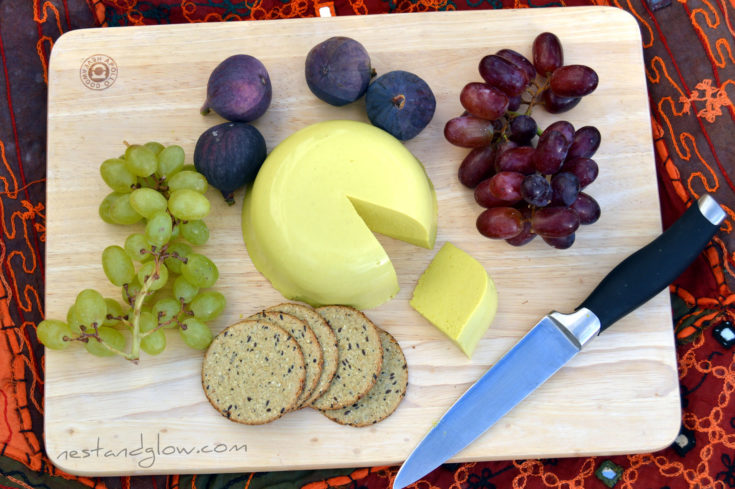 This is an easy recipe for a raw vegan cheese made from sunflower seeds. A great vegan cheese that slices, grates and melts so you can use it in place of regular cheese in most recipes to make them plant based. Heart healthy cheese that tastes great, is cheap to make and doesn't take long
Additional Time
20 minutes
Ingredients
1 cup / 140 g Sunflower seeds
1 Lime, juiced
3 tbsp Nutritional yeast
1 clove Garlic
1 slice of Onion
½ tsp Turmeric
¼ tsp Cayenne pepper
2 tbsp Miso, white is best but don't worry if you only have brown
1 tbsp Agar agar powder, a veggie alternative to gelatin
1½ cups / 360ml water
Instructions
Soak the sunflower seeds in water for at least 10 mins, overnight is best if you have the time.
In a pan mix together the agar agar with some water until dissolved. Then mix in 1 cup / 240 ml of water.
Bring the agar agar mixture to a boil and simmer for 5 mins stirring constantly to prevent any sticking at the bottom.
Take the pan off the heat and allow to cool for a few mins and continue with the recipe.
Drain and rinse the sunflower seeds.
Place everything in a blender, apart from the agar agar mixture, with half a cup / 120 ml of water and blend until smooth.
Whisk together the sunflower seed cheese mixture and the agar agar until it's all combined.
Pour into a dish, about 6″ in diameter, and then place in the fridge for an hour to set.
You may want to oil your dish, but I tend to use a shiny ceramic dish and the seed cheese comes out easy enough without any oil.
Take the sunflower cheese out of the dish once set and enjoy this vegan cheese in place of normal cheese. It will last a few days in the fridge.
Recommended Products
Links maybe affiliated, meaning I earn a commission from purchases but at no extra cost to yourself.
Nutrition Information
Yield
10
Serving Size
1
Amount Per Serving
Calories

65
Total Fat

5g
Saturated Fat

1g
Trans Fat

0g
Unsaturated Fat

4g
Cholesterol

0mg
Sodium

611mg
Carbohydrates

4g
Fiber

2g
Sugar

1g
Protein

3g
If you like this recipe check out my
courgetti with a sunflower seed cheese sauce
.
Looking for some crackers to go with a vegan cheese wheel? Check out my oil free five seed oatcakes recipe. Gluten free and full of goodness.