This recipe for healthy candy corn is vegan / plant based, contains no refined sugar and all the colour comes from fruit and veg. The result is quite impressive but this healthy candy corn recipe is still pretty simple.
It uses cashew nuts and vanilla for the white to give a creamy mallow taste.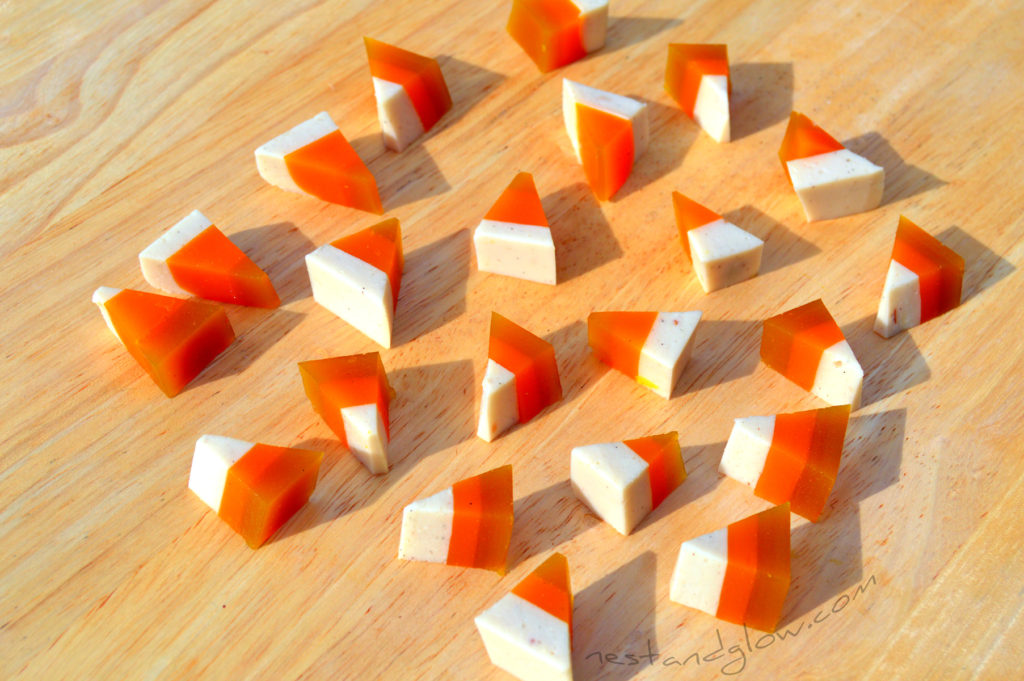 These healthy candies are loaded with good stuff and no nasties. All the colours are natural and the sweetness is mainly from fruit.
To make these without cashew nuts replace these nuts with either sunflower seeds or macadamia nuts.
This is a refined sugar free candy corn recipe and any sweetness in the recipe also comes with nutrition.
Healthy Candy Corn with Fruit Juice Video Recipe
I use a mixture of carrot and orange juice for the middle orange section to give it a brighter colour and add some veg in for extra nutrients. You can use just carrot or orange juice if you prefer. I didn't buy carrot juice but juiced 3 carrots instead.
These are more of a jelly sweet than similar to traditional candy corn. They look similar but taste very different so give them a try even if you don't like candy corn.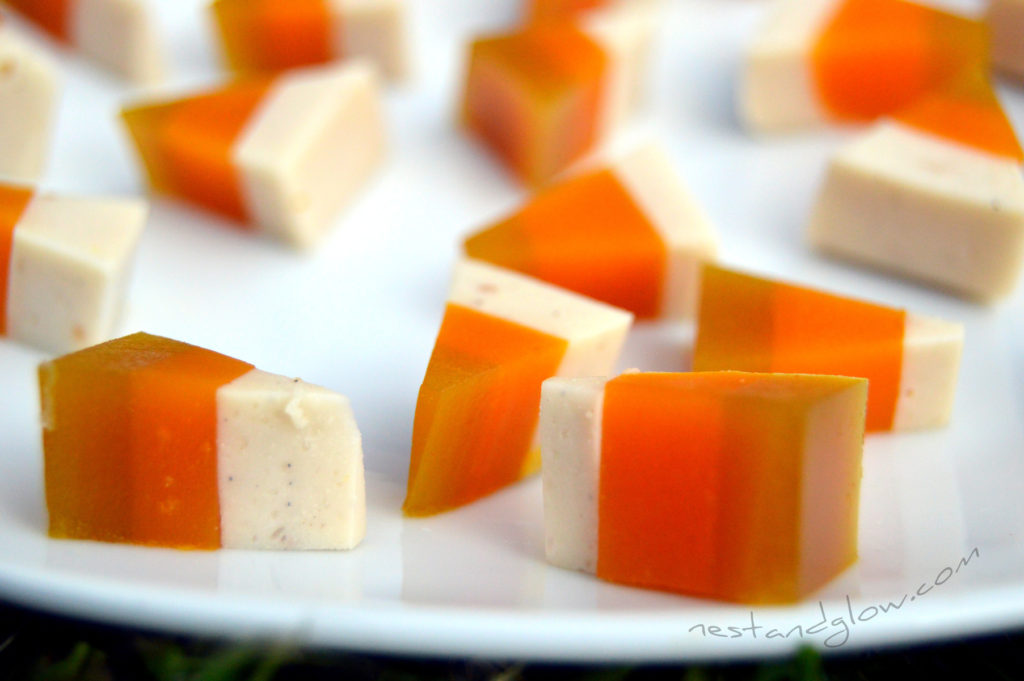 If you don't have a juicer you can just slice the carrot and then blend. Then using a sieve push the carrot pulp against the mesh and collect the juice in a jug underneath.
I used shop bought pineapple juice but fresh will work just as well, but you will need to make sure the pineapple juice is boiled for a full 5 mins else the enzymes may mean it won't set.
I generally use 3 tbsp of sweetener in this recipe, but if you prefer your sweets that bit sweeter double this amount.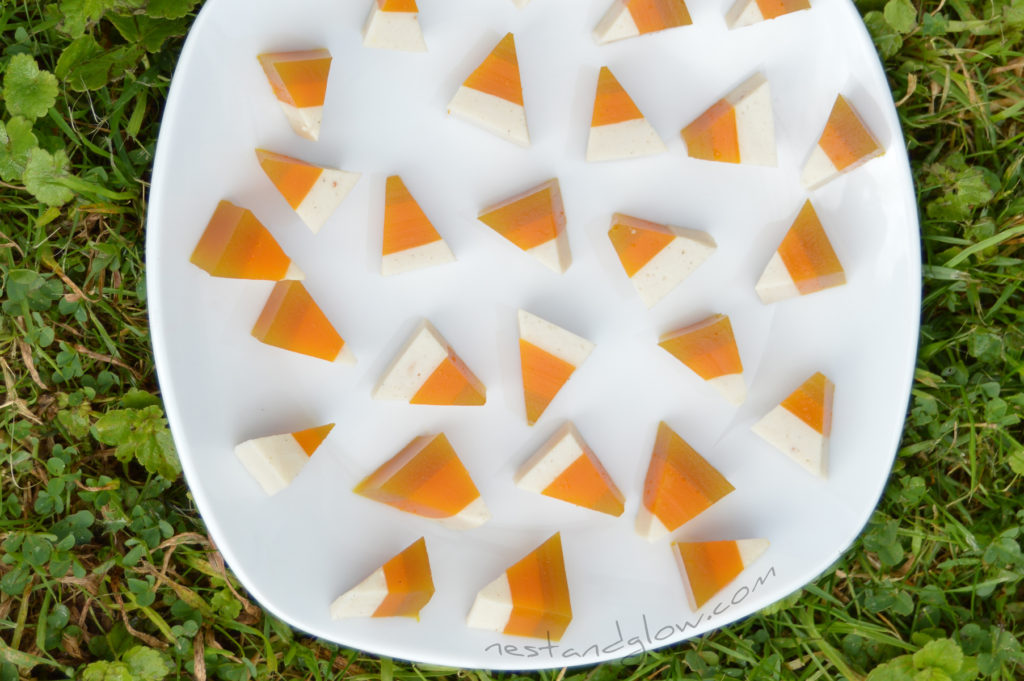 If you like this recipe check out our Fruit Juice Veggie Jelly Babies.
Yield: 32 healthy candy corn sweets
Healthy Candy Corn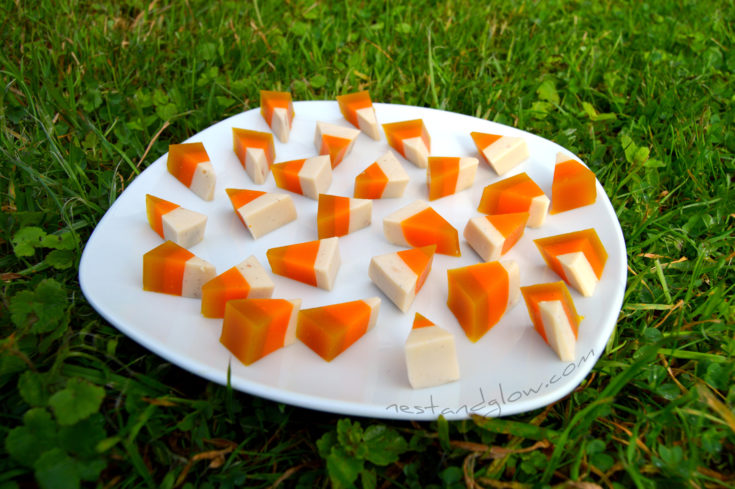 Healthy candy corn made with fruit juice and cashew nuts. All vegan and high in good stuff.
Ingredients
2 tbsp Cashew nuts
3-6 tbsp Maple syrup / date syrup / any liquid sweetener
4½ tsp Agar agar powder (from seaweed – a veggie alternative to gelatin)
1 tsp Vanilla extract
½ cup / 120 ml Orange juice
½ cup / 120 ml Carrot juice
1 cup / 240 ml Pineapple Juice
Instructions
Into a blender jug add the cashew nuts, 1-2 tbsp of your sweetener, the vanilla and a cup / 240 ml of water. Blend until smooth.
Pour the cashew mixture into a pan, add 1½ tsp of agar agar and simmer for 5 mins on a low heat. Stir constantly to stop the bottom from burning.
Let the cashew mixture cool for 5 mins and then pour into a dish that's about 6″ by 4″. Then place in the freezer.
Add the orange and carrot juice into a pan with 1-2 tbsp maple syrup, 1½ tsp of agar agar and bring to a boil then simmer for 5 mins.
Let the orange mixture cool for 5 mins then pour on top of the cashew layer in the dish and place back in the freezer.
Repeat steps 4-5 for the the pineapple juice.
The mixture should be set in 15 mins in the freezer. Once it feels firm take it out.
Push the sweet mixture out of the dish and then slice length ways.
Cut each slice into triangles, see the video for a demo of this, and they are ready to eat.
Store in the fridge and eat within 3 days as they contain fruit juice.
Nutrition Information
Yield
32
Serving Size
1
Amount Per Serving
Calories

42
Total Fat

0g
Saturated Fat

0g
Trans Fat

0g
Unsaturated Fat

0g
Cholesterol

0mg
Sodium

7mg
Carbohydrates

10g
Fiber

0g
Sugar

9g
Protein

0g