These healthy chocolate fudge bean brownies have no flour, eggs or butter and are 100% plant based but people regularly call them the best brownies ever.
The recipe is also very simple and even if you're not good at baking, like me, it's hard to go wrong with making these.
It's best not to tell anyone sceptical the secret ingredient until after they have tried them. They always prove to be very popular even with people that are not into plant based vegan foods or healthy living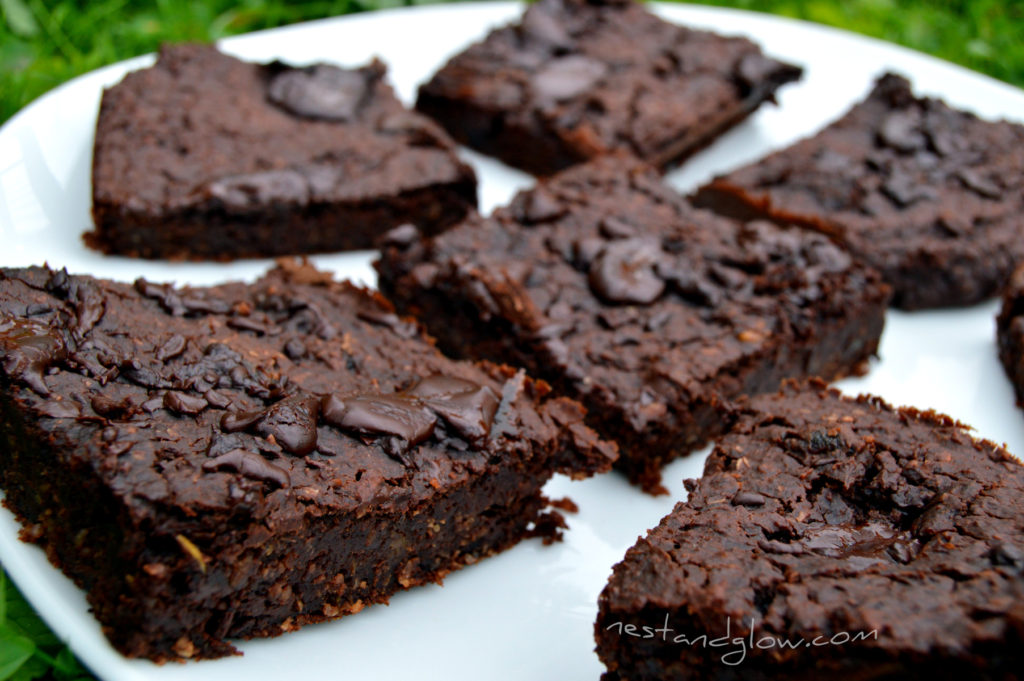 I don't use chocolate chips in my healthy brownies as it's hard to find high quality chips with a high cocoa content in the UK. Instead I just chop up my favourite dark 85% cacao chocolate and it takes a few seconds to chop up a whole bar. I tend to aim chunks about 1-0.5 cm square.
These chunks sprinkled on top give a rustic home baked look to these bean brownies that I love.
Healthy Chocolate Fudge Mung Bean Brownies Video Recipe
For the mung beans you can use tinned, but I tend to cook a fresh batch for 15 mins on the high setting of a pressure cooker and you are left with fluffy soft beans that are perfect for this recipe. Also with the pressure cooker there is no need to pre-soak.
For the oats you can just use quick oats or grind your own. If your grinding your own choose soft crumbly oats and not the firm jumbo oats. Remember to use gluten free oats if you don't eat gluten.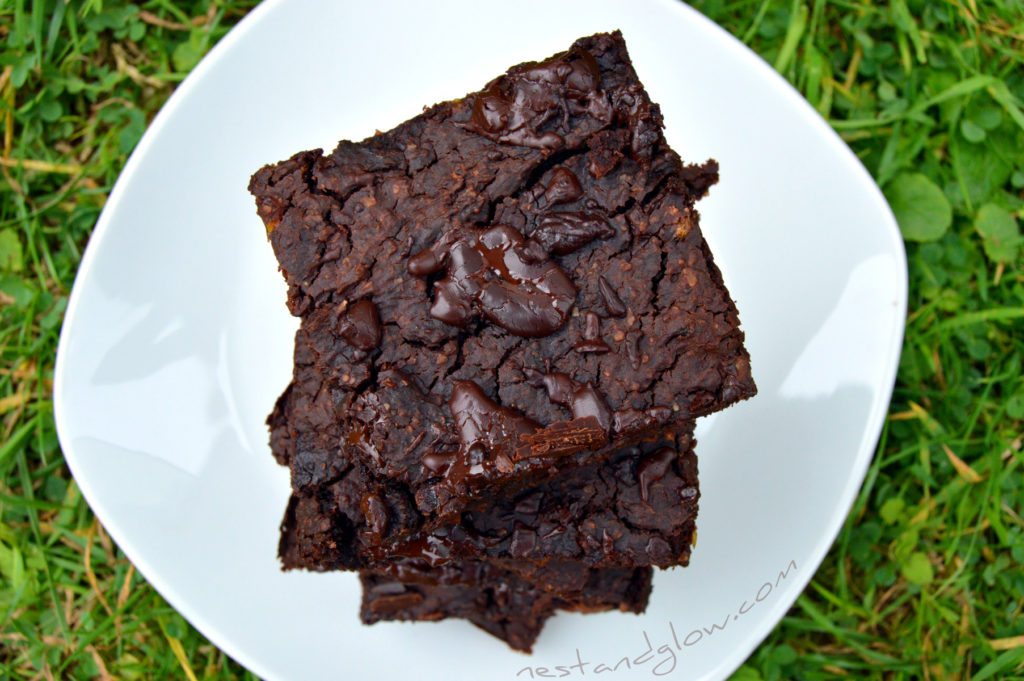 What are mung beans?
Apparently mung beans are not popular in many countries as many people asking me what they are. If you don't have mung beans use black eye beans or black beans.
Yield: 9 bean brownies
Bean Chocolate Brownies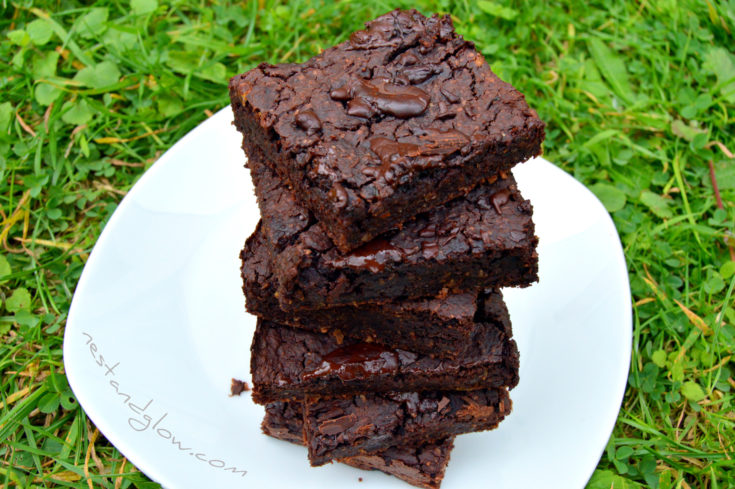 Chocolate brownies made with beans so they're high in nutrition and good for you. The hidden beans in this healthy brownie you really can't taste as they just add an amazing texture. Try my bean brownie to get a filling healthy brownie thats loaded with goodness, plant protein and fibre.
Ingredients
1½ cups / 300g cooked Mung beans or black beans (1 tin)
3 tbsp Cocoa powder
½ cup / 40 g ground Oats
4 tbsp Maple syrup / date syrup / or any sweetener
6-8 pitted Dates
2 tbsp melted Coconut oil
2 tsp Vanilla extract
½ cup / 90g of Chocolate chips / chunks
½ tsp Baking powder
pinch of Salt
2 tbsp Chocolate chips / chunks to top
Instructions
Preheat the oven to 350 F / 180 C.
Place everything for the bean brownies apart from the chocolate chips / chunks in a food processor and blend until smooth. You can use a blender if you don't have a food processor but it will need to be blended in batches.
Stir in the ½ cup / 90g of chocolate chips / chunks and then spread out in a 8″ pan. I use a silicon pan so they pop out easily, if using a metal pan you will need to grease it or place some grease proof paper inside.
Bake in the oven for 16-20 mins until a knife comes out clean when poked in.
Take out of the oven, sprinkle on 2 tbsp of chocolate chips and leave for 15 mins to cool before removing from the pan.
Pop out the healthy brownies of the pan and slice into about 9 brownies.
These high protein vegan brownies are best enjoyed still warm and gooey but will last a few days in the fridge. It's best to re-heat if eating from the fridge.
Nutrition Information
Yield
9 healthy brownies
Serving Size
1
Amount Per Serving
Calories

221
Total Fat

7g
Saturated Fat

5g
Trans Fat

0g
Unsaturated Fat

2g
Cholesterol

0mg
Sodium

46mg
Carbohydrates

36g
Fiber

6g
Sugar

19g
Protein

6g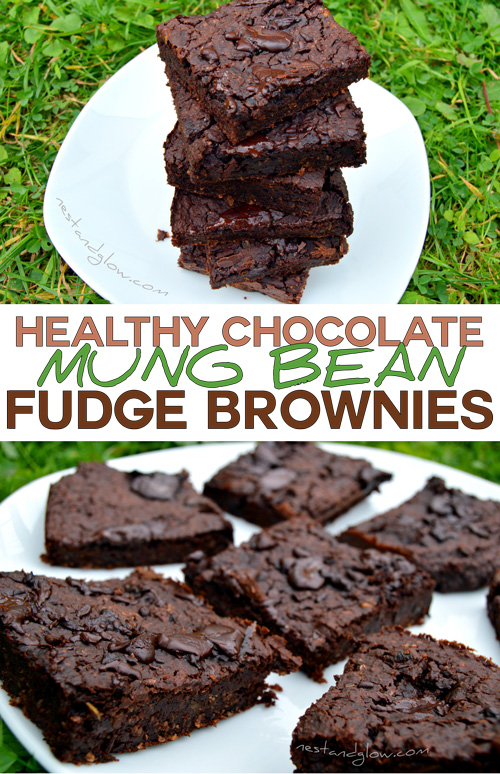 If you like this recipe check out our sweet potato chocolate brownies.