The best things in life are simple and this instant strawberry cashew ice cream with just 4 ingredients is a perfect example. No churning or waiting is required, just a minute of blending and you will have frozen and thick natural ice cream.
This healthy ice cream is suitable for vegan, paleo, plant based, raw, whole food, oil free and refined sugar free diets. This cashew ice cream also tastes like it isn't healthy even though it's loaded with nutrition!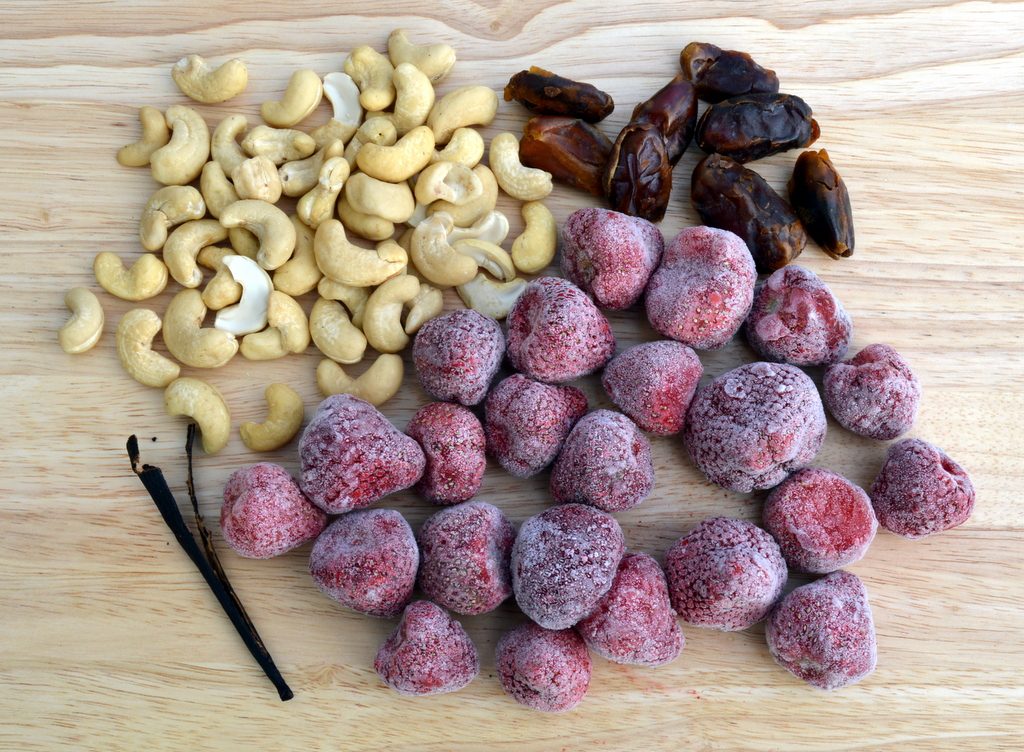 You need not tell anyone it's raw vegan – they won't notice and just think it's a delicious strawberry ice cream. The trick to this quick recipe is to use frozen strawberries. You can buy pre-frozen strawberries or freeze your own, but remember to de-stem before freezing.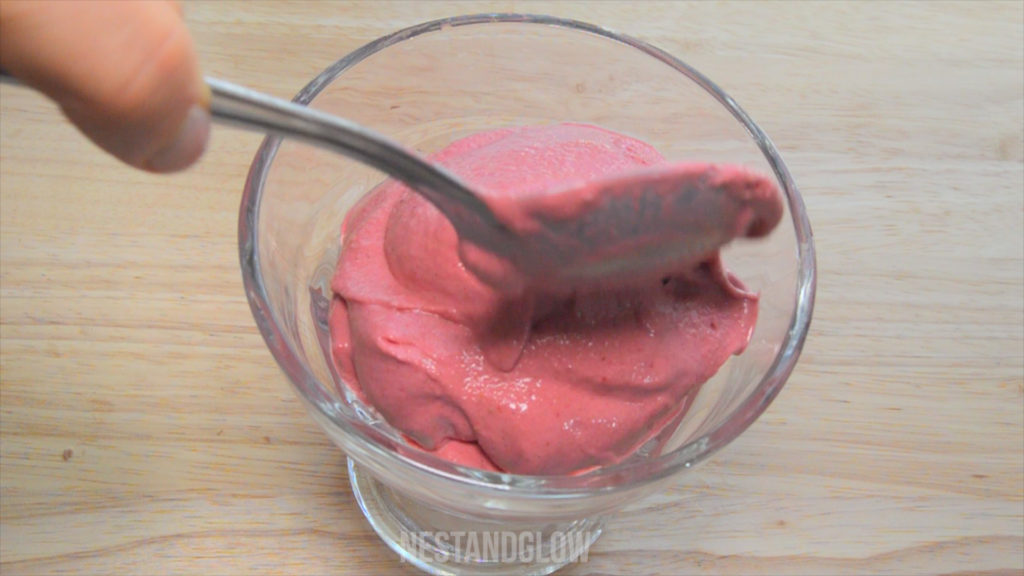 The cashew ice cream is reasonably firm but will melt quickly so either make and serve immediately or put straight into the freezer. It's a lot more solid than the pictures and video show. It melted quickly in the 5 minutes while fiddling with the camera and setting up to get the right shots.
I do have an ice cream maker but since I've discovered how quick and easy it is to make instant blended dairy free ice cream I haven't used it.
Strawberry Cashew Ice Cream Video Recipe
This cashew ice cream uses frozen strawberries to make it instantly frozen. I love using frozen fruit as it's often more nutritious than fresh due to the fast freezing locking in the nutrients.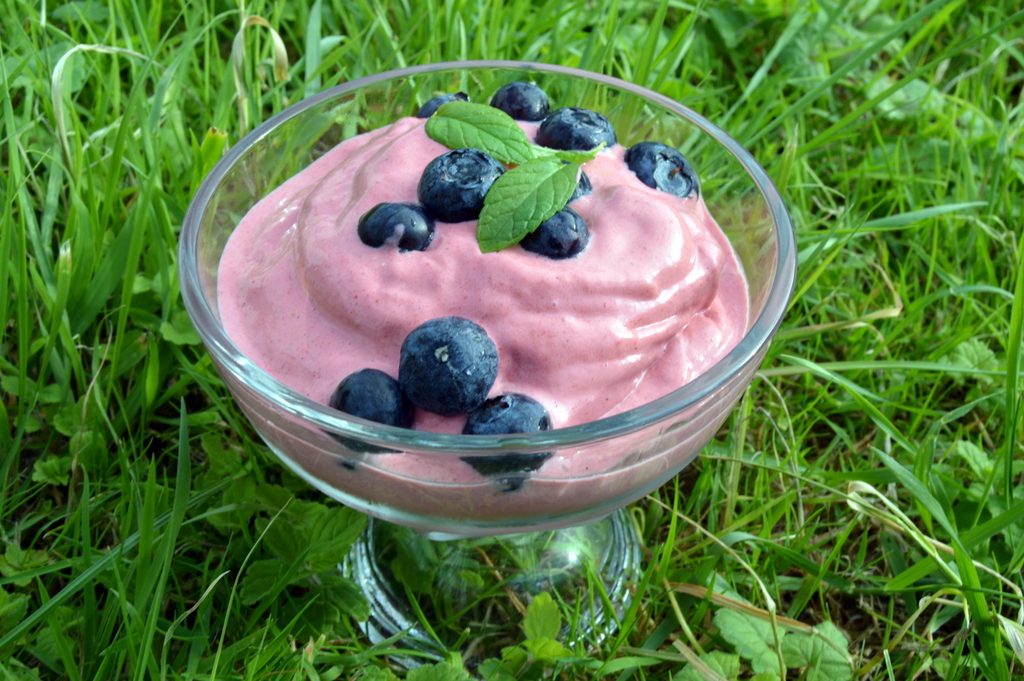 Also it's convenient so leads to less waste and is available year round. Frozen fruit also has a much lower carbon footprint as it's transported by shipping containers rather than flown like fresh fruit.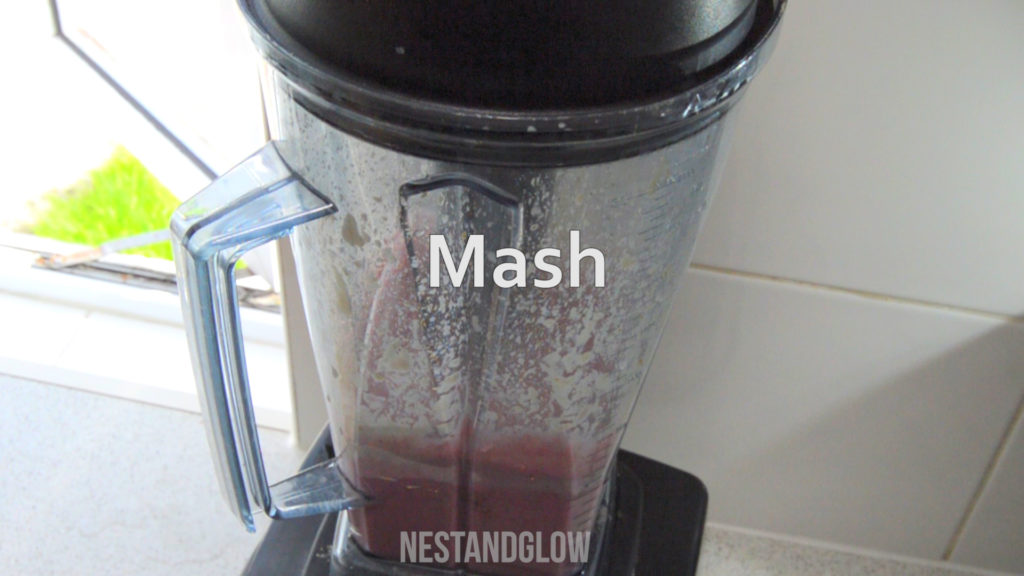 A high-speed blender is perfect for making no-churn instant vegan ice cream. Just blend and use the tool to push the creamy goodness to the middle to make a luscious and smooth ice cream.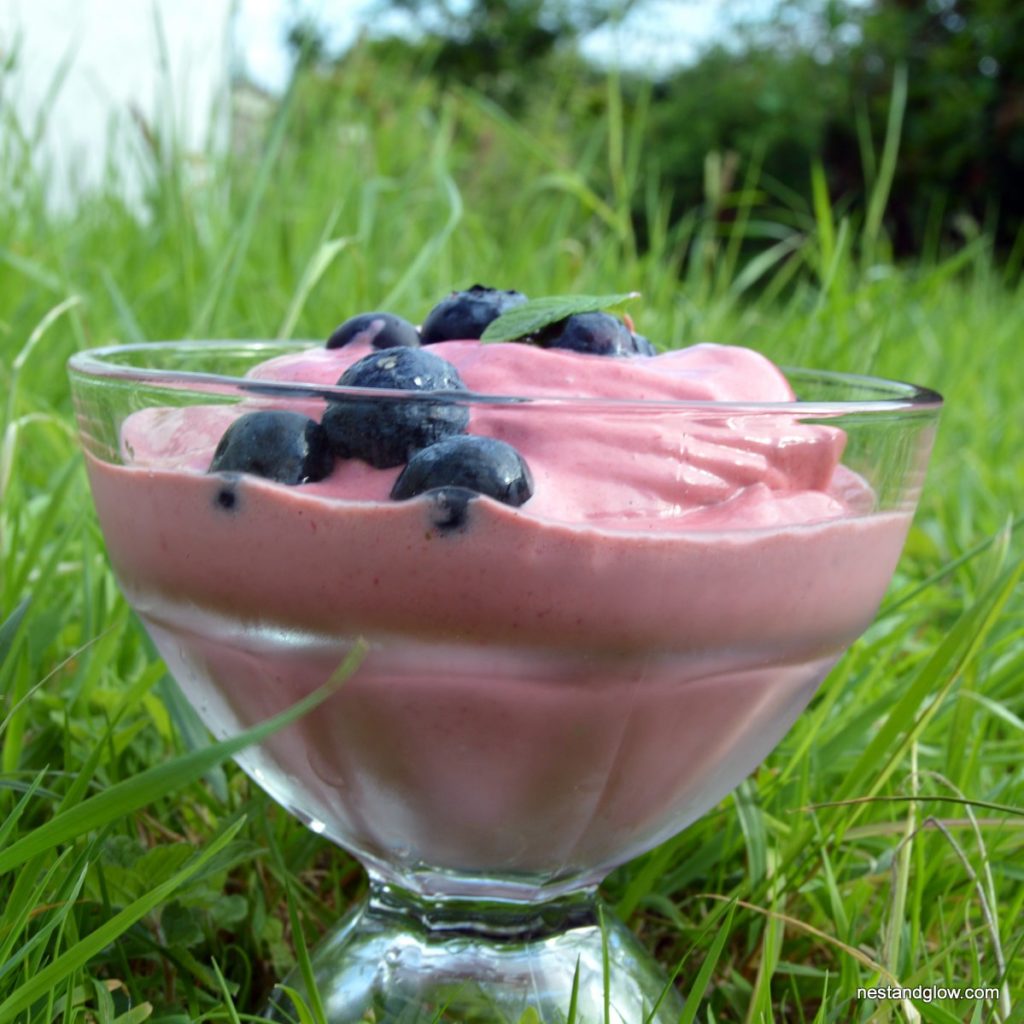 You can top this ice cream with anything you like such as berries, fruit, nuts or seeds. Below I've topped the cashew ice cream with blueberries and a mint leaf.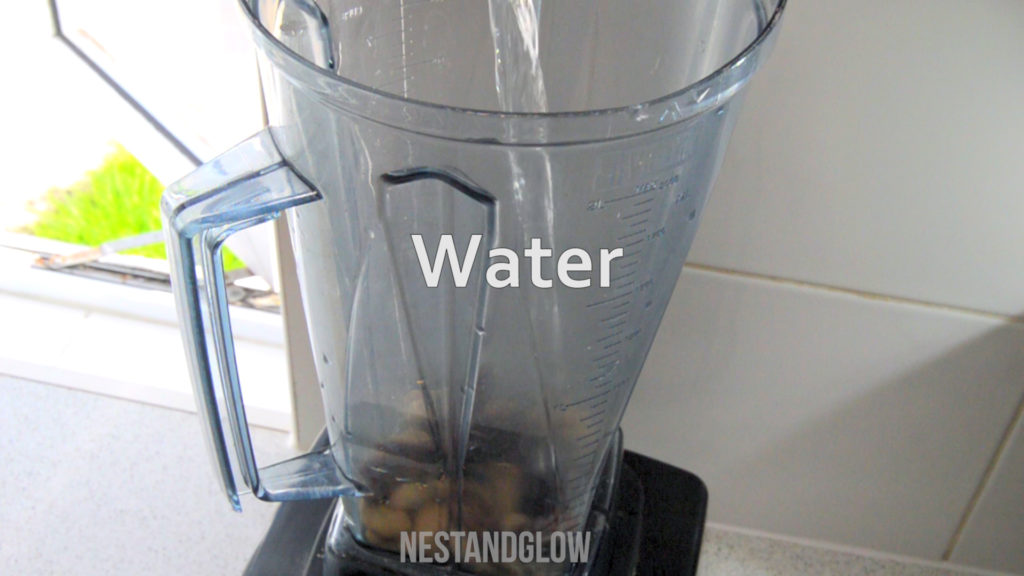 Use fresh filtered water to make this ice cream. I don't soak my cashew nuts as they are just about the only nut where it isn't needed. A high speed blender can make even unsoaked cashew nuts totally smooth in less than 60 seconds.
Yield: 4 cashew ice cream portions
Instant Strawberry Cashew Ice Cream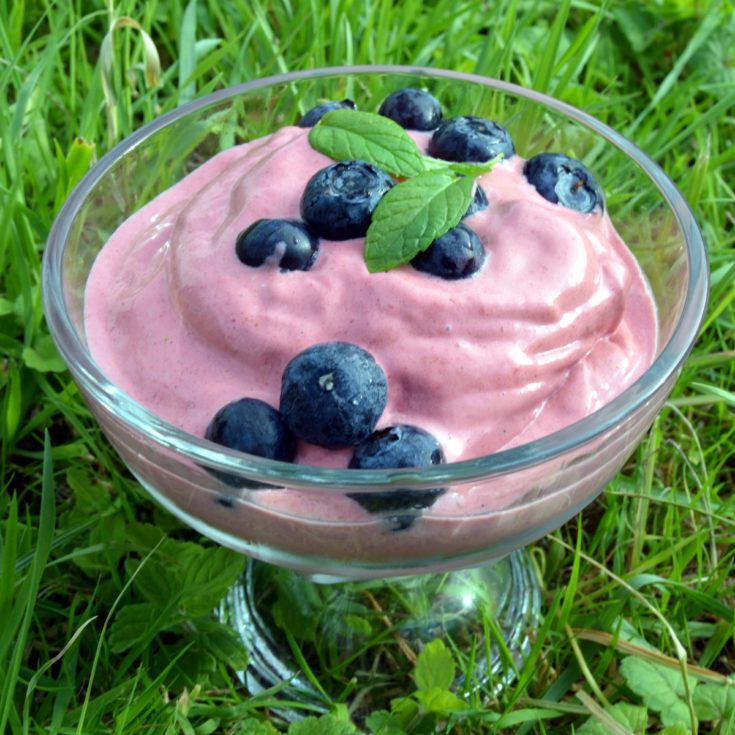 4 ingredient recipe to make yummy cashew ice cream in minutes. This dairy free ice cream tastes so good no one often notices it's healthy and made without dairy cream. Frozen strawberries make this an instant ice cream with no churning
Ingredients
Cashews, 1 handful
Dates, ½ a handful
Frozen strawberries, 1½ handfuls
Vanilla, ½ a pod scraped / ½ tsp extract
Instructions
Place the cashews, dates and vanilla in a blender and add just enough water to cover.
Whizz up until the cashew ice cream mixture is all smooth.
Add the frozen strawberries to the blender and then blend again until they are all broken.
If you have a blender with a tamper you can use this to push the strawberries towards the blade.
You may need to add more water if it isn't mixing or more frozen strawberries if the cashew ice cream is too runny.
The cashew ice cream should be frozen enough that you can turn the blender upside down and none falls out.
Notes
You can use any other frozen berries in place of the strawberries if you like, but strawberries do work very well with this recipe.
Macadamia nuts can be used in place of cashew nuts if you prefer.
Sunflower seeds can be used to make nut free, but I'm not going to lie they don't taste as good as nuts. But they are much cheaper. If you use sunflower seeds do soak in water to sprout and make easier to digest.
Recommended Products
Links maybe affiliated, meaning I earn a commission from purchases but at no extra cost to yourself.
Nutrition Information
Yield
4
Serving Size
1
Amount Per Serving
Calories

170
Total Fat

7g
Saturated Fat

1g
Trans Fat

0g
Unsaturated Fat

5g
Cholesterol

0mg
Sodium

91mg
Carbohydrates

12g
Fiber

1g
Sugar

6g
Protein

6g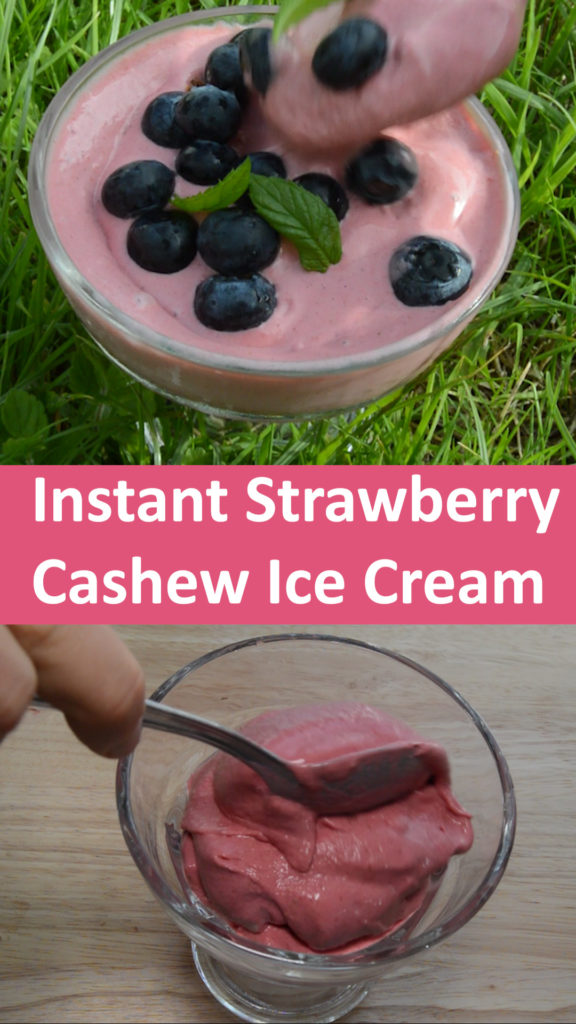 Like many berries a strawberry isn't technically a berry it's a aggregate accessory fruit. Strawberries were first mentioned in Roman times as a medicinal fruit to treat depressive illnesses.