Vegan flax bread recipe made from just flaxseeds and onions. This homemade gluten free onion bread recipe is eggless, grain free and quick to make. It's so simple to create a flax onion bread that is good for you and loaded with protein, fibre and healthy omega fats.
Suitable for vegan, keto, paleo, gluten-free and low carb diets. You can make this recipe raw vegan if you use a dehydrator.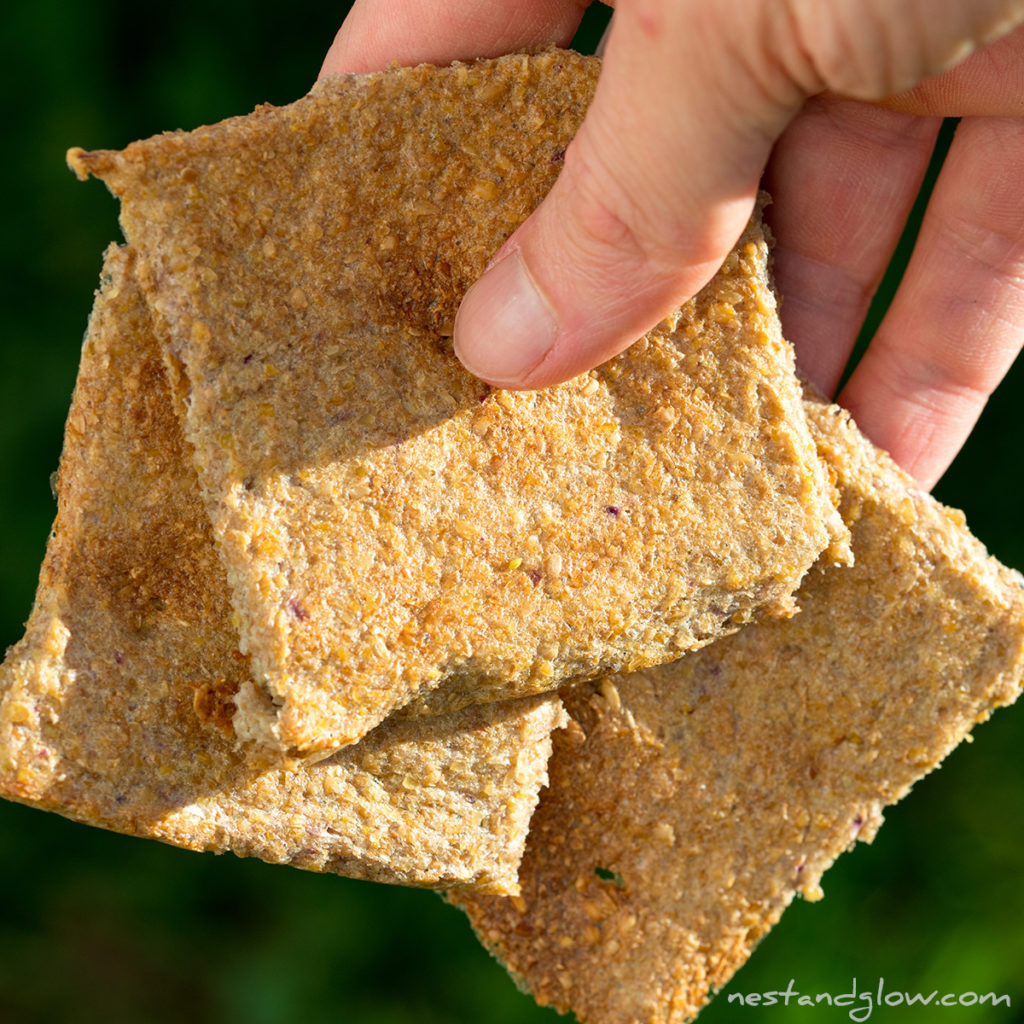 I'm using red onions for this gluten free onion bread to add a bit of colour to a simple 2 ingredient recipe. White or brown onions will work just as well if you prefer their flavour. Red onions also have some health benefits as they contain more antioxidants.
Linseed and flaxseed are exactly the same ingredient. Golden linseed is used here because I think it gives a nice colour but the brown linseed works just as well.
2-Ingredient Onion Flax Bread Video Recipe
Play no music onion bread recipe.
You can use chia seeds in this recipe to make gluten free chia seed onion bread if you prefer. Chia seeds go a bit grey when blended it's not quite is pretty but it still tastes great.
Flax seeds and chia both gel up in water. I let the mixture stand for 10 minutes after blending to let the seeds soak up the onions' moisture and this also makes them a bit easier to digest.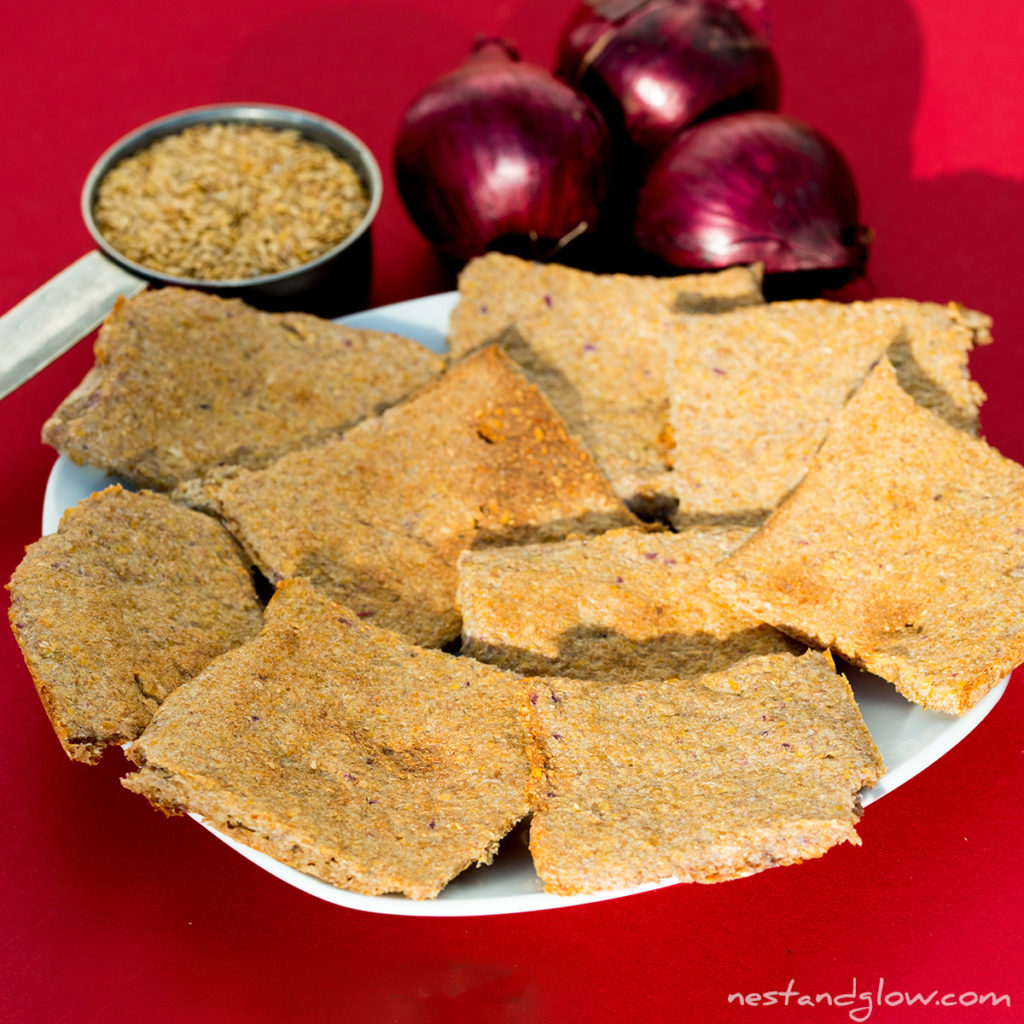 You can make this recipe raw vegan if you prefer by just spreading on a non-stick sheet and dehydrating for 8-10 hours. If making raw then add a tablespoon of apple cider vinegar is it make the onions a bit milder.
This onion bread is cooked in an oven to make this recipe accessible to all. The baked version does taste different to the raw as baking gives a roasted seed flavour to the gluten free bread.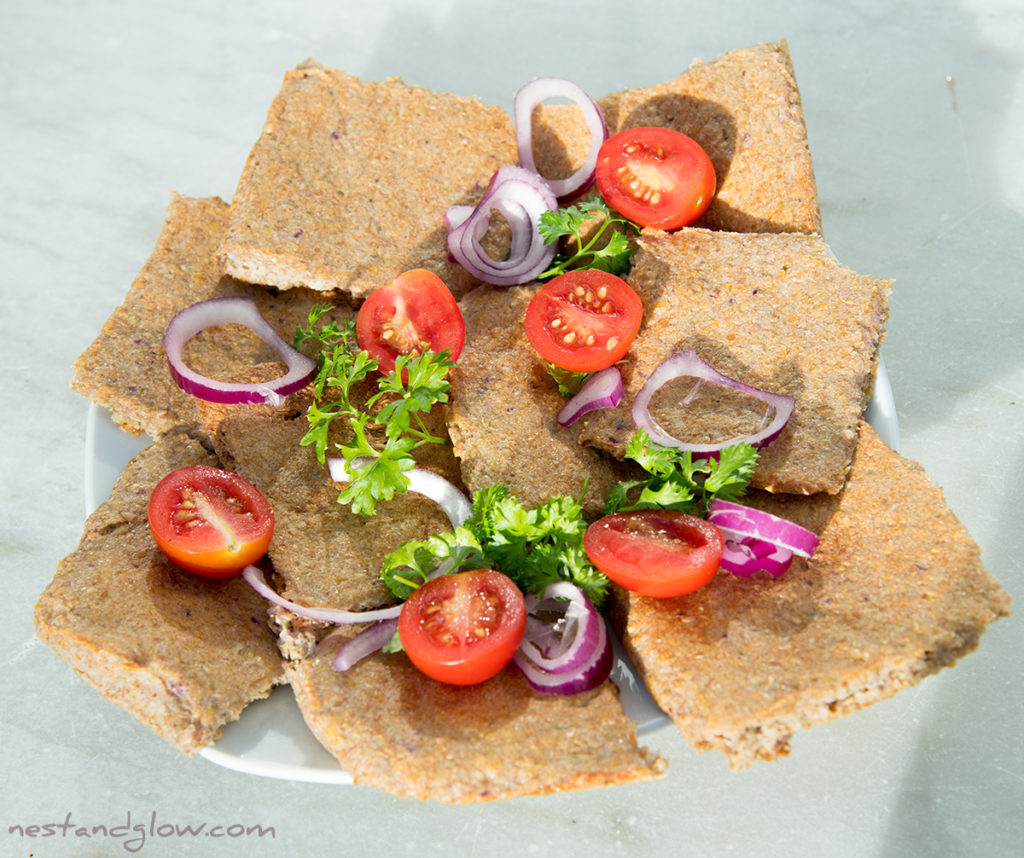 I'm using non-stick paper so the onion flax bread comes away easily after being baked even without any oil. Parchment paper works just as well. Do check your paper to make sure you get one that's got a healthy coating without added plastics.
These onion bread bites will last for a couple of days in an airtight container in the fridge. Although in practice mine only last a couple of hours before being eaten!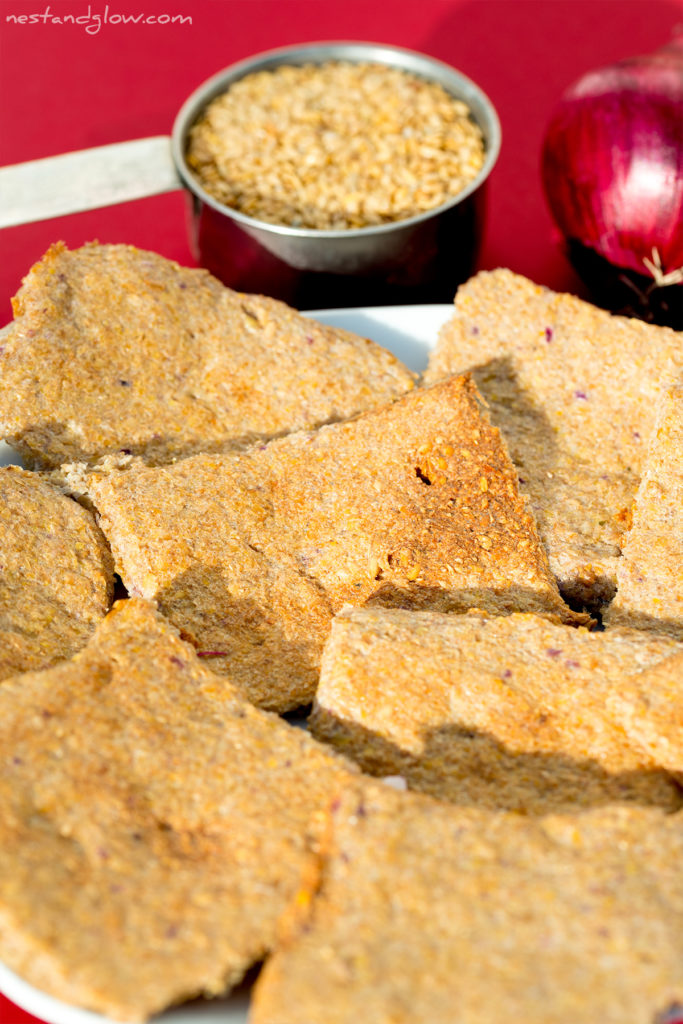 As this is a natural healthy recipe just full of pure ingredients there's no stabilisers or additives so the gluten free bread can go a bit soft the next days. Firm the onion bread up by putting back in the oven for a couple of minutes.
Think of this healthy onion flax bread recipe as a basic recipe to add any twist or flourishes that you like. I like flax bread with a bit of basil and sun-dried tomatoes. If you adapt this recipe and add flavours that work well please do share the comments below so we can all enjoy.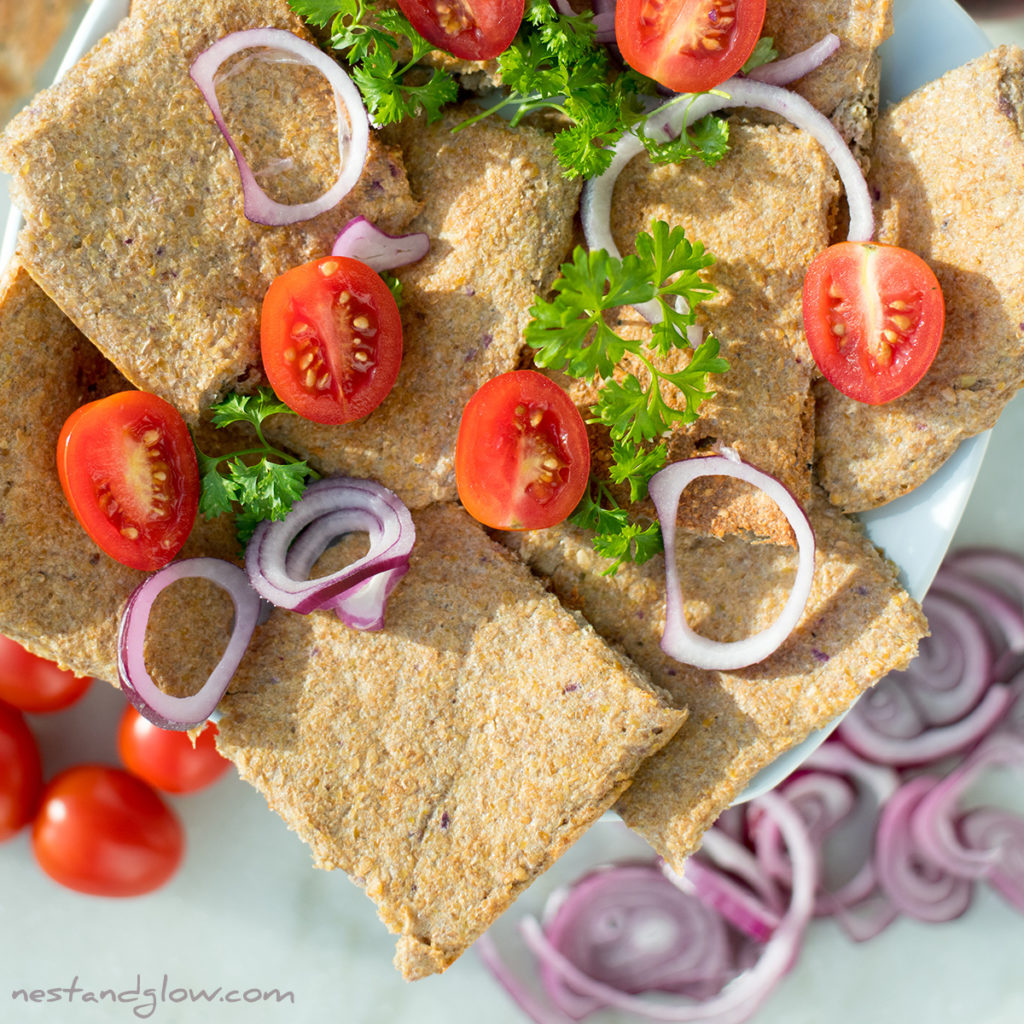 Depending on your blender and how watery your onions are you may want to add a splash of water to help it blend. You can do this onion bread recipe in a 600w jug type blender just fine.
Don't worry if some whole flax seeds are left in the flax bread mixture it adds texture and is a reminder to chew your food properly. If whole flax seeds to pass through your system don't worry about it as it isn't totally wasted as they do your digestive tract some good.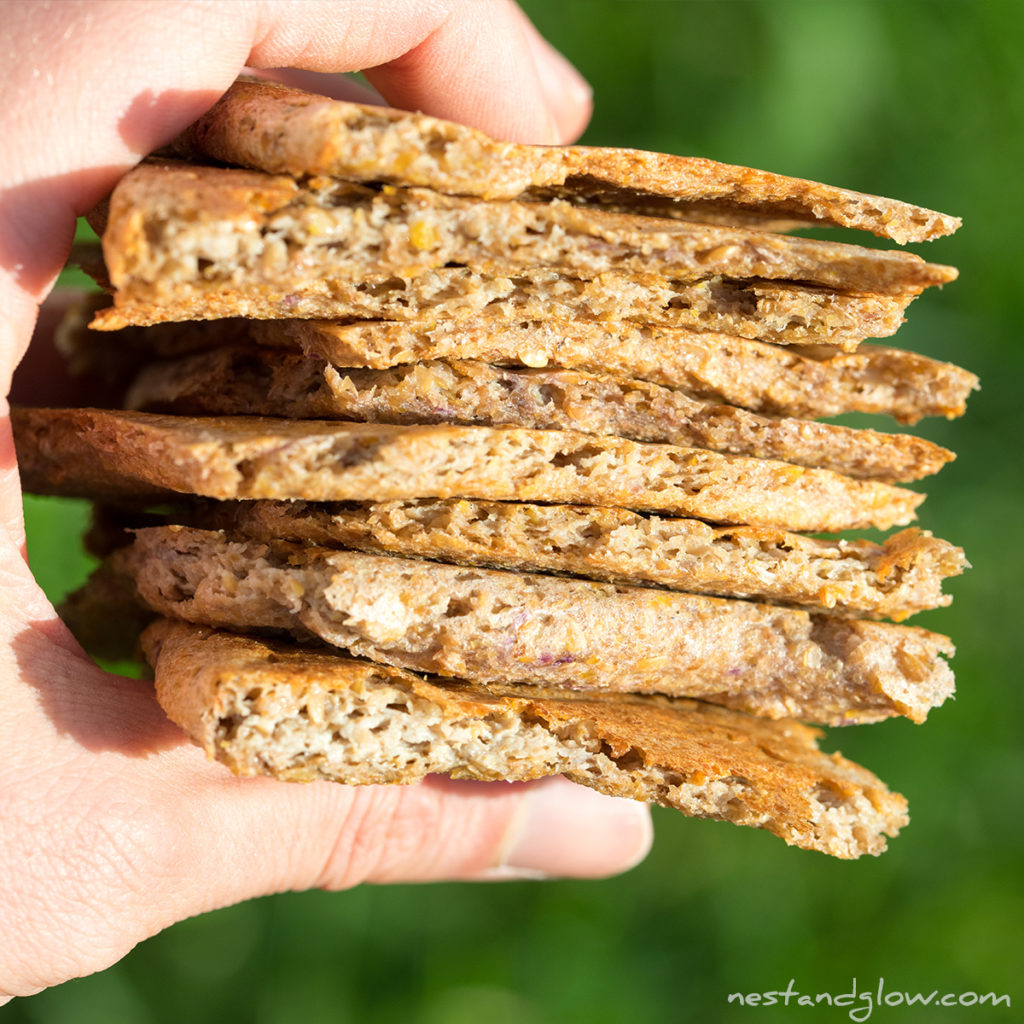 I was hoping for these 2 ingredient crackers to have a deeper red colour from the red onion after being baked. Sadly they lost just about all the colour. If you do want a deeper red colour I suggest adding half a bulb of beetroot for a vibrant deep purple-red colour! I expected this to happen but did want to keep the gluten free bread recipe as just 2 ingredients to show how simple it is to make great food with just 2 ingredients.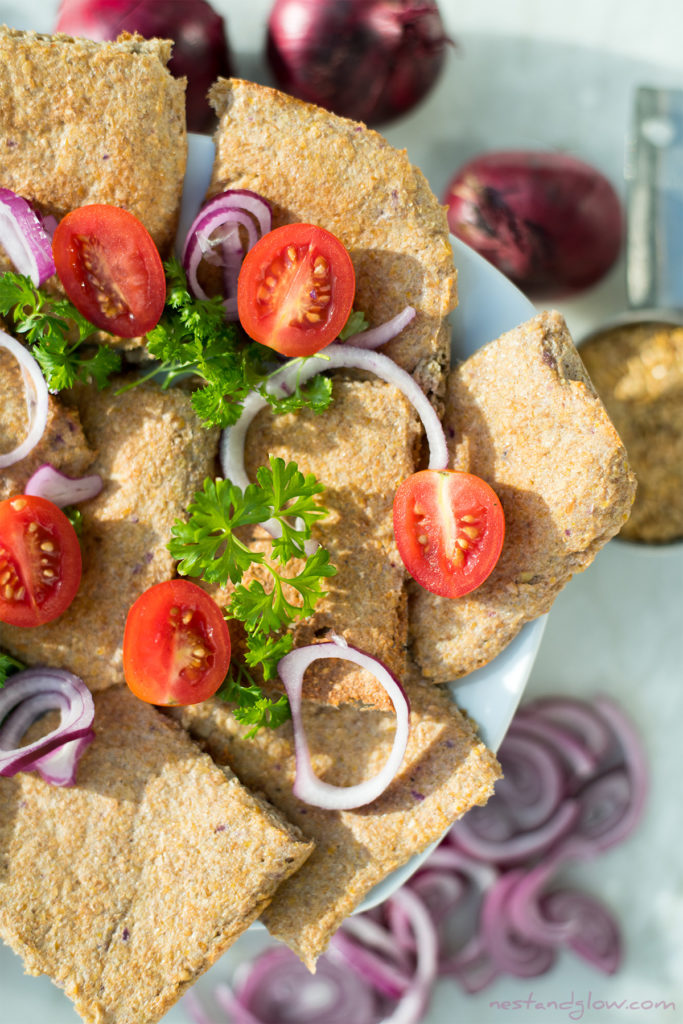 While baking these onion and flaxseed crackers the kitchen smells lovely with sweet onion and toasted seeds.
This flax onion bread bites are great on their own but can be a bit dry. I tend to have them with some guacamole or when I have more time with my colourful hummus trio.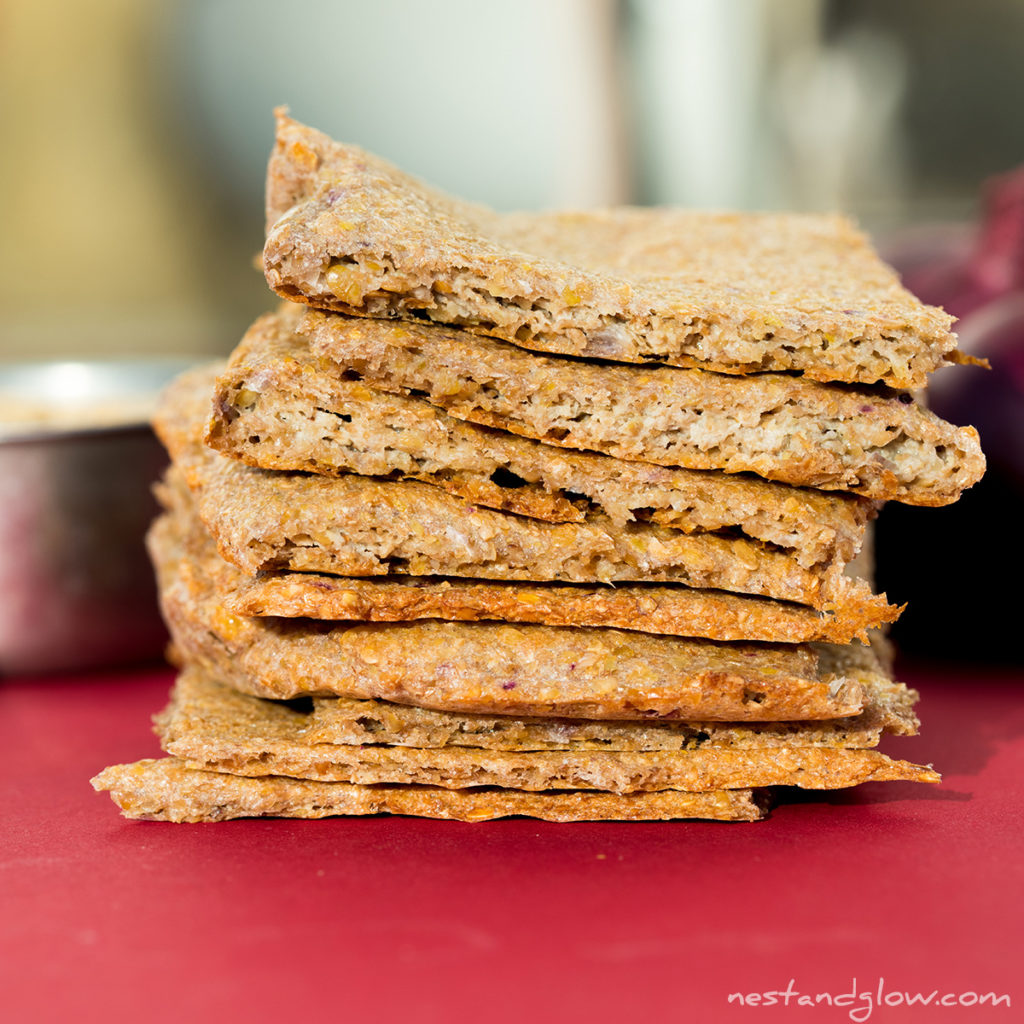 I did plan on these being onion crackers but in order to get them crispy in the oven, they would need to be very thin. Although that would be great it would take so long to create a small batch of onion crackers so opted to keep them as a more substantial and flexible two ingredient onion bread.
Yield: 16 slices
2 Ingredient Gluten Free Onion Bread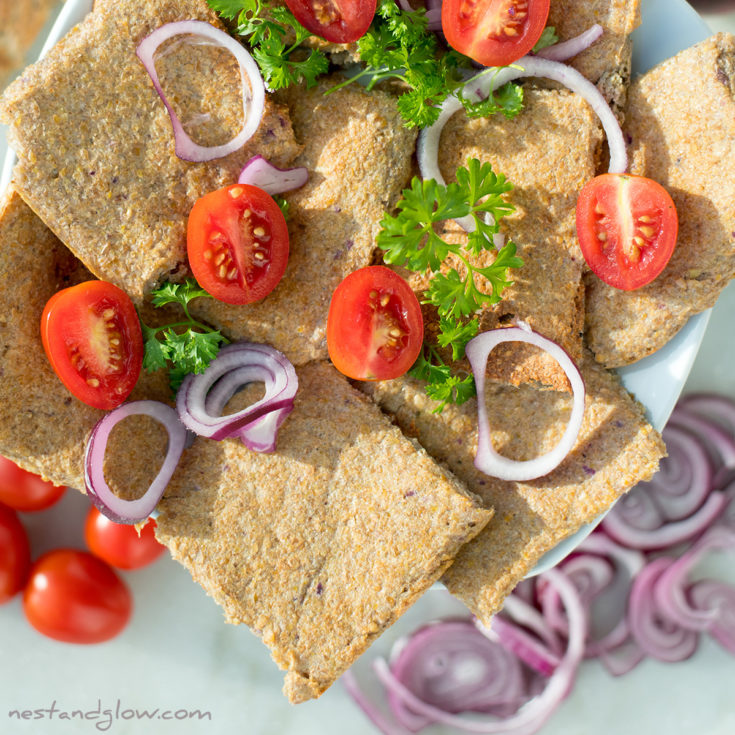 Vegan flax bread recipe made from just flaxseeds and onions. This homemade gluten free onion bread recipe is eggless, gluten-free, grain free and quick to make. Suitable for vegan, keto, paleo, gluten-free and low carb diets.
Ingredients
2/3 cup / 100g Flaxseed
2 medium onions, about 1 cup diced
Instructions
Peel the outer layer of the onion skin and freeze with veggie scraps for boiling and making stock later.
Place flaxseed and onions into a blender and blend until they are broken up, a few whole flax seeds are fine.
Add a bit of water if your blender struggles, once the onions and flax are blended they will start to gel up and get thick.
Spread the mixture out onto a lined baking tray using a spatula. Try to get an even thickness so the onion bread cooks at the same time.
I'm using a mini oven in the video but if you have a larger one spread out in the pan for thinner crispy gluten free onion bread.
Score the bread using the spatula into 12-18 squares depending on how big you want your onion bread.
Bake at 190C / 375f for 30-35 mins until the flax bread starts to go golden.
Take onion bread out of the oven and leave to cool, as this bread is gluten free it will get firm as it cools.
Turn upside down and peel off the greaseproof paper and separate the flax bread.
Enjoy within 3 days and keep in an airtight container in the fridge.
Recommended Products
Links maybe affiliated, meaning I earn a commission from purchases but at no extra cost to yourself.
Nutrition Information
Yield
16
Serving Size
1
Amount Per Serving
Calories

40
Total Fat

3g
Saturated Fat

0g
Trans Fat

0g
Unsaturated Fat

2g
Cholesterol

0mg
Sodium

2mg
Carbohydrates

3g
Fiber

2g
Sugar

1g
Protein

1g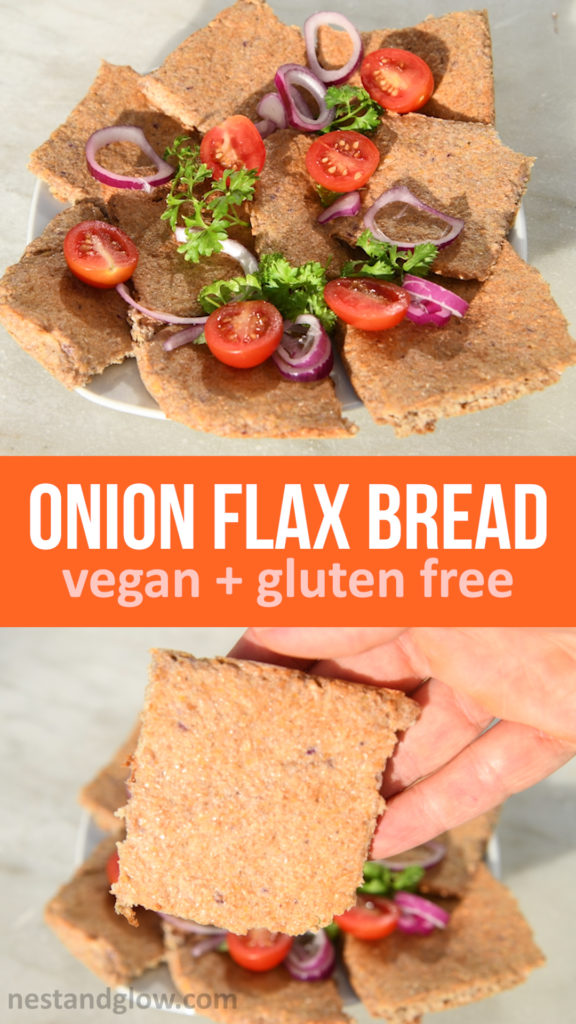 Flax seeds are one of the oldest crops in the world and are bursting with nutrition as they are high in omega-3. These fatty compounds in flax seeds have been linked to a reduced risk of a stroke.