Healthy hummus recipe without tahini that is flavoured with caramelised roasted red peppers, beetroot cumin and minted peas. These healthy hummus recipes are simple but beautiful with natural bright colours.
Suitable for vegan, gluten free, dairy free, healthy and low-fat diets. Free of any added oil, but if you want a creamer hummus then add 2-4 tbsp of cold pressed extra virgin olive oil to these hummus recipes. This healthy hummus recipe is free of any tahini as whole sesame seeds are used instead.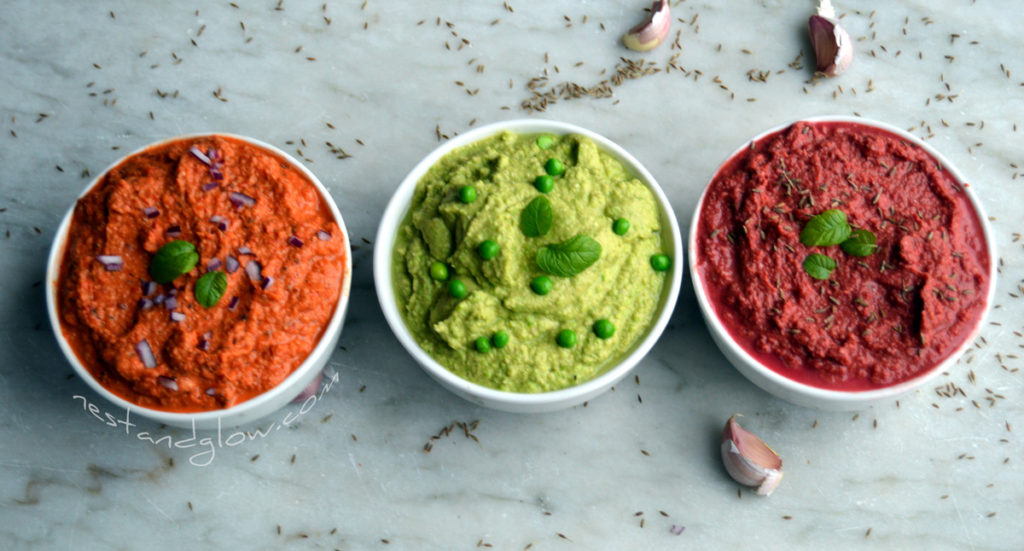 I use ground sesame seeds instead of tahini in my healthy hummus recipe that's vegan. This makes it cheaper and healthier as the seeds have not been roasted at high temperature and processed. Use a coffee grinder to grind up the sesame seeds or a small blender jug. I tend to grind a big batch and then keep in the fridge and often use in place of seasoning with oil.
The sesame seeds in these hummus recipes are raw and full of heart healthy fats that haven't been destroyed by heating. This is a recipe where a large amount of the ingredients are raw so perfect if you are trying to eat more raw foods.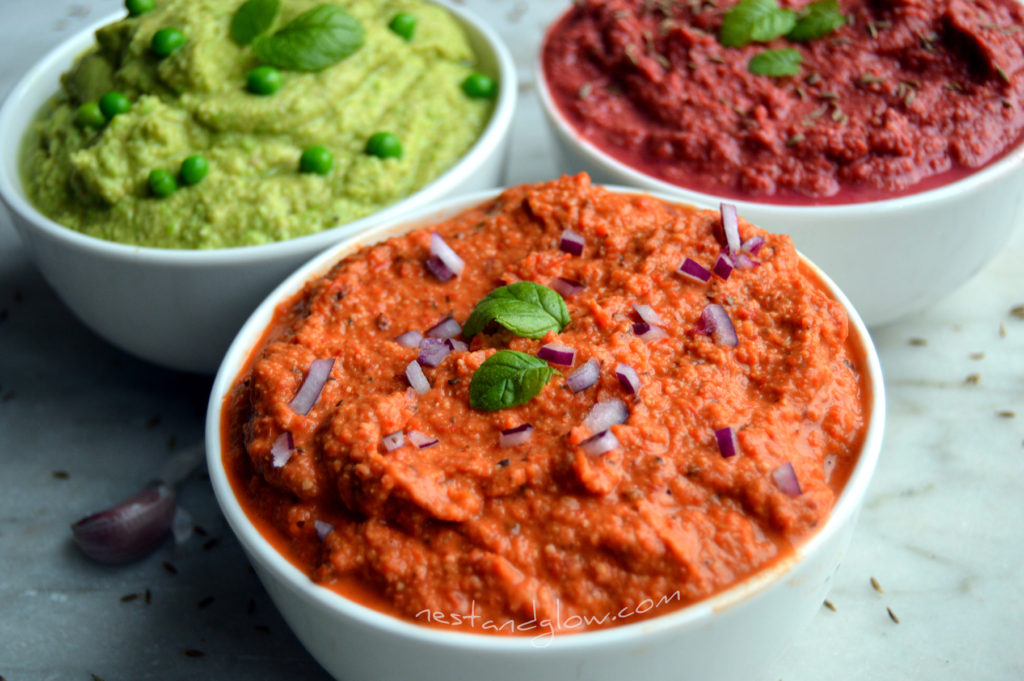 There is no oil added in this hummus recipe as I try to limit the amount of oil I have – even cold pressed is still processed and high in calories. If you prefer a fattier hummus then simply replace part of the water with oil, about 50/50 oil to water would give the same results as shop bought hummus.
Healthy Hummus Red Pepper, Mint Pea and Beetroot Cumin Video Recipe
I use two fat cloves of garlic for my healthy hummus recipes, as I'm a huge lover of garlic but you may want to put less in.
The cayenne pepper doesn't add much of a kick, just adds a very mild spicey element. If you like spicy hummus you will want to double or quadruple the cayenne.
If you are using organic lemons I recommend putting the zest from half the lemon to add a bitter element to the hummus and enhance its flavour. The raisins in the caramelised red pepper and onion dip give that sugary taste but using nutrient dense fruit.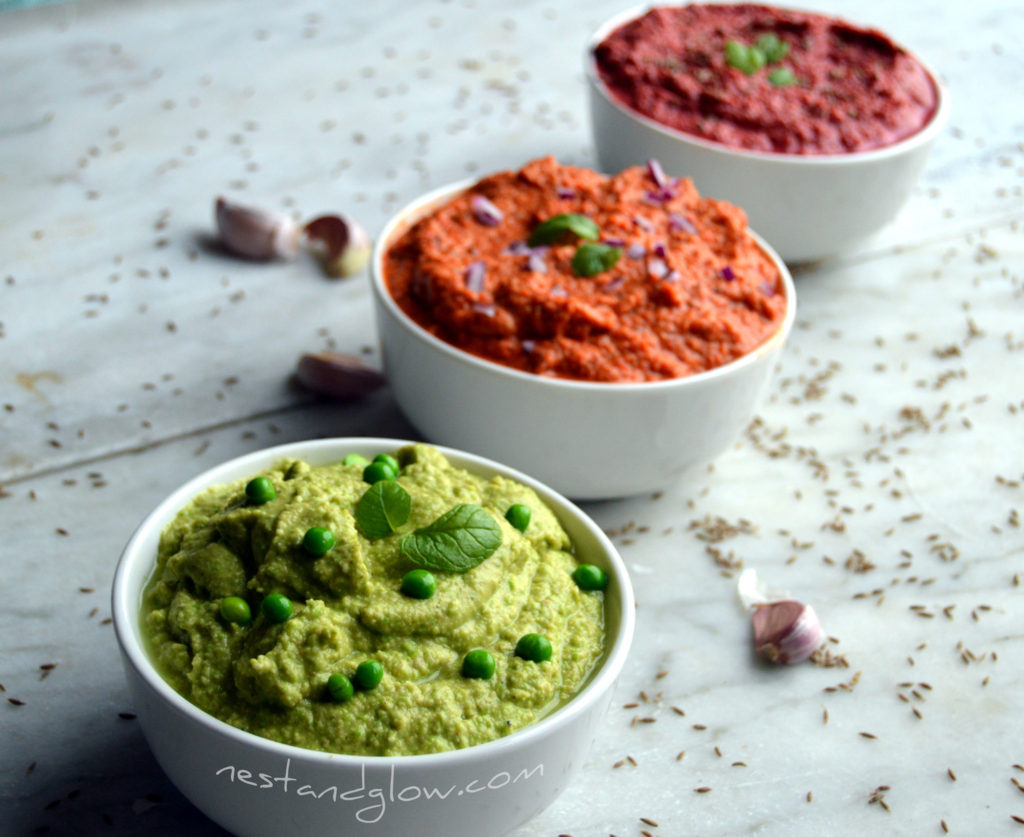 You're supposed to eat a rainbow coloured diet as foods of different colours contain different vitamins and minerals. A rainbow should mean you get a balanced diet. What better way to get a balanced diet than eating colourful healthy hummus?
A pinch of turmeric is added to this hummus dish to brighten it up and because turmeric has many health benefits that are not yet fully understood.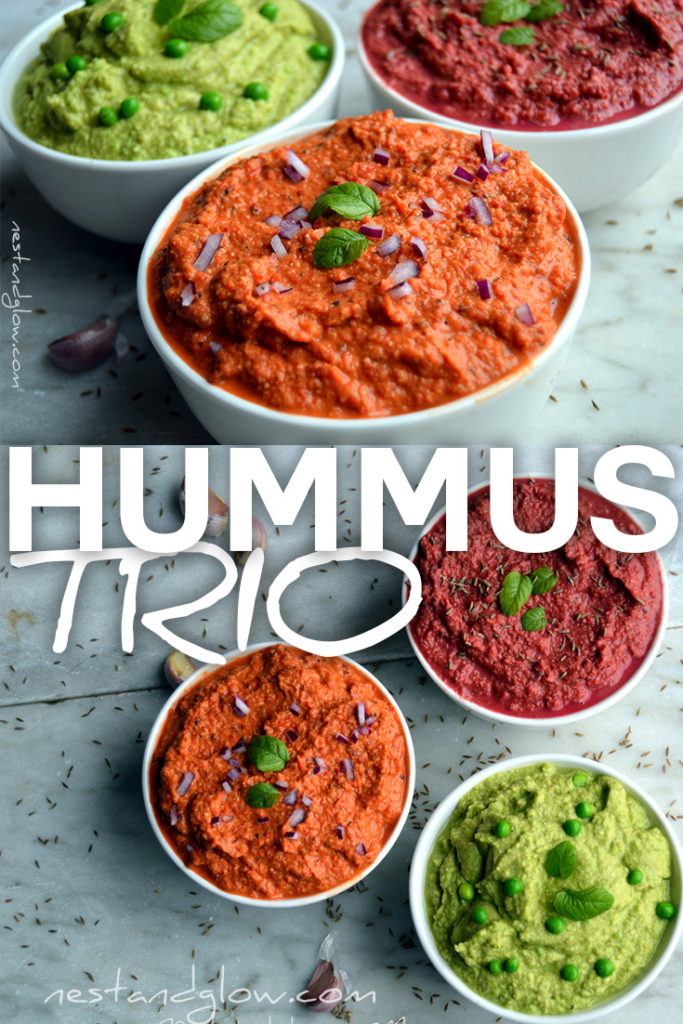 Yield: 3 bowls of hummus
Red Pepper Hummus, Mint Pea Hummus and Beetroot Hummus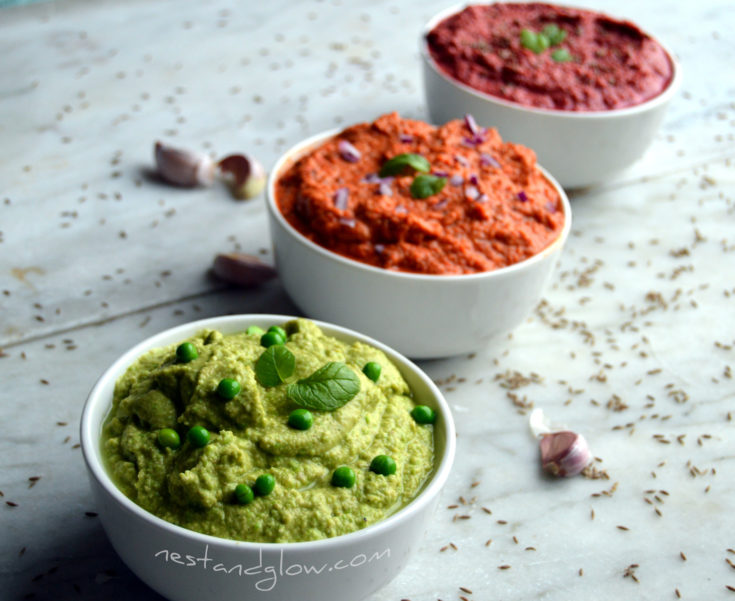 Healthy hummus recipe without tahini that is flavoured with caramelised roasted red peppers, beetroot cumin and minted peas.
Ingredients
BASIC HUMMUS RECIPE
1 can chickpeas
2 tbsp ground sesame seeds / tahini
2 cloves garlic
1 lemon, juiced
¼ tsp turmeric
¼ tsp cayenne pepper
salt and pepper, to taste
½ cup / 120 ml water
CARAMELISED RED ONION AND PEPPER HUMMUS
2 red peppers
1 red onion
1 tbsp raisins / currents
MINT AND PEA HUMMUS
1 cup peas
1 handful of mint leaves
BEETROOT CUMIN HUMMUS
1 tsp cumin seeds
4 cooked beetroot
Instructions
Put everything from the base recipe into a food processor then either blend to enjoy a normal hummus or add the special ingredients to make a flavoured hummus.
For the mint and pea hummus; either use frozen thawed peas or cook fresh peas and then blend with the mint and base until smooth.
For Roast red pepper hummus:
Halve two red peppers and remove the stem and seeds.
Halve and skin one red onion.
Bake on a non-stick sheet for an hour at 250 F / 120 c until charred and cooked. A few black charred bits are fine.
Blend the cooked pepper, raisins and onion with the base hummus.
For beetroot hummus; blend the cooked beetroot and cumin seeds with the base ingredients.
The hummus made will keep for a few days in the fridge.
Recommended Products
Links maybe affiliated, meaning I earn a commission from purchases but at no extra cost to yourself.
Nutrition Information
Yield
12
Serving Size
1
Amount Per Serving
Calories

80
Total Fat

2g
Saturated Fat

0g
Trans Fat

0g
Unsaturated Fat

2g
Cholesterol

0mg
Sodium

93mg
Carbohydrates

13g
Fiber

3g
Sugar

5g
Protein

4g
Did you know that chickpeas are one of the oldest cultivated legumes and 7500-year-old remains of cultivation have been found in the Middle East?