Healthy quinoa chocolate cake that's vegan, eggless and refined sugar free. If you're cooking this quinoa cake for a sceptic just call it chocolate fudge cake. They may guess it's gluten free as its heavier than a traditional cake but they are unlikely to guess it's bursting with nutrition and good for you.
Iced in a thick layer of my healthy chocolate avocado frosting. It's moist and deliciously stodgy so a small slice is very filling. Suitable for gluten-free, refined sugar-free, vegan, plant-based, paleo and general healthy diets.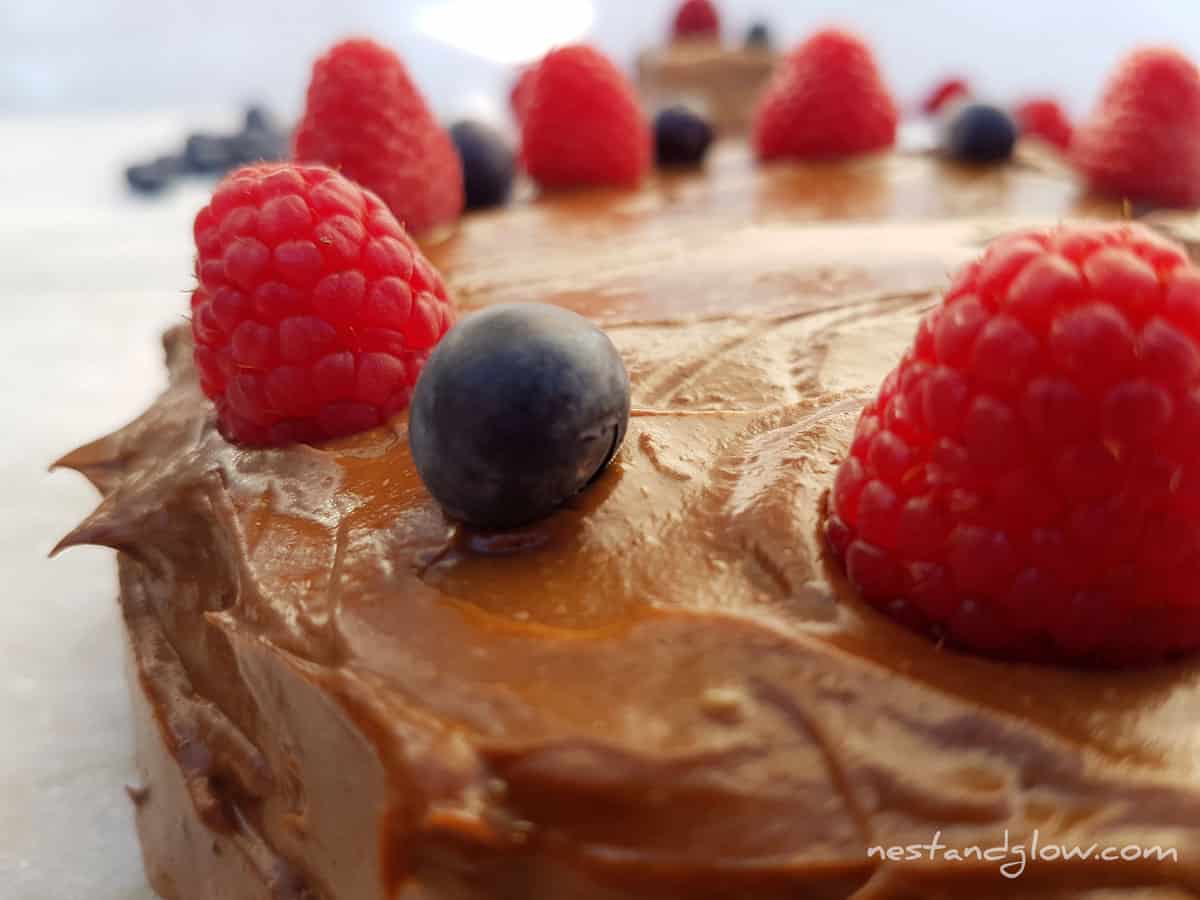 This gluten-free quinoa cake recipe has been in development for a while. I've been working on it since making quinoa pizza bases and chocolate avocado mousse and this is a hybrid of them together.
What can be better than a cake made from high protein quinoa and heart-healthy avocado? No oil, flour, gluten, stabilisers eggs or butter in this plant based recipe. This quinoa cake is just under half raw, so great if you are trying to eat a diet high in raw foods.
Quinoa Chocolate Avocado Cake Video Recipe
Play video on YouTube or Play music video
You can grease your pan with some coconut oil if you prefer and it will give a sharper edge to the chocolate cake. As I'm filming this recipe I want to guarantee it will come out of the pan easily so used greaseproof paper for oil free healthy baking. The rough edges don't matter as it's being iced.
Make this a triple chocolate quinoa cake by adding a handful of chocolate chunks to the cake batter before baking.
This gluten free cake recipe uses dates as the sweetener for the base, but dates can vary in sweetness significantly. I often use very sweet fudgy dates so If you use less sweet dates or want a sweeter cake then add some maple or other syrup to the cake bases. To make without dates just use another dried fruit or natural sweetener.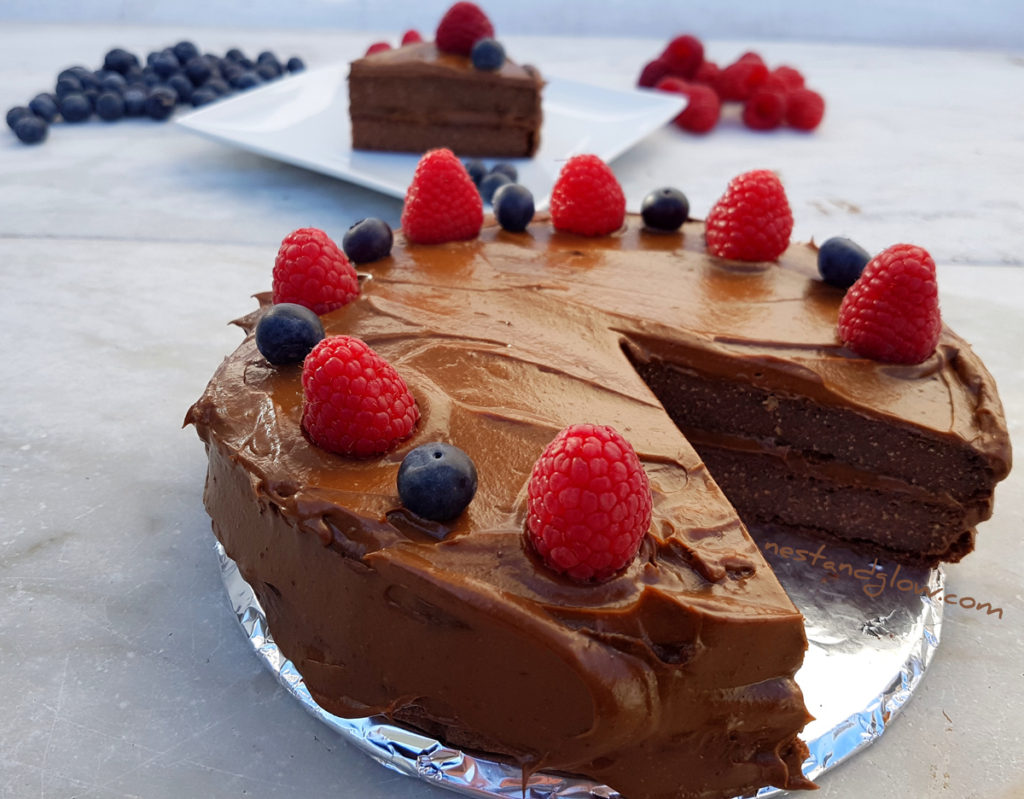 The quinoa cake is gluten-free without any stabilisers it will only get a small lift in the oven. It's a dense but moist and delicious cake. One slice contains a huge amount of nutrition from the quinoa, avocados, dates, cocoa and chia.
Soaking the quinoa is needed to make the seed easier for the body to absorb and easier to blend totally smooth. When you soak the seeds they start to grow and it's said the vitamins and minerals are more bio-available.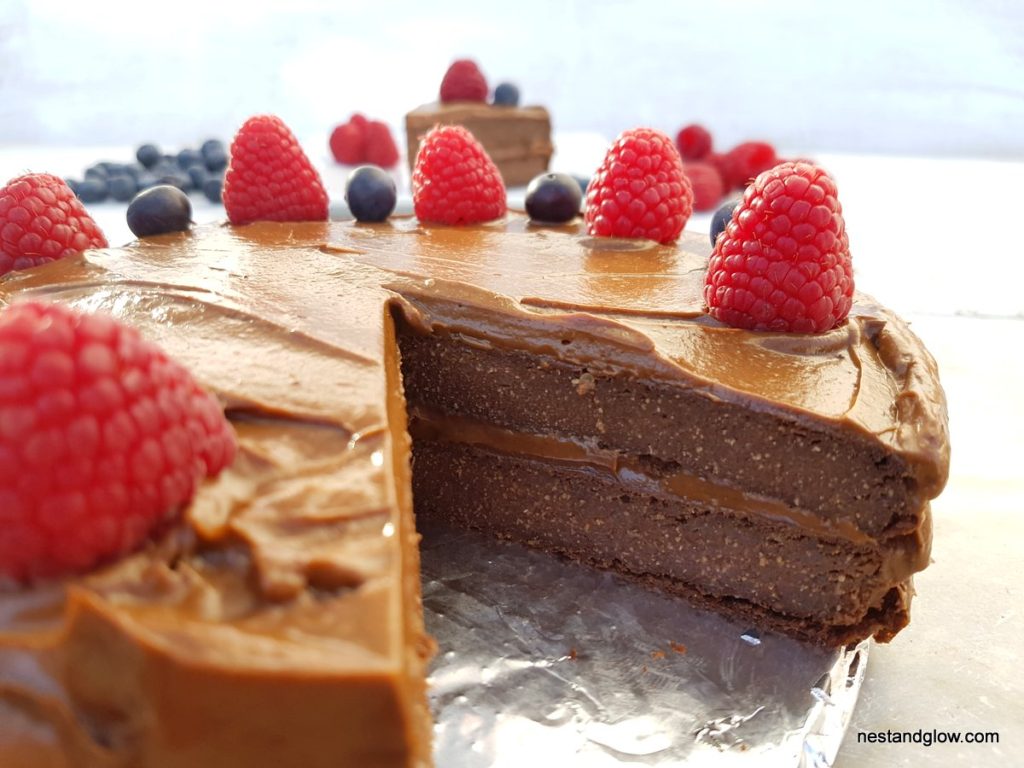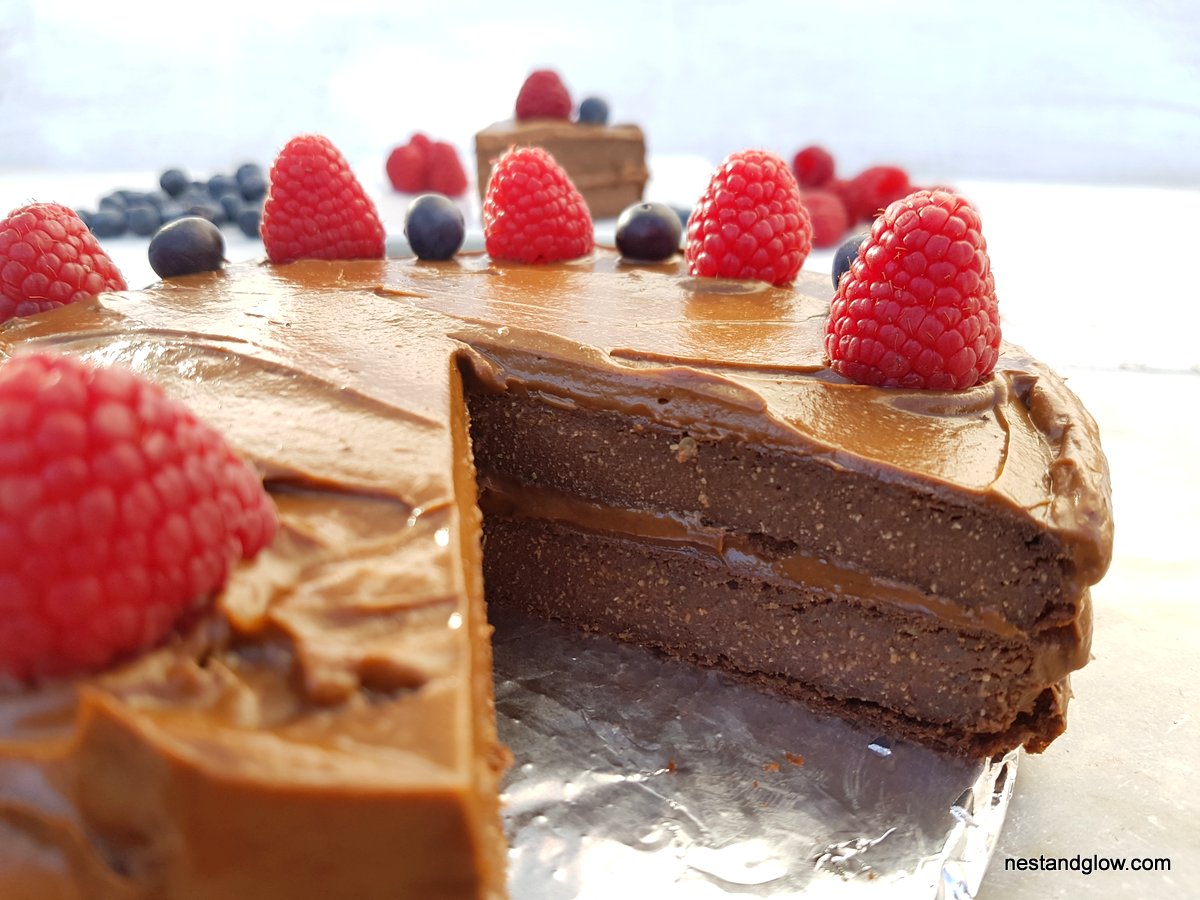 When blending the healthy quinoa cake batter you will probably want to do it in two batches if you have a small blender. The quinoa and dates are hard so you don't want to be putting too much stress on your blender as it may cause damage.
Even if you are using pitted dates do still check that no stones are left in as even just a fragment can ruin the whole cake. A 600w small jug bullet type blender is powerful enough to make this cake made from whole quinoa.
Most quinoa is pre-rinsed in the UK so you don't get a bitter taste. If the quinoa you use can sometimes be bitter do rinse the quinoa grain thoroughly before blending to remove any quinoa bitterness.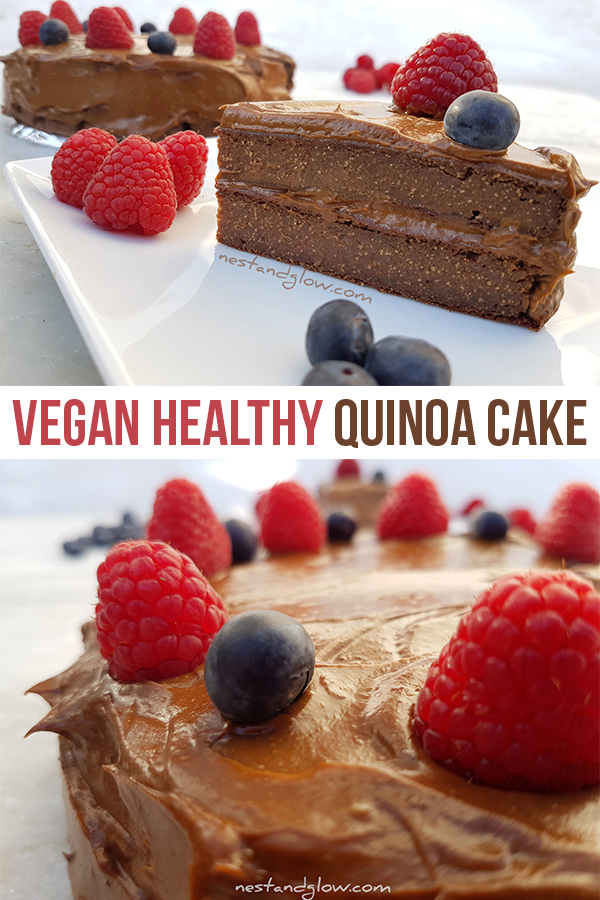 Yield: 8 Servings
Quinoa Chocolate Cake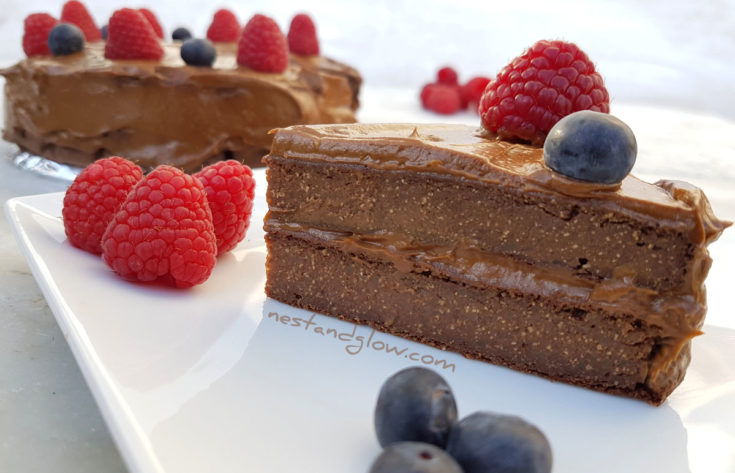 Gluten free and vegan cake made from whole quinoa and frosted with chocolate avocado. Naturally grain and egg free that's easy to make. Full of plant protein, fibre, heart healthy fats and nutrition.

Prep Time 20 minutes

Cook Time 50 minutes

Additional Time 10 minutes

Total Time 1 hour 20 minutes
Ingredients
Quinoa Chocolate Cake
1½ cups / 250g Quinoa
2 cups / 450ml Water
1 cup / 175g Dates, pitted
1 tsp Vanilla
1 tsp Baking powder
4 tbsp Cocoa or Cacao powder
2 tbsp Chia seeds
a pinch of Salt
optional, 2-4 tbsp Sweetener such as Maple, Coconut or Date syrup
Avocado Chocolate Frosting
2 Avocados
4-6 tbsp Sweetener such as Maple, Coconut or Date syrup
2 tbsp Coconut oil or Coconut Butter
4 tbsp Cacao or Cocoa powder
Instructions
Soak the quinoa for at least 15 mins in enough water to cover, then drain and discard the soaking water. Soaking for an hour or overnight is preferable.
Add everything else for the batter into the blender and blend until smooth.
Split into two lined 6″ pans and bake the quinoa cake for 35-45 mins at 180 C / 350 F.
You can tell when the gluten free cake is cooked when a knife comes out clean.
Leave to cool for 10 mins before taking out of the pan.
Blend all of the chocolate avocado frosting ingredients together.
Ice the top of one quinoa chocolate cake, place the other cake on then ice the top and sides.
Decorate with berries, store in the fridge and enjoy within 3 days.
Notes
This gluten free and egg free quinoa cake isn't as light and fluffy as a normal cake with wheat and eggs but it still tastes amazing. A smaller slice is very filling and contains more nutrition than many people on a standard diet have in a day.

Use fruit for decoration, any bright berries are good – raspberries, Inca or strawberries are my go-to fruit that look and taste amazing on this cake. Also chunks of dark chocolate or cacao nibs work great on this quinoa cake to give a deep rich chocolate flavour.
Recommended Products
Links maybe affiliated, meaning I earn a commission from purchases but at no extra cost to yourself.
Nutrition Information
Yield
8
Serving Size
1
Amount Per Serving Calories 271Total Fat 14gSaturated Fat 7gTrans Fat 0gUnsaturated Fat 7gCholesterol 2mgSodium 106mgCarbohydrates 36gFiber 6gSugar 21gProtein 3g
You can use either cacao or cocoa to make this gluten-free cake, both are nutritious and considering the price cocoa is often the better choice. More on the difference between cacao and cocoa.
Try a tiny bit of the cake before icing and if it's too bitter for your taste add some extra sweetener to the icing or brush on top.
As the quinoa is soaked this chocolate quinoa cake is paleo friendly.