If you love halva you will love this sesame seed cinnamon milk recipe. It's full of heart-healthy fats while also having a smooth creamy texture. I like it with a pinch of cinnamon on top but it works with many flavours such as cocoa, pistachio and almond.
Suitable for vegan, raw, dairy-free, nut-free, oil free and general healthy diets. If you want it a sweet dessert drink just add some liquid sweetener to it such as maple or coconut syrup.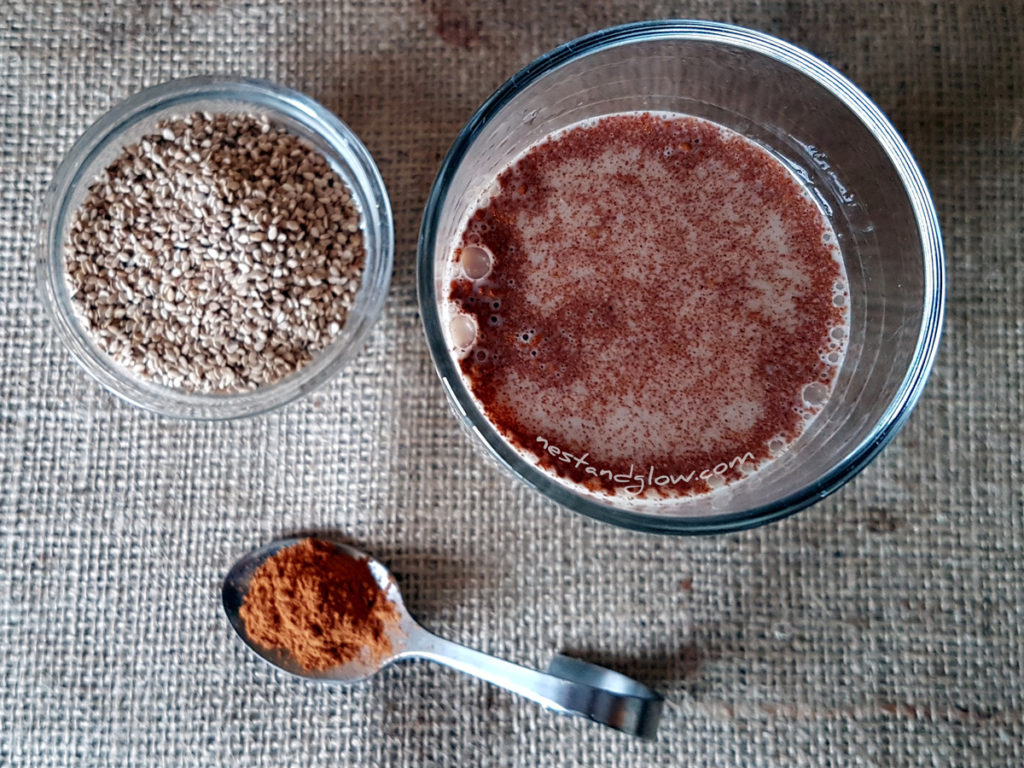 View fast video or View no-music video
I tend to use unhulled sesame seeds as they are much higher in nutrients such as potassium and zinc. If you want a less earthy taste then use the hulled and whiter seeds. It's always advisable to soak your seeds, overnight is best but if you don't have the time just 15 mins is good enough. Just seeing the murky soaking water as you discard it will sway you to thinking how necessary it is to soak your seeds/nuts. The only nuts or seeds I don't soak are cashew and macadamia.
Seed Milk 4 Way Video Recipe
If you have a spring near you then I would recommend using this water to make milk. If not then use filtered water instead. I live in Somerset UK and am lucky enough that there are several springs nearby that I can gather water. This spring water has slowly bubbled to the surface over hundreds of years – it's said to have come from the last ice age!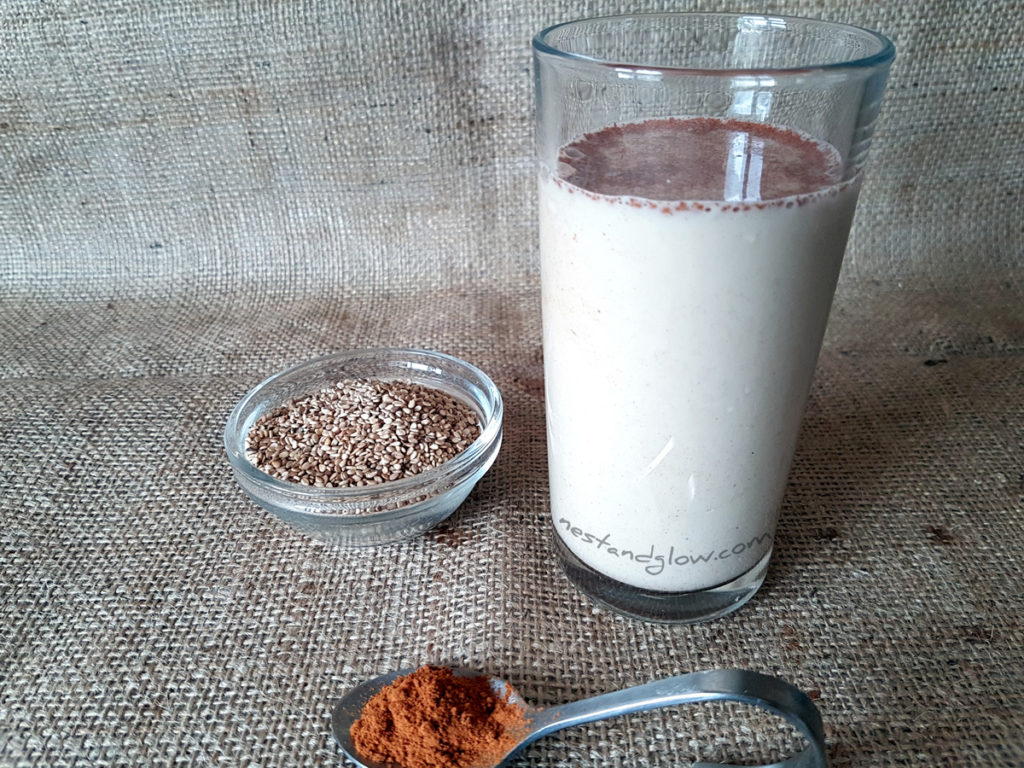 I do use a lot of nuts on the site and I try to have the same number of nuts as I do seeds. I could just live off cashews in every single recipe but I do limit them to have a balanced diet and for wallet reasons.
Don't bin the fibre left after squeezing out the milk as it can all be used in baking and smoothies. I often added to the base of something like the quinoa pizza or the avocado on toast quinoa flatbread. But do bin the soaking water from the sesame seeds as contains then enzyme inhibitors that were the reason for soaking. As the seeds are soaked and start to sprout it means the nutrients are more bioavailable.
The Cinnamon floated to the top of the sesame seed milk as I didn't blend it after straining. If this bothers you do blend after straining but honestly after rinsing the blender and squishing through a sieve cloth I felt life is too short to then use the blender again. It looks quite pretty floating on the top and trying to film 4 seed milk recipes in a day meant I really didn't have the energy to re-film it.
Yield: 2 pints
Sesame Seed Milk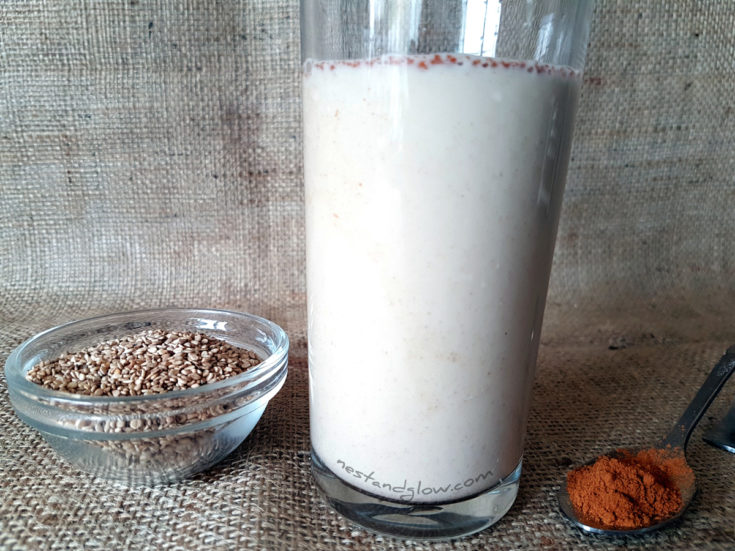 Sesame seeds make a great vegan milk that is high in calcium. This dairy free milk recipe goes so well with some cinnamon to bring out the earthy flavours of sesame.
Ingredients
1 cup / 130g Sesame seeds
3 cups / 700ml Water
3-6 Dates, pitted
1 tsp Cinnamon
1 tsp Vanilla (optional)
a pinch of Salt
Instructions
Soak the sesame seeds in water with a pinch of salt.
Leave for 8 hours or overnight then drain off the water and rinse under the tap
Add the seeds, dates and water to a blender and blend on high for 2-3 mins until all the seeds are finely ground.
Pour into a nylon milk bag / cheesecloth with a large bowl underneath.
Squeeze all of the moisture out using your hands and then stir in the cinnamon or vanilla if desired.
Enjoy the sesame seed milk within 3 days. Keep in the fridge.
Use the fibre you are left with in baked goodies such as cookies and muffins.
Recommended Products
Links maybe affiliated, meaning I earn a commission from purchases but at no extra cost to yourself.
Nutrition Information
Yield
4
Serving Size
1
Amount Per Serving
Calories

218
Total Fat

16g
Saturated Fat

2g
Trans Fat

0g
Unsaturated Fat

13g
Cholesterol

0mg
Sodium

44mg
Carbohydrates

17g
Fiber

6g
Sugar

7g
Protein

6g