Easy vegan mocha eggs made using cashew nuts and dark chocolate. These mocha coffee cream eggs are a great easter recipe.
They can be a bit messy with the mocha caramel fondant filling but they are fun to make when you have the time. Healthy and dairy free can still taste amazing as these healthy easter eggs prove.
Suitable for vegan, dairy free, plant based and general healthy diets.
No dairy is needed as they are filled with a cashew cream. The cashews add sweetness, creaminess and heart healthy fats. You can use any sweetener you like in the recipe.
To make this suitable for a raw vegan diet mix 1/3 cacao powder with 1/3 sweetener and 1/3 coconut/cacao oil.
These healthy vegan Easter eggs can be made with coconut butter instead of coconut oil if you prefer.
Mocha Coffee Cream Eggs Video Recipe
In factories, they combine the two moulds together and then have rotating machines that look like a rollercoaster (very similar to a slower version of the samurai at Thorpe park).
Without any machinery I filled the mould and then slowly rotated for 10 mins in a cool garden. Try to put the same amount of chocolate in each egg shape so the chocolate gets to the edges of each egg at the same time.
As you can see mine weren't too neat – but that doesn't matter as the mocha filling glues them together and I like the rustic look ;).
You can use coffee replacement instead of espresso – in the video I used chicory root coffee but there are plenty of different types of caffeine free "coffees".
If you want to make this dairy free easter egg caffeine free make the shell from 1/3 carob powder with the same amount of sweetener and coconut oil.
Always use a high cocoa content dark chocolate as its low in sugar and high in antioxidants. I used a 84% cacao dark chocolate for this. If you're vegan always check the lable as some places are now putting butter oil as a cheaper ingredient to cacao butter.
I was originally going to make a raw vegan Cadbury creme egg. I saw one about ten years ago ones at (the now defunct) Pure Food and Wine in NYC. It turns out lots of people have re-created this recipe already.
So instead I've made a vegan mocha cream egg as someone suggested a mocha cheesecake and this has already been done many times but I think this is the first vegan / refined sugar-free mocha cream egg.
UPDATE Almost 6'000 people voted for a Cadbury Cream Egg so I have made a raw vegan/plant based cream egg, I couldn't see a raw vegan cadbury cream egg made with cashews so hopefully this is unique.
Cashew cream egg recipe is now live.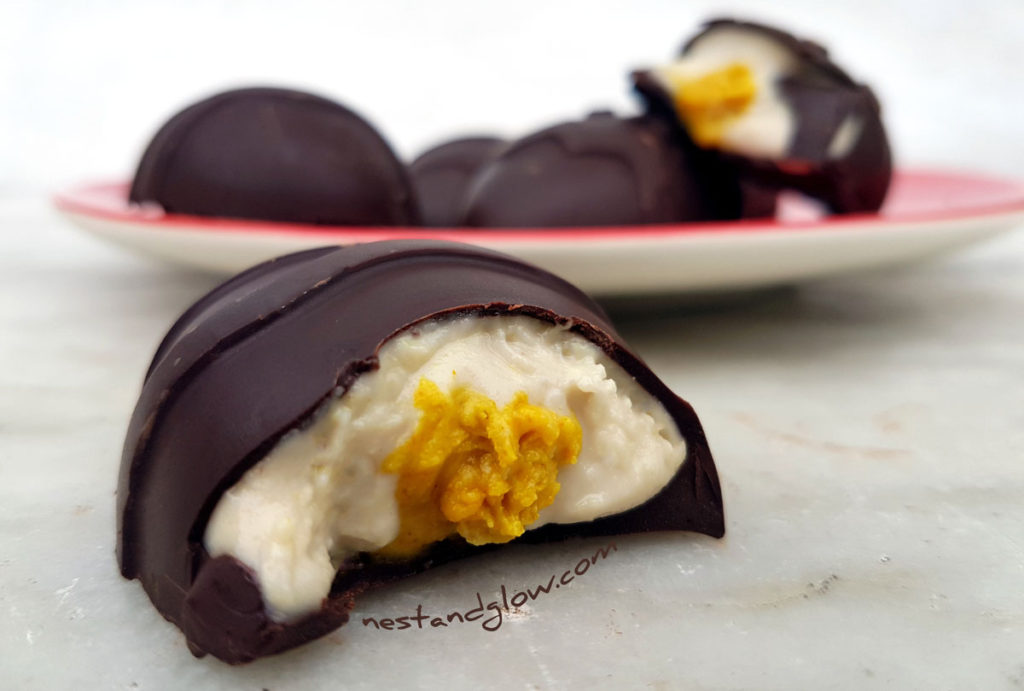 Mocha is generally used to describe a chocolate coffee flavour. It comes from Mocha, Yemen which was an important trading post for coffee beans.