For decades Dyson have been known for sucking with their market leading vacuum cleaners. In recent years they have branched out to blowing with fans and supersonic hand driers. Now after many years of research costing £50 million and using 1.6 million meters of human hair comes the Dyson Supersonic Hairdryer.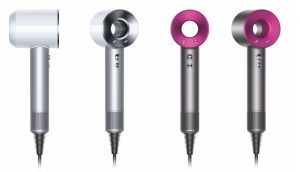 Dyson claims its hairdryer is different from all the competition as it has a mighty powerful directed airflow and a smart thermostat to prevent scorching hair and getting split ends. The thermostat claims to check the temperature an impressive 20 times a second. However none of this comes cheap as it retails for £299 in the UK.
First impressions when un-boxing are it oozes quality and is a beautiful piece of kit. It comes with 2 nozzles, a diffuser and a mat. The hairdrier is significantly lighter than my existing Parlux compact. All of the attachments are connected by magnets and feel very secure when in use.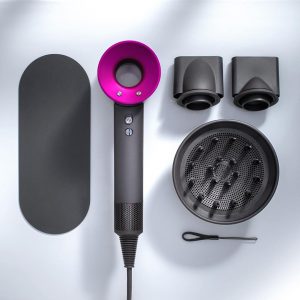 This little device packs a big punch as its more powerful than my existing Parlux but outputs half the noise – you could have a conversation over the noise of the Dyson Supersonic Hairdryer. The small framed Dyson is so much easier to use being far more comfortable holding for the 15 minutes it often takes me dry my hair before styling. It took just 6 minutes to dry my thick hair with the Dyson. I was astounded by how quick the Dyson is.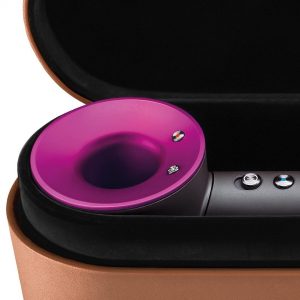 After using my hair did look glossier than usual with a shine on the ends that I usually need to use a straightener to achieve. It was much easier on my hand being lighter and quicker. I was reluctant to believe the hype of this device but for me and my thick hair it lived up to it. Costing almost 4 times the Parlux compact it wasn't cheap. But it seems like a quality piece of kit that will last and just going on the time saved then over a few years I think it will be a very worthwhile investment. It wasn't just quicker as my hair felt and looked better than usual and for me that is priceless.