Easy to make quick and healthy macaroons full of vitamins and nutrients. Banana is used to sweeten naturally and replaces eggs in this vegan macaroons recipe. These healthy treats are nut-free, gluten-free, grain-free, oil-free, dairy-free, whole 30, paleo and vegan
Macaroons are a perfect way to use up overripe bananas and make them last a few days more. You can make these as either raw or baked. Although to make raw macaroons you will need a dehydrator so in the photos and video I'm making baked macaroons in an oven to make this recipe accessible to all.
3-Ingredient Banana Macaroons Video
For traditional macaroons you dip just the bottom with chocolate. However I wanted to create a moon cookie type of a sweet so chose to side dip. I'm pretty pleased with how they turned out but there is no denying that a bottom dip is easier to do and is very effective at having an empty chocolate bowl – not sure if this is good or bad!
To make a caffeine free version of these chocolate macaroons try carob rather than chocolate. This has a similar flavour as chocolate but not quite the same depth of flavour.
When choosing shredded/desiccated coconut opt for a brand that is unsweetened. You really don't need any extra sweetness in this recipe as the banana is more than enough.
Think of this macaroon recipe as just a base that you can adjust to flavour how you like. I've made variations of these macaroons with cacao powder, matcha green tea, cinnamon, beetroot and raspberry.
For the raw macaroons version, you can either use a premade raw chocolate bar or make your own raw chocolate covering. I always make my own as it's much cheaper.
This recipe is based off my 3 ingredient cookies, only the oats have been replaced with coconut to make it paleo and suitable for all coeliacs.
These are not to be confused with the almond meringue macaron. I've tried creating dairy-free, nut-free, vegan, egg-free, sugar-free versions of this French sweet using Aquafaba. But as they always come out of the oven a flat merged-into-one disappointment. I've settled for a life of making coconut macaroons instead. Just as well seeing as I named my book Healthy and Easy.
To make a raw chocolate coating use 1/3 cacao powder, 1/3 sweetener (such as maple syrup or coconut sugar) and 1/3 fat (such as melted cacao butter or coconut oil/butter).
I was very pleased with these until I googled traditional macaroons and noticed mine do look a bit dry. That's due to no added fat so you could add some coconut oil if you wanted. They did, however taste great and unlike normal cake I felt satisfied after two or three. The great thing about my healthy sweet recipes is they are not super addictive.
I did squeeze the banana macaroons together quite firmly, I feel they needed this as just dollops of the mixture would disintegrate after baking/dehydrating if you tried to pick up. Maybe next time I'll try this with a bit of flax or chia seed. Tag me @nestandglow on social media or write in the comments below if you've adapted this recipe.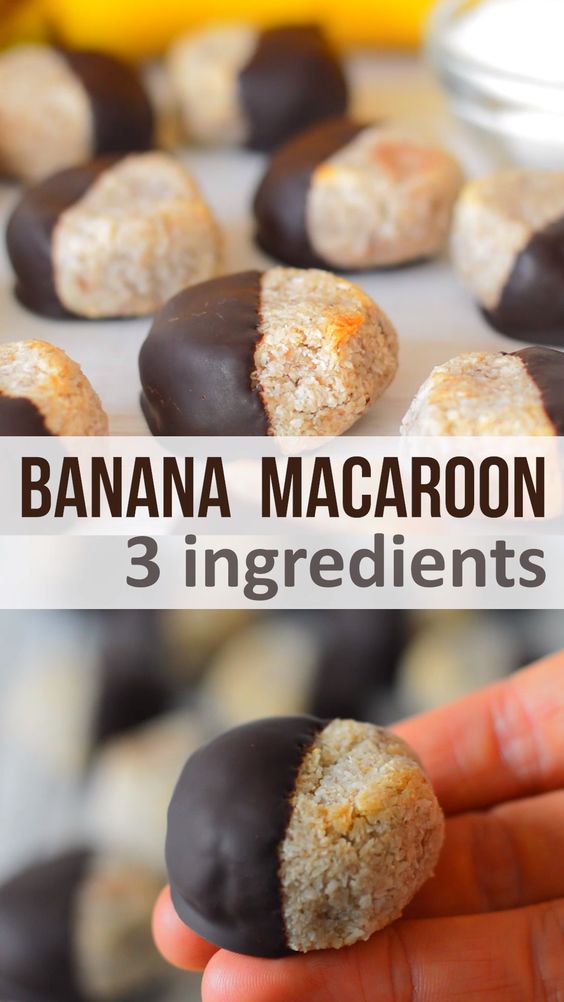 Sorry last picture – I took a bit too many of these banana Macaroons then couldn't decide on the best ones to use!
Don't get macaroons confused with macarons, the former are a coconut based and the latter are meringue based.