Healthy sweet potato chocolate brownie recipe that's easy, foolproof, full of fibre and loaded with nutrition. It's moist and fudgy with a rich deep dark chocolate flavour but not too bitter with sweet almonds and sweet potato.
There's more nutrition in a slice of these healthy chocolate brownies than many people have in a day!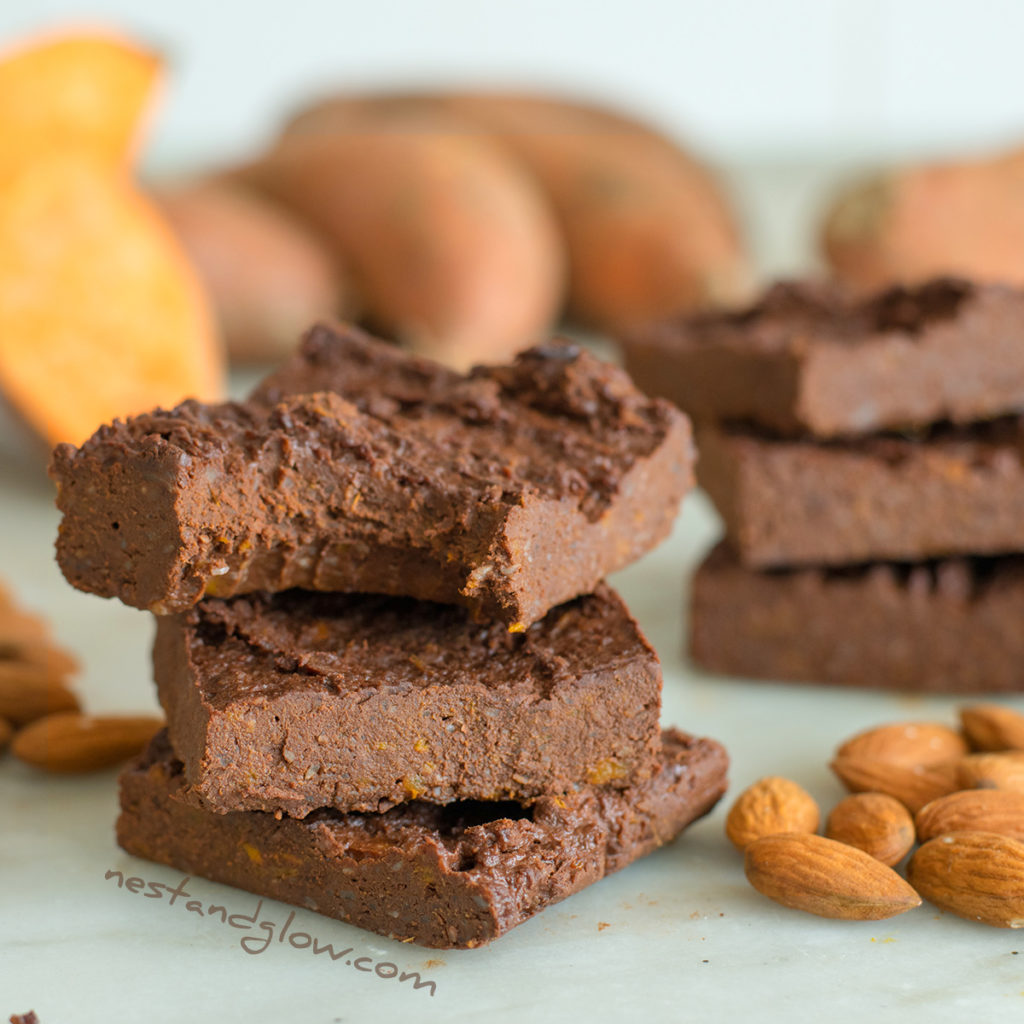 This brownie recipe is suitable for vegan, plant-based, paleo, gluten-free and general healthy whole food diets. To make totally sugar free and keto chocolate brownies make with a chocolate that is sweetened with a keto sweetener such as xylitol.
My healthy chocolate brownie contains no flour or butter but instead, ground almonds and sweet potato are used to give a brownie with great texture. This also means it's high in protein and low in saturated fat.
Healthy Chocolate Brownies Video
Play video on Youtube or View FAST Video or View No Music Video
I was planning on calling these no-bake chocolate brownies but I really wanted to bake the sweet potato rather than steam as it's way easier and more flavourful. With baking, just prick it, bake and then scoop out the insides. Baking makes the sweet potato cook in its own juices and is not too wet like boiling or steaming will.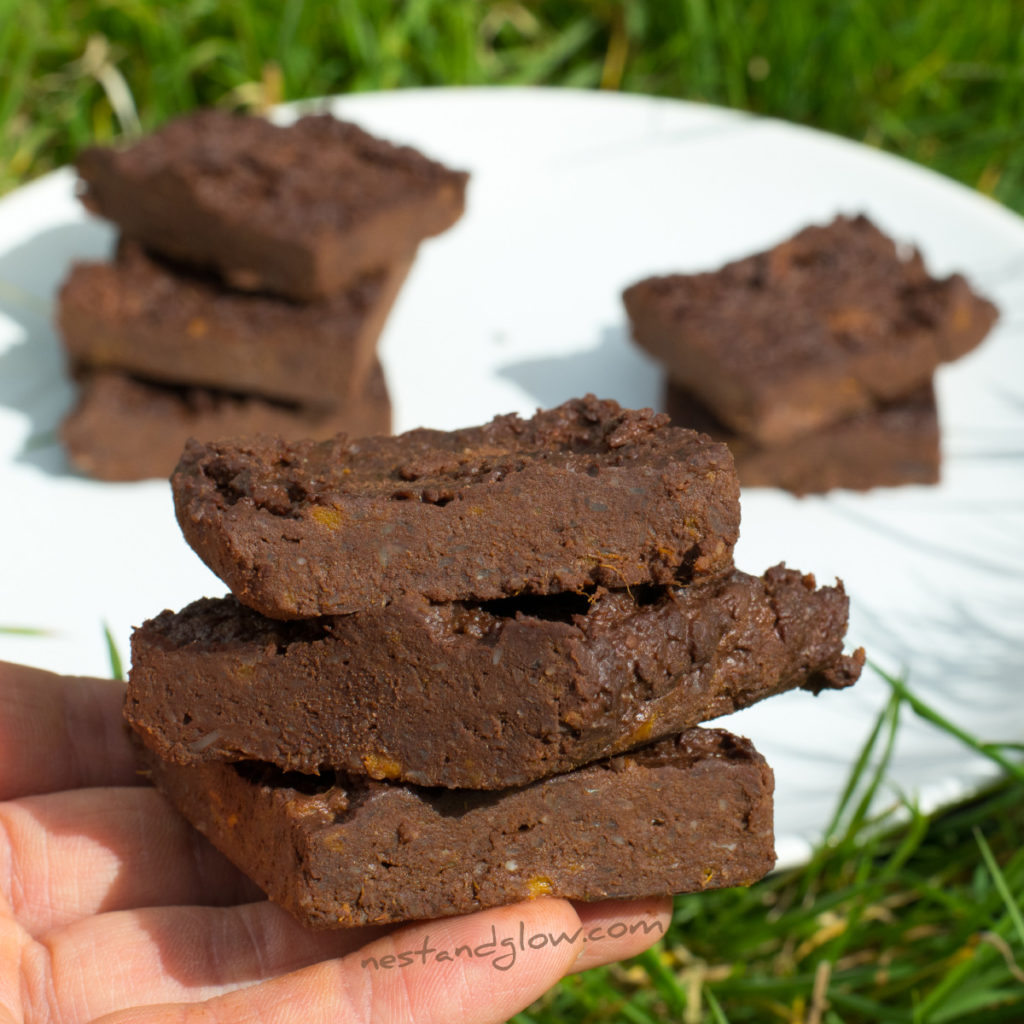 There no need to heat your bowl while making these sweet potato chocoalte brownies as the residual heat from the sweet potato is enough to melt. If you are left with any lumps its actually a good thing as they are lumps of chocolate!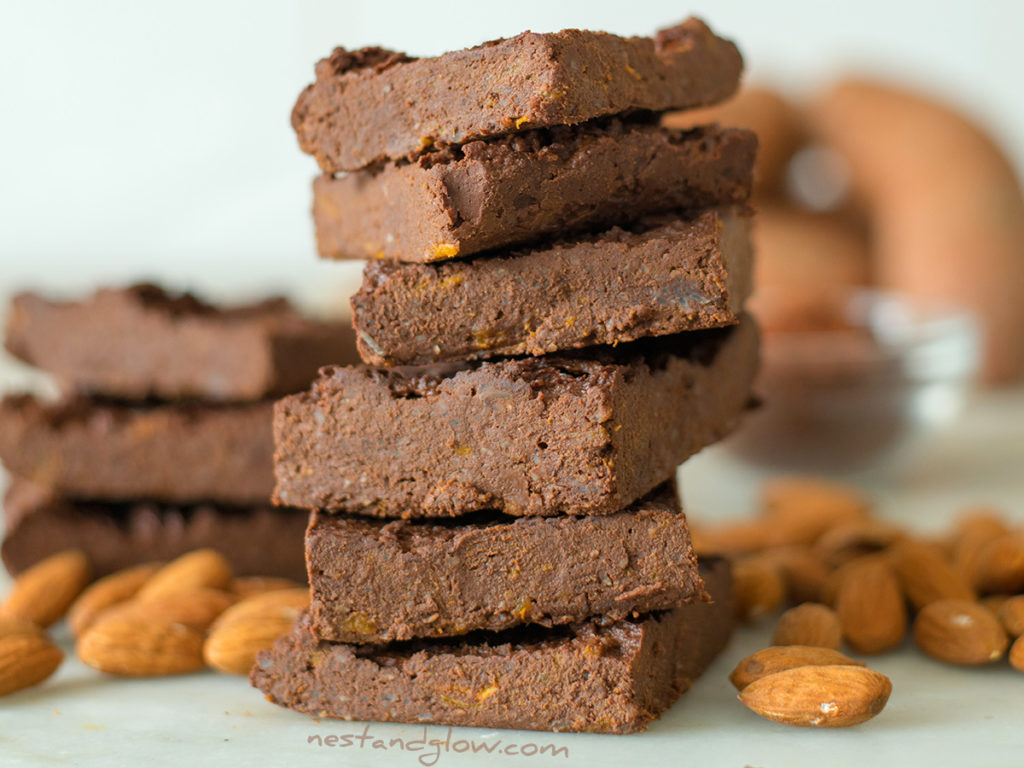 As this is a healthy chocolate brownie recipe I'm using an 84% dark chocolate bar that is low in sugar. You can get sugar-free chocolate bars sweetened with xylitol to make it totally sugar-free, I'm fine with a small amount of sugar that will be mixed with lots of fibre and heart-healthy fats so will be absorbed slowly.
As this is a vegan site I use dark chocolate that's free of butter oil and palm oil as these are creeping into dark chocolate as cheap replacements for cacao butter. Do always choose a high-quality chocolate to make these brownies to avoid inferior grade cocoa beans and cheap padders.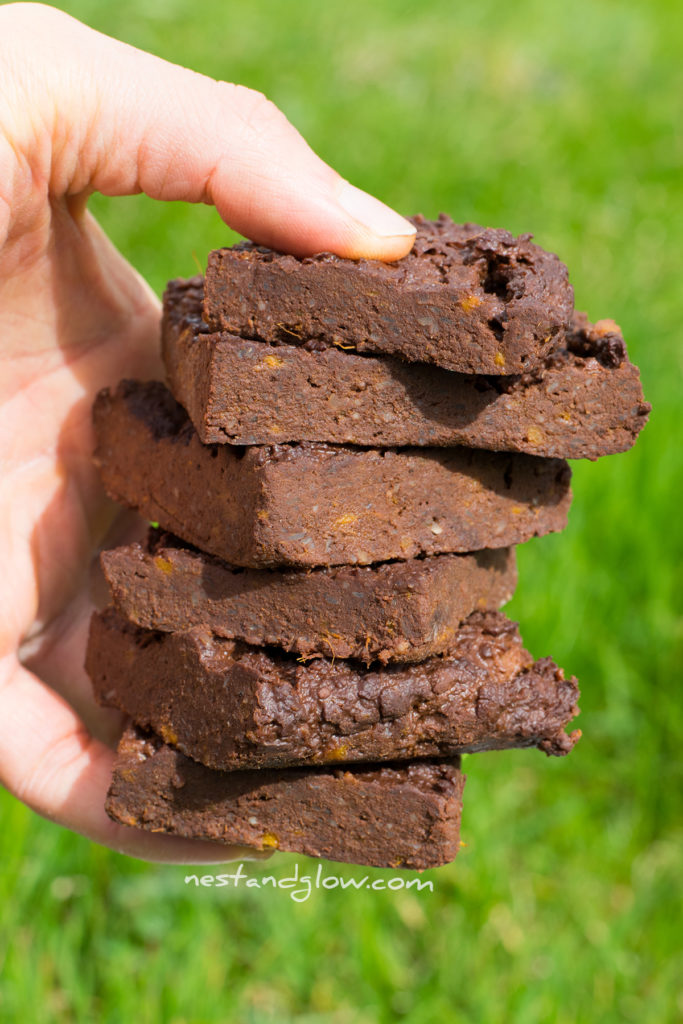 Use your favourite chocolate you like to make these brownie recipes. Some that are less keen on dark chocolate have made it with a sweeter chocolate that has more sugar and rice to be a vegan alternative to milk chocolate.
You could just add 1/3 cacao powder, sweetener (like maple or date) and fat (cacao or coconut butter) into the brownie batter instead of block chocolate. That would obviously make it not a 3 ingredient brownie recipe anymore but it would be less processed.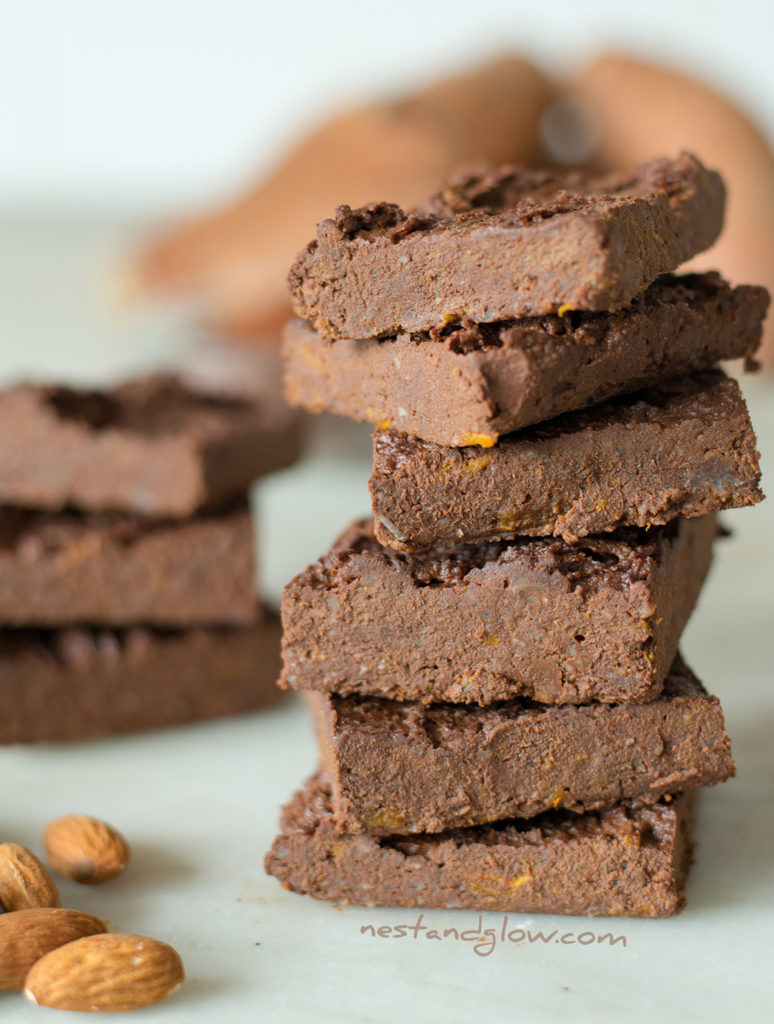 A high-quality dark chocolate often contains natural vanilla so no need to add any to this gluten free brownie recipe, unless you want extra!
Another great thing about this vegan recipe is that you can eat it before setting to check the flavour and adust. Think of this healthy brownie recipe as a base to add any extras you like such as dried cherries or chilli pepper.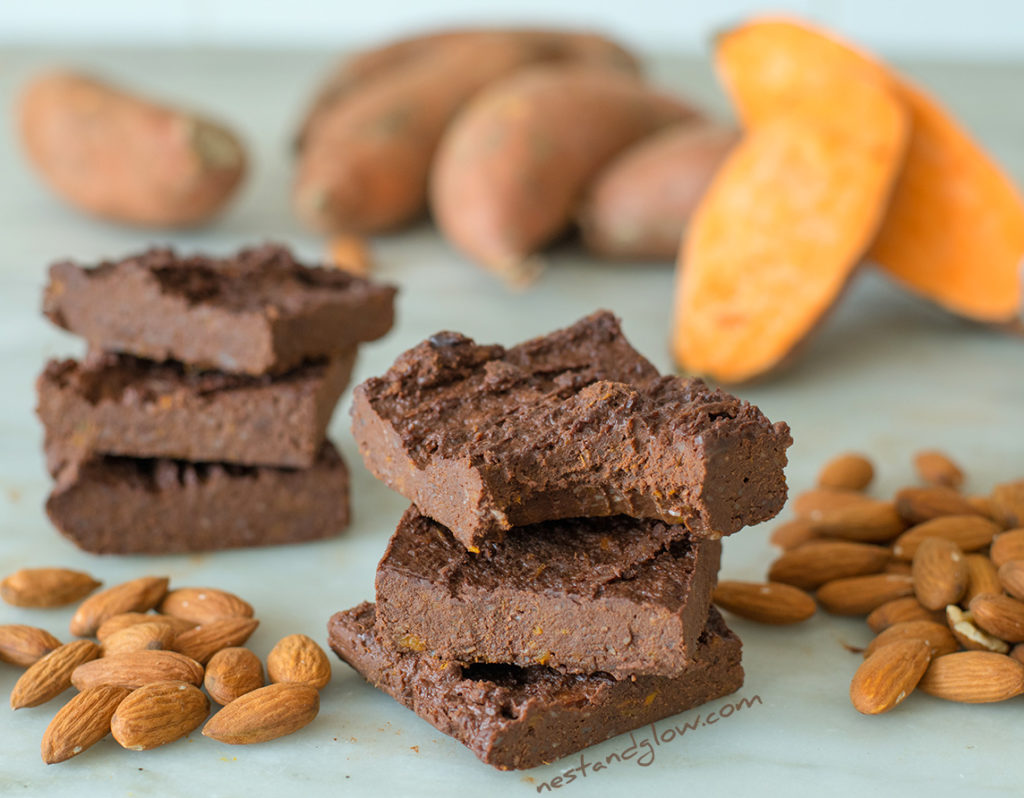 Nut-free Adaptation
I'm using ground almonds in this recipe to make it easy with accessible ingredients. If you want to make this nut free then you can either; grind some sunflower seeds, use buckwheat flour or blend desiccated coconut for a few minutes to make finer.
Blend your seeds in a small spice / coffee grinder or bullet device.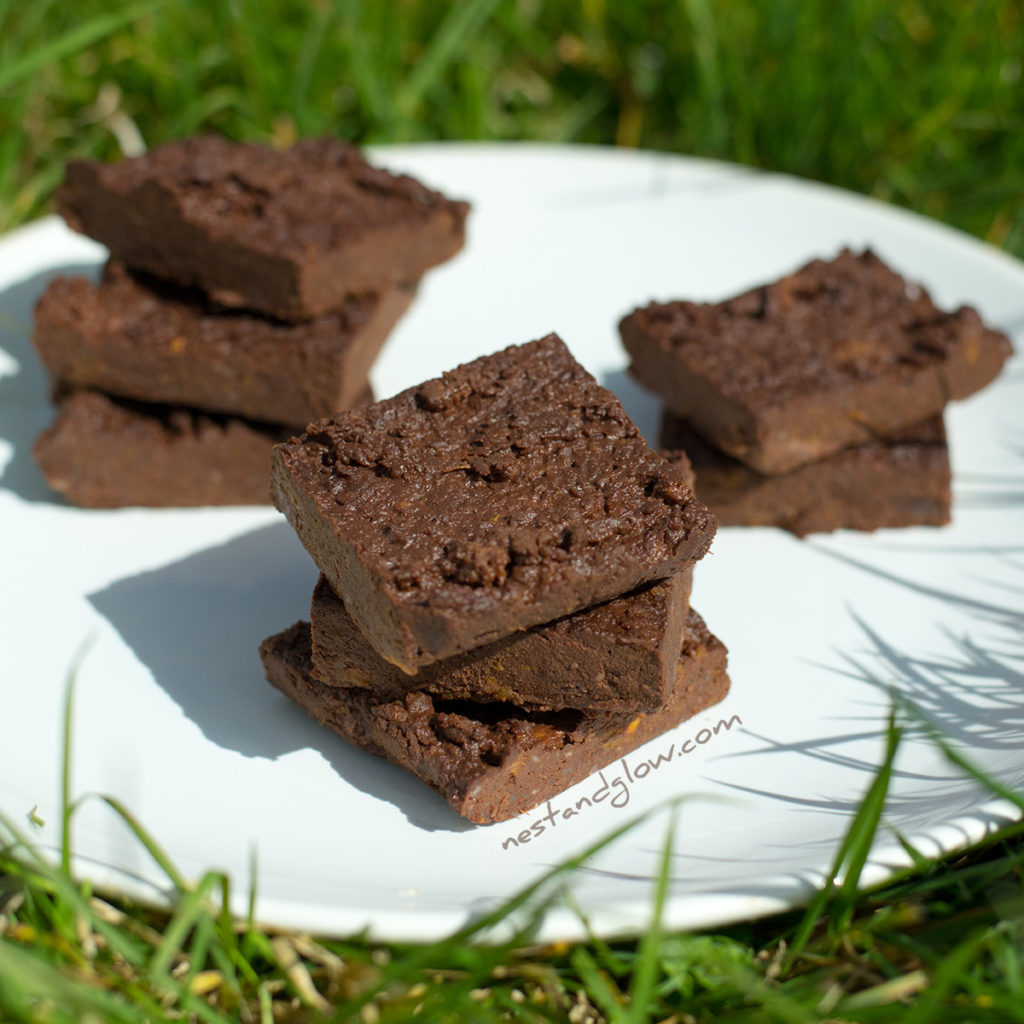 Yams or Sweet Potatoes?
I use the orange-fleshed sweet potato for this. Some people in the US do call these yams as they were called this to distinguish between the white flesh varieties when first introduced from the Caribbean. But orange-fleshed sweet potatoes are not a yam and these days have to be labelled as sweet potato in the US. A real yam is a tough and fibrous root that only looks similar from the outer flesh.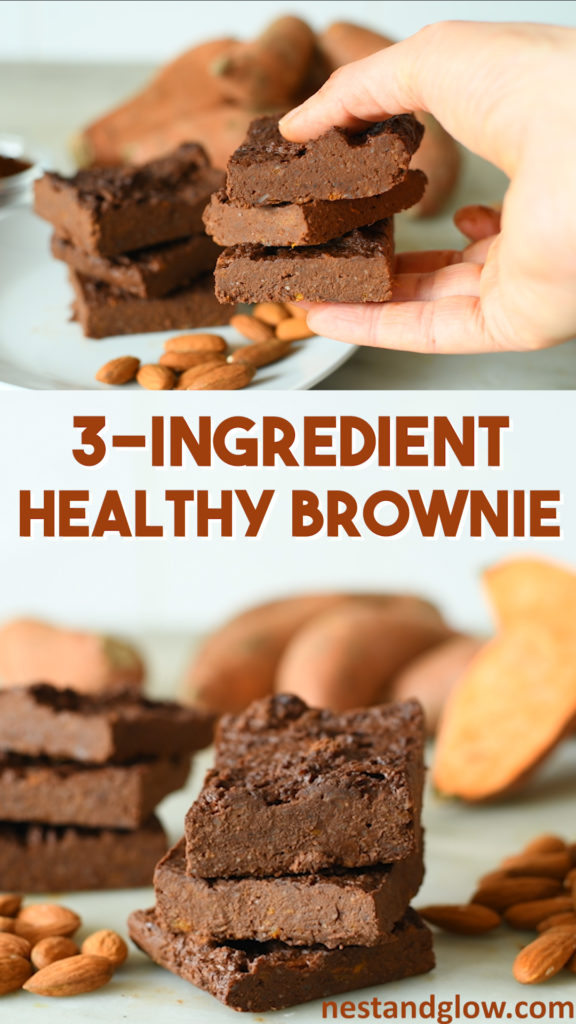 Yield: 9 healthy brownies
3-Ingredient Healthy Chocolate Brownies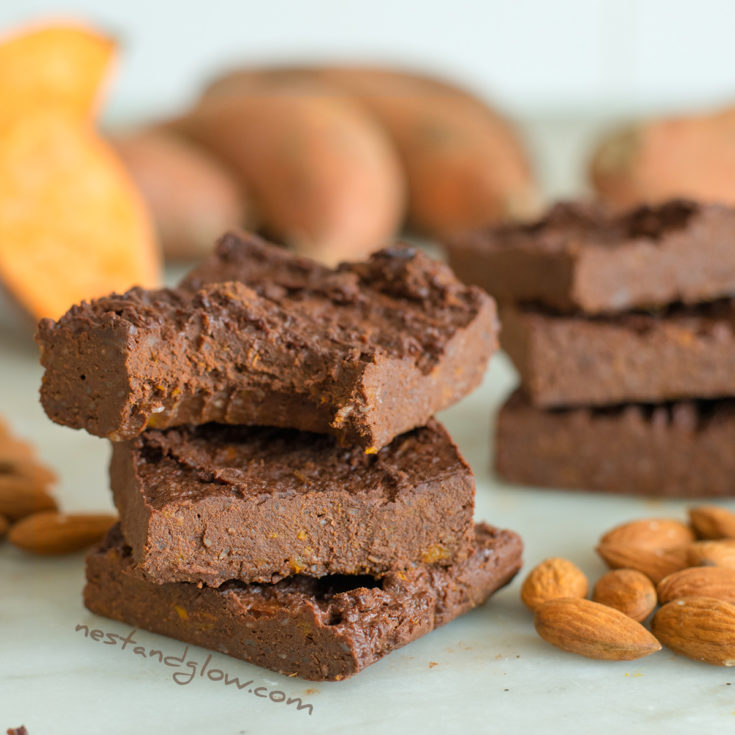 Easy healthy brownie recipe that's made from just chocolate, sweet potato and almonds. Full of healthy fats, fibre and protein. Suitable for gluten free, paleo, vegan and general healthy wholefood diets. Super easy to make with minimal mess as the potatoes are baked then the hot flesh melts the chocolate.
Ingredients
2 medium Sweet Potatoes, about 11oz / 300g  with skin on
1 cup / 120g Ground Almonds
4.4 oz / 125g Dark Chocolate
Instructions
Top and tail the sweet potatoes, prick and bake at 430F / 220C for 40 minutes.
Once cool enough to handle scoop out the hot flesh and mix with the chocolate and almonds.
Press sweet potato brownie mixture into a square dish about 8" then chill for an hour to set.
Cut into squares and enjoy the healthy chocolate brownie. Store in the fridge where it will last for 5 days.
Don't throw away the skin - the best thing with baking is you get a chefs treat of the nutrient-dense skins! You can bake the skins for a few minutes to make really crispy.
Recommended Products
Links maybe affiliated, meaning I earn a commission from purchases but at no extra cost to yourself.
Nutrition Information
Yield
9
Serving Size
1
Amount Per Serving
Calories

181
Total Fat

11g
Saturated Fat

3g
Trans Fat

0g
Unsaturated Fat

8g
Cholesterol

1mg
Sodium

79mg
Carbohydrates

17g
Fiber

3g
Sugar

9g
Protein

4g