This Coco Cacao Vegan Chocolate Spread could not be easier to make – just blend together the four ingredients, chill to set and enjoy.
I was amazed while visiting a chocolate factory in Indonesia that they made a chocolate spread that was dairy free with just 3 ingredients. I've added vanilla to give it some extra depth but it's also great without it.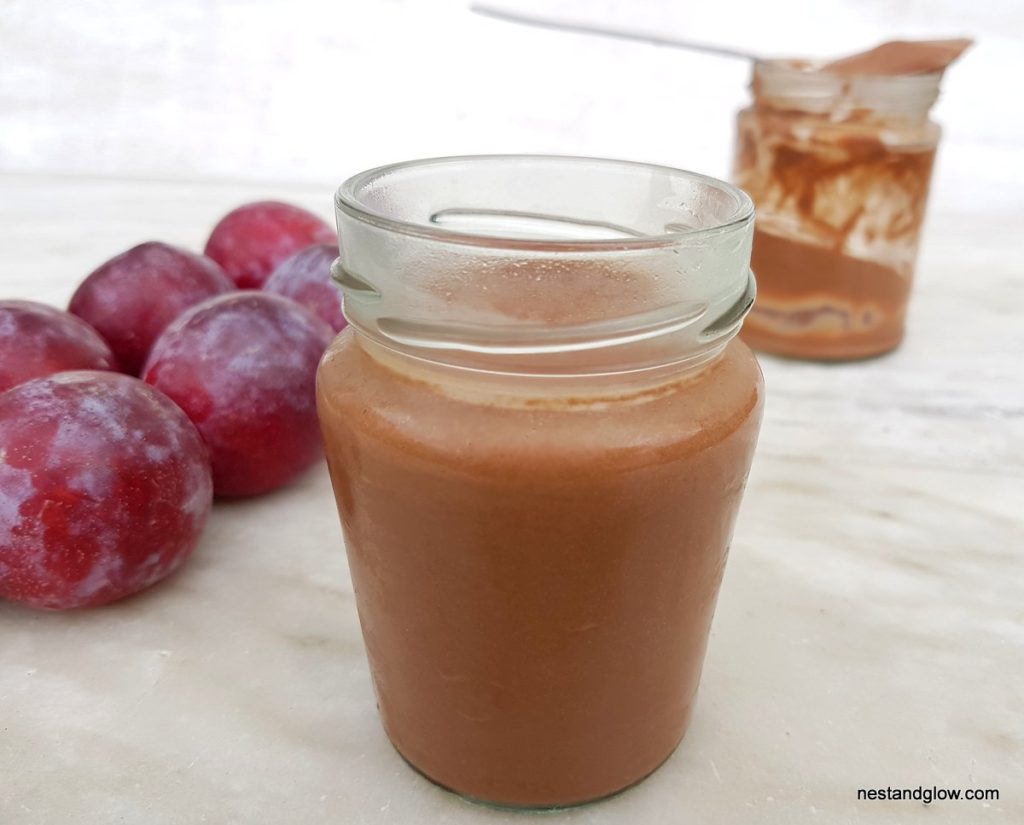 You can use as a spread on anything – I like to spread it on bread and dried figs. It can of course, be eaten with a spoon from the jar. Made from just pure natural ingredients and suitable for vegan, dairy-free, plant-based and general healthy diets.
This chocolate spread is a great healthier alternative to the shop bought versions as its free of palm oil, stabilisers, dairy and refined sugar.
Coco Cacao Chocolate Spread Video Recipe
It melts perfectly on warm bread to give a deep chocolate gooey taste. If you are following a gluten-free diet check out my recipe for buckwheat chia bread – it's easy to make from just a few whole food ingredients and free of wheat and gluten.
This base can also be used as an ingredient to make a delicious dairy free chocolate drink. Just mix a few tbsp with hot water for a creamy hot chocolate drink or cold iced water for an ice chocolate drink. Both are great and make a perfect dairy-free creamy chocolate beverage.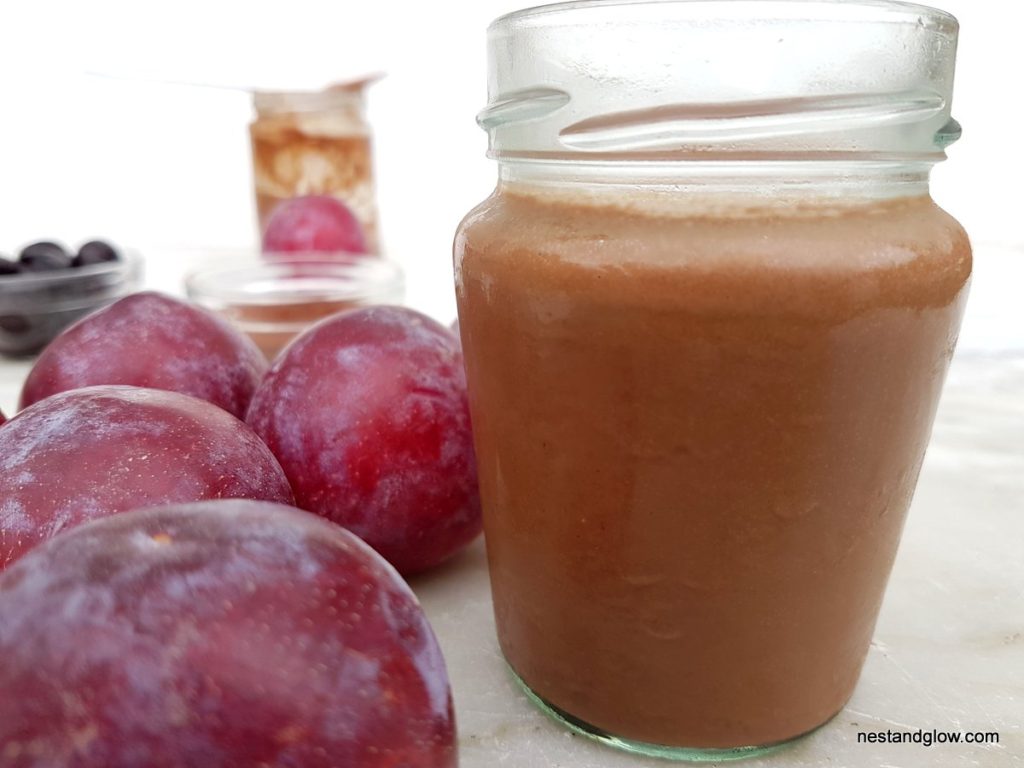 You can make a raw version if you like by making your own coconut milk (directions in Golden Tempeh Curry Recipe) and blending with raw cacao and a sweetener of your choice.
Replace the coconut sugar with your favourite sweetener if you like but the caramel tones of coconut sugar works really well. If you are using a liquid sweetener the spread might not come out quite as thick.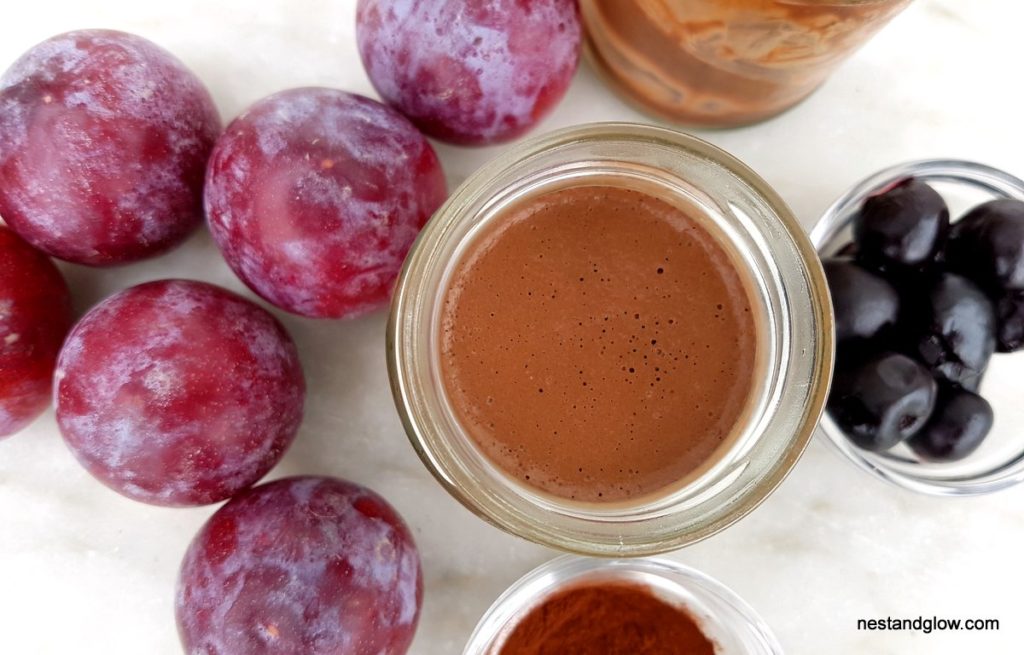 This vegan chocolate recipe contains no nuts. Coconut is technically a seed as the white inner part with a brown casing that we use in recipes is a seed. Also it's suitable for people that have a tree nut allergy.
When it's in the shell that it grows on the coconut palm it's also technically a fruit.  The young coconut fruit is often consumed as a drink where the immature coconut is filled with an electro-light rich drink and the flesh is young and jelly-like.
Coconut is often called the tree of life as every part of it can be used – for a drink, food, fuel and making various things from shelter to musical instruments. Although coconut a palm, not a tree due to having no branches or bark.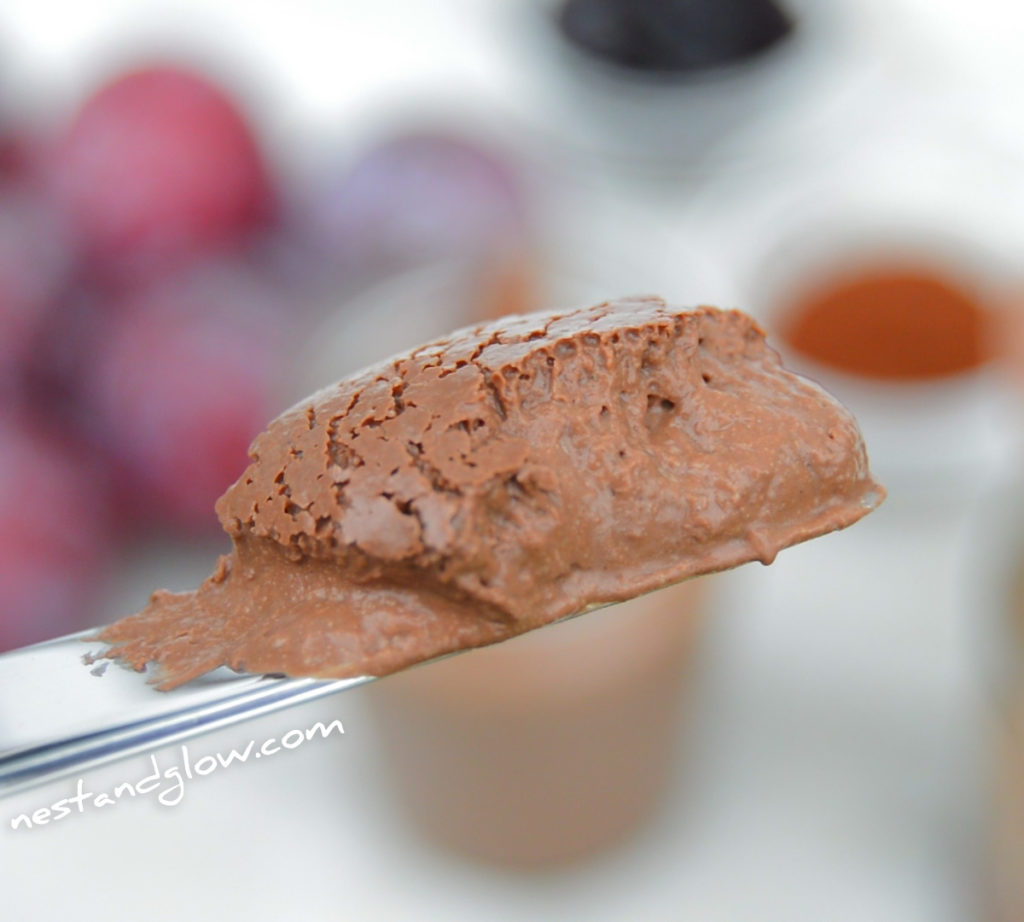 Coconut sugar is used to sweeten this vegan chocolate spread recipe. This sweetener is made from the flower sap of the coconut sugar. It's high in sugar so should be consumed in moderate amounts but does contain some vitamins and minerals so is better for you than refined sugar.
The high coconut content of this recipe means that the sugar is absorbed slower into the bloodstream.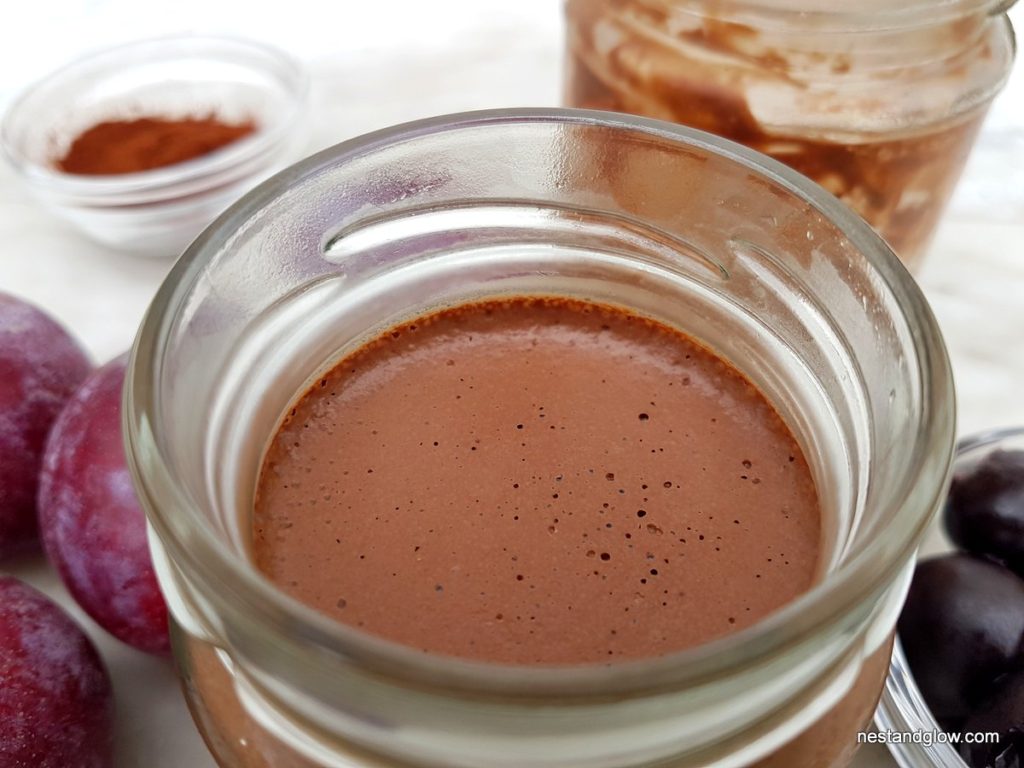 Coconut is high in saturated fat and there have been many misconceptions that it is unhealthy. However, the studies that showed coconut to be unhealthy were based on hydrogenated and refined coconut oil that has been messed around with and is full of trans fats so it's no surprise this type of coconut is unhealthy. More recent studies show that coconut fat can be very beneficial for your brain and heart.
More research is needed to fully conclude but coconut products now and again will probably be part of a very healthy diet. It's best to only eat 1/4 of this a day due to the high fat and calorie content.
Yield: 10 servings
Coconut Chocolate Spread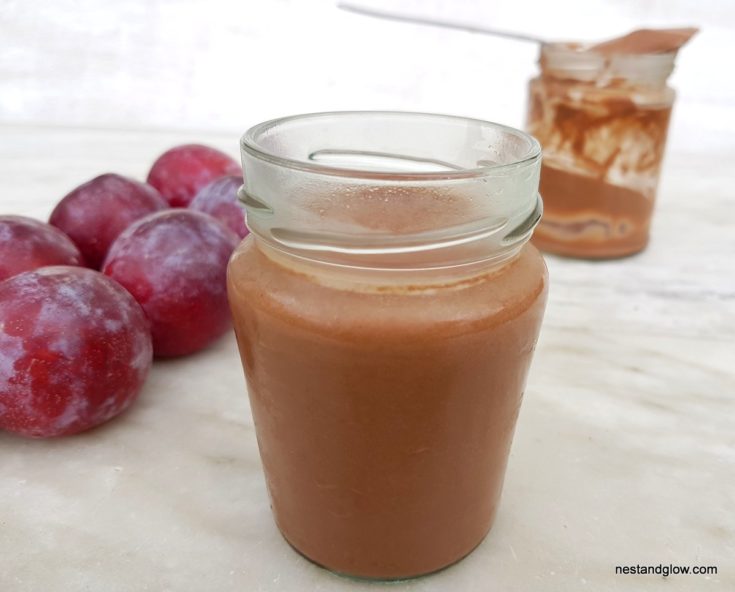 Dairy free chocolate spread that takes a few minutes to make. Perfect on hot bread, crackers or just eaten with a spoon.
Rich and creamy thanks to coconut that gives an amazing taste and texture.
Total Time
2 hours
5 minutes
Ingredients
1 can Coconut Milk, not low-fat (400ml / 15 fl oz)
4 tbsp Cacao/Cocoa Powder
4 tbsp Coconut Sugar
1 tsp Vanilla
Instructions
Place everything in a blender and blend for 1-2 mins until everything is mixed and broken up.

Chill for a few hours in the fridge and it's ready.

Keep in the fridge and use within a week.

Use coconut milk that doesn't have added stabilisers as they will prevent it from setting.
Recommended Products
Links maybe affiliated, meaning I earn a commission from purchases but at no extra cost to yourself.
Nutrition Information
Yield
10
Serving Size
1
Amount Per Serving
Calories

49
Total Fat

4g
Saturated Fat

4g
Trans Fat

0g
Unsaturated Fat

0g
Cholesterol

0mg
Sodium

3mg
Carbohydrates

3g
Fiber

0g
Sugar

2g
Protein

0g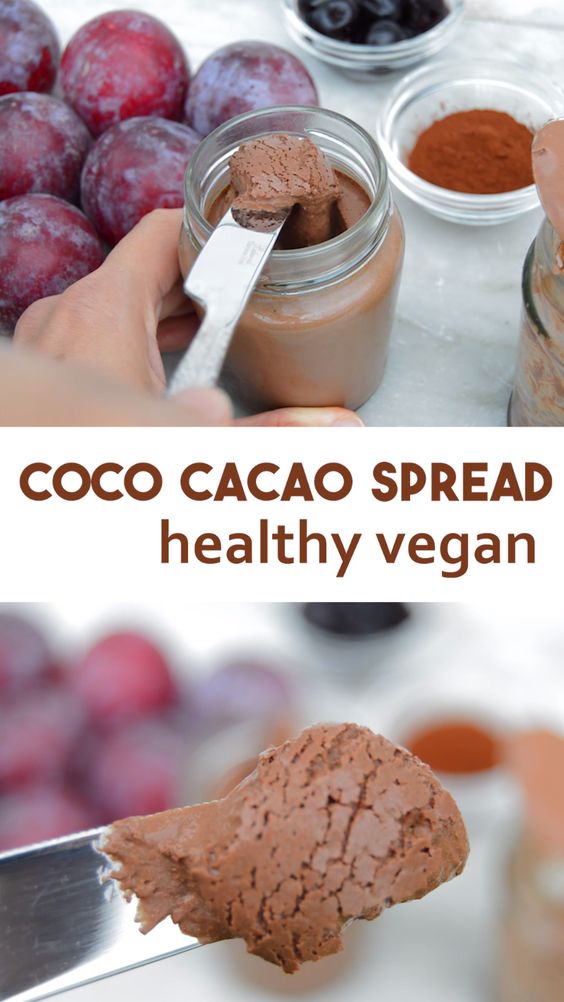 If you like this check out my Healthy Nutella Chocolate Mousse Recipe, it contains no Nutella as its vegan and palm oil free like all of my recipes. Nutella is just used to describe the taste.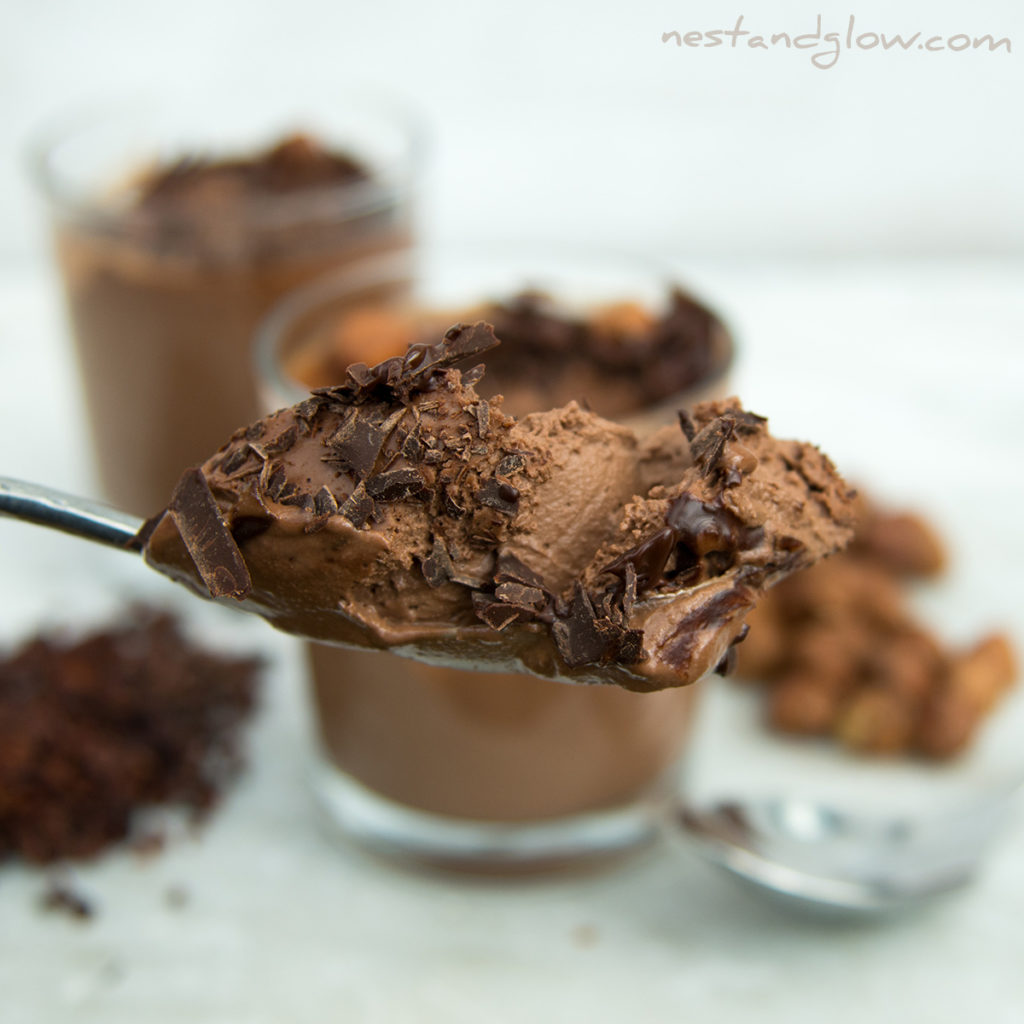 For a healthy chocolate breakfast check out my recipe for overnight chia seed puddings. One of the recipes is for a chocolate hazelnut chia pudding although you can leave out/substitute the nuts and use oat milk to make it nut free.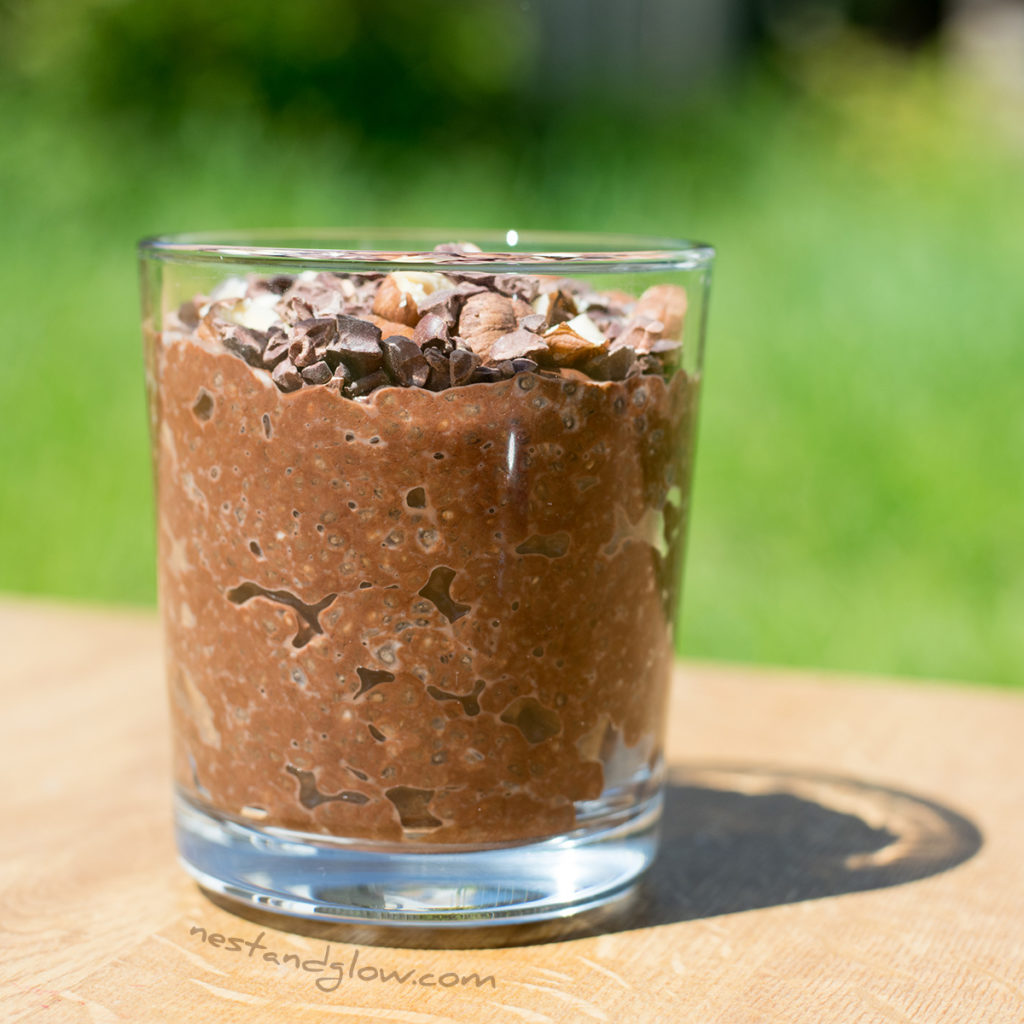 Updated 20/09/2018: Some people have issues with this not setting. In order to make it set choose a can of coconut milk that is 60% coconut or higher (some are as little as 30%). Also choose a brand that when you shake it the coconut milk isn't one constant liquid and has some lumps of coconut cream – this can be done with an unopened can in the shop.