Easy to make healthy filling overnight chia puddings that are bursting with nutrition and flavour. Chia seeds are full of omega-3, iron, calcium, protein and fibre making them a perfect pudding for any time. A great alternative to overnight oats and nutritionally superior.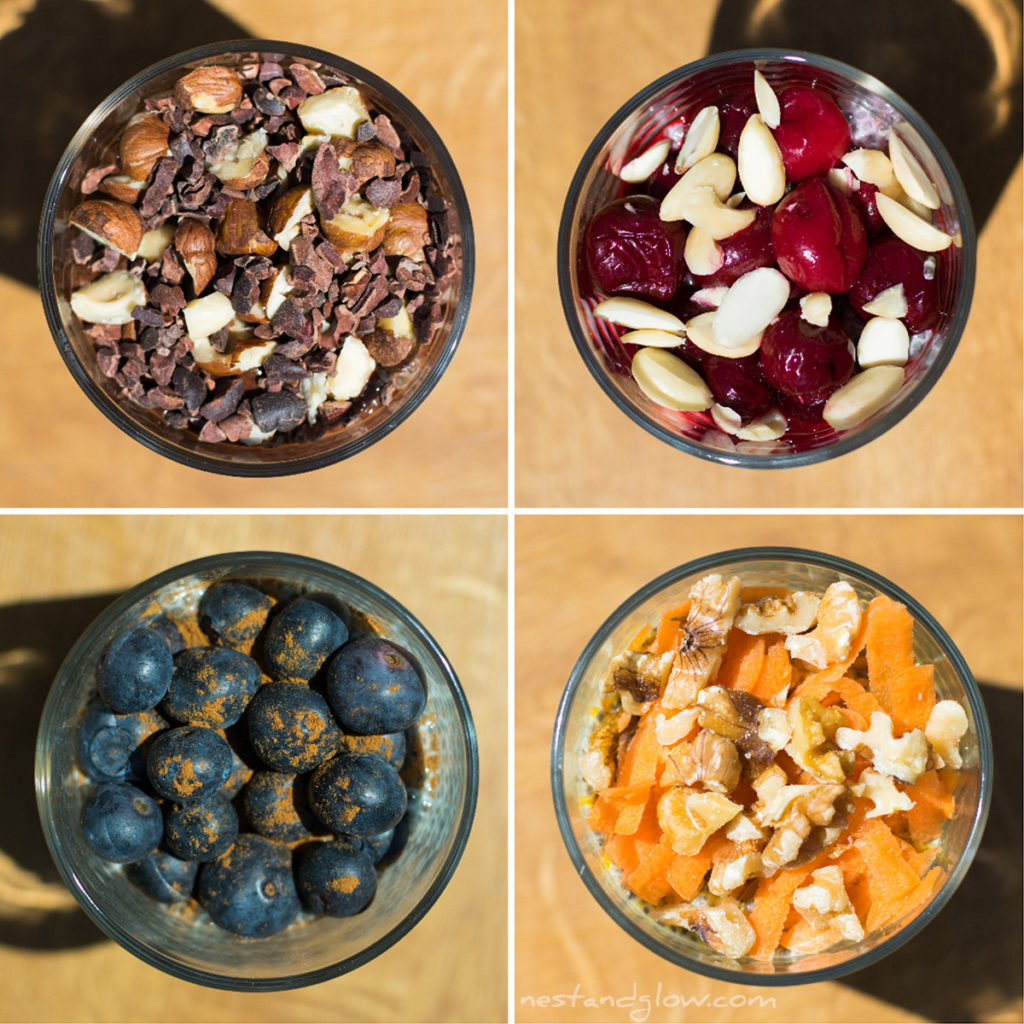 I often have these for breakfast or a late night snack. Great for busy days as they can be made quickly the night before and one portion for breakfast will set you up for the day. All of these are vegan, gluten-free, paleo, plant-based and naturally sweetened.
How to Make Overnight Chia Puddings – 4 Ways
View no music Overnight Chia Puddings video recipe.
Like my "Nutella" milkshake and Nutella fudge, these recipes are named after the chocolate spread to describe the taste but don't actually contain any nutella. Nest and Glow is a plant-based site with recipes that are good for you and good for the planet so none contain refined sugar, palm oil or dairy.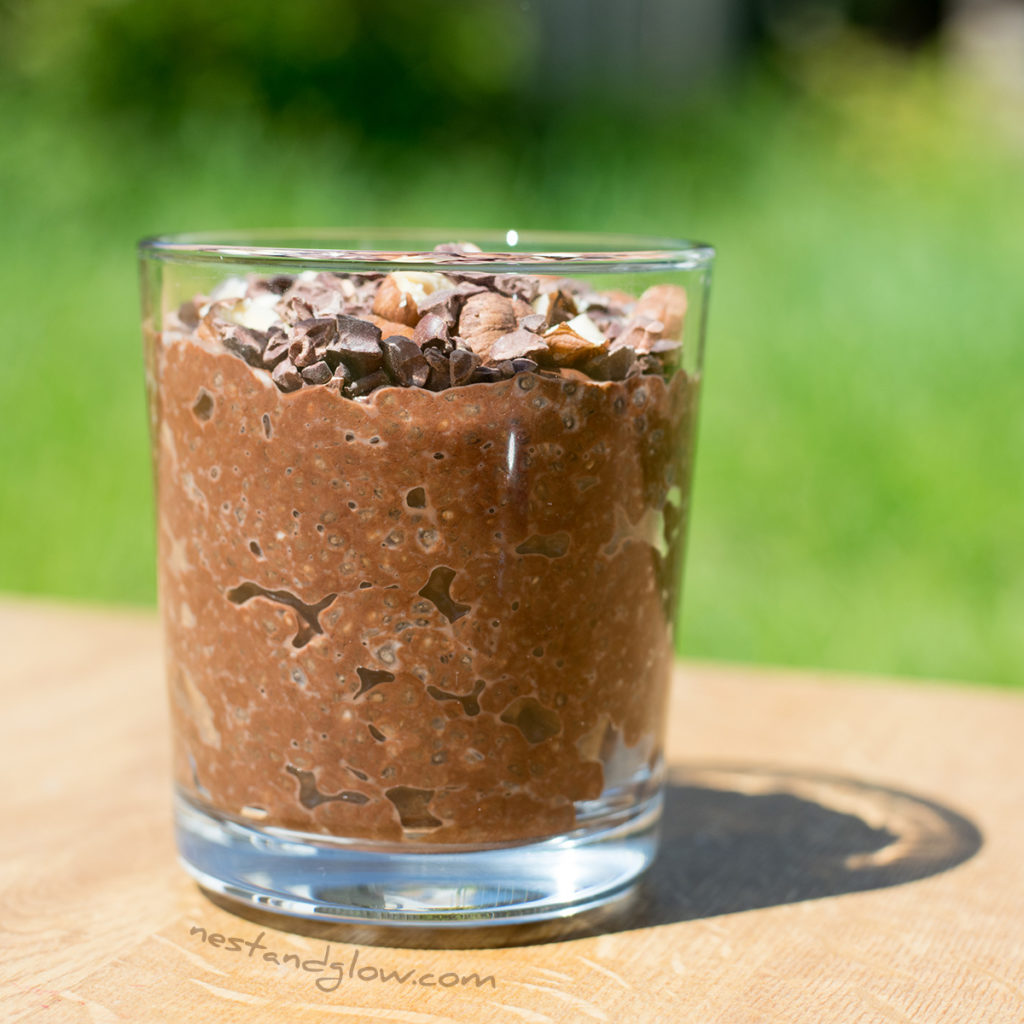 The carrot cake chia seeds contain a pinch of turmeric to give a golden colour and add nutrition. You don't taste it but you can see it. If you would rather not it's fine to leave out or replace with a splash of carrot juice to give a similar golden colour.
No sweetener is added to these apart from the chocolate hazelnut so they are sweetened mostly by the fruit. If you prefer a sweeter chia pudding then add some sweetener to your plant milk like date or maple syrup.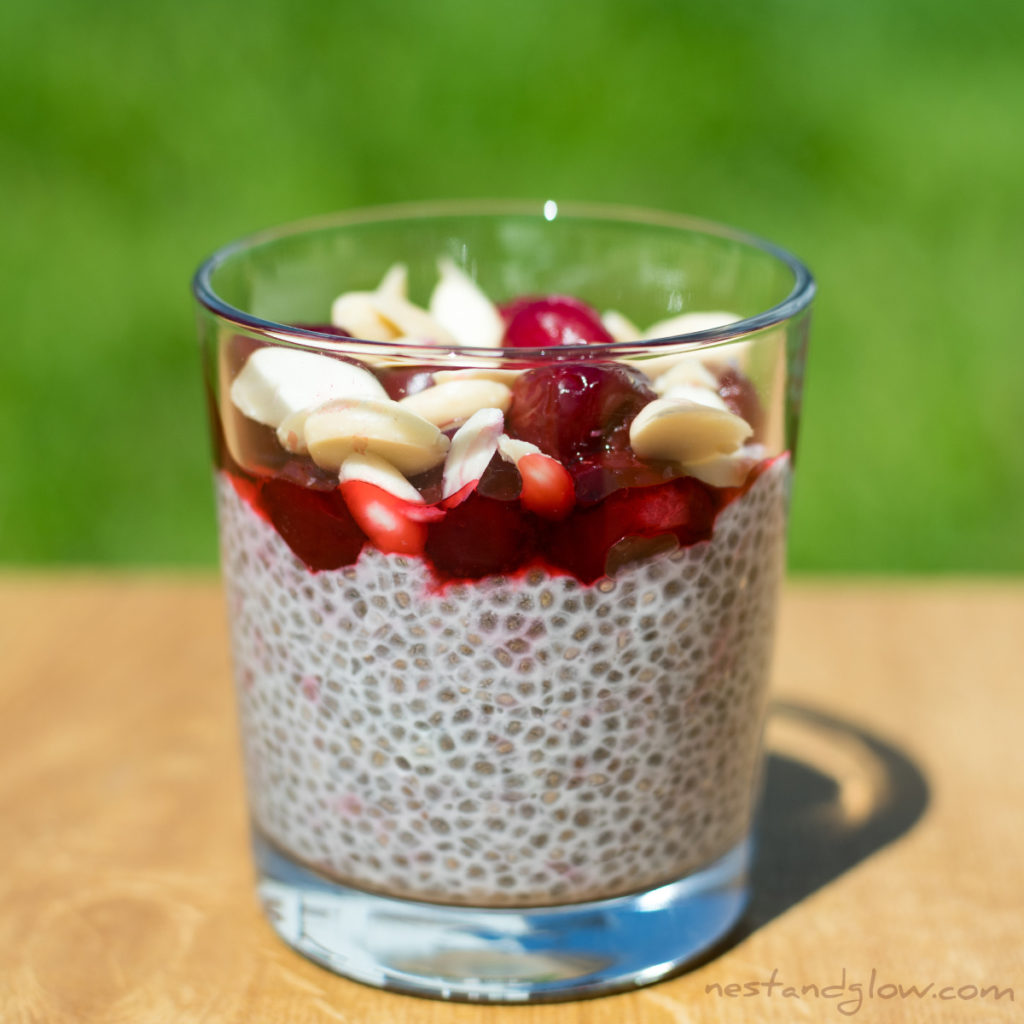 I'm using blanched skinned almonds for this is as they're more aesthetic. However if I was making this and not filming I would use normal almonds in their skin soaked and sprouted.
The cherry almond chia pudding is my take on a Bakewell pudding. It has all the almond and cherry taste without the pastry and sugar. The almond extract helps give a marzipan strong taste. This recipe uses frozen cherries as that they are pre-pitted and thaw overnight becoming soft and adding tasty cherry juice.
Sunflower seed milk is used in the video as its easy and inexpensive to make. You can use almond or any seed / nut milk if you prefer. Shop bought plant milk will work well, but I tend not to use it as its almost always very low in seeds/nuts and contains other ingredients that aren't as healthy as homemade milk. Sunflower gives an amazing earthy seed flavour to it.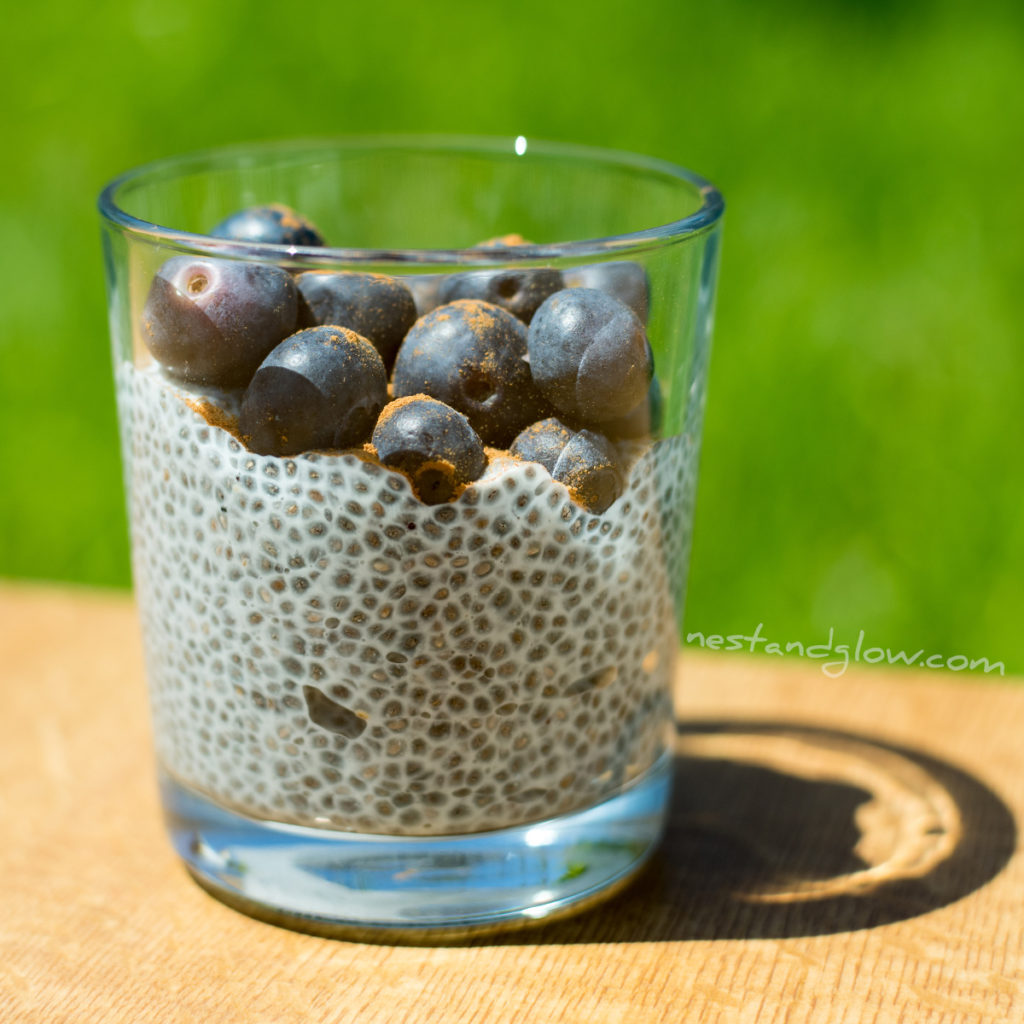 The hazelnut chocolate chia pudding is best made with hazelnut milk to give it a full hazelnut flavour. However it's still great with other nut or seed milk. For simplicity, I did use sunflower milk here due to making four different puddings at the same time.
Cacao beans are the ingredient for both cacao and cocoa powder. However cacao powder is usually less processed, raw and higher in nutrients with a deeper chocolate flavour but does cost more. They can be used interchangeably and normal cocoa powder is still nutrient dense. Cacao is very high in antioxidants, calcium, iron and magnesium.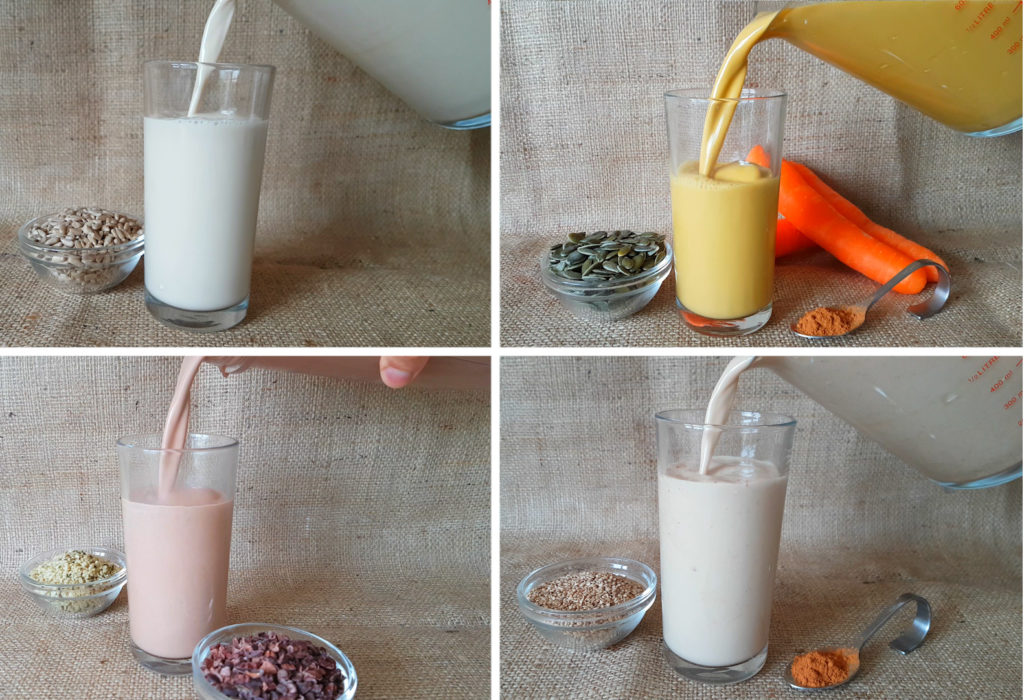 Yield: 4 servings
Overnight Chia Pudding 4 Ways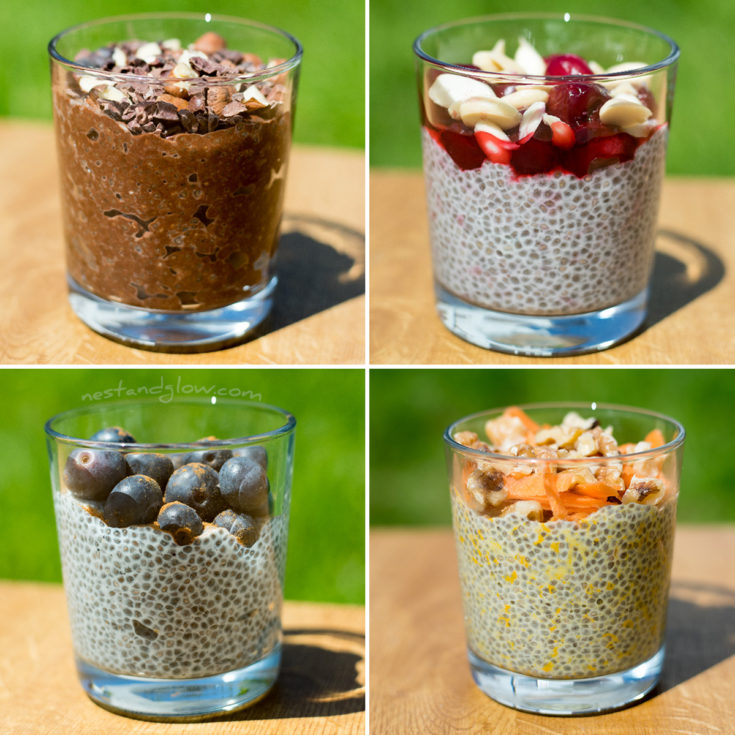 Overnight chia puddings to make a dairy free healthy breakfast. Includes recipes for Nutella style chia pudding, carrot cake chia pudding, cherry Bakewell chia pudding and blueberry muffin chia pudding. All are high in plant protein and a great filling breakfast that can be made in advance quickly.

Prep Time 10 minutes

Total Time 10 minutes
Ingredients
Blueberry Cinnamon Muffin Chia
3 tbsp Chia Seeds
1 cup / 240ml Plant Milk
¼ tsp Vanilla
16 Blueberries
pinch of Cinnamon
Carrot Cake Chia
3 tbsp Chia Seeds
1 cup / 240ml Plant Milk
¼ tsp Ginger
¼ tsp Turmeric
pinch of Black Pepper
2 tbsp Carrot, grated
1 tbsp Walnut, pieces
Chocolate Hazelnut Chia Pudding
1 cup / 240ml Plant Milk
3 tbsp Chia Seeds
1 tbsp Cocoa / Cacao
1 tbsp Sweetener, like maple syrup
¼ tsp Vanilla
1 tbsp Hazelnuts, chopped
¼ tbsp Cacao Nibs
Cherry Almond Chia
1 cup / 240ml Plant Milk
3 tbsp Chia Seeds
½ tsp Almond Extract
1 tbsp Almonds, flaked
1 tbsp Cherries, frozen
Instructions
Whisk the chia seeds, plant milk and everything else for the chia puddings other than the toppings together with a fork.
If using unsweetened plant milk you may want to add some sweetener to your taste.
Once combined leave for a minute to swell, whisk again and sprinkle on the toppings.
Cover and chill chia puddings overnight then enjoy within 3 days.
Recommended Products
Links maybe affiliated, meaning I earn a commission from purchases but at no extra cost to yourself.
Nutrition Information
Yield
4
Serving Size
1 chia pudding
Amount Per Serving Calories 398Total Fat 22gSaturated Fat 5gTrans Fat 0gUnsaturated Fat 15gCholesterol 30mgSodium 186mgCarbohydrates 41gFiber 10gSugar 16gProtein 12g
All my recipes and the videos that accompany them are honest with the food exactly as you eat it – nothing added or staged. For full transparency; I did decanter the puddings into new glasses for the final photos as the sides looked a bit messy to photograph with the stirring. Also, I doubled the amount of turmeric just to bring out a golden colour