Cotton candy cashew cheesecake that is colourful with fruit dyes and easy to make. All the colourings are natural, organic and healthy so suitable for people with ADHD as normal dyes affect brain functionality.
The ingredient list may look daunting but only the base and cashew cream ingredients are mandatory – you can use whatever fruit / berries you want for colour and flavour. This cashew cheesecake is dairy free, gluten free, raw, vegan and refined sugar free.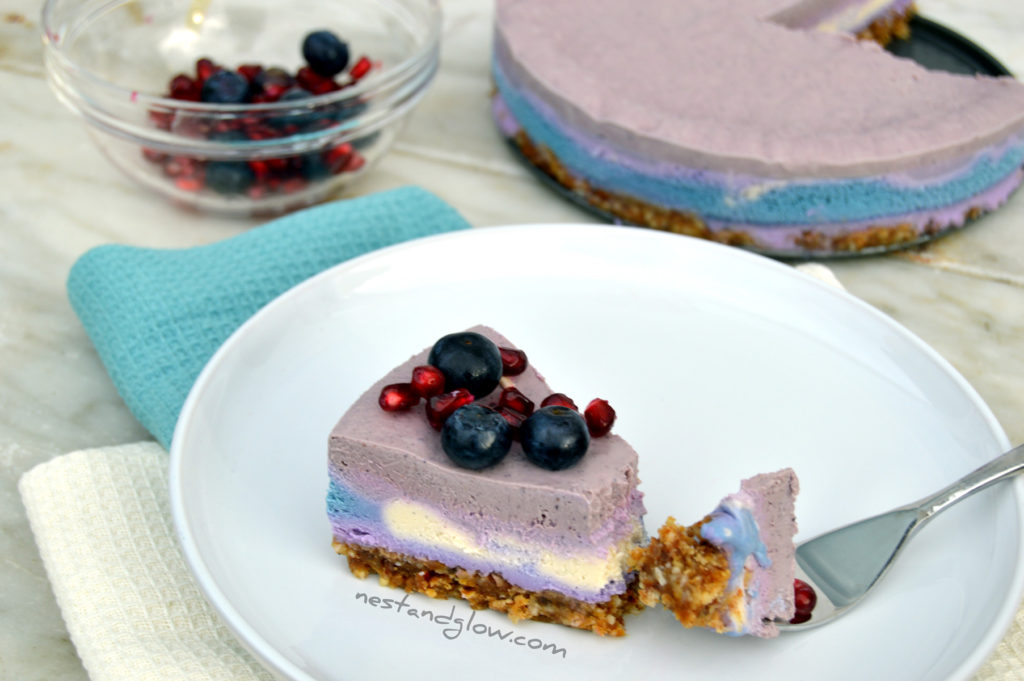 I came up with this vegan cheesecake recipe for a non-vegan / veggie meetup with the intention of showing people how delicious and tasty raw, vegan and refined sugar free cake can be. I didn't tell anyone it was raw vegan and someone said it's the best cheesecake they had ever had.
This raw cake does use coconut oil to help it set. If you are on an oil free diet I recommend making some coconut butter. Homemade coconut butter is raw and will help the cake set. It's made from pure coconut with nothing extracted so high in fibre.
Cotton Candy Cashew Cake Video Recipe
In the video/photos for the site you can see that the heavy white layer that had no colouring mixed into the lighter blue layer. I was going for neat crisp lines, but it looks good with them muddled in.
Next time I would put the white layer first or you could freeze each layer for 10 mins, but honestly I don't have the patience for that kind of faff.
The pomegranate and blueberry layer turned the same colour after being in the fridge overnight. I would recommend separating these layers.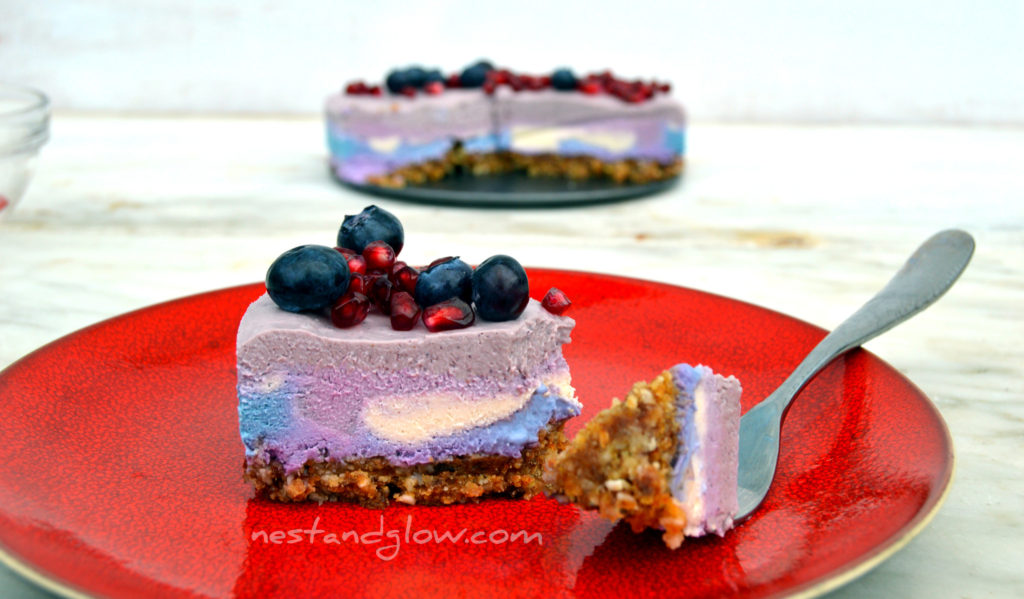 You can sub the blueberries in this vegan cheesecake for any other berries that you like. Blackberries and blackcurrants work really well as they give a dark colour.
Strawberries and raspberries taste great but don't give a deep colour so you may want to add a tbsp of beetroot juice to up the colour. Beetroot juice would be a great addition for my version to give a deep vibrant pink colour.
The most common question I get about my cotton candy cashew cheesecake is; Does the cabbage affect the taste? The answer is no! But like my chocolate avocado mousse people can suddenly taste the ingredient when they know it's there.
I took inspiration from children's baking soda experiments to come up with a natural blue dye.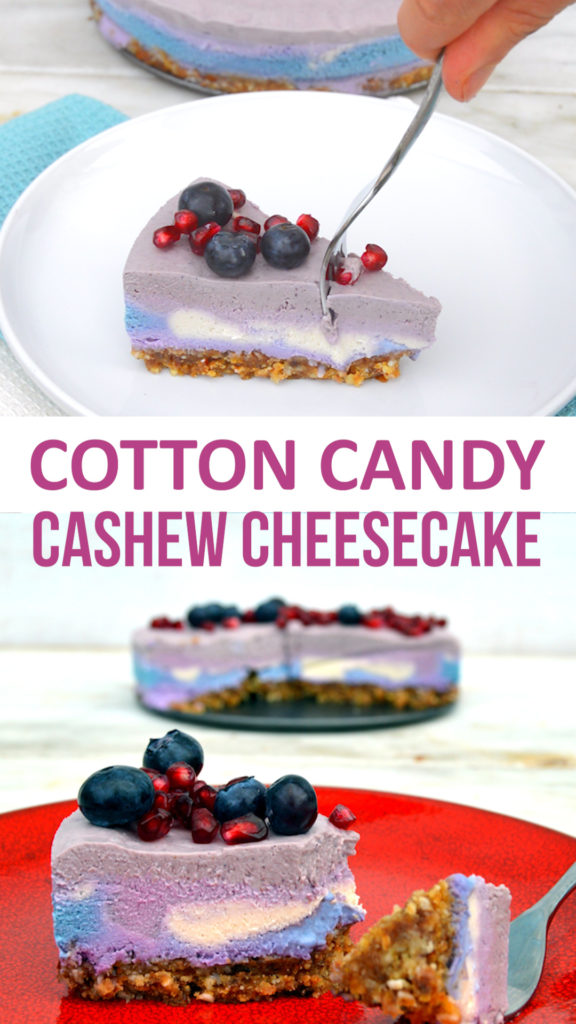 Yield: 1 raw vegan cheesecake
Cotton Candy Raw Vegan Cheesecake
This bright cheesecake is made from just nuts, vegetables and fruit as organic natural dyes! The bright colours come from everyday foods that even a small shop will sell. Some people worry about the blue and purple but honestly you really don't taste it!
Ingredients
GLUTEN FREE CHEESECAKE BASE
1 cup / 175 g dates
1 cup / 125 g walnuts
½ cup / 50 g coconut, desiccated
CASHEW CREAM FOR CHEESECAKE
1½ cups / 225 g cashew nuts
5 tbsp maple syrup / any sweetener
2 tsp vanilla extract
2 lemons juiced
½ cup / 120 ml coconut oil, melted
1 cup / 240 ml water
ORGANIC DYES
½ pomegranate, juiced
½ tsp baking powder
1/5 red cabbage, juiced
1 cup / 100 g blueberries
CHEESECAKE TOPPINGS
Blueberries / pomegranate seeds / any fruit
Instructions
Blend all of the raw base ingredients until they stick together in a ball.
Push the base into a 6″ springform pan.
Blend the cabbage and pomegranate and then push through a sieve to strain and make juice.
Separate half of the red cabbage juice and stir in the baking powder in one-half to make blue colouring.
Place all the cream ingredients in a blender and whiz until smooth, remember to melt the coconut oil first.
Separate the cream into 5 bowls.
Then keep one bowl white, stir in 1-2 tbsp of red and blue organic dyes in two other bowls.
In one bowl stir in 3-4 tbsp of pomegranate juice.
In one bowl blend together with the blueberries.
Layer on the cashew cream in the pan to build the vegan cheesecake, then place in the fridge for an hour to set.
Store the raw cake in the fridge and enjoy within a couple of days.
You can freeze this raw vegan cashew cheescake and it will last for months. Best to freeze in slices so you can defrost a slice at a time.
Recommended Products
Links maybe affiliated, meaning I earn a commission from purchases but at no extra cost to yourself.
Nutrition Information
Yield
12
Serving Size
1
Amount Per Serving
Calories

389
Total Fat

26g
Saturated Fat

11g
Trans Fat

0g
Unsaturated Fat

13g
Cholesterol

0mg
Sodium

157mg
Carbohydrates

38g
Fiber

5g
Sugar

25g
Protein

6g
If you have ever wondered why cashew nuts are so expensive check out my video on how ethical cashew nuts are processed from my visit to East Bali Cashews.