Easy to make healthy quinoa risotto that contains 3 portions of vegetables and a large amount of plant protein. This brothy flavoursome quinoa dish is just what you want on a cold day to warm you up from the inside. Quinoa risotto can be made in 20 minutes for a complete vegan protein meal.
I think this tastes so good as it has that umami quality from the mushrooms and seaweed. However as all this brothy taste just comes from natural unrefined sources you don't have to worry about excitotoxins that are a concern with MSG.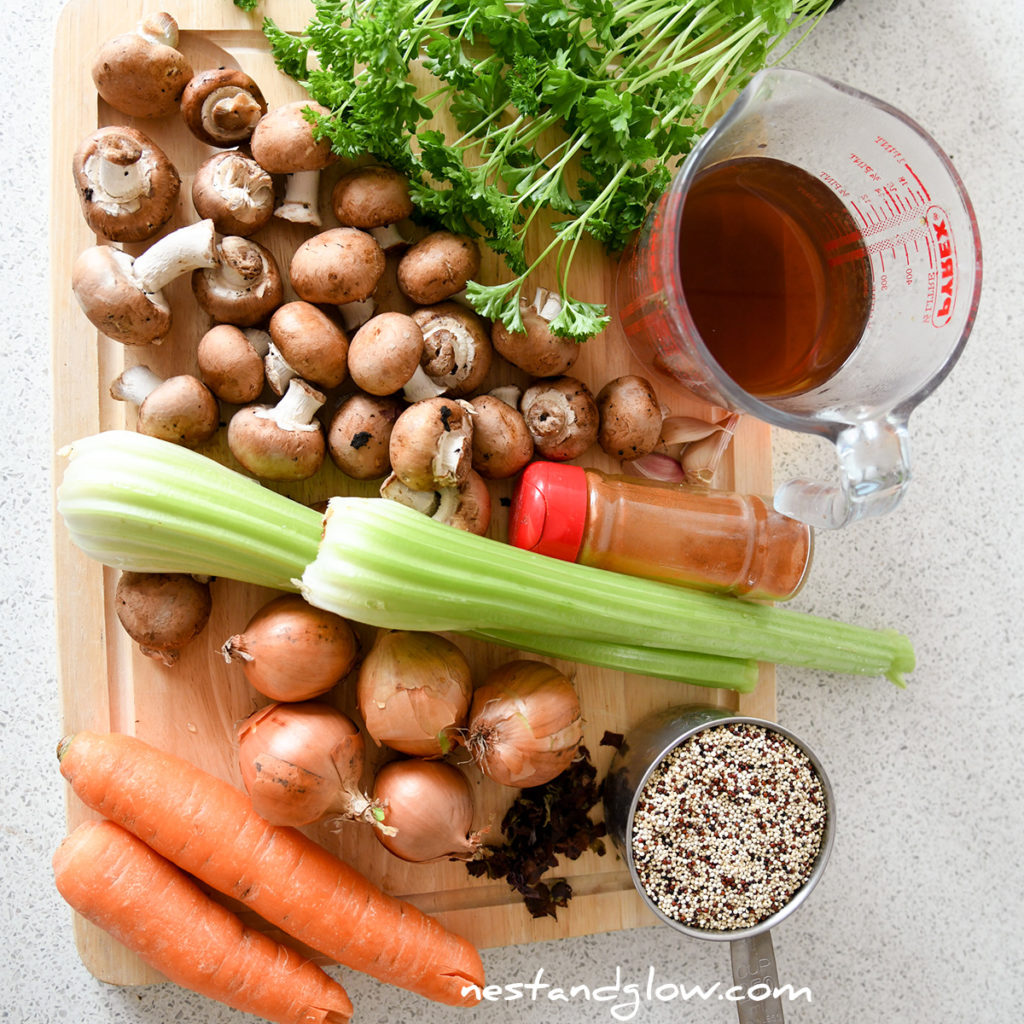 Naturally free of dairy, grains, rice, oil and full of nutrients. Suitable for vegan, gluten free and paleo diets, more info about quinoa and paleo later in the article.
Quinoa Risotto Video Recipe
I'm not really a huge fan of celery; probably from the stringy texture. What celery does give a great taste to stocks and juices something is worthwhile adding is most savoury dishes.
For the quinoa risotto, I've cut each celery stem into 4 pieces lengthwise. Then quite finely sliced so there's lots of little pieces celery but no stringiness.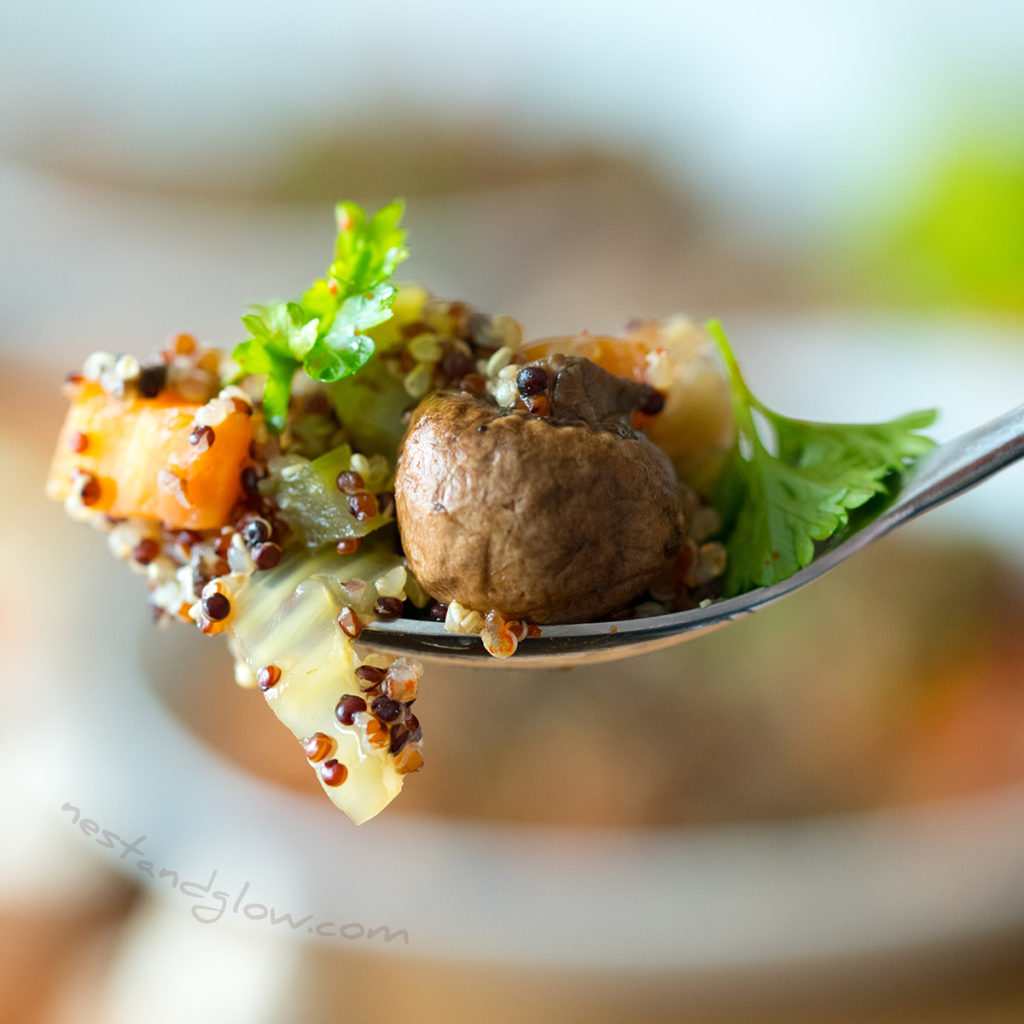 You don't have to use stock for this – the carrots, celery and onion do add that stocky taste along with nutrients. But some do like it quite strong.
Instead of stock I usually use a bit of yeast extract in water (about 1tbsp) to get that all important b12. Although organic carrots should contain some b12 as they haven't been pressured washed.
Or instead of stock you could just add some salt or miso – after cooking so that no nutritional content is lost.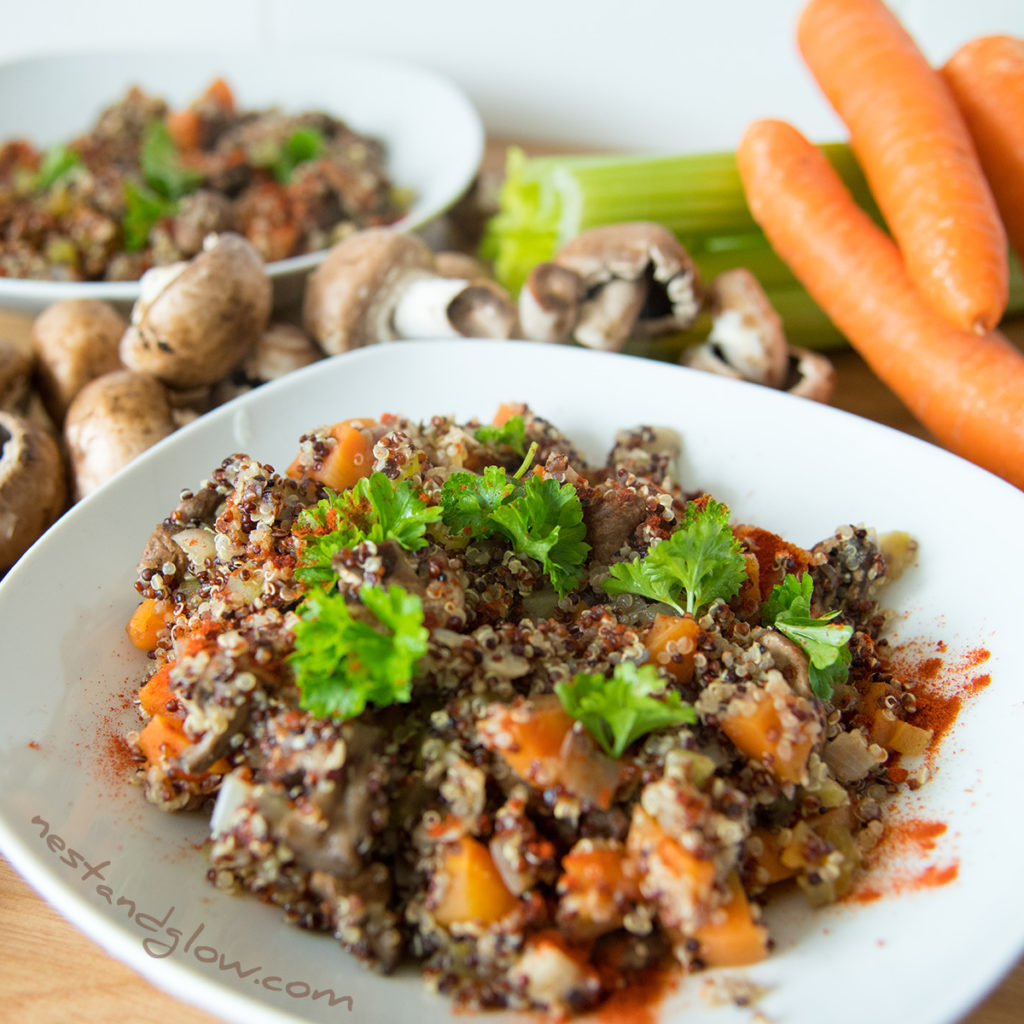 Seaweed is also optional in this quinoa mushroom risotto but it adds so much goodness and is a natural flavour enhancer. If you're adding stock then theres less need for the seaweed.
The sea vegetables I used in this was a mixture of nori, dulse and sea lettuce. This adds fibre, protein, iron and iodine. I try to have a bit of sea vegetables every day – just a small amount goes a long way.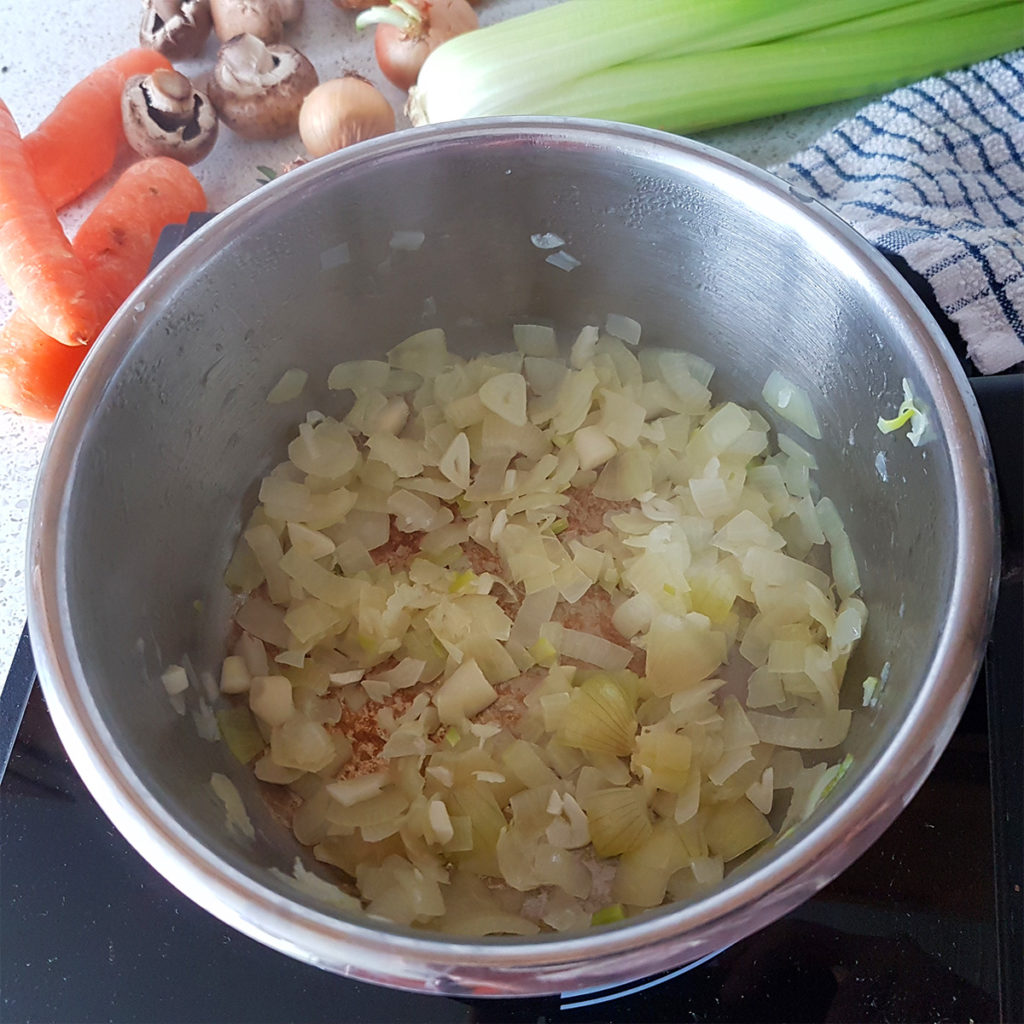 My quinoa risotto is free of any oil or butter. Lots will complain that I'm not frying the onion in olive oil but that's a choice I'm making for health reasons.
Even healthy fats like olive oil turn harmful when heated so instead, I cook onions for a few minutes in a tiny bit of water and stop just before they burn and all the water has gone.
In the video for this quinoa recipe you don't see this part as it wouldn't perform well with this bit emphasised. If you miss that fatty taste try drizzling on some cold pressed oil after cooking.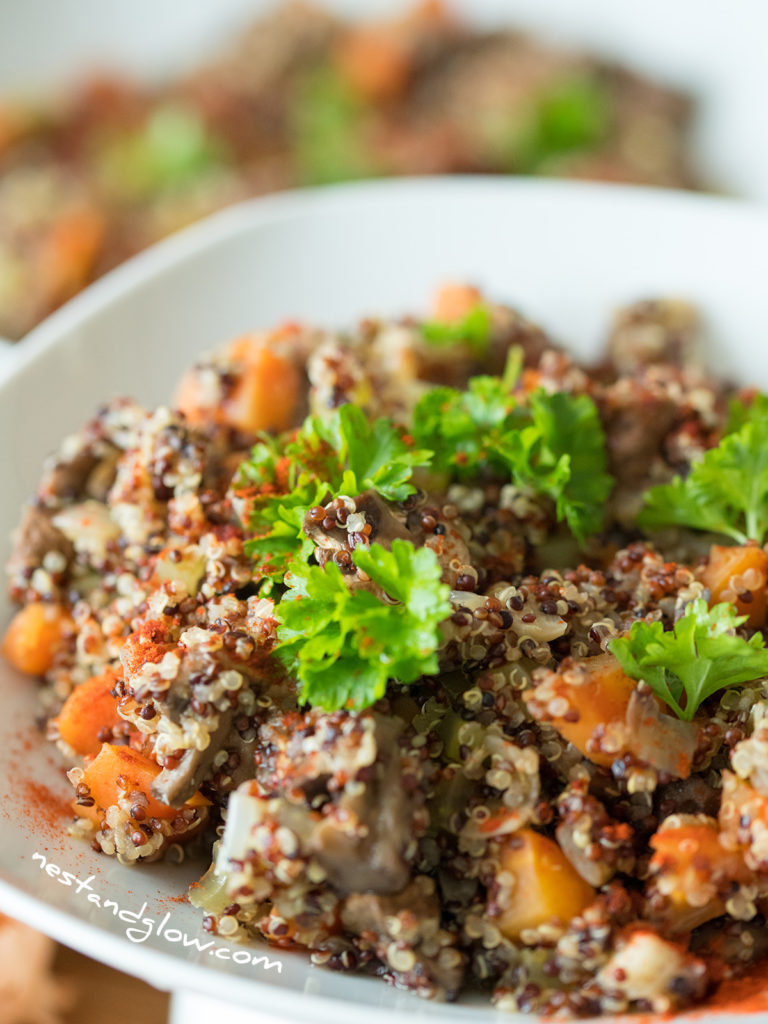 Usually I just use normal white quinoa. However as I'm hoping to move house in a couple of months I'm running down supplies and have lots of Tricolour quinoa left so I'm using it for this quinoa risotto.
I do actually much prefer just white quinoa as the red and black quinoa are tougher. It's similar to wild rice mixed with normal rice.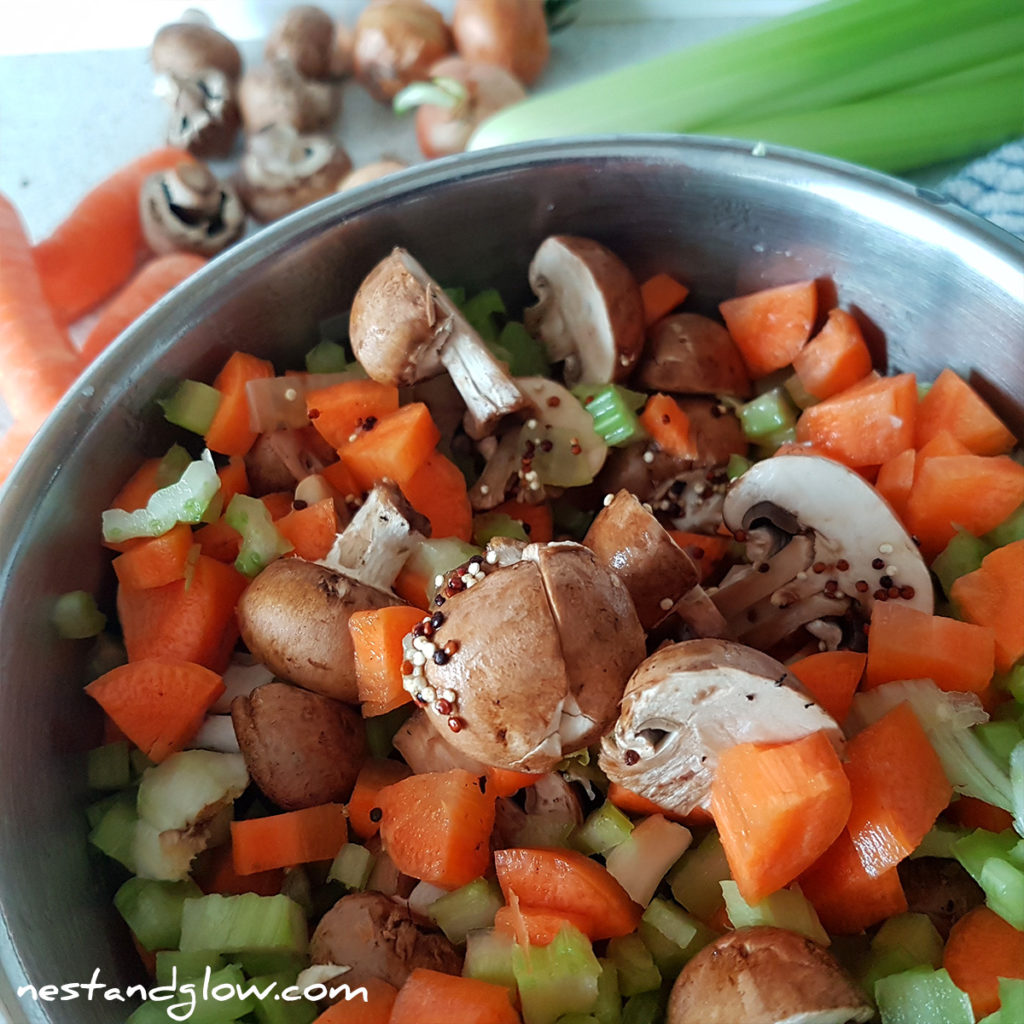 Use any type of mushroom that you like for this quinoa risotto. I used chestnut mushrooms just because they were on offer. Often I just use normal mushrooms although if I had more money I would like to experiment with using more exotic types.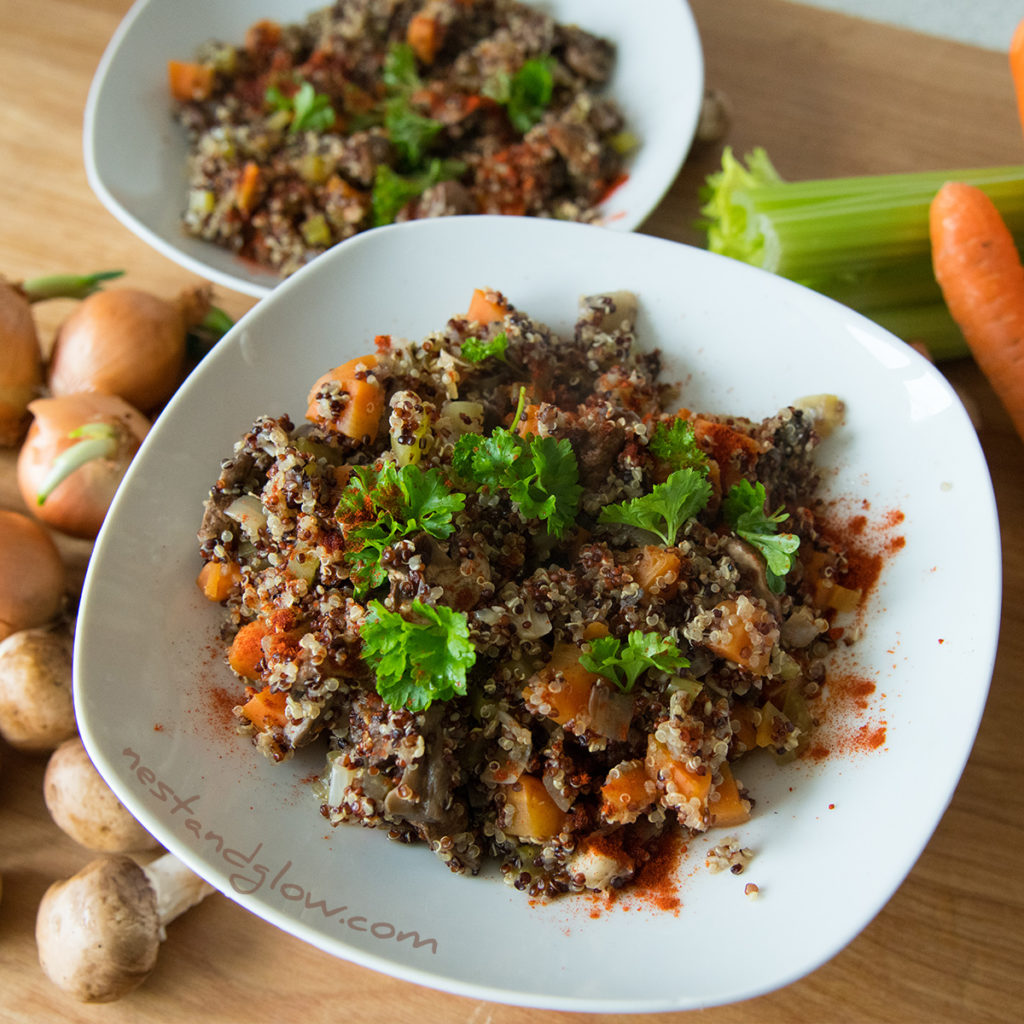 Is Quinoa Paleo
There's some debate about whether quinoa is paleo or not. Traditionally it has been said to not be paleo because it's similar to a grain. However quinoa is high in nutrients and lower in lectins and phytates than seeds that are allowed on paleo so it's logical to say quinoa is paleo.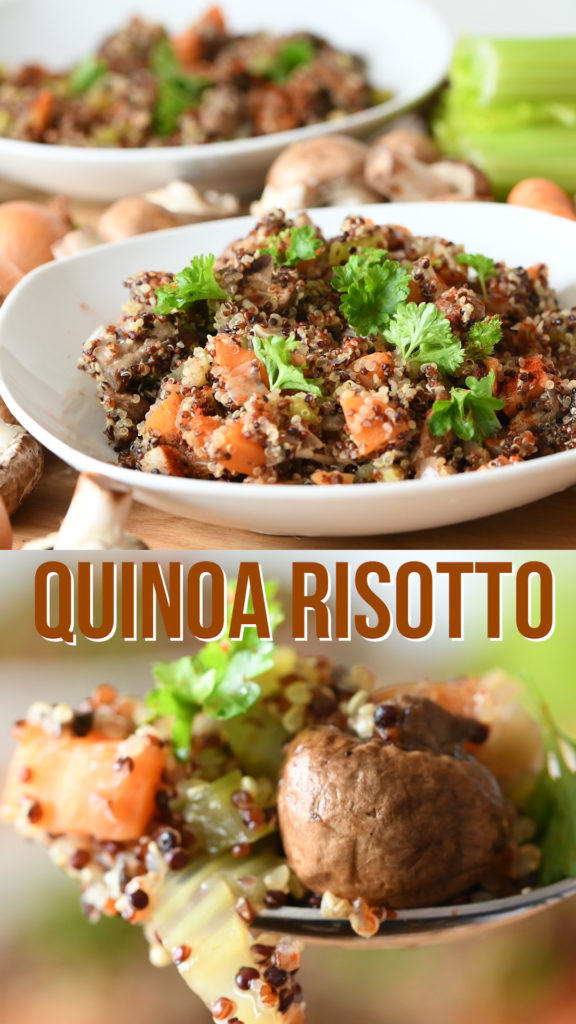 As quinoa is technically a seed many say it is paleo, especially if soaked and sprouted before cooking. Ultimately it's your choice and we're all individuals, if it agrees with your body I would say go for it if it doesn't then leave it out. Buckwheat is another good alternative to rice to make a risotto, this is also a seed that is nothing to do with wheat.
Yield: 4 servings
Quinoa Mushroom Risotto - vegan and healthy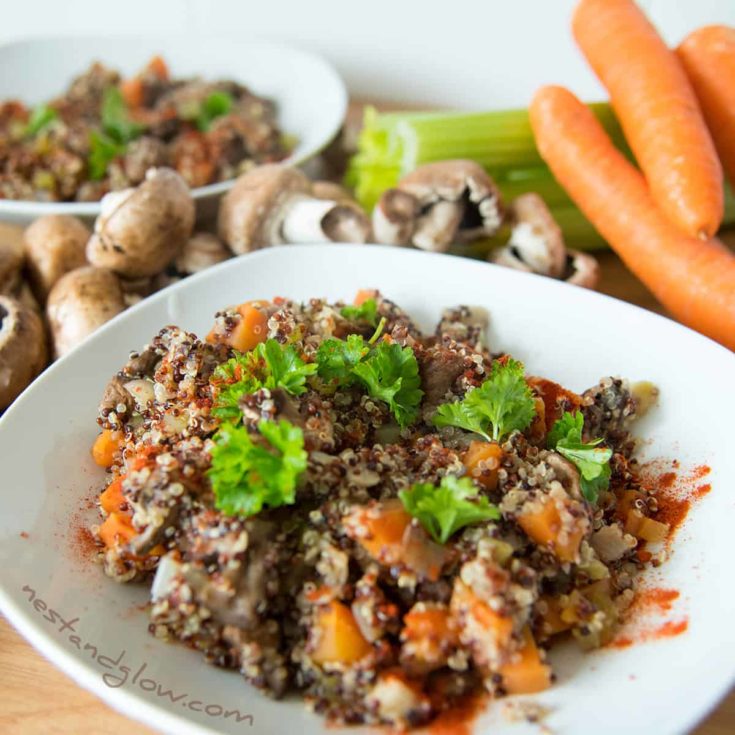 Easy to make healthy quinoa risotto that contains 3 portions of vegetables and a decent amount of plant protein. This brothy flavoursome quinoa dish is just what you want on a cold day to warm you up from the inside
Ingredients
1 cup / 170g Quinoa
2 cups / 460ml Water or Stock
3 cups / 200g Mushrooms
2 Celery sticks
1 large Onion
2 Carrots
1/2 tsp Smoked Paprika, optional
1 tbsp Parsley, optional
1 tsp Seaweed, optional
Instructions
Chop the carrots, celery and onion into small cubes.
Add the onions and garlic to a pan with a splash of water and cook for low for a few minutes for oil free cooking.
Stop water frying the onions just as they begin to stick to the bottom of the pan and go brown.
Add everything else for the quinoa risotto to the pan apart from the paprika and parsley.
Simmer for 12-15 minutes with the lid on until the quinoa is soft and fluffy.
Plate up and garnish with smoked paprika and parsley.
Enjoy quinoa risotto within 3-4 days and keep in the fridge. This is a great meal to prep for several days and tastes just as good if not better heated up.
Nutrition Information
Yield
4
Serving Size
1
Amount Per Serving
Calories

227
Total Fat

4g
Saturated Fat

1g
Trans Fat

0g
Unsaturated Fat

3g
Cholesterol

4mg
Sodium

253mg
Carbohydrates

40g
Fiber

8g
Sugar

11g
Protein

11g