These colourful rainbow noodles are very easy to make and completely natural. You can use this recipe to dye any kind of pasta or noodles a bright vibrant colour without any e-numbers or anything artificial in sight.
The best thing about these noodles is they are all coloured naturally using vegetables or spices. No bottles of food colourings are used. These can contain lots of nasties, affect the flavour negatively and many people have reactions to artificial colourings. Try making rainbow pasta or noodles today!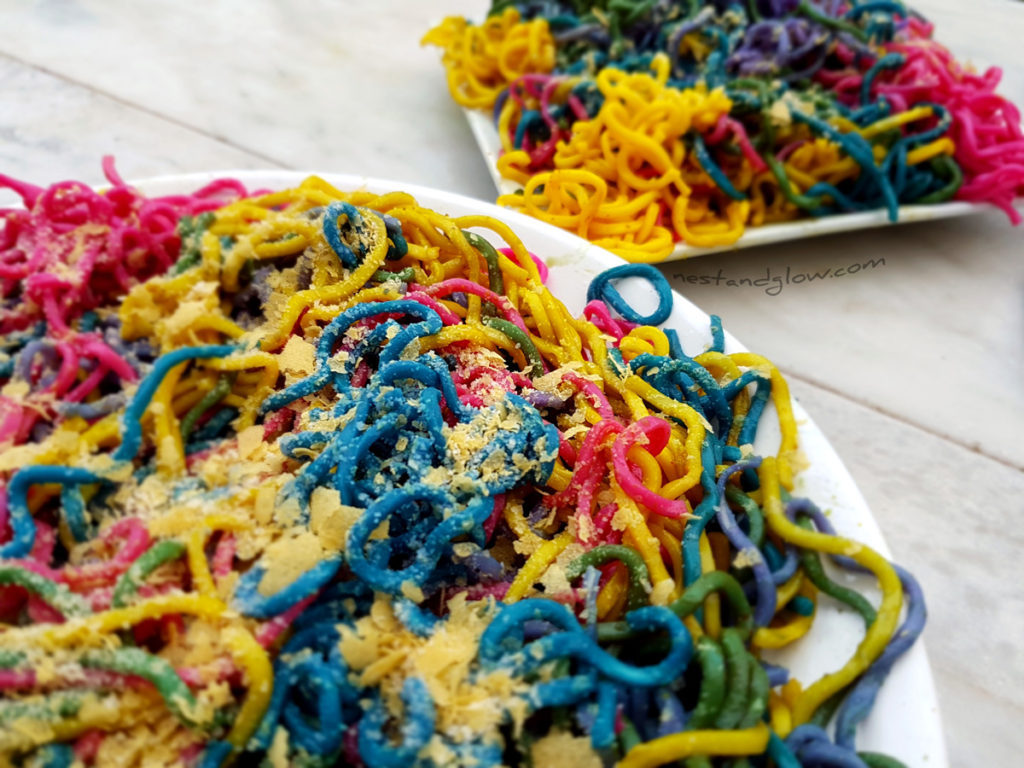 As colourful as these rainbow noodles are they are actually just coloured with cabbage, beetroot and turmeric! The different vegetables and turmeric actually give a bit of flavour also.
This dish may not be as nutrient dense as we normally do, but sometimes when you just want a plate of carbohydrates it will plug the gap.
As this rainbow pasta is dyed naturally its suitable for people with ADHD. Normal artifical dyes can cause problems but this natural and healthy dye using vegetables and spices does not have the same affect.
Natural Rainbow Noodles Video Recipe
I used gluten free noodles for this, but you can use any you like. Remember to cook the noodles al dente, so 1-2 mins less than they need. Then they will soften up perfectly when they are left in the natural food dyes.
White noodles take the dye the best – I used white rice and corn gluten free noodles. However even brown rice noodles will take the dye to become rainbow noodles, they just won't be as bright.
The same recipe can be used to make rainbow pasta if you prefer. As it's served cold I prefer rainbow noodles but pasta takes the dye just as well.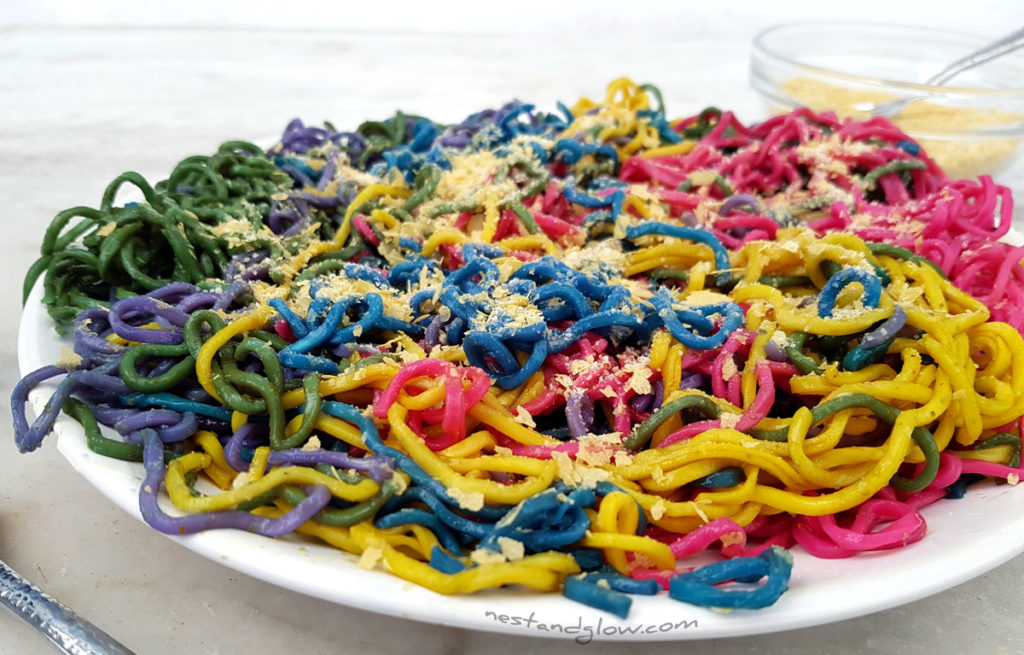 The vegan parmesan is made from ground almonds, garlic, nutritional yeast and salt. Just these mixed together will give a cheesy nutty salty taste but is full of heart-healthy fats from the nuts. Also, nutritional yeast is great for people following a vegan or plant-based diet as it is full of b vitamins, folic acid and some brands have added b12.
In the video I didn't use any oil but if you use oil the parmesan alternative does stick together more.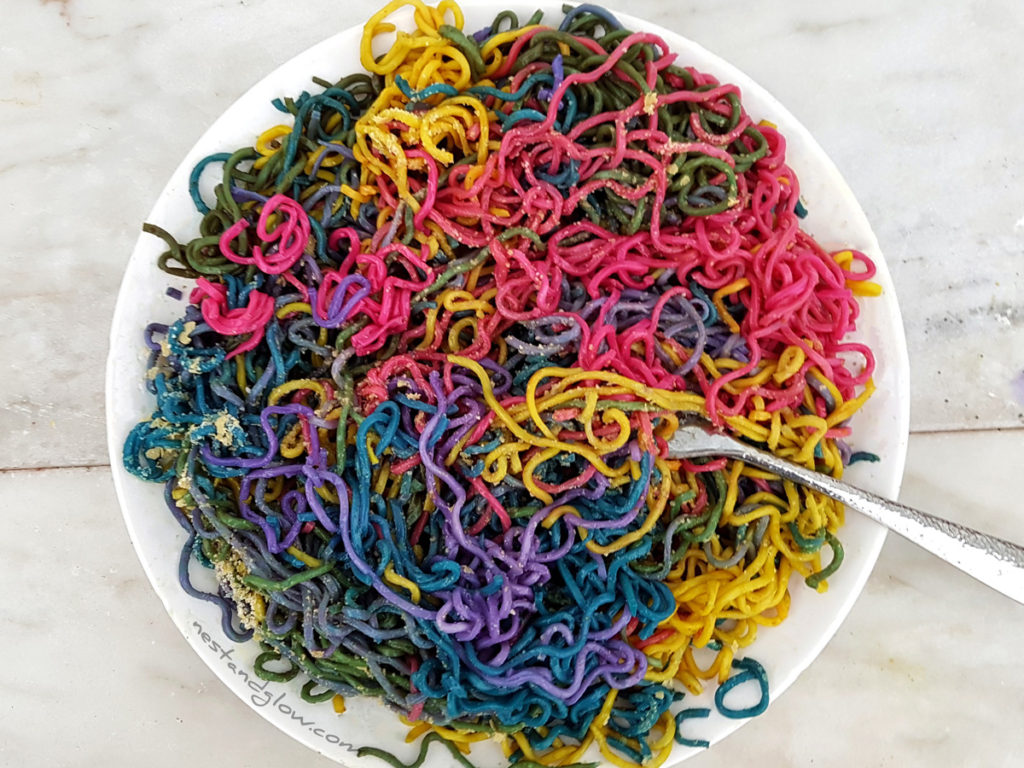 These rainbow noodles are also great with basil leaves and chopped tomatoes. I didn't include any photos with basil or tomatoes as it did take away from the rainbow effect.
Serve them with any sauce you like and the veggie spice flavour is so mild that it will blend with most flavours. I like this best with a cashew and basil pesto.
Yield: 4 servings rainbow pasts
Natural Rainbow Pasta Noodles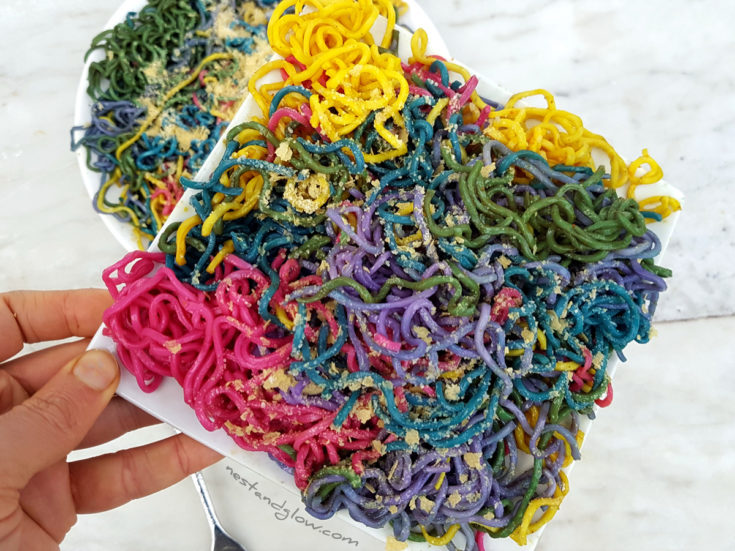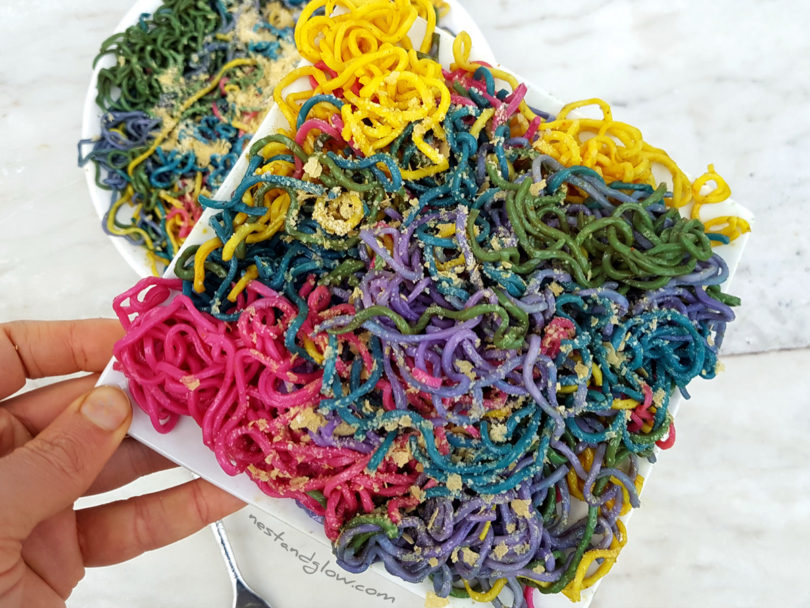 Rainbow noodles / pasta made from natural vegetable home made dyes that look amazing and are actually healthy. Made from a few cheap and easy to source ingredients. An alternative to harmful chemical food dyes
Additional Time
15 minutes
Ingredients
YELLOW NATURAL DYE
1 tbsp turmeric
1 cup / 250 ml water
PURPLE NATURAL DYE
1/5 red cabbage, juiced
a few tbsp of water to help blend the cabbage if you're not using a juicer
BLUE NATURAL DYE
1/5 red cabbage, juiced
1 tsp baking soda
RED NATURAL DYE
GREEN NATURAL DYE
mix together 50 / 50 blue and yellow dye
NOODLES OR PASTA
8.8 oz / 250 g noodles or pasta, I used gluten free rice/corn noodles for the video
VEGAN PARMESAN
3 tbsp ground almonds
2 tbsp nutritional yeast
1 tsp garlic powder
a pinch of salt
1 tbsp cold pressed oil, optional but helps to combine
Instructions
Juice the red cabbage and then separate into two bowls. One will be your purple dye and the other add 1 tsp baking soda to make blue.
Boil 1 tbsp turmeric with 1 cup / 250 ml water for 2 mins. Strain and you have your yellow dye.
For red either boil beetroot for a few mins in water and use this water or just drain off the juice from pre-cooked vacuum packed beetroot (without vinegar).
Mix together half of the yellow and blue (50 / 50) to make green.
Cook the noodles/pasta that you are using until they are al dente so still have a bit of a bite, they will soften when soaked in the dye.
Then separate the noodles/pasta into 5 bowls.
Mix 4-6 tbsp of the natural food dyes with the noodles and leave to colour for 20 mins. Stir half way through.
Mix all the ingredients for the vegan parmesan in a bowl.
Drain the noodles from the dye and then mix all the noodles and sprinkle with the vegan parmesan.
You can enjoy these cold or just put in the oven or microwave for a few mins to heat up.
Nutrition Information
Yield
4
Serving Size
1
Amount Per Serving
Calories

383
Total Fat

9g
Saturated Fat

1g
Trans Fat

0g
Unsaturated Fat

7g
Cholesterol

0mg
Sodium

439mg
Carbohydrates

66g
Fiber

7g
Sugar

10g
Protein

12g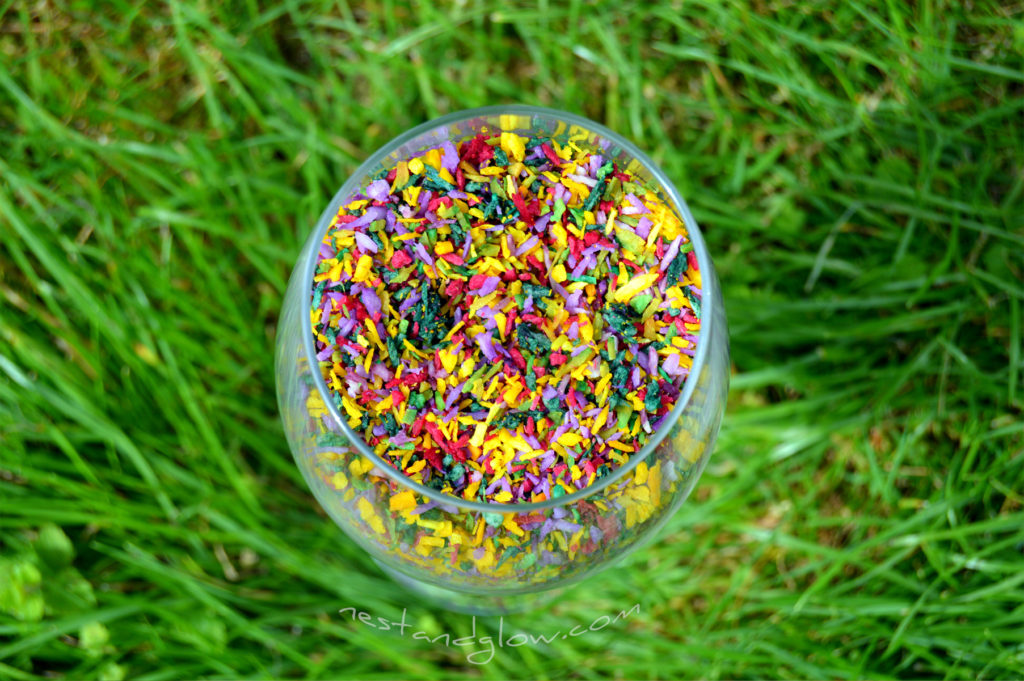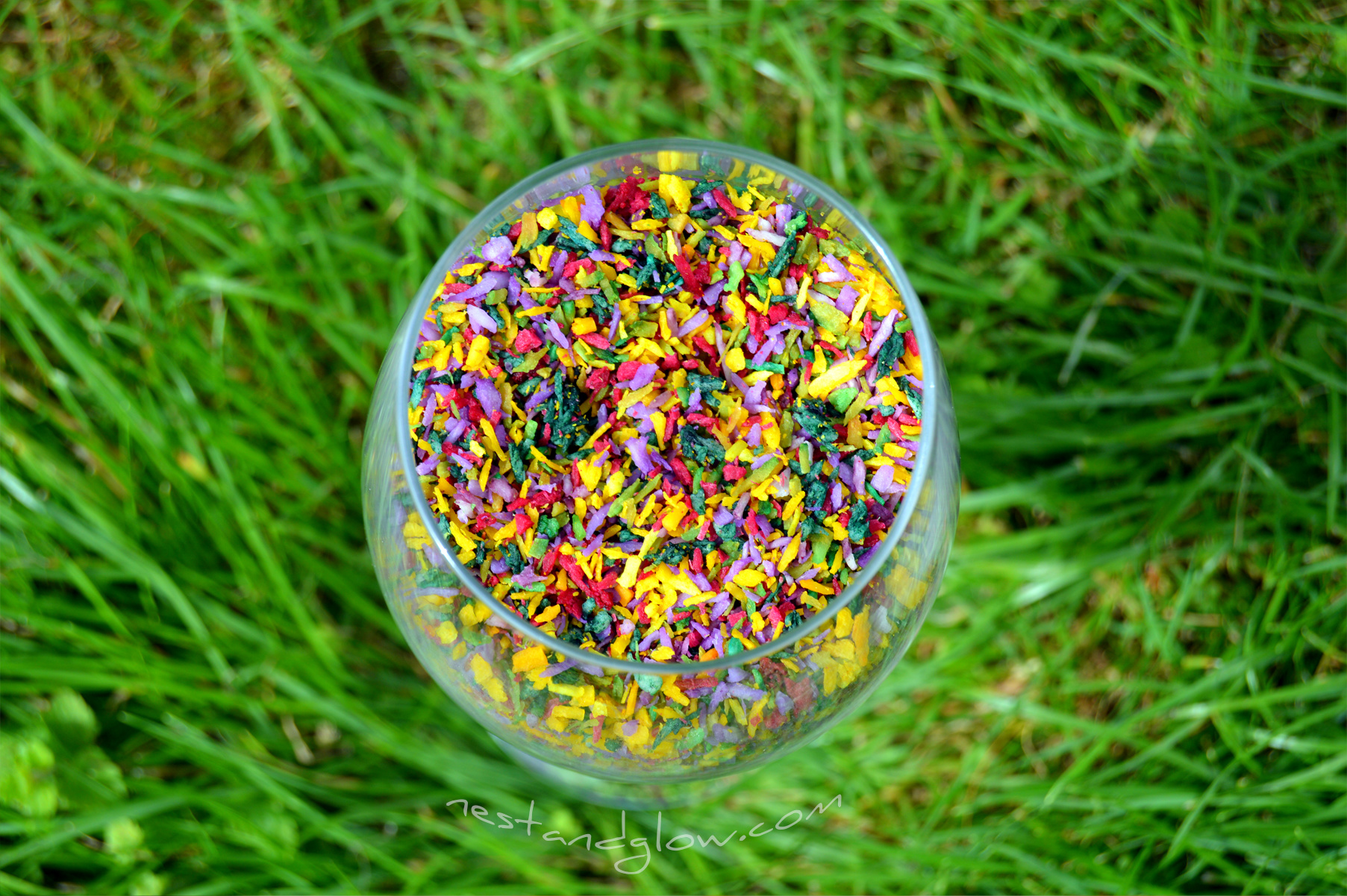 If you like this natural food dye check out my recipe for natural and healthy sprinkles.

This raw vegan cheesecake is also dyed using natural healthy colours!