A quick and easy recipe to make chocolate peanut butter balls from just two ingredients. These balls are high in plant protein from the nuts and antioxidants from the chocolate.
Suitable for paleo, vegan, plant based and gluten free diets. To make nut free peanut butter balls use a seed based butter such as sunflower butter or tahini.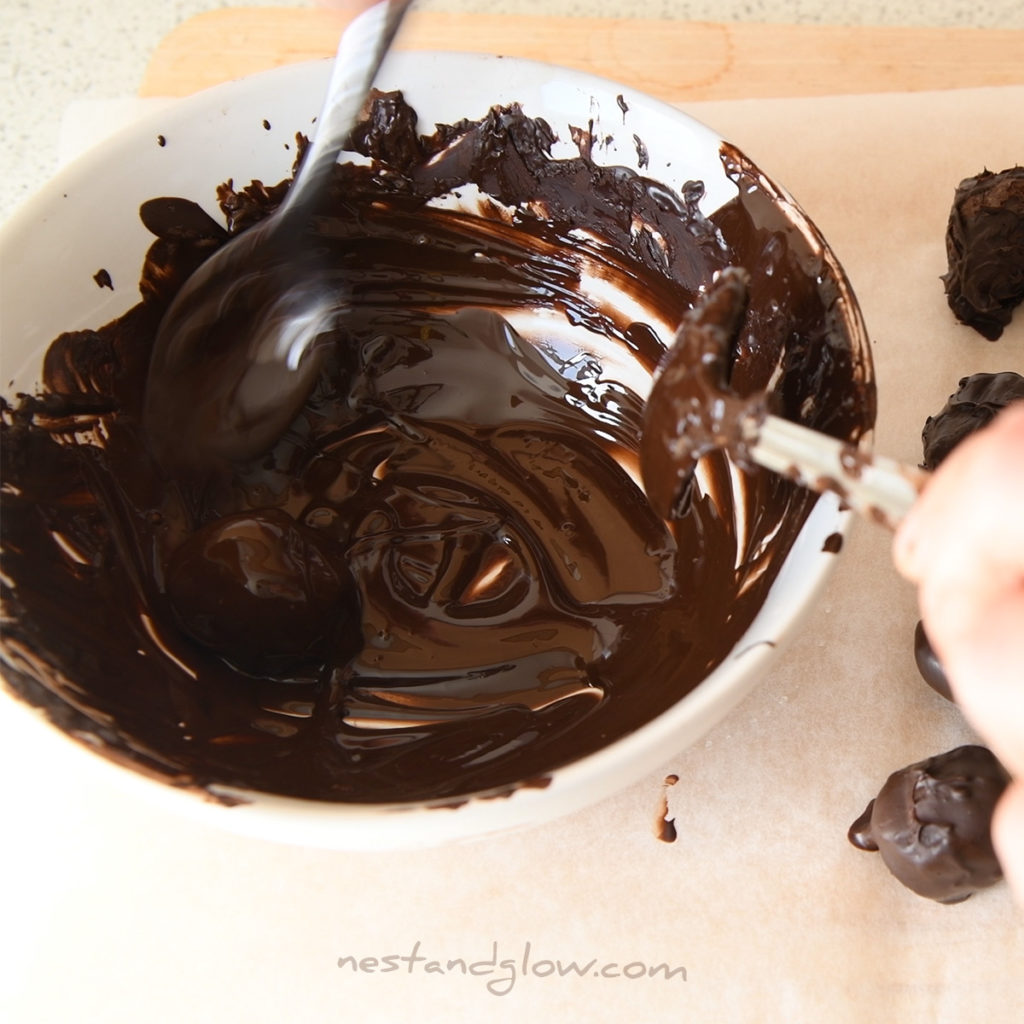 I use a rich 80% cacao dark chocolate to make healthy peanut butter balls as it's very low in sugar and is naturally dairy free. The peanut butter gives a natural sweetness to the recipe so it's not as bitter as very dark chocolate. Use whatever chocolate you like for this recipe.
Peanut Butter Balls Video Recipe
View video on YouTube or Play No music version.
You can make these peanut butter balls with any nut or seed butter than you like. I used a whole 100% peanut butter for the photos and videos here.
See my recipe for sunflower seed butter and just do the first few steps to make a pure and cheap sunflower seed butter that's very good for you.
For easy chocolate tempering, I always melt 3/4 of the chocolate then take off the heat and melt in the remaining 1/4. Life is too short to be playing around with thermometers to get the right temperature so chocolate sets glossy with a good snap.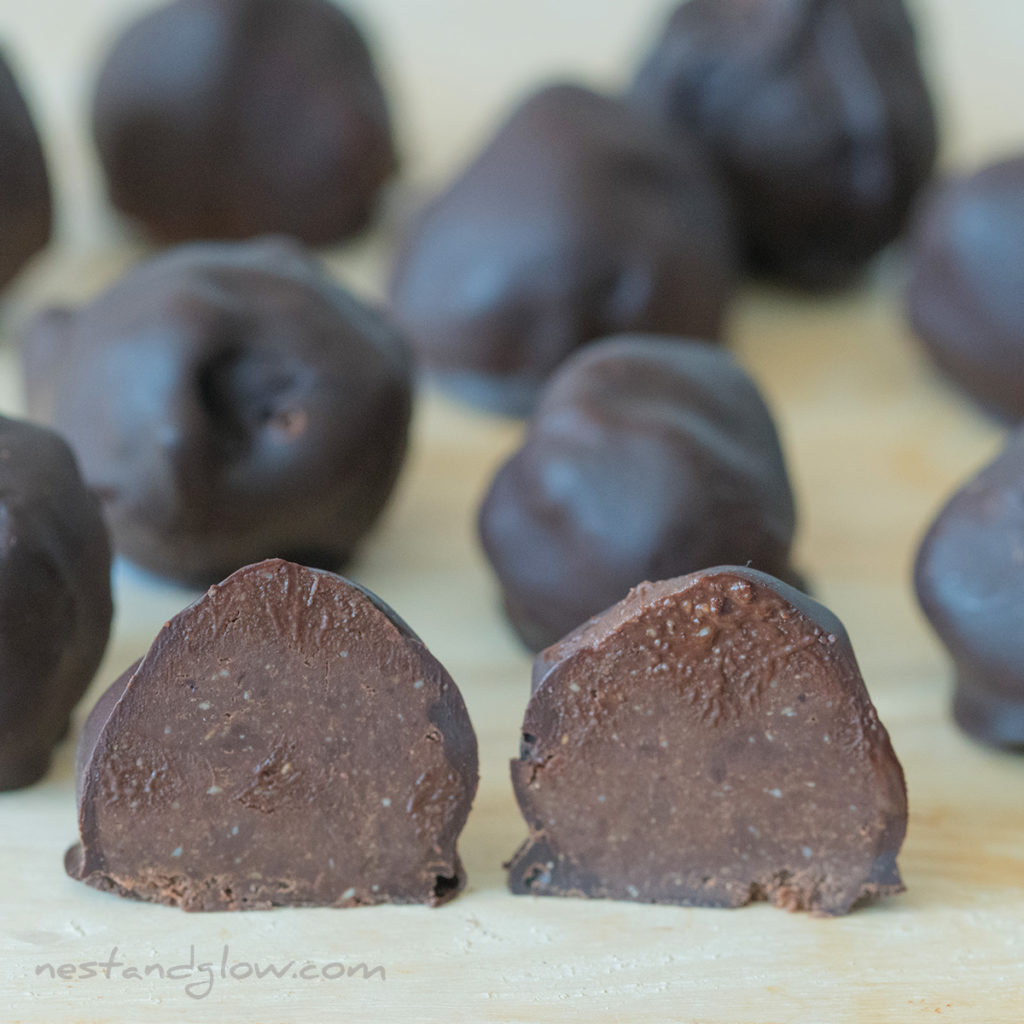 Whatever butter you use almond, cashew or peanut just make sure it's 100% pure nuts with no oils or nasties added. Some peanut butter even have artificial sweeteners added these days!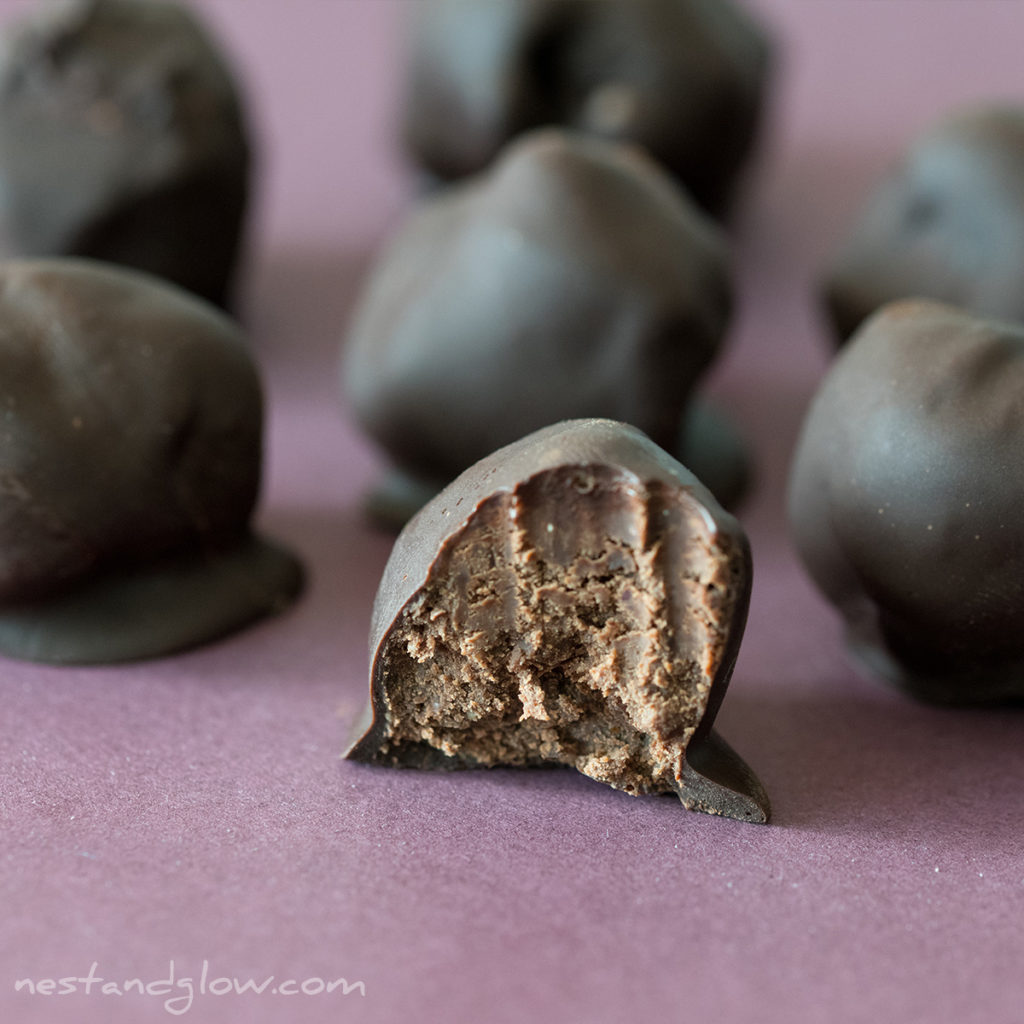 Make a raw vegan version of this by making your own raw sprouted almond butter or raw cashew butter. Then use a mixture of coconut butter, raw cacao powder and a sweetener to make a raw chocolate coating.
Cacao is more nutritious than cocoa but it's more expensive and cocoa is still nutritious. More information on the difference between cacao and cocoa.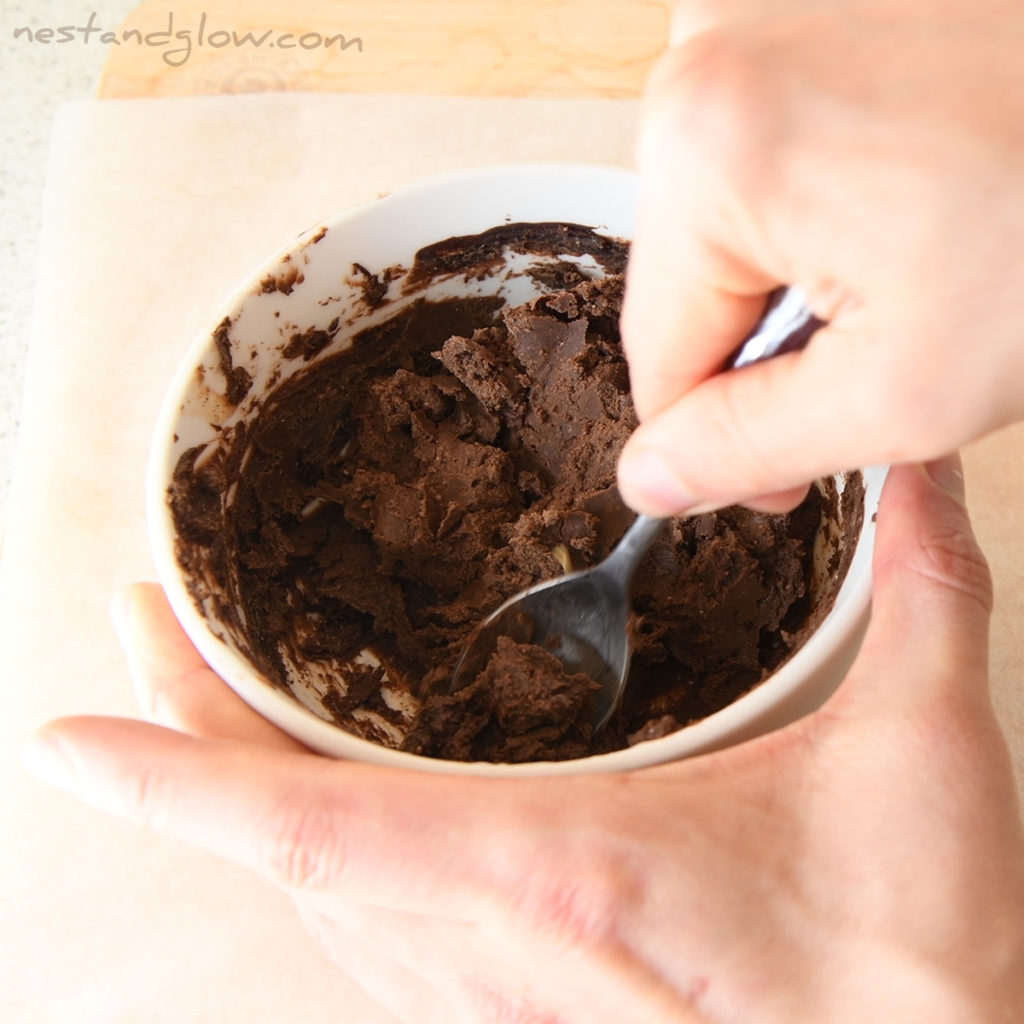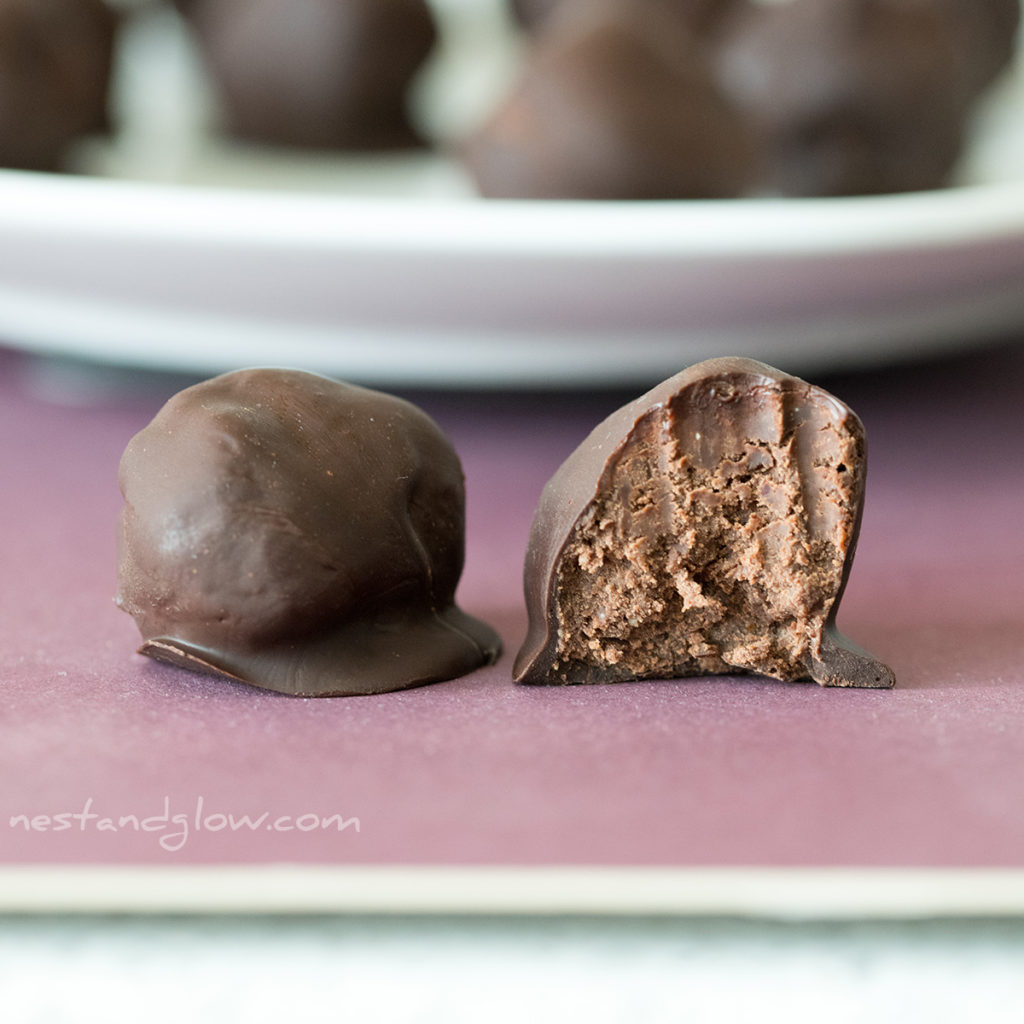 To make these peanut butter balls totally sugar free use a chocolate that is sweetened with a healthy no sugar sweetener like stevia or xylitol. Stevia comes from a herb and xylitol from birch tree sap – so both are natural.#
Avoid any artificial sweeteners like aspartame when looking for sugar free chocolate as this is far more harmful than sugar with lots of nasty side affects.
If you like this peanut butter balls recipe check out my other chocolate balls recipes
Yield: 12 peanut butter chocolate balls
2 Ingredient Peanut Butter Chocolate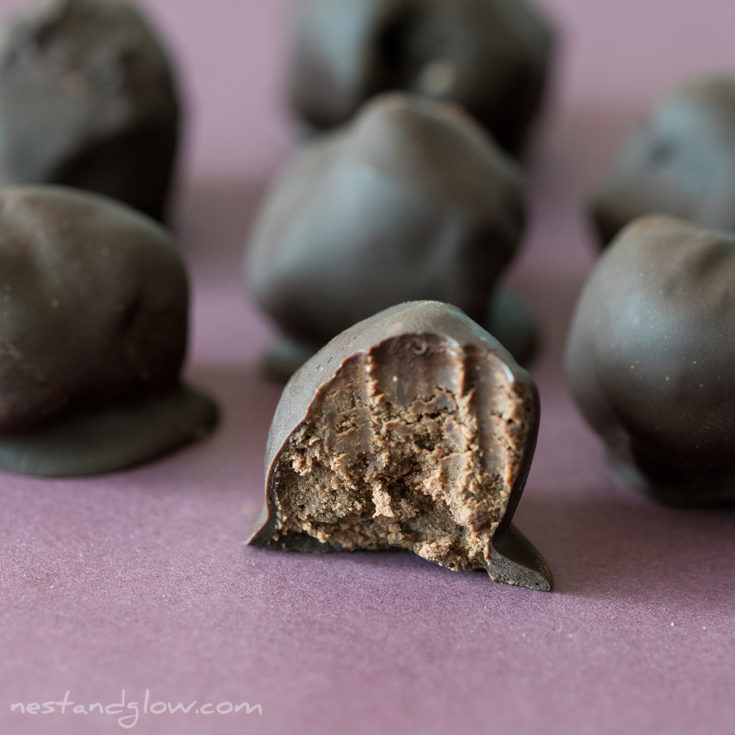 Quick no bake recipe for peanut butter balls coated in chocolate. Just two ingredients in this healthy candy recipe.
Use dark low sugar chocolate that's at least 70% cocoa solids to make this candy high in antioxidants and nutrition.
Can be made using almond or sunflower seed butter if you prefer.
Ingredients
100g / 3.4oz Chocolate
3 heaped tbsp / 100g Peanut butter
Instructions
Snap the chocolate into little chunks.
Place 3/4 of the chocolate in a bowl of hot water and stir until melted.
Take the melted chocolate off the heat then stir in the remaining 1/4 until melted for quick tempering.
Add 3/4 of the chocolate to the peanut butter.
Place the peanut butter ball mixture in the freezer for 5 mins so it's firm enough to manage by hand.
Put the chocolate back over the hot water to stay liquid while the peanut chocolate mixture is chilling.
Take out the mixture from the freezer and using a teaspoon amount and rolling with your hand make about 12 peanut butter chocolate balls.
Dip and roll each peanut butter ball in the melted chocolate using a spoon, then tap off the excess and leave to set on a non stick sheet.
Chill for 10 mins then enjoy your peanut butter chocolate balls within a week.
Nutrition Information
Yield
12
Serving Size
1
Amount Per Serving
Calories

95
Total Fat

7g
Saturated Fat

2g
Trans Fat

0g
Unsaturated Fat

4g
Cholesterol

1mg
Sodium

63mg
Carbohydrates

5g
Fiber

1g
Sugar

3g
Protein

3g