Easy to make raw carrot cake truffles that are vegan, gluten free, refined sugar free and most importantly delicious. No bake cake balls that are suitable for a raw food diet with a cashew cream frosting. Maple syrup is heated but contains nutrients so is generally accepted as suitable for raw foodists.
Be sure to use gluten-free oats if you don't eat gluten when making these raw carrot cake energy balls. Full of healthy fats, fibre and protein – you can have your cake and eat it with this healthy cake!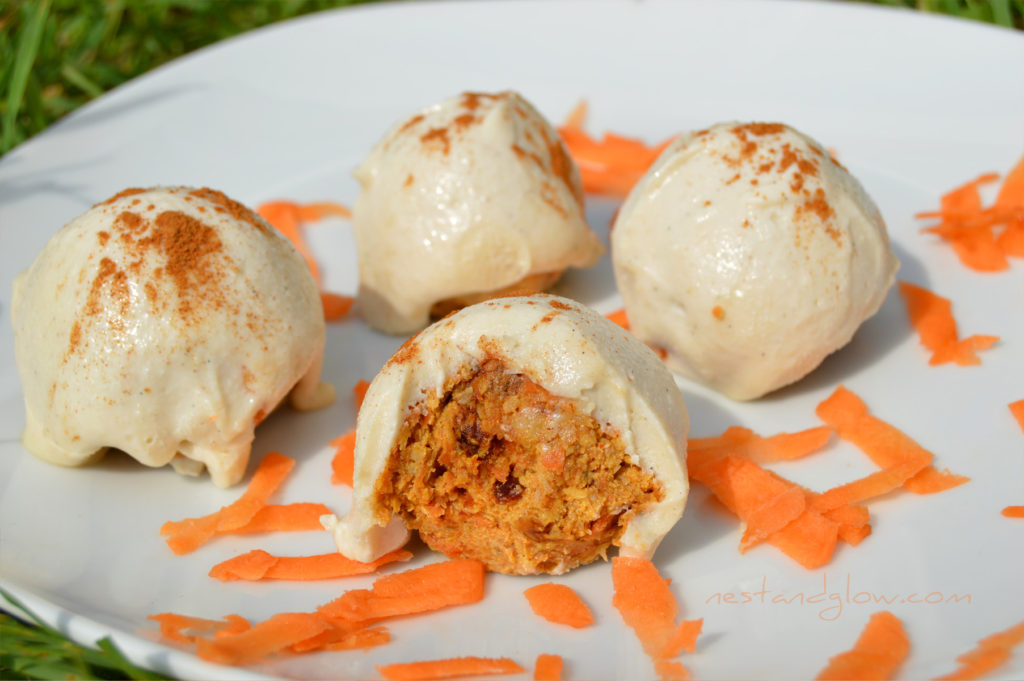 The chia seeds can be replaced with either flax seeds or more oats, they help set the raw cake balls. Chia is high in heart-healthy fats, omega-3, calcium and protein so ups the nutritional content.
Did you know that up until recently chia seeds were only legal in Europe to add a small amount to bread. If any brand dared to put a recipe for chia pudding on the packet it would have been illegal! Despite chia existing for thousands of years and being a staple of the Incas its an ingredient that was previously unknown of a few decades ago in the west.
Carrot Cake Balls with Vanilla Bean Icing Video Recipe
Play on YouTube, View Fast video or View No Music video
If you would rather have one big raw carrot cake than truffles just press the base ingredient into a pan and top with the icing. It's slightly quicker to make it as a cake.
If you don't have coconut cream / butter you can replace with coconut oil or just leave out but the icing will not be as firm. Cashew cream frosting is easy to make even in an inexpensive bullet blender and is smooth and creamy.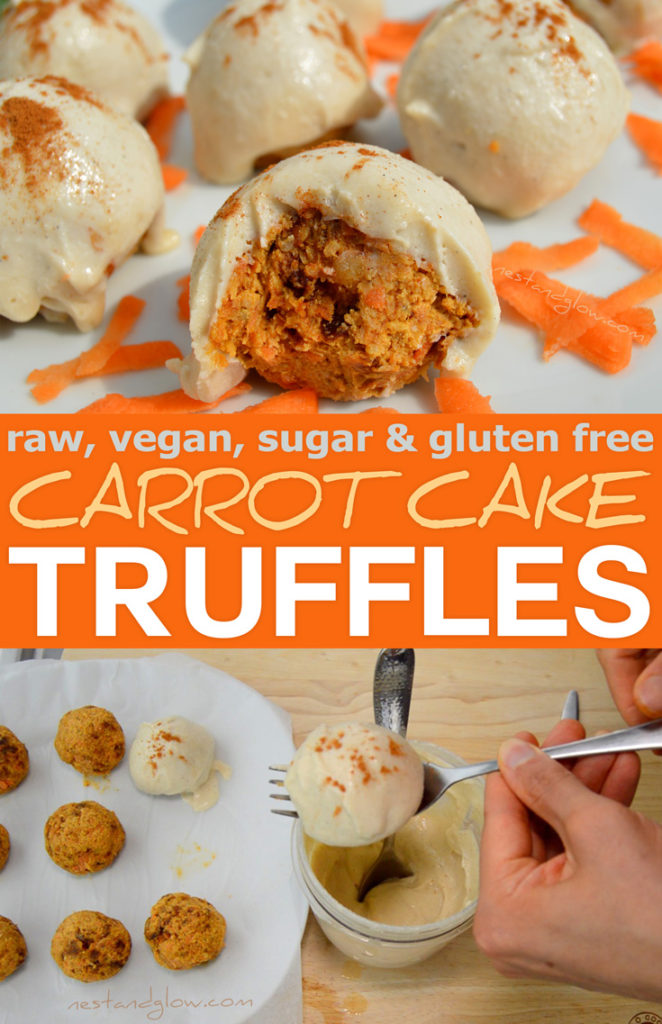 Vanilla is expensive but it's really worth it in my opinion in this raw carrot cake. I would rather have something with proper vanilla once a week than artificial vanilla every day. In the video I used fresh vanilla pods for a rare treat but a high-quality extract is a good halfway house with great flavour and not too expensive.
Yield: 16 balls
Raw Carrot Cake Balls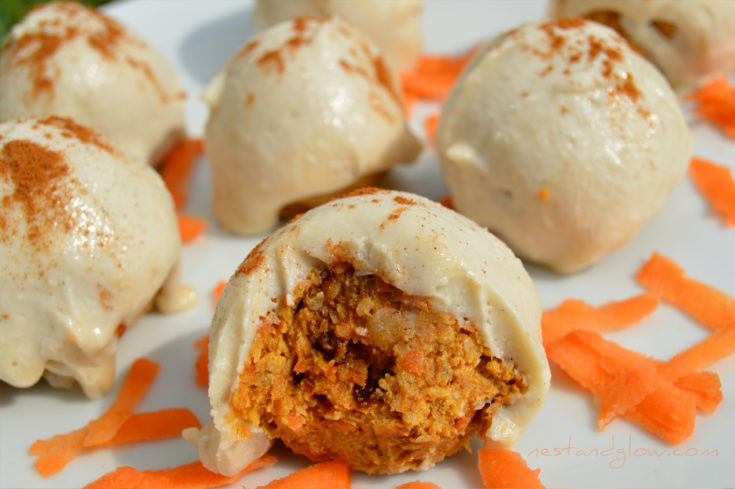 Raw carrot cake balls made from just a few whole food ingredients. Free of dairy, wheat, eggs and refined sugar. High in taste, fibre and nutrition. Can either be made as balls or one large raw carrot cake.

Prep Time 25 minutes

Total Time 25 minutes
Ingredients
Raw Carrot Cake
2 cups / 100g grated Carrot
1 cup / 150g Walnuts
1 cup / 100g Dates
3 tbsp Oats
2 tbsp shredded Coconut
1 tbsp Chia seeds
1 tsp Cinnamon
½ tsp ground Ginger
¼ tsp Nutmeg
Cashew Frosting
1 cup / 150g Cashews
½ cup / 120 ml Coconut butter or oil
3 tbsp Maple syrup
1 tsp Vanilla
1 Lime juiced
Instructions
Put all of the base ingredients for the raw carrot cake into a food processor and pulse blend until they are all combined.
The mixture should be firm, if not add more oats.
Either roll into balls for truffles and place on non stick sheets or push into a cake pan for one big carrot cake. Place in the freezer to chill while you make the icing.
Melt the coconut cream/butter/oil as its solid at room temperature. I melt by placing in a bowl within a bowl of hot water.
Place all of the carrot cake cashew frosting ingredients into a blender with a few tablespoons of water. Blend until you get a smooth creamy icing.
Hold the carrot cake truffles on a fork over the icing and spoon on the cashew vanilla bean icing. Then sprinkle with cinnamon and put on a non stick sheet.
For the cake just pour the icing on top and spread it out. Sprinkle with cinnamon / grated carrots / chopped nuts to garnish.
Once the raw carrot cake balls are made chill in the fridge for half an hour and they are ready to eat.
Raw carrot cake will last several days stored in the fridge.
Recommended Products
Links maybe affiliated, meaning I earn a commission from purchases but at no extra cost to yourself.
Nutrition Information
Yield
16
Serving Size
1
Amount Per Serving Calories 160Total Fat 13gSaturated Fat 2gTrans Fat 0gUnsaturated Fat 11gCholesterol 0mgSodium 49mgCarbohydrates 10gFiber 2gSugar 6gProtein 2g
If you like this recipe check out our Tropical Lemon Cake.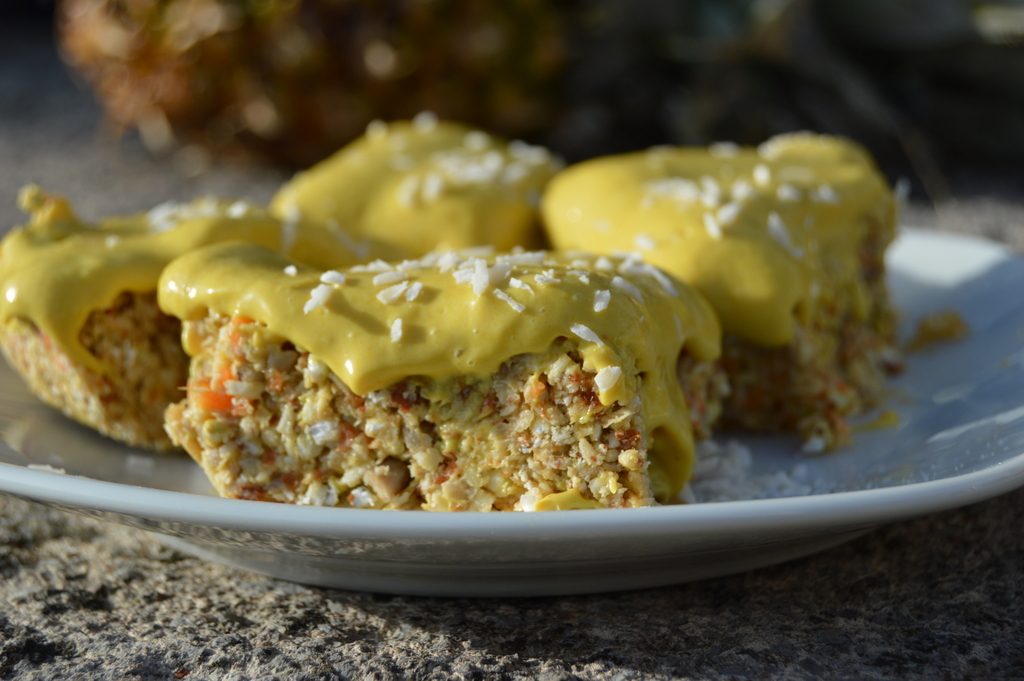 Did you know vanilla comes from the orchids of genus Vanilla and originally came from what we now know as Mexico and Guatemala. The pods are picked when still green and blanched in hot water then left to sun dry for months. It's the second most expensive spice after saffron and 80% of the world's supply comes from the island nations of Madagascar and Reunion according to Huff.