The best things in life are simple and this raspberry watermelon lemonade is a delicious example. It takes a few minutes to make and is an impressive summer drink – great for BBQs and picnics.
You will find that even just the flesh from half a melon with a bit of ice and lemon will make too much liquid to fit back into the watermelon shell.
Store any leftovers in the fridge ready to top up the watermelon. It's best to blend and serve immediately as once the metal blades have blended the fruit it will start to oxidise. The lemon does do a good job of helping preserve the juice from degrading for a few hours.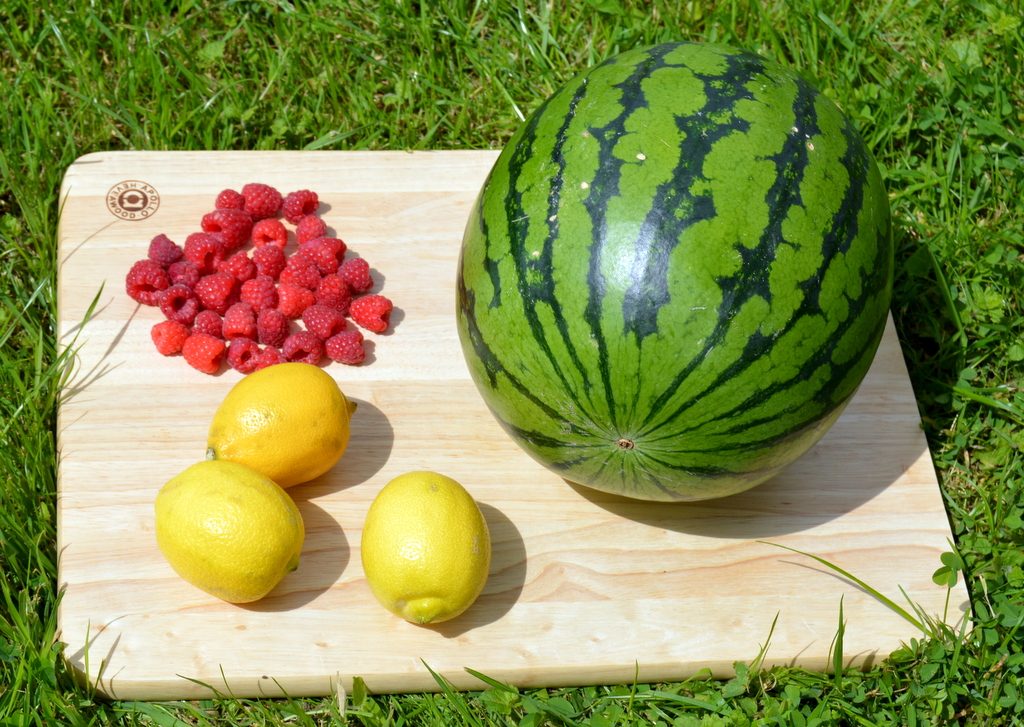 I don't use a sieve as watermelon seeds are edible and healthy. But if you like it smooth then strain as you pour it back into the watermelon. You can do a whole watermelon and just slice the top off if you want a few litres of lemonade, remember to double the ingredients.
Garnish with slices of lemon, raspberries and mint leaves as we do eat with your eyes.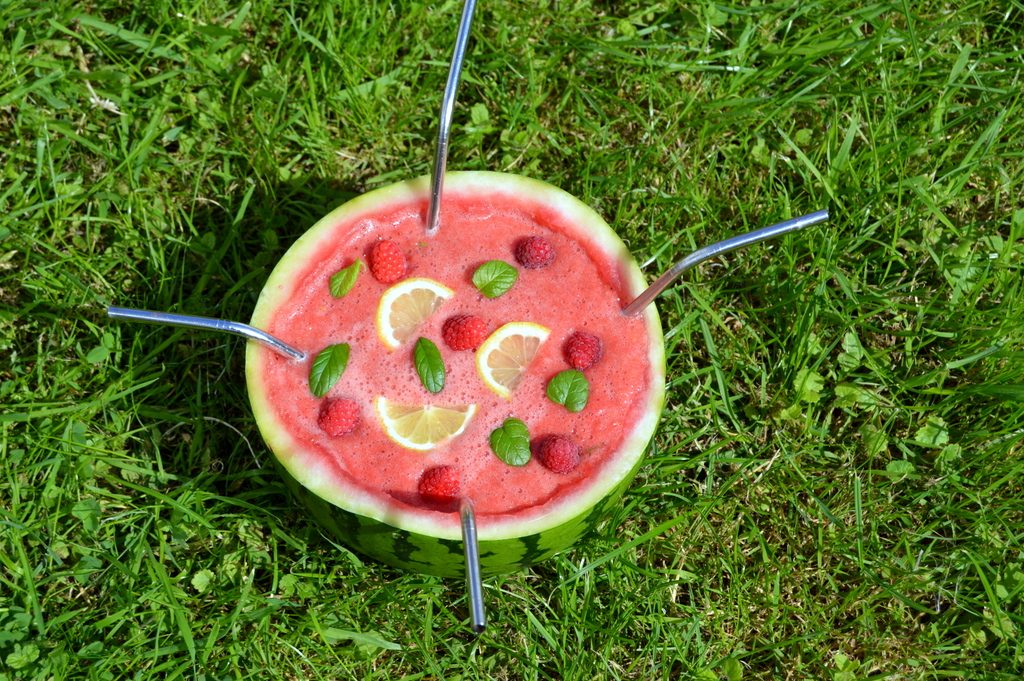 Taste the watermelon lemonade before serving as the fruits all vary in size and taste. If it's too sweet add more lemon, too sour then add more watermelon.
Garnish this healthy lemonade whatever you have about, I have lots of raspberries and mint in my garden at the moment so chose these. I'm using reusable metal straws that have so far lasted me years.
Limes work just as well for this lemonade recipe. Some prefer it as limes are slightly more bitter and sourer and that helps balance out the flavour. Sweet and sour work so well together to give a deep flavour.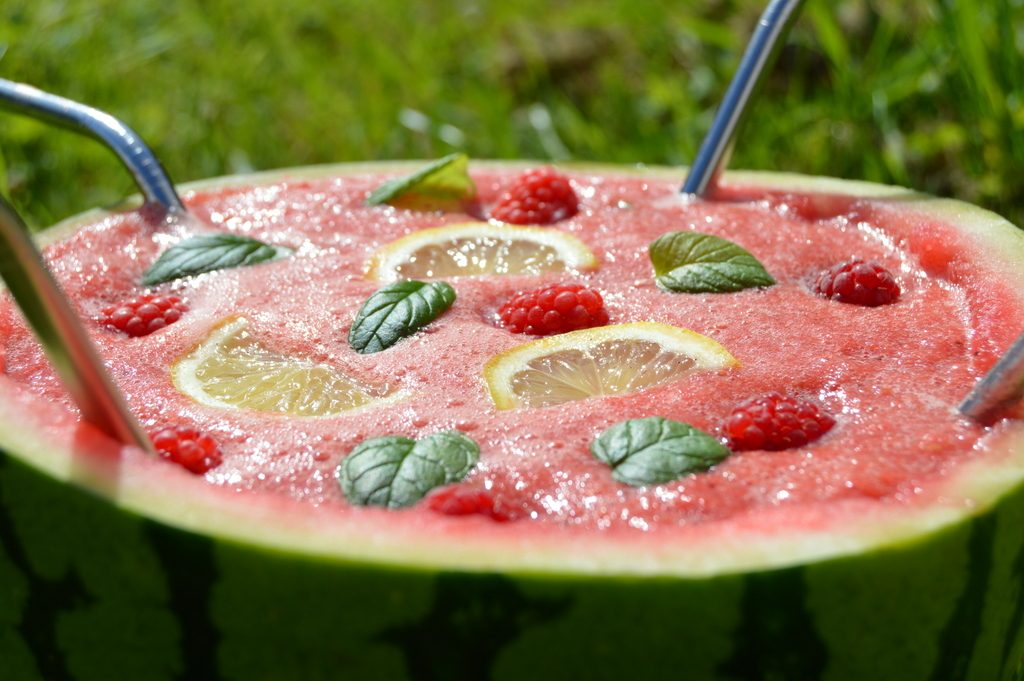 Watermelons are over 90% water and this water is filtered by the plant making it great for health.
Most watermelons are seedless or have very small soft seeds that can be eaten. This is not due to GMO but just selective cross breeding of plants with smaller softer seeds.
Watermelon skin can be eaten and are a good source of nutrients as many are found in and near the skin. However as the skin is bitter most people don't eat it. I've heard of people making jam from the skin but I usually consume watermelon skin by juicing it when I'm wanting a low sugar juice.
Yield: 12 servings
Raspberry Watermelon Lemonade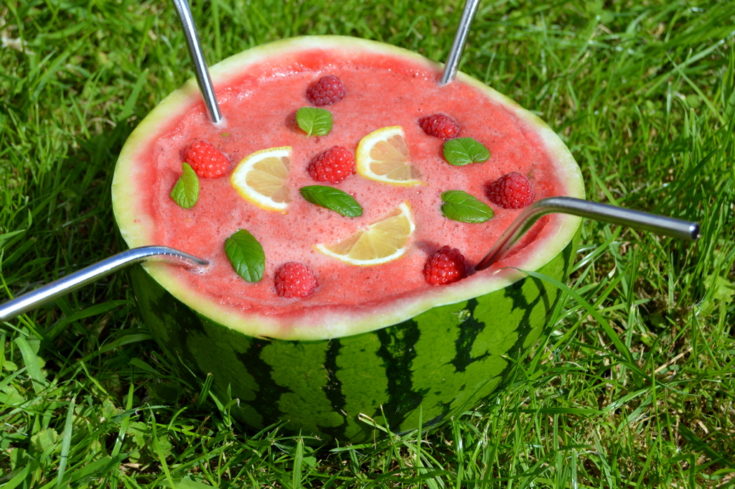 The perfect way to stay refreshed all summer long with this natural lemonade that's sweetened just with fruit. Can be made in minutes and tastes amazing.

Prep Time 5 minutes

Total Time 5 minutes
Ingredients
Watermelon, half a medium sized
Raspberries, a handful
Lemon, 3 juiced
Ice
Mint leaves to garnish
Instructions
Cut the watermelon in half. Score and scoop out all the flesh.

In a blender add the watermelon, lemon juice and raspberries.

Whizz until all is combined and the watermelon seeds are broken up.

Serve the healthy lemonade with ice in the watermelon shell and drink immediately.

Store water melon lemonade in the fridge for a day or two.
Nutrition Information
Yield
6
Serving Size
1
Amount Per Serving Calories 72Total Fat 0gSaturated Fat 0gTrans Fat 0gUnsaturated Fat 0gCholesterol 0mgSodium 1mgCarbohydrates 4gFiber 1gSugar 5gProtein 0g