Gluten free sticky toffee pudding that's made with quinoa and chickpeas. This high protein vegan dessert is free of eggs, flour, refined sugar, butter, sugar and oil!].
All the taste of sticky toffee pudding without any junk. As this healthy dessert is high in fibre you will find one serving is fulfilling making it easier to not overeat. Normal toffee desserts are loaded with highly refined flour and sugar which are just empty calories with no nutrition, unlike this recipe.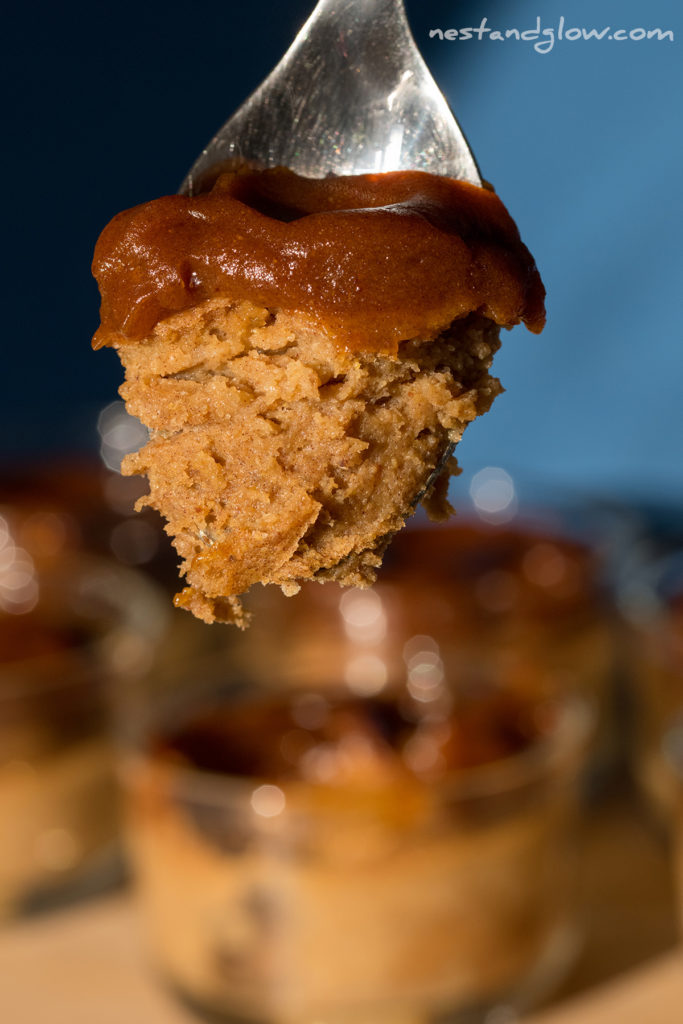 I use flaxseeds for this quinoa pudding as they are golden and help to replace eggs for vegan puddings. You can use chia seeds if you prefer – the only disadvantage is it will make the mixture a bit grey.
Flaxseed and linseed are the same thing. They're full of omega fatty acids which many on a vegan diet are lacking as plant sources are limited.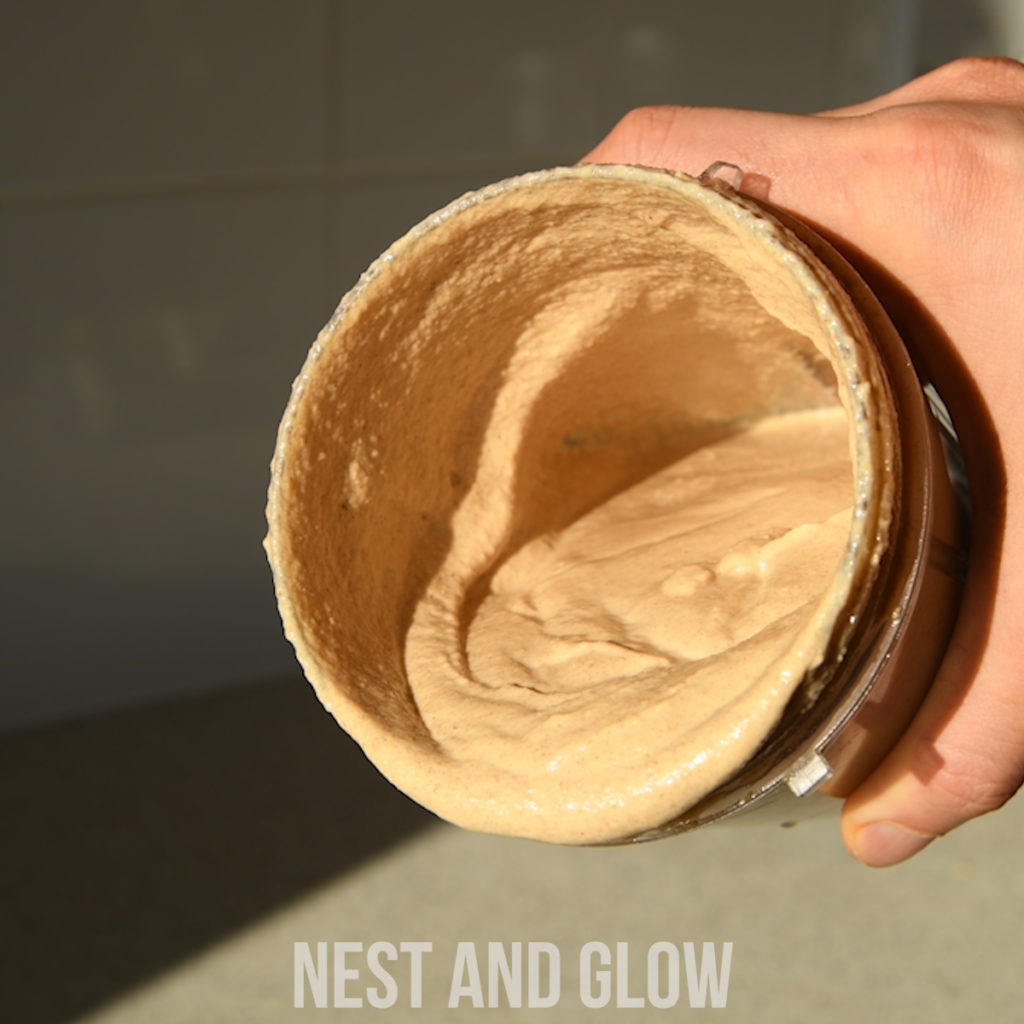 I won't lye this quinoa dessert does actually taste of quinoa.
It has a mildly nutty flavour which I prefer over refined white flour where you get no taste other than carbohydrate. If you don't like quinoa you probably won't like this dessert.
As always think of my simple recipes as something to add your own flavours and flourishes to.
Personally I would like to add strawberries and a few drops of lemon juice or some spices like ginger and cinnamon. Or some peanut butter would go amazingly well to make a peanut butter sticky toffee pudding.
If you adapt this healthy sticky toffee pudding recipe let me know in the comments below.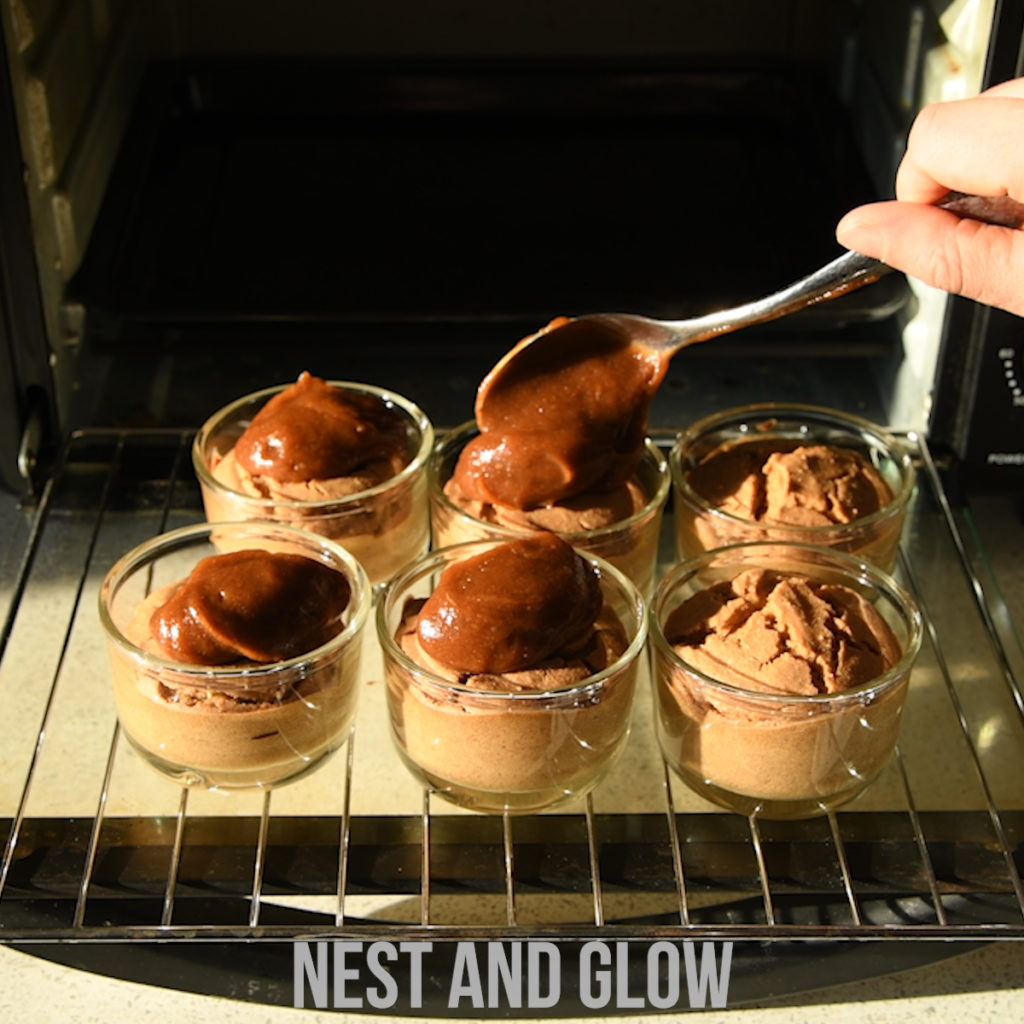 I use dates to make my sticky toffee healthy pudding as they give a great caramel taste along with goodness and fibre.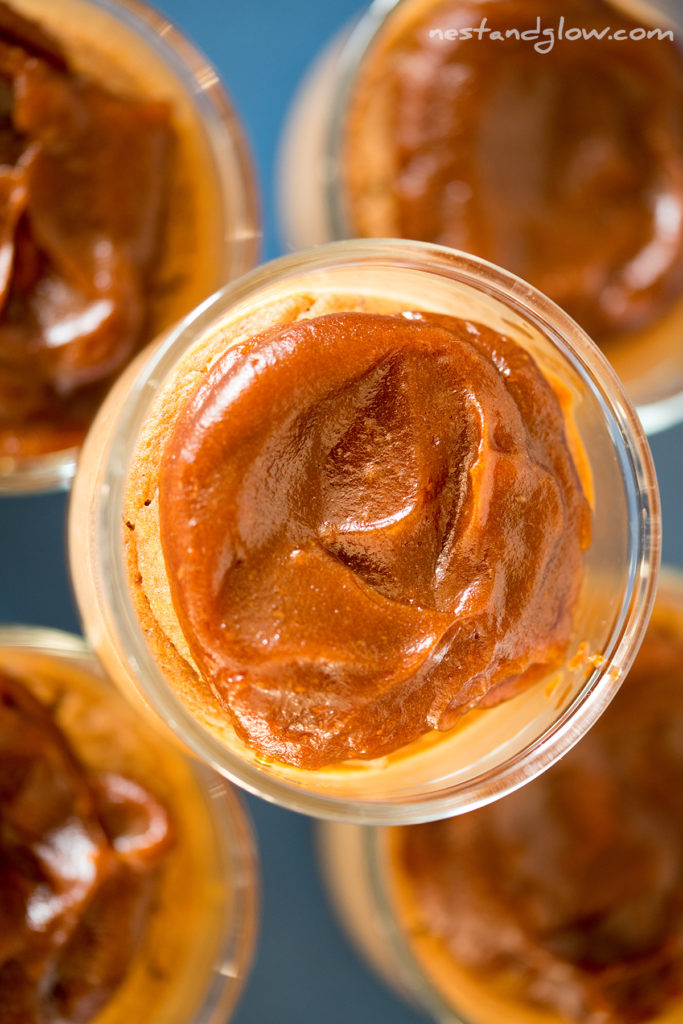 You can use any other dried fruit like vine fruit if you prefer. Or you can vary what you use for the topping and the base.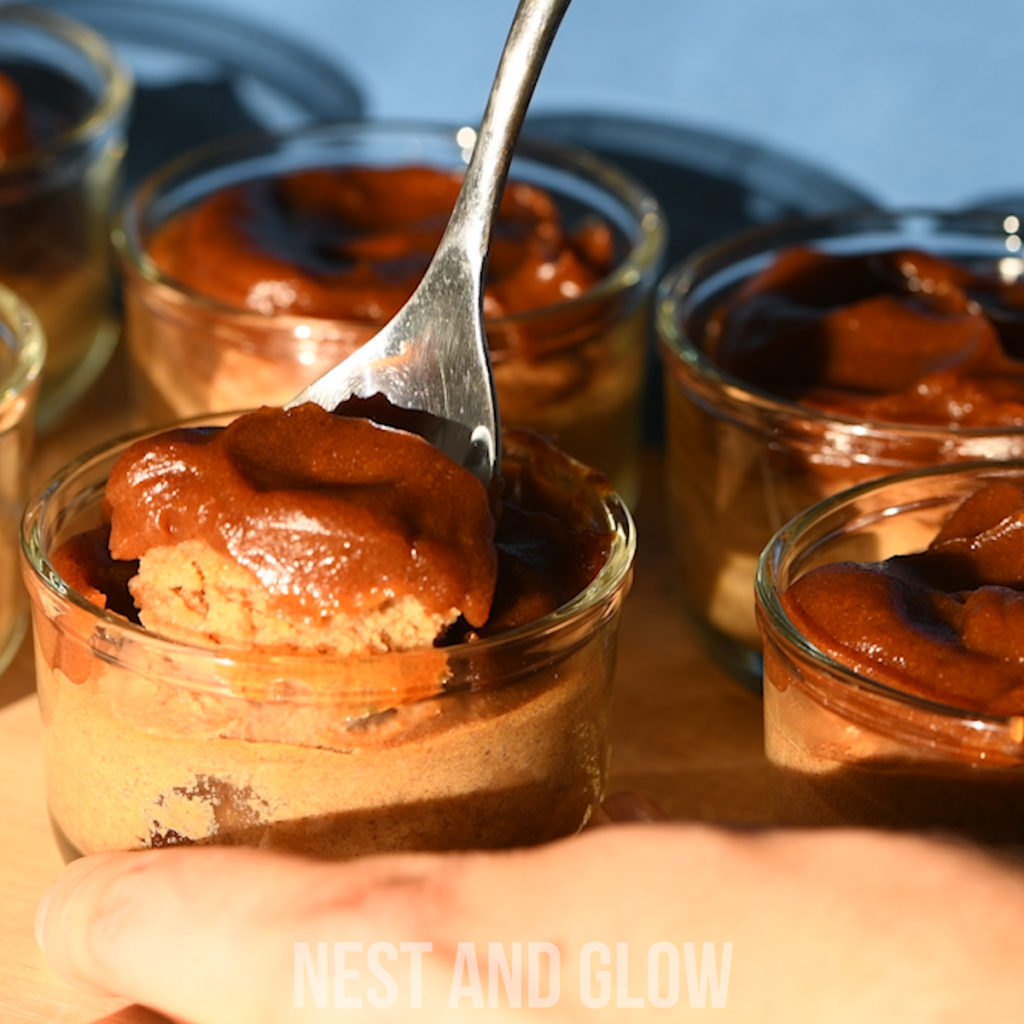 If using dates use pure dates as some have added sugar and preservatives. Always check to make sure no pits remain in the dates as one blended into lots of tiny hard bits will ruin this healthy dessert.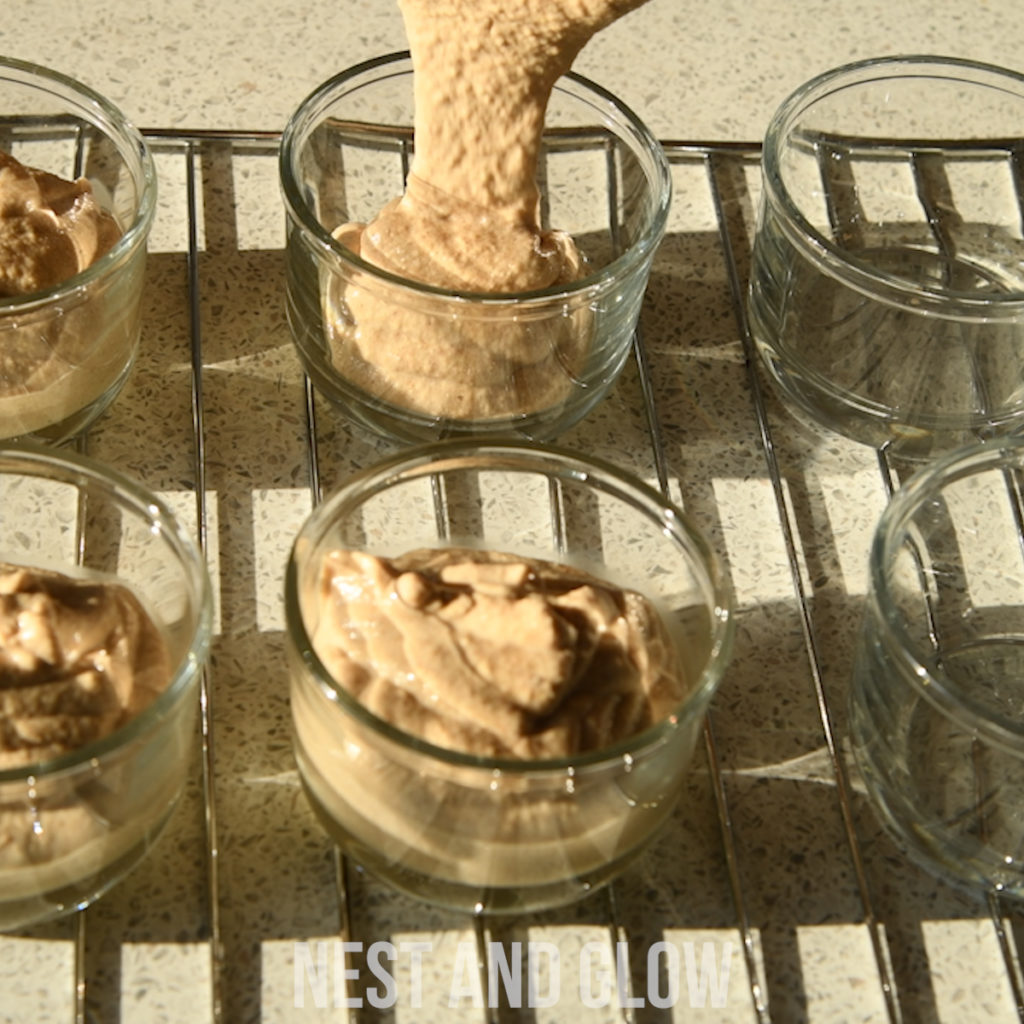 I didn't add any salt to this gluten free pudding because it had two tablespoons of tinned chickpeas that were cooked with salt! The chickpeas really do help the texture of the healthy pudding.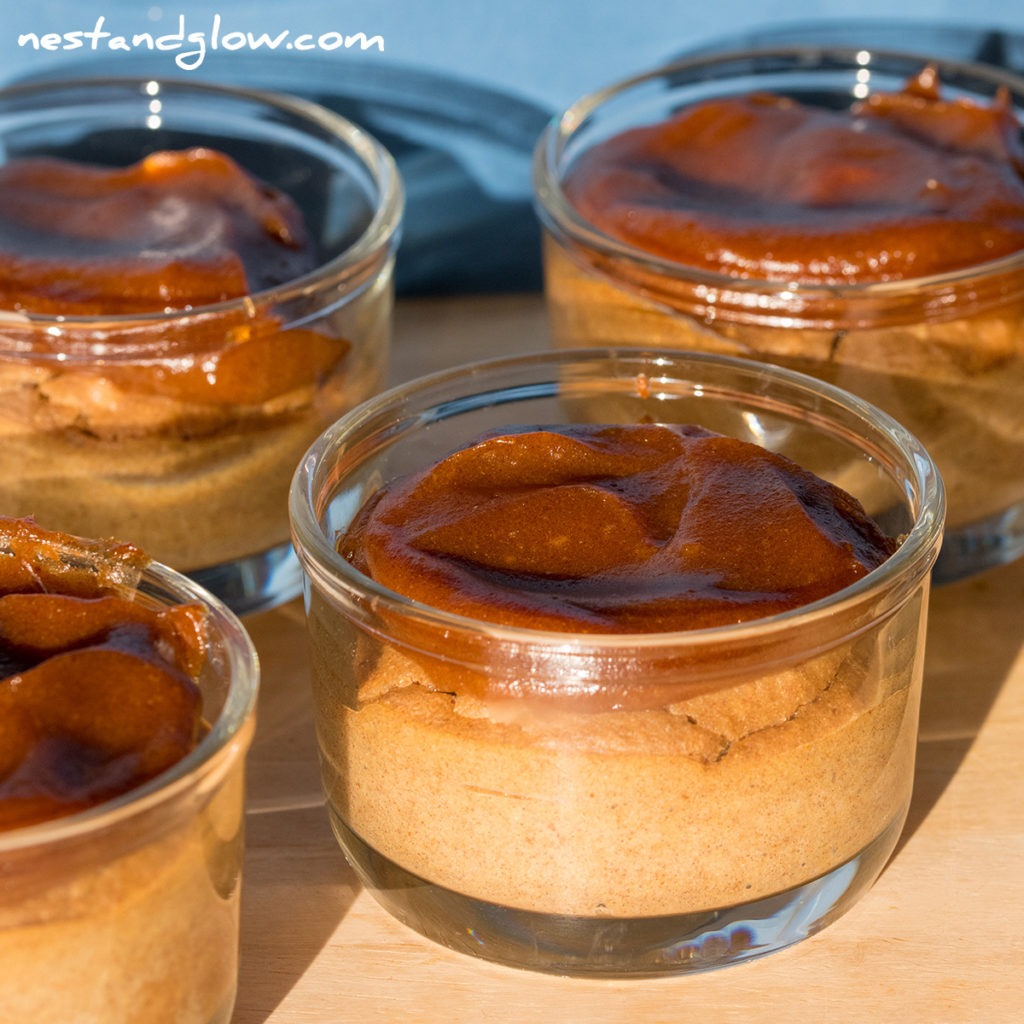 I use whole quinoa in this recipe instead of gluten flour or quinoa flour as its nutritious and the soaking makes it easy for your body to absorb the goodness.
Lots of people on the paleo diet consume quinoa but only if its soaked to reduce the acids that affect absorption.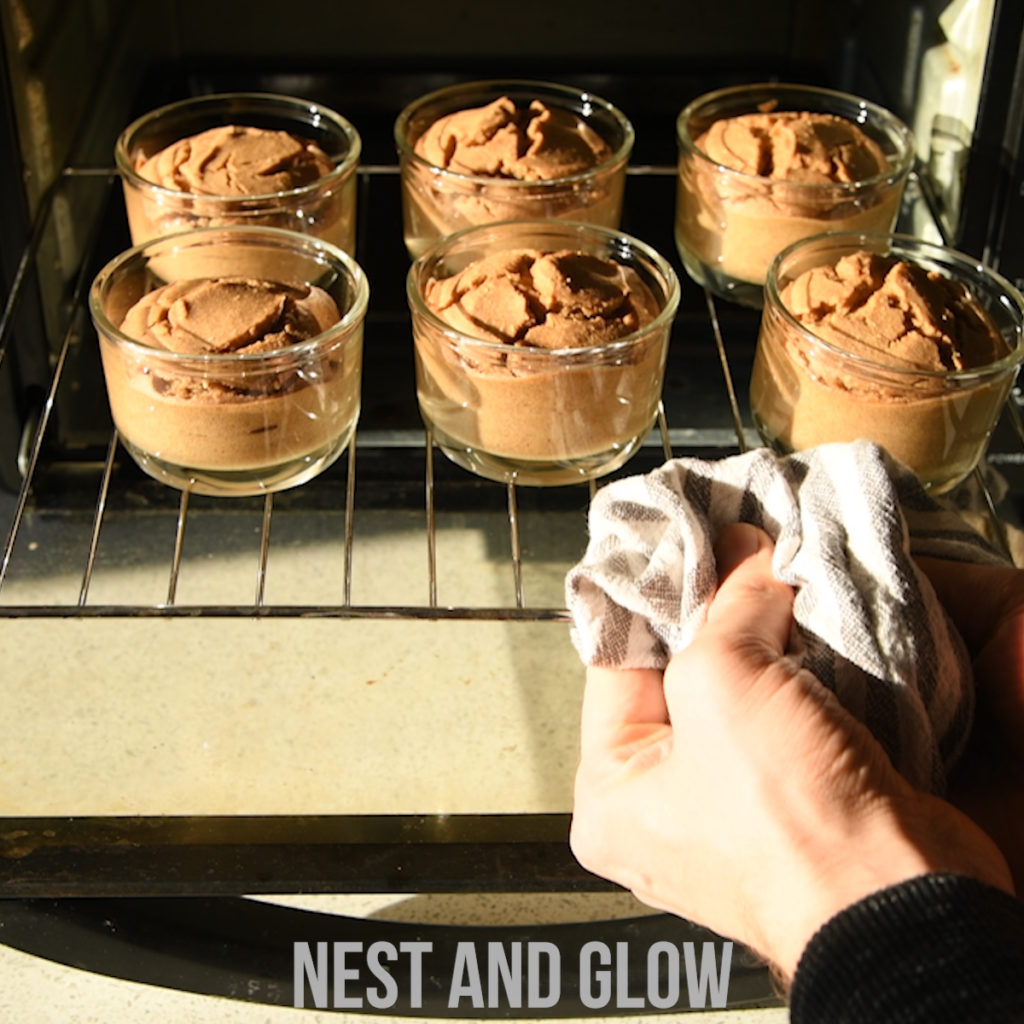 Yield: 6 healthy sticky toffee puddings
Quinoa Sticky Toffee Pudding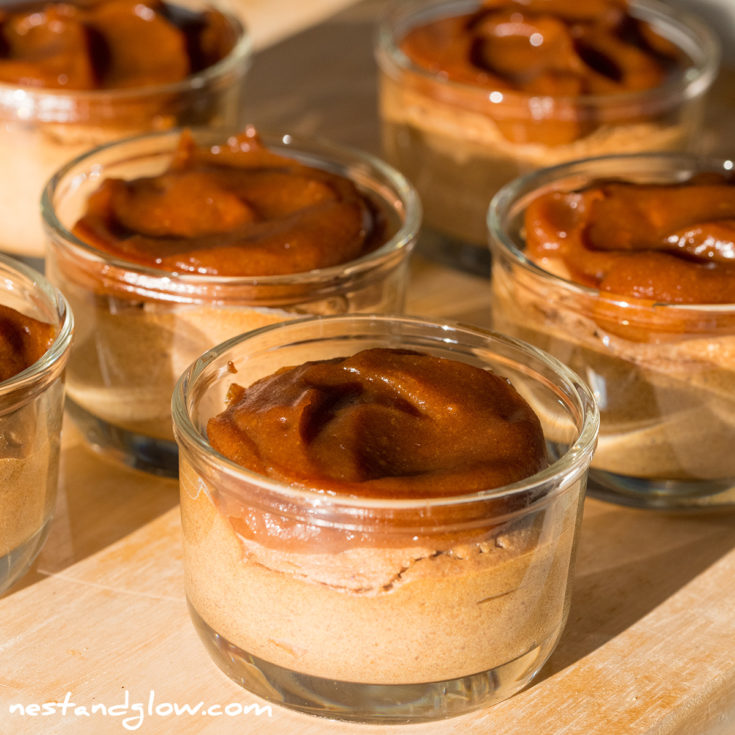 This healthy sticky toffee pudding is both vegan and gluten free. It's high in plant protein as whole quinoa is used. Also high in fibre thanks to dates and chickpeas.
Sweetened purely with fruit this vegan pudding won't cause a sugar rush. No flour, no eggs, no butter, no oil, no sugar, no gluten, no nuts, no dairy toffee pudding recipe - but tastes great!
Ingredients
Quinoa Pudding
2/3 cup / 120g Quinoa
2 tbsp cooked Chickpeas
1/2 cup / 90g pitted Dates
3 tbsp Flax seeds
1 tsp Vanilla
1/4 tsp Baking Powder
1 cup / 235ml water + water for soaking
Date Toffee Caramel
1 cup / 175g Dates
1/2 cup / 120ml Water
Instructions
Soak the quinoa in warm water for 15 mins. Stir to make sure the quinoa isn't stuck in clump.
Drain and rinse the quinoa then place with everything else for the quinoa pudding base into a small blender, a 600w is enough.
Pre-heat oven to 190C / 375F.
Blend for two sets of 30 seconds until you can hear all of the quinoa is broken up. If the blender is struggling add a few tbsp of more water.
Pour the quinoa date pudding batter into ramakins, I don't grease them to keep this recipe healthy and oil free. Use whatever ramakins you have, my ramakins are about 8cm in diameter.
Bake for 30 minutes until they seem cooked with a slight rise.
Blend the dates and water to make the sticky toffee pudding topping, blend in a small blender for about 30 seconds. If the blender struggles add a few more tbsp of water.
Spoon on the date caramel onto the gluten free sticky toffee puddings and bake for 10 mins more.
Enjoy these quinoa sticky toffee puddings stright out of the oven. They are great also with a square of chocolate pushed in while warm or some coconut whipped cream.
Notes
If you're making a batch of these bake the quinoa base, then top and once cooled keep in the fridge. Then reheat for 15 mins at 150 C.
Never soak quinoa overnight as it rots so easily. Quinoa sprouts so quickly (almost in front of your eyes!) I never soak for more than an hour. Most of the time just 10-15 mins in warm water is enough.
Nutrition Information
Yield
6
Serving Size
1
Amount Per Serving
Calories

179
Total Fat

2g
Saturated Fat

0g
Trans Fat

0g
Unsaturated Fat

2g
Cholesterol

0mg
Sodium

28mg
Carbohydrates

40g
Fiber

6g
Sugar

28g
Protein

3g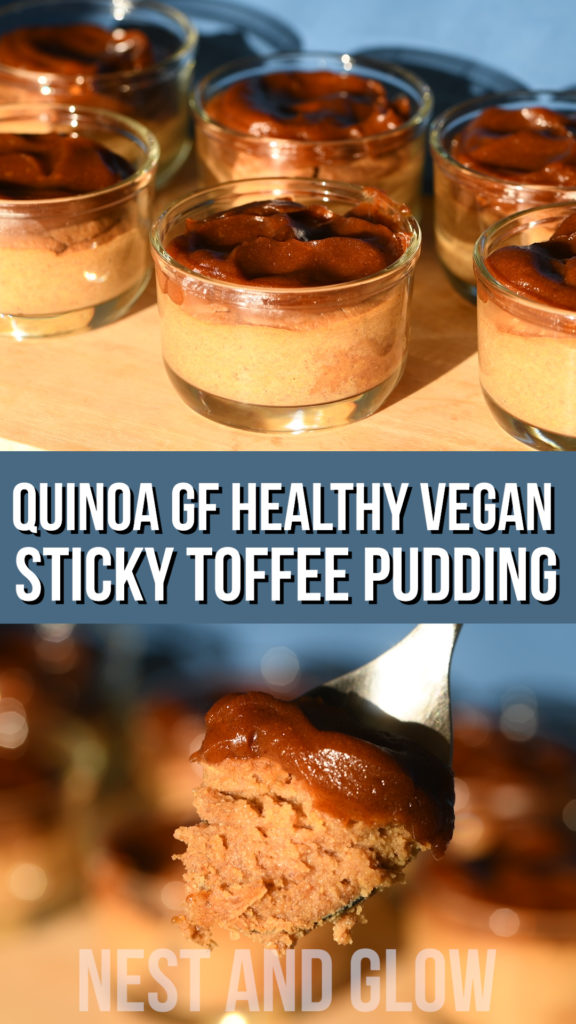 The quinoa is soaked in this recipe to reduce the amount of phytic acid. This makes the goodness easier to absorb and is easier on your digestion.