Cheap and easy to make vegan cheese and tomato potato bake. Just what you want on a cold winters day.
Very little prep work is needed and the oven does all the hard work. Can be prepped in advance and then kept in the fridge and baked in the oven when you're ready to eat.
Suitable for plant-based, gluten free, dairy free, vegan and general whole food healthy diets. I couldn't decide if this should be called a vegan cheese potato bake or vegan Spanish tortilla. It's somewhere in the middle as the sunflower seed cheese goes a bit foamy like the egg in a Spanish omelette.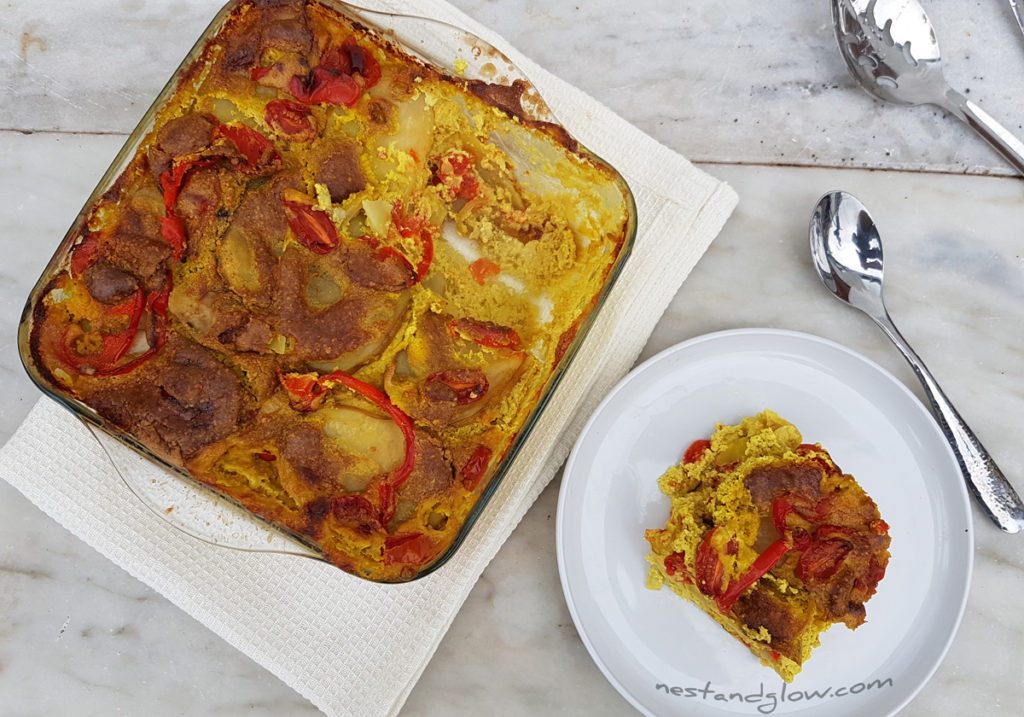 This may not be the prettiest dishes on the site but its pure comfort food. It's a one pot dish, if you ignore the blender bowl, and can be made in a few mins and then put in the oven and forgotten about for a bit over an hour. This is a meal in one full of protein, healthy fats a few portions of veg and plenty of fibre. It does take over an hour, but there is no need to pre-cook the potatoes and I'd rather bake for longer than go through the faff of parboiling and using another pan.
It's made with sunflower seeds that add heart healthy fats and give a creamy nutty taste. This means it's relatively cheap to make, cashew nuts would probably also work well but would be very expensive.
If you buy sunflower seeds in bulk sacks and they are inexpensive for the amount of calories, nutrition and protein they provide. The sunflower seeds don't blend to be super smooth, but the slightly grainy cheese sauce they make looks a bit like parmesan sprinkled on the top. The top crisps up to be a glorious golden brown colour.
Sunflower Seed Cheese and Tomato Potato Bake Video Recipe
In the video, you can see I cut the potatoes not super thin. I think they work best if not wafer thin and it all fits in with the ethos of simple quick recipes @ Nest and Glow. In one of the trial batches, I used a Japanese mandoline to cut the potatoes really fine but because the sauce is quite thick and the veggies are chunky it really didn't work, although was lovely and crisp. If you wanted layer after layer of crispy potatoes I would recommend slicing the potatoes really thinly and either leave out the non-potato veg or blend it with the cheese sauce.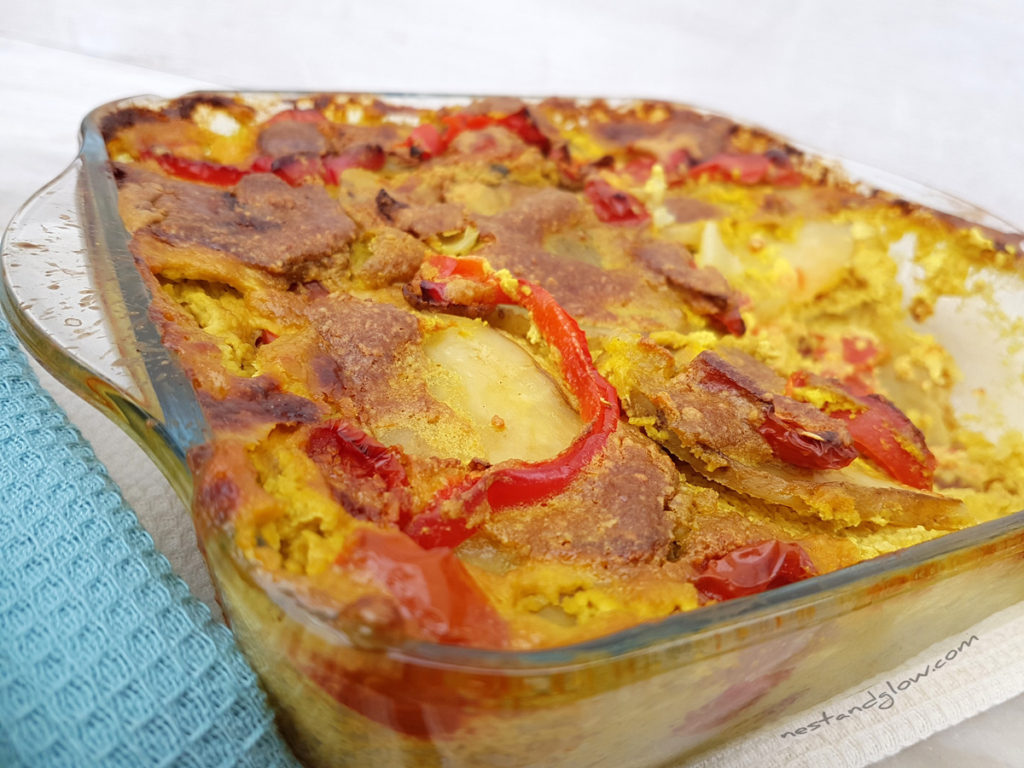 Nutritional yeast is added to help give a cheesy nutty type taste to it. Also, I add some yeast extract (otherwise known as the brand's marmite or veggie mite) to add some salty flavour. If you're on a yeast free diet you can just leave these out but you might want to season with some tamari or soy sauce.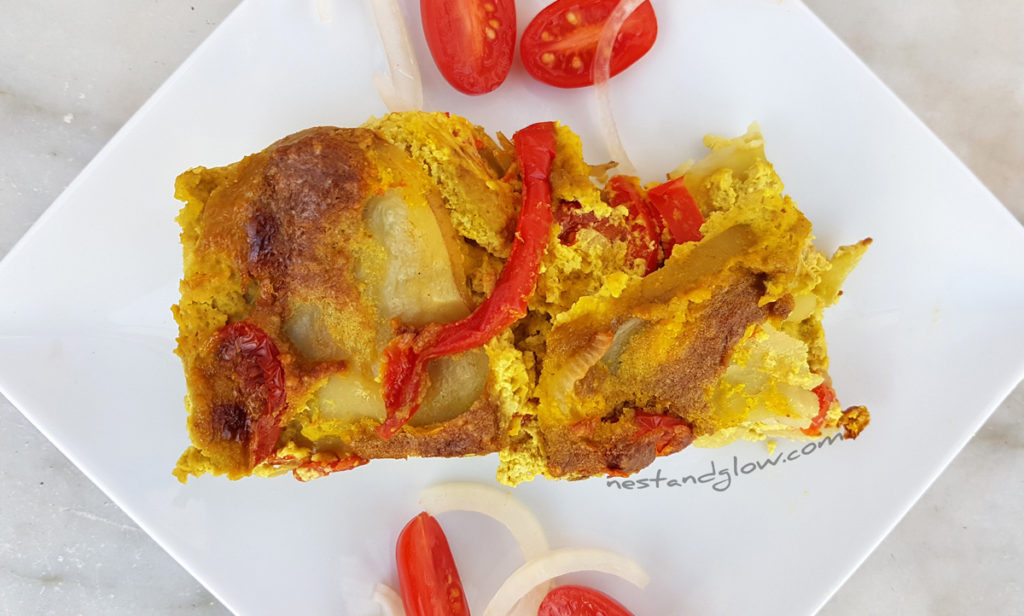 You can make this with sweet potatoes if you prefer. It will have a different taste and not turn out as crisp but will still be delicious. The cayenne pepper you don't taste, it just adds a tiny bit of spice to add depth of flavour.
If you want something spicy I would treble or quadruple the amount of cayenne. The turmeric is added for nutritional properties and to give a golden colour, as the sunflower seeds would be an unappetising grey without a bit of natural organic colour.
Yield: 6 servigns vegan cheese and tomato bake
Sunflower Seed Vegan Cheese and Tomato Bake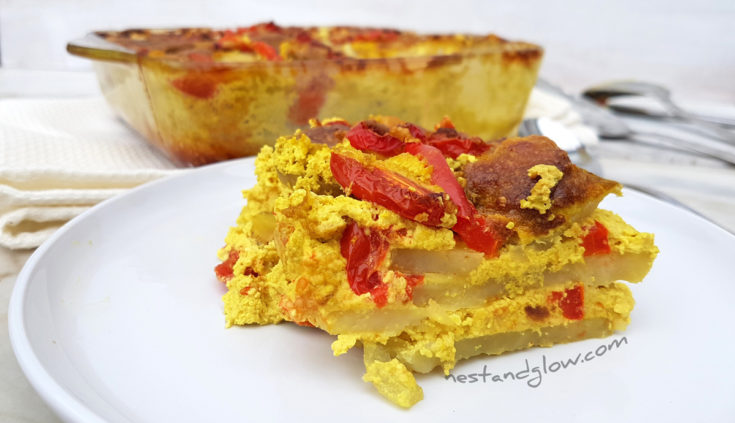 Sunflower seed cheese and tomato bake is comfort food that's also loaded in nutrition. No flour, no eggs, no butter, no dairy, no junk in this healthy potato recipe.
Ingredients
2 cups / 300 g cherry tomatoes, cut into half
1 onion, peeled and sliced
1 red pepper, seeds and stem removed, cut into strips
1 lb / 450 g white potatoes, cut into slices
SUNFLOWER SEED CHEESE SAUCE
2 cups / 280 g sunflower seeds
2-4 tbsp nutritional yeast, depending on how much you like the flavour
1 tsp yeast extract
3 cloves of garlic
1 tsp turmeric
½ tsp cayenne pepper
2 cups / 500 ml water
Instructions
Blend together all of the sunflower seed cheese sauce ingredients together.
In a large baking dish (10-12″) place a layer of sliced potatoes, sprinkle in the onion pepper and cherry tomatoes.
Pour over one-third of the sunflower cheese sauce, trying to fill in the gaps in between.
Repeat steps 2-3 a couple of more times until the dish is full.
Bake in the middle of the oven for 75-90 mins at 190 C / 375 F.
Test that the potato is cooked by sliding in a knife and remove from the oven when cooked.
If the potato is not cooked at the topping is golden then reduce the heat by a quarter, move to the bottom of the oven and continue to bake.
Enjoy as soon as it's cool enough to eat. It is however just as delicious cold the next day.
Nutrition Information
Yield
6
Serving Size
1
Amount Per Serving
Calories

392
Total Fat

25g
Saturated Fat

3g
Trans Fat

0g
Unsaturated Fat

20g
Cholesterol

0mg
Sodium

2829mg
Carbohydrates

34g
Fiber

10g
Sugar

5g
Protein

17g