Thick and dairy free vegan cream of tomato soup that can be made in minutes. A perfect winter warmer and a complete meal in one with heart healthy plant fats, protein, rich tomatoes and two portions of fruit/veg.
Serves two as a main or four as a starter. Suitable for vegan, whole food plant based, paleo, dairy-free, gluten free, whole30, paleo and general healthy diets.
I've been having a variety of this tomato soup for many years. I usually blend the onion then cook, but decided to try just blending and cooking all in one go and it turned out great. Just a few minutes bubbling on a very low heat gives a rich tomato flavour.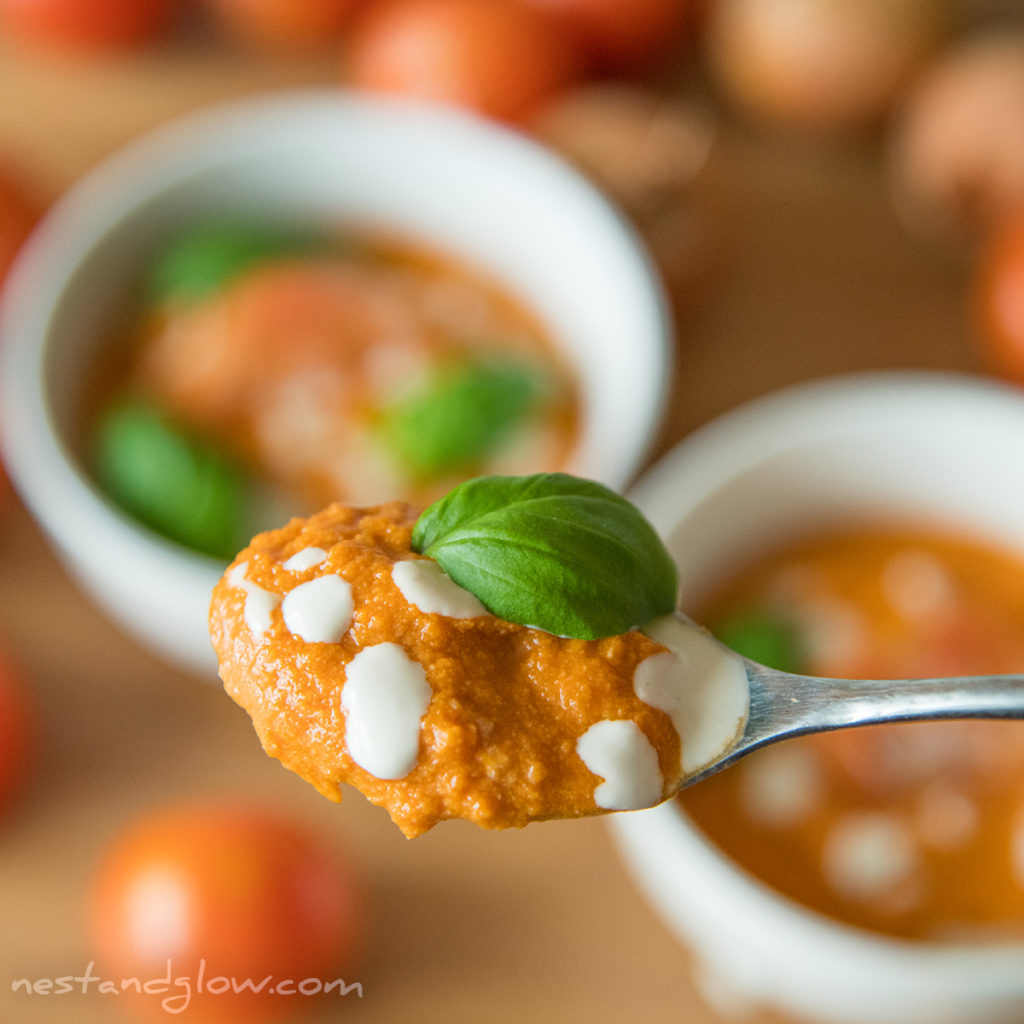 The soup is very thick as no water is added. It will bubble volcanically, so do remember to put a lid on!
This vegan tomato creamy soup is the perfect late night filling and complete meal. Blend it as soon as you get through the door then leave to simmer while you sort things out and it's ready by the time you are.
Vegan Healthy Cream Of Tomato Soup Video Recipe
Play on YouTube / Play No Music Recipe
A must-have kitchen gadget for me these days is an induction cooker, as you can set it to automatically turn off after X minutes. This is ideal as you never burn anything and leave food to cook then cool with zero fuss.
This 3-ingredient tomato soup recipe has been kept basic on purpose so that you can add any extras you like. I like a dash of spice from either cayenne pepper or tabasco and a few drops of apple cider vinegar.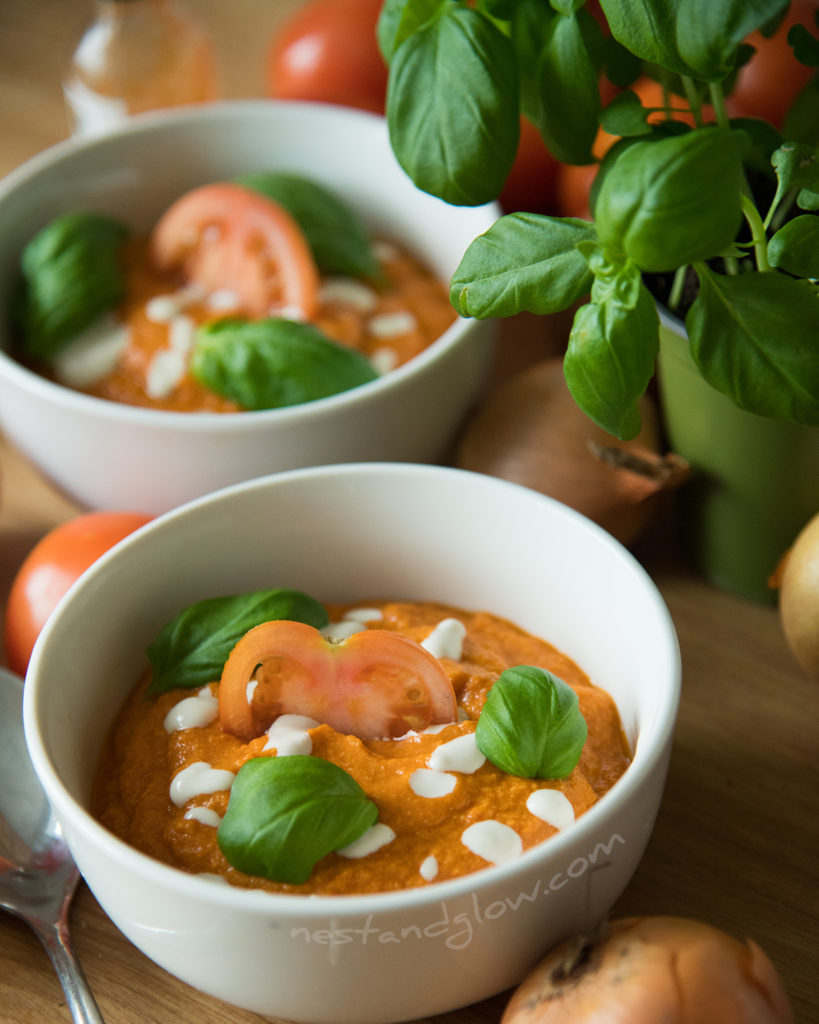 I know in the video I do add some extras but I know lots don't like Tabasco and apple cider vinegar and it works well without them, so I feel justified in still calling it 3 ingredients. I think it's still a lot more honest than most x-ingredient recipes out there. A four-ingredient vegan sausage roll popped up in my feed, I thought amazing then it turned out the ingredients included pre-made pastry and pre-made vegan sausages!
Before cooking this soup will have a salmon pink colour (as a vegan site I dislike using that word but it's apt here) and once cooked it goes a more appetising deeper red.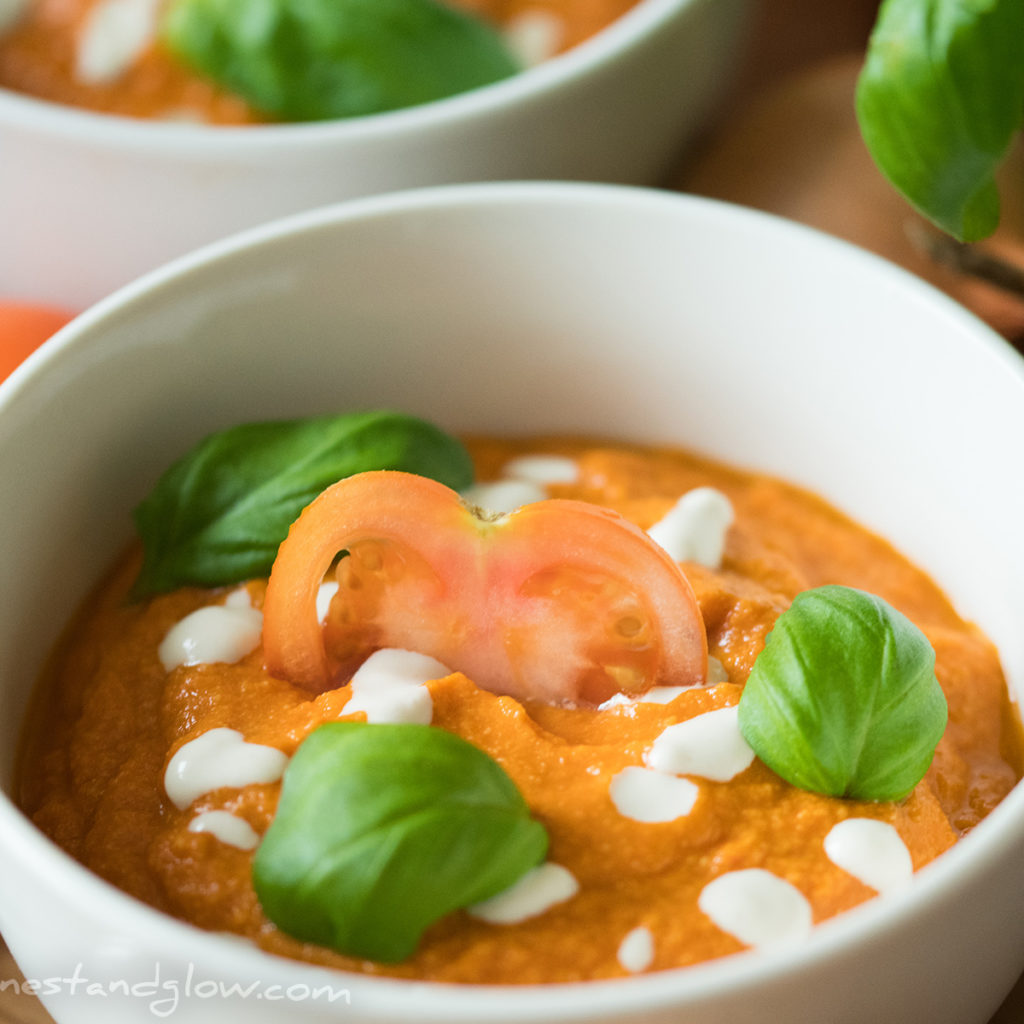 This tomato cashew soup can be kept raw vegan if you prefer, just reduce the amount of onion or add a red onion as they're milder.
Fresh tomatoes are used as I'm concerned about the plastic lining of tins leaching into the food with acidic tomatoes. You can use tinned tomatoes if you prefer or passata. Use about 2 400ml tins to replace the fresh tomatoes.
Check out my Butternut Almond soup for a more spiced and nutty soup – works great with peanut butter instead of almonds.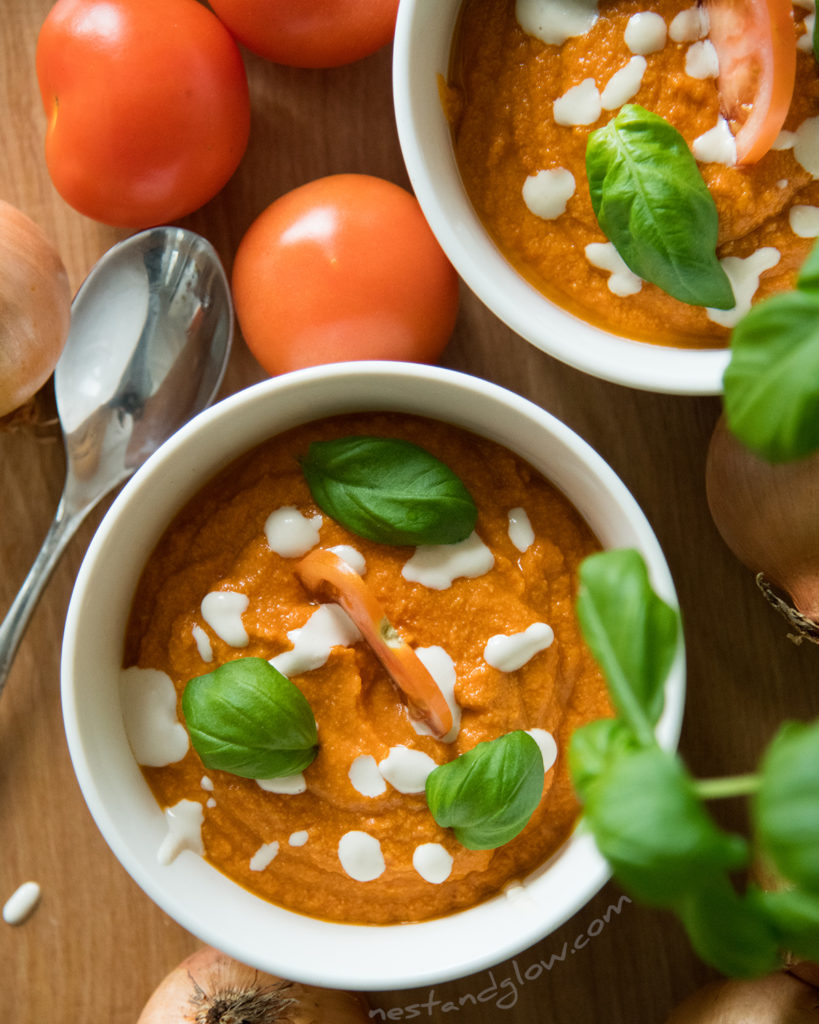 What Can I Use Instead Of Cashew Nuts?
Replace the cashews with either almonds, sunflower seeds or macadamia nuts.
Cashews blend smooth and give a great creamy taste to make a perfect vegan cream of tomato soup but the others work well, but maybe aren't quite as tasty.
If using sunflower seeds for dairy free cream of tomato soup soak them overnight, rinse then blend. I would usually make with sunflower seeds if not filming, but I'm not going to lie they aren't as tasty as cashew nuts!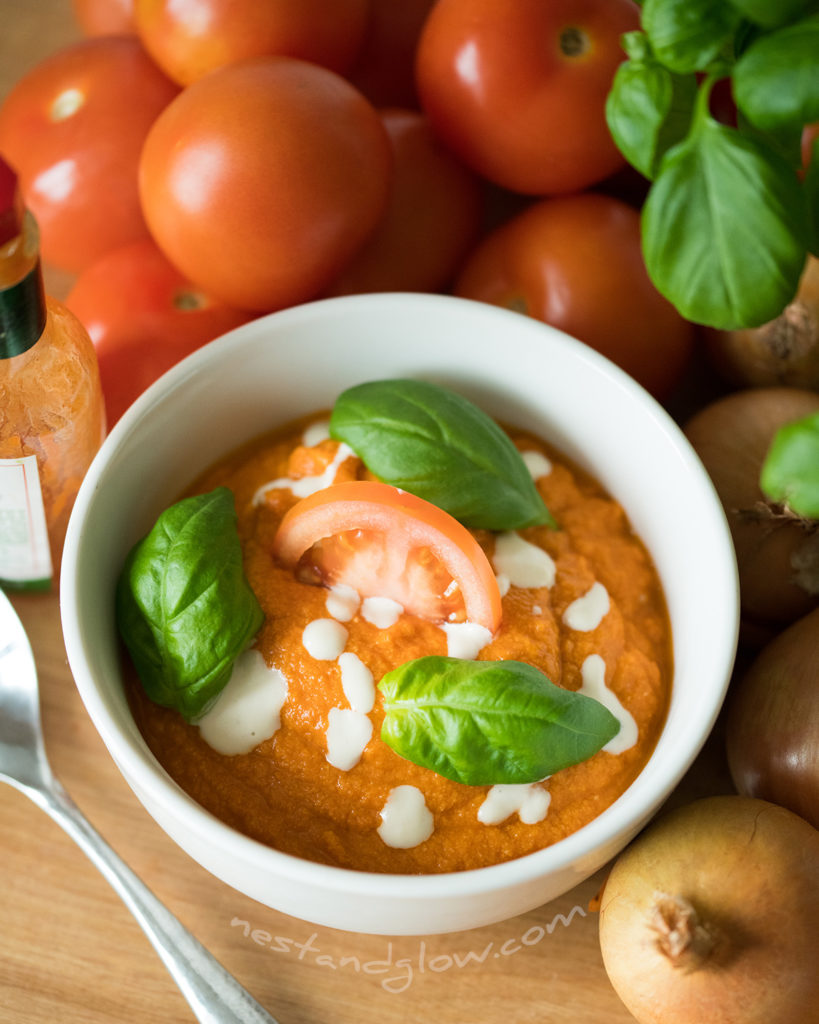 Then again I use cashew nuts for everything from vegan cheese, to raw cheesecake and vanilla frosting so do try to use other seeds and nuts when possible.
Raw cashew nuts are used, although they are probably heated when the nuts are processed, as they haven't been roasted at a high temperature. This means much of the goodness in the cashew nut oils is still intact.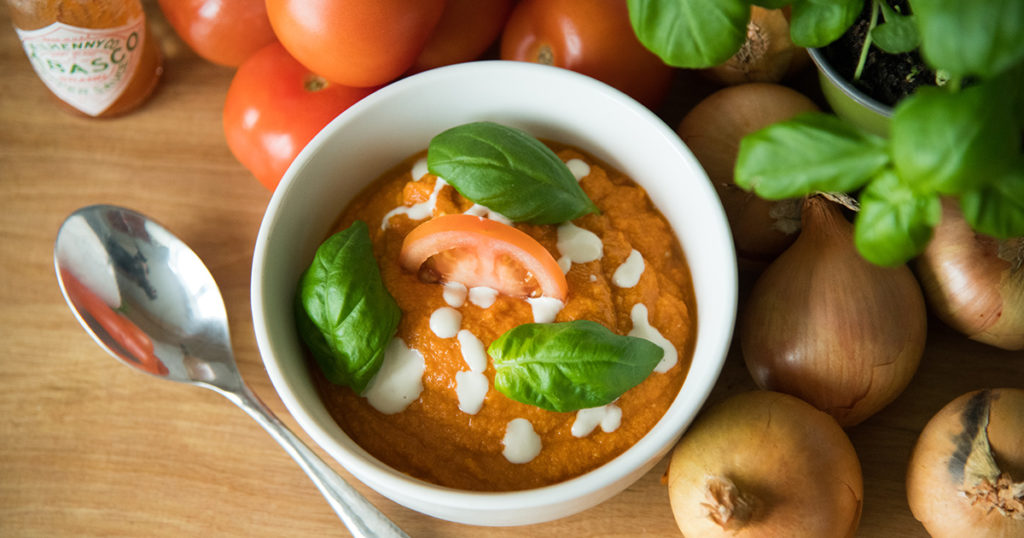 Use the best quality tomatoes that you can get, I know this can be difficult at times. If your tomatoes are lacking in flavour do add several tablespoons of tomato puree to up the flavour. When I cook this during the winter months (the time of year I want it the most) some tomatoes can be very watery and low in flavour so the puree goes a long way to help.
Did you know that cooking the tomatoes actually increases the availability of Lycopene? This increases the amount of cancer-fighting antioxidants despite reducing the amount of vitamin C.
I tend to not have this soup seasoned but do add a pinch of salt and pepper if you prefer.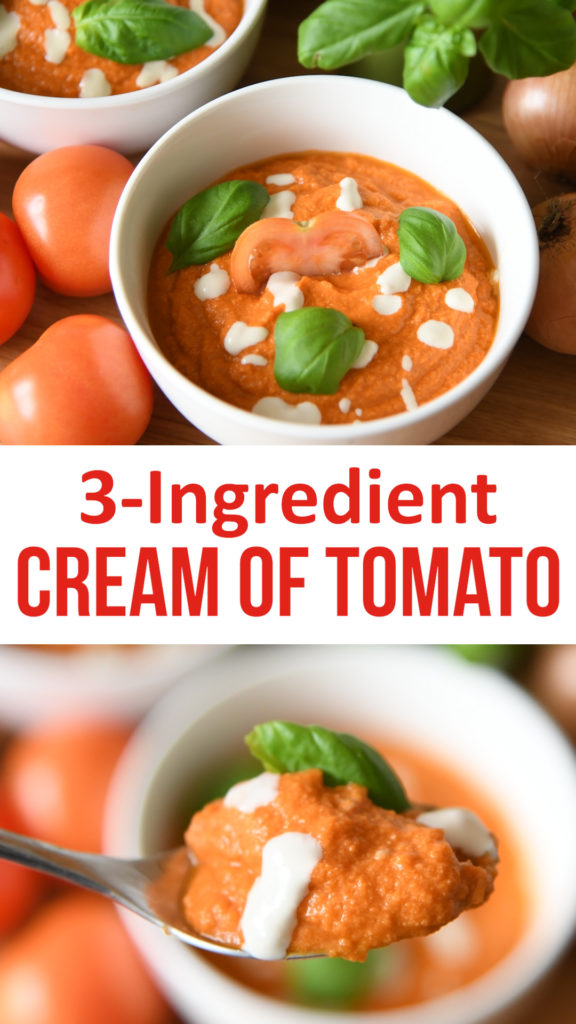 As you can see from the photos I added a drop of tabasco with this recipe. Traditional tabasco (aka hot sauce) is made from just three ingredients – chilli peppers, salt and vinegar. However it's aged in oak barrels to give it the distinctive taste and is very difficult to make yourself. I just wish it came in bigger bottles as one rarely lasts me a week, so 90% of the time I'm out of it!
Yield: 4 portions tomato soup
3-Ingredient Tomato Soup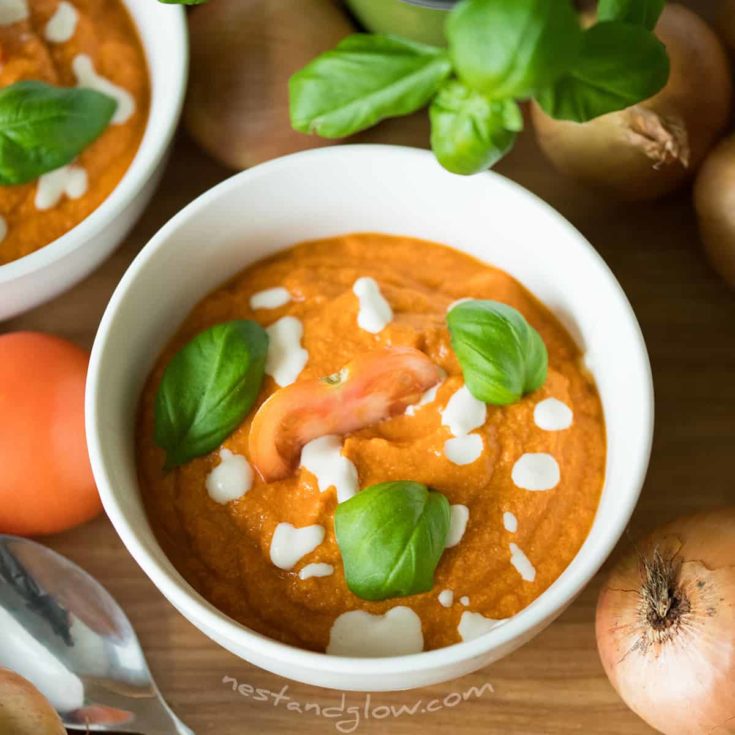 3-ingredient Vegan Creamy Of Tomato Soup is made from just tomato, onion and cashew nuts. A full healthy meal in a bowl that does your body and soul a world of good. #veganrecipe #dairyfree #tomatosoup #healthyrecipe #vegan #healthy
Ingredients
1.2 kg / 2.4 lb Tomatoes
2 small Onions
150g / 1 cup Cashews
drops of Tobasco, optional
1 tbsp Apple Cider Vinegar, optional
Basil leaves, optional
Instructions
Optional; leave behind tbsp of cashew nuts and thin slices of tomato to garnish.
Blend tomatoes, skinned onions and cashews until all combined.
Pour into a pan and heat on the lowest possible setting for 10 minutes, stirring halfway through.
Blend the remaining cashew nuts with a splash of water to make a cashew cream to garnish with. A small bullet blender is perfect to make unsoaked cashew nuts smooth in a minute. Doesn't affect the flavour much but as you eat with your eyes it looks great.
Serve the soup in bowls and drizzle on the cashew cream, add basil leaves and slices of tomato if you like.
Enjoy within about 5 days and keep any leftovers in the fridge.
Nutrition Information
Yield
4
Serving Size
1
Amount Per Serving
Calories

260
Total Fat

16g
Saturated Fat

3g
Trans Fat

0g
Unsaturated Fat

12g
Cholesterol

0mg
Sodium

265mg
Carbohydrates

25g
Fiber

5g
Sugar

10g
Protein

8g
This soup is perfect with my 3-Ingredient almond buckwheat chia bread recipe. This gluten-free bread recipe is just made from seeds and nuts, Bursting with goodness and a perfect filling healthy wholefood bread with soup like this.