How to make an easy healthy chocolate mousse without avocados and instead with coconut milk, cocoa and hazelnuts to give a Nutella flavour. This recipe is vegan, gluten-free, paleo and sweetened with fruit.
This is not a low-calorie recipe but a no empty calorie recipe as it's full of nutrition. Try this healthy chocolate "Nutella" mousse today! Called Nutella to describe the taste but it's free of sugar, milk and palm oil.
Nutella Coconut Hazelnut Chocolate Mousse Video Recipe
Play on Youtube or View no music video recipe.
When choosing coconut milk for this use a brand that when you shake it you can tell it's separated into water and cream. Use the whole can in this recipe and only use full-fat.
For the video and photos a coconut milk that is 82% coconut content was used. Choose coconut milk that is a high content of coconut as some are less than 40%.
This recipe is great to make in advance and will last several days in the fridge. It will set after a few hours but left overnight will set to be a firm mousse.
Adapt this healthy Nutella mousse to be keto by using a keto friendly sweetener such as yacon, stevia or xylitol.
The chocolate mousse is "nutella" just in name to help describe the taste. As Nest and Glow is a plant-based site all of the recipes are free of refined sugar, dairy and palm oil.
In the photos this mouse has been topped with cacao nibs, chopped 84% dark chocolate and hazelnuts. These are just suggestions and feel free to adapt to what you have in your store cupboard. It's hard to put a topping on these that doesn't work well to give taste and texture.
The hazelnuts in this mouse can either be raw ones soaked overnight or ones roasted for a few minutes in a hot pan or oven. The healthiest type to use is raw soaked and sprouted as they are more nutritious and easier for the body to digest.
Roasted hazelnuts give a, well, roasted nut deep flavour and raw give an earthier mild and fresh flavour. Use whatever you fancy but in testing most people prefer roasted hazelnuts.
A good adaption of this recipe is to replace the hazelnuts with peanut butter. This gives an equally thick mouse, with a high amount of plant protein and an irresistible peanut chocolate taste.
Similar Recipes & Adaptations
If you like this recipe check out my Nutella fudge or Nutella milkshake – both are easy to make and raw vegan. Let me know in the comments below if you have any questions or adaptions.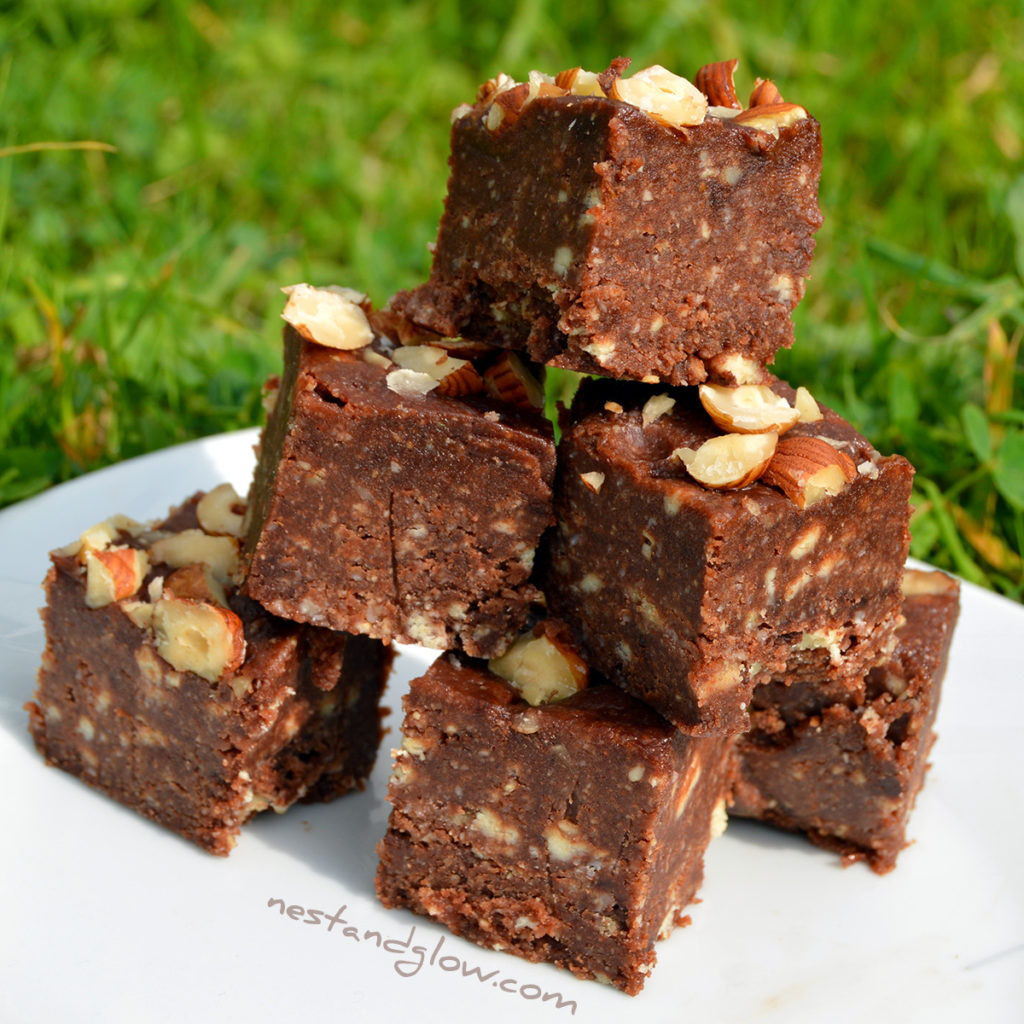 Cacao nibs have many health benefits as they are high in fibre, antioxidants, magnesium, potassium, iron and are a mood booster.