This quick recipe for dairy-free Pistachio Nut Cheese is easy and foolproof. It slices, grates and will go golden brown when grilled. The only difficult part is not eating the pistachio nuts as they are!
It's better to make this vegan cheese than just eating the pistachio nuts as they are sprouted, meaning the goodness and nutrients are more easily digested by the body.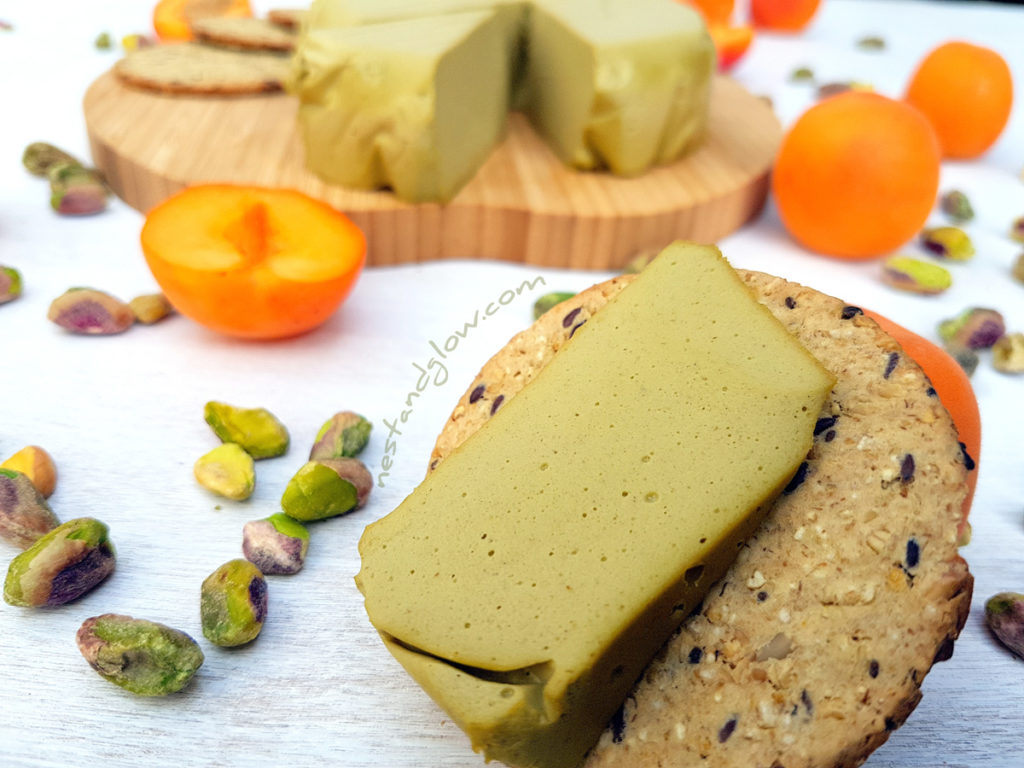 The cheese is oil-free and contains heart healthy fats from the pistachio nuts. Most vegan cheeses are dairy free but not healthy as they contain hard oils, flavourings an emulsifiers. This nut cheese recipe is made just from whole food ingredients and it tastes as good as it looks.
Also full of B vitamins and you can use a brand of nutritional yeast with B-12 to get that elusive vitamin. Suitable for vegan, dairy-free, paleo, plant-based, gluten-free. and general healthy diets.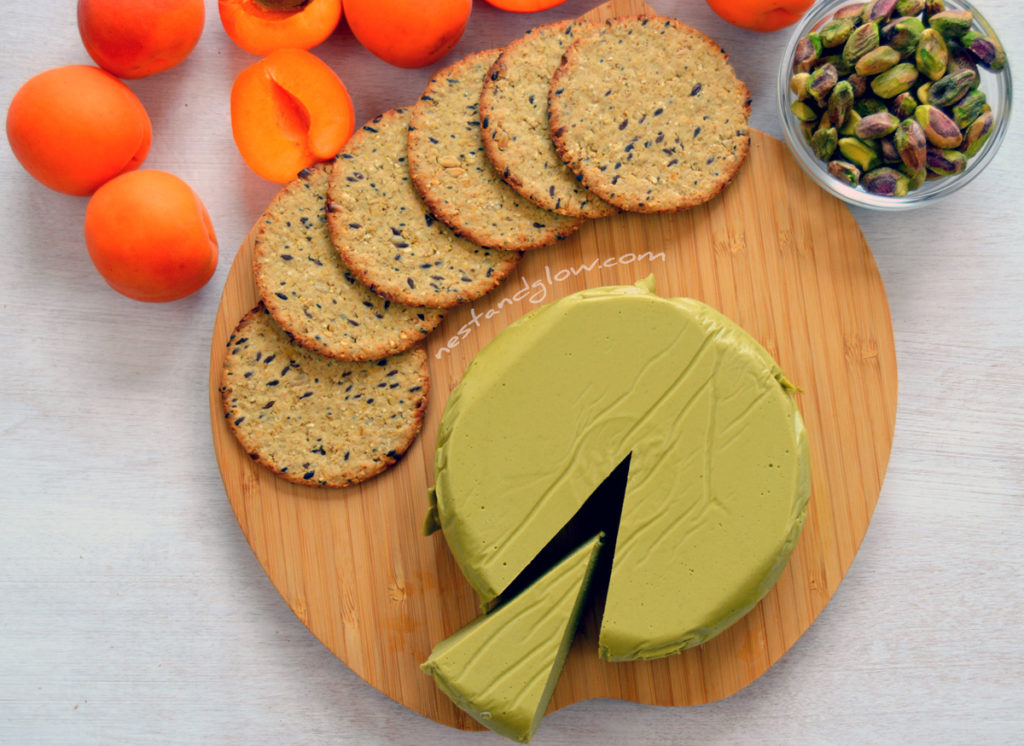 This nut cheese will probably take other ingredients as flavours really well. Next time I may try it with dried apricots, rose essence or dried cranberries.
I love vegan cheeses with my palm oil free oatcakes recipe. They are made from gluten-free oats and a mixture of five different seeds. However you can use whatever seeds you have in your cupboards.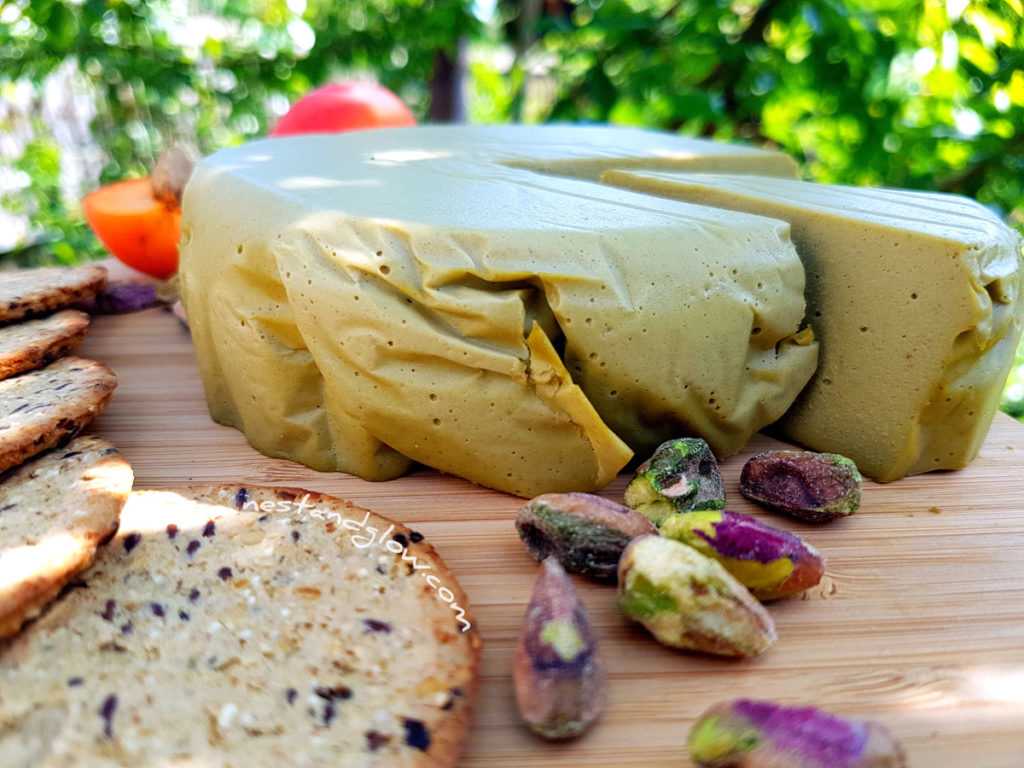 This vegan cheese ended up more yellow than the bright green I was hoping for, but this isn't really surprising as the pistachio nuts inside are mostly yellow and the nutritional yeast is yellow.
To make the pistachio cheese a bright green I would suggest adding 1/4 tsp of green powder such as spirulina, wheatgrass or barley grass. You won't taste it but it will give a deeper green colour and a nutrient boost.
I've found that this dairy free cheese is great to have with berries. The nutty green cheese looks and tastes great with tart raspberries.
I use pre-shelled unsalted pistachio nuts to make this. I believe this type of nuts has been lightly heated to help remove the shells, but at a lower temperature than normal shelled roasted and salted pistachios. So strictly they wouldn't be considered raw but most people on a raw food diet would be fine with shelled nuts.
Yield: 10 servings
Pistachio Nut Cheese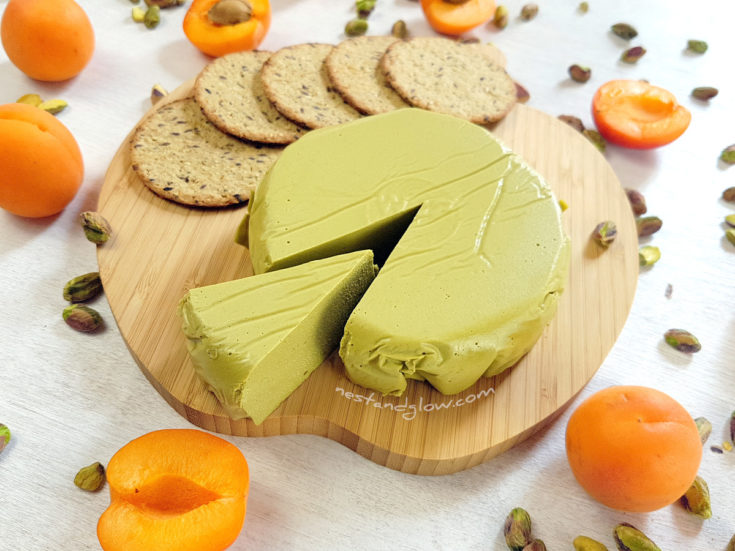 Vegan cheese that's made from pistachio nuts and is free of dairy. Quick and easy recipe for a plant based cheese that has no added oils. This nut cheese slices and grates.

Prep Time 10 minutes

Additional Time 30 minutes

Total Time 40 minutes
Ingredients
1 cup / 150g Pistachio Nuts, shelled
½ cup / 40g  Nutritional Yeast
1 tbsp Maple syrup / any sweetener
1 tbsp Agar agar powder
2 cloves of Garlic
½ Lemon juiced
1 tbsp Apple Cider Vinegar
1½ cups / 350ml Water
2 pinches of Salt
Instructions
Soak the pistachio nuts in water with a pinch of salt for an hour or overnight.

Place half the water and everything else apart from the agar agar into a blender.

Blend nut mixture until smooth in a powerful blender.

In a pan put in the remaining half of the water and the agar agar powder.

Simmer for 5 mins stirring constantly. Make sure no lumps of agar agar form at the bottom.

Take off the heat and stir in the pistachio mixture until combined.

Pour nut cheese mixture into a mould and then chill for 2 hours. Line with greaseproof paper to give a great look.

Enjoy Pistachio Cheese within 3 days and keep chilled.
Notes
I use a 3" springform mould to make this but anything like a bown can be used instead. Check out my sunflower cheese recipe to see what it would look like set in a normal cereal bowl
Recommended Products
Links maybe affiliated, meaning I earn a commission from purchases but at no extra cost to yourself.
Nutrition Information
Yield
10
Serving Size
1
Amount Per Serving Calories 53Total Fat 4gSaturated Fat 0gTrans Fat 0gUnsaturated Fat 3gCholesterol 0mgSodium 48mgCarbohydrates 4gFiber 1gSugar 1gProtein 3g
The pistachio nuts for this nut cheese are soaked in salted water to sprout them and make the nutrients more bioavailable. This is called activating nuts and apparently was part of several ancient cultures like the Aborigines. If you are short of time then just soak for 15 mins, but it's best to soak for 8 hours or overnight.
Think of this recipe as a base recipe to add different flavours to suit your tastes. Please do let me know how you get on in the comments or tagging me on social media @nestandglow on Instagram.
If you like this recipe but are looking for a nut free vegan cheese check out my sunflower seed cheese. It's another dairy free healthy cheese that can be sliced and grated!