World chocolate day falls on the 7th July. Take this day as a perfect excuse to try one of our healthy chocolate recipes. All are dairy and gluten free and 100% plant based. They are also free of refined sugar and significantly lower in sugar than traditional recipes but do have sweetness from maple syrup, coconut sugar and xylitol. If you like your chocolate darker or are avoiding sugar just reduce the amount of sweetener and the recipes will still work – they'll be a bit darker. For all recipes you can use any sweeter you prefer, but you may need to adjust the quantities by taste.
July 7th 2016 marks 466 days since chocolate was introduced to Europe. You can eat healthy on world chocolate day by making our nutrient dense chocolate food. Also as every recipe is loaded with nutrition it is much harder to over eat on compared to normal junky chocolate deserts.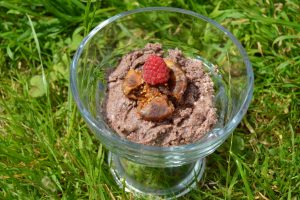 A very simple and quick chocolate spread that will satisfy milk chocolate lovers. The cashews give this spread a creamy taste yet keep it plant based.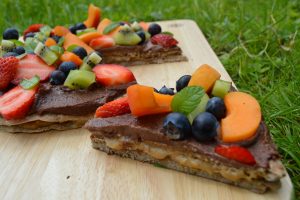 Buckwheat banana bases sandwiched with cashew caramel, topped with hazelnut chocolate and fresh fruit – it tastes as great as it looks. You can either bake the base or dehydrate to make it raw. This is the only recipe on this page that isn't easy and quick but if you have a bit more time its worth the effort. Even a difficult nest and glow recipe isn't really difficult!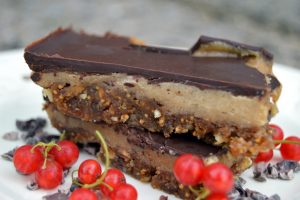 Figgy walnut base with cashew caramel and bitter chocolate topping! This is actually easy to make (10-15 mins) but looks very impressive. All it needs is blending / mixing the separate layers and pouring into a tray.

A rich and satisfying fudge in minutes. If you don't have spirulina you can omit or replace it with another green powder such as wheat grass, barley grass or chollella. These are used mainly to add a bit of green and up the nutritional content.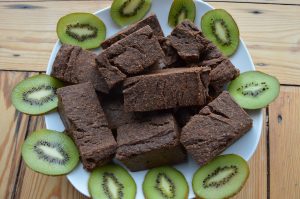 Dates, sweet potato and buckwheat are the base for this healthy and delicious brownie. We also add a bit of cayenne pepper and cinnamon to bring out the flavour.