If you love carrot cake you'll love this carrot cake dessert hummus. Chickpeas and carrot cake give an amazing flavour that's perfect as a complete meal. Spread it on crackers, dip fruit in it or just enjoy this hummus with a spoon!
Raw carrot cake hummus is the best variety of dessert hummus there is, in my opinion. The sweet carrots and spices with walnuts just works so well. Suitable for gluten free, oil free, vegan and natural healthy diets. A portion of this contains 2 of your 5 a day.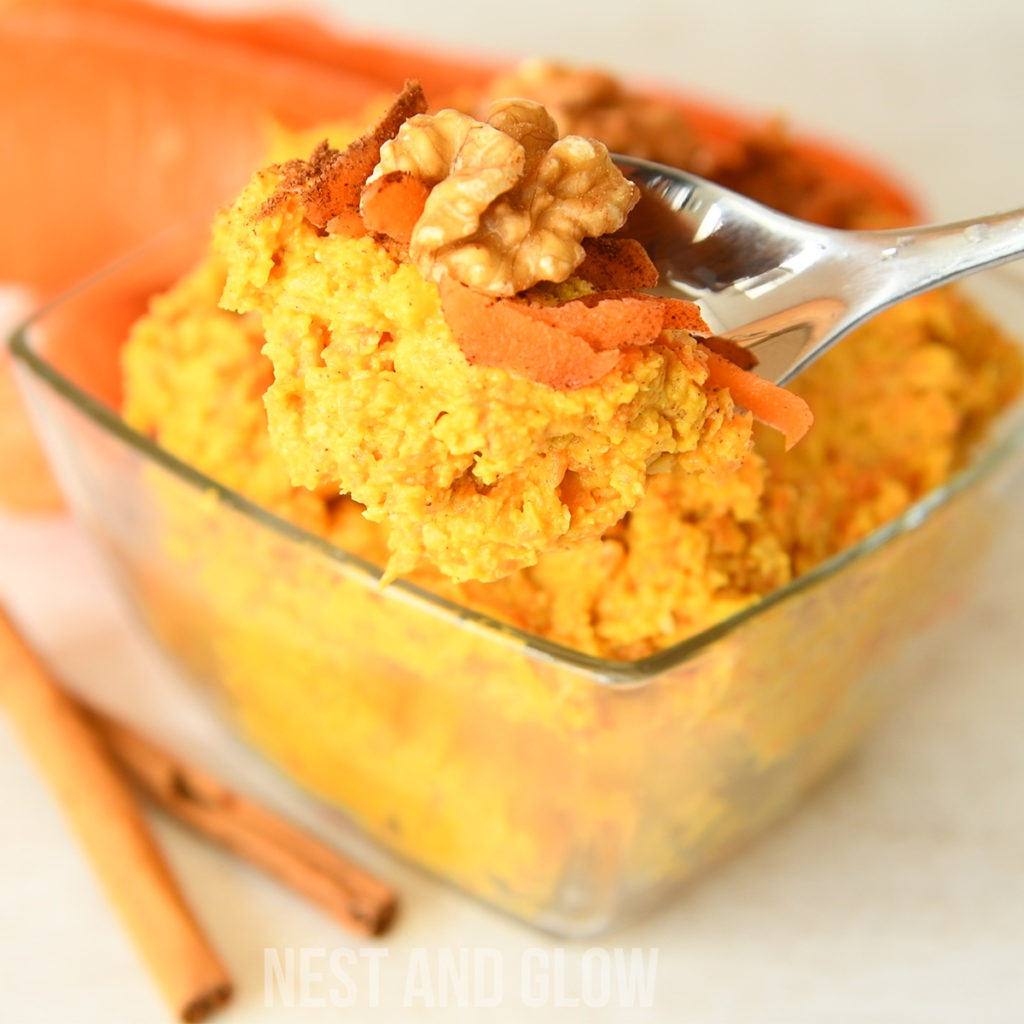 I usually add some raisins to my carrot cake creations like this hummus, but often get so much negative feedback that I left them out from this recipe. But really if you like raisins or vine fruit do add 2-4 tablespoons.
This carrot cake hummus tastes amazing with cinnamon, nutmeg, all spice and ginger that all work so well with the raw carrot and walnuts. If you don't have walnuts then pecans work just as well.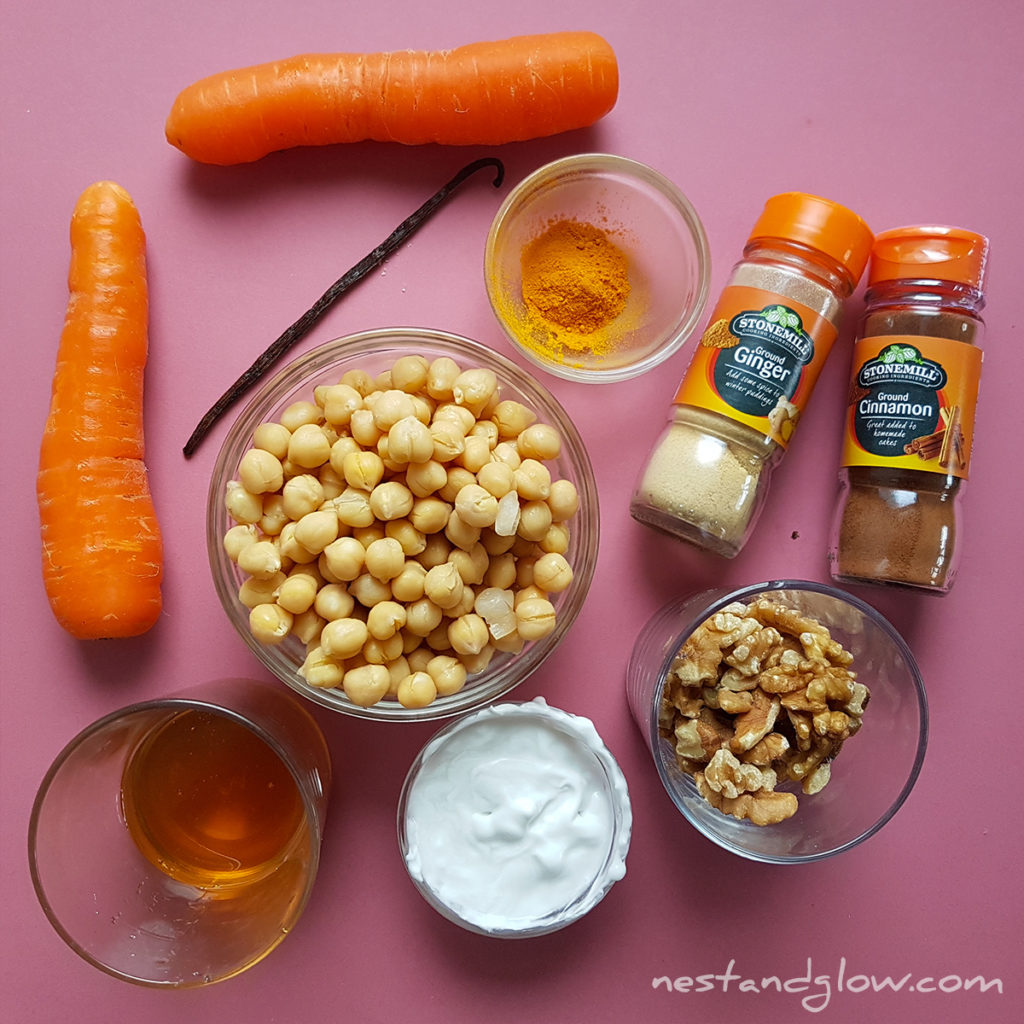 I like to add a pinch of turmeric to this carrot cake hummus to give a golden colour and add a bit more nutrition. You really don't taste it unless you know it's there. Always buy your spices in bulk as they work out 90% cheaper than those little supermarket jars.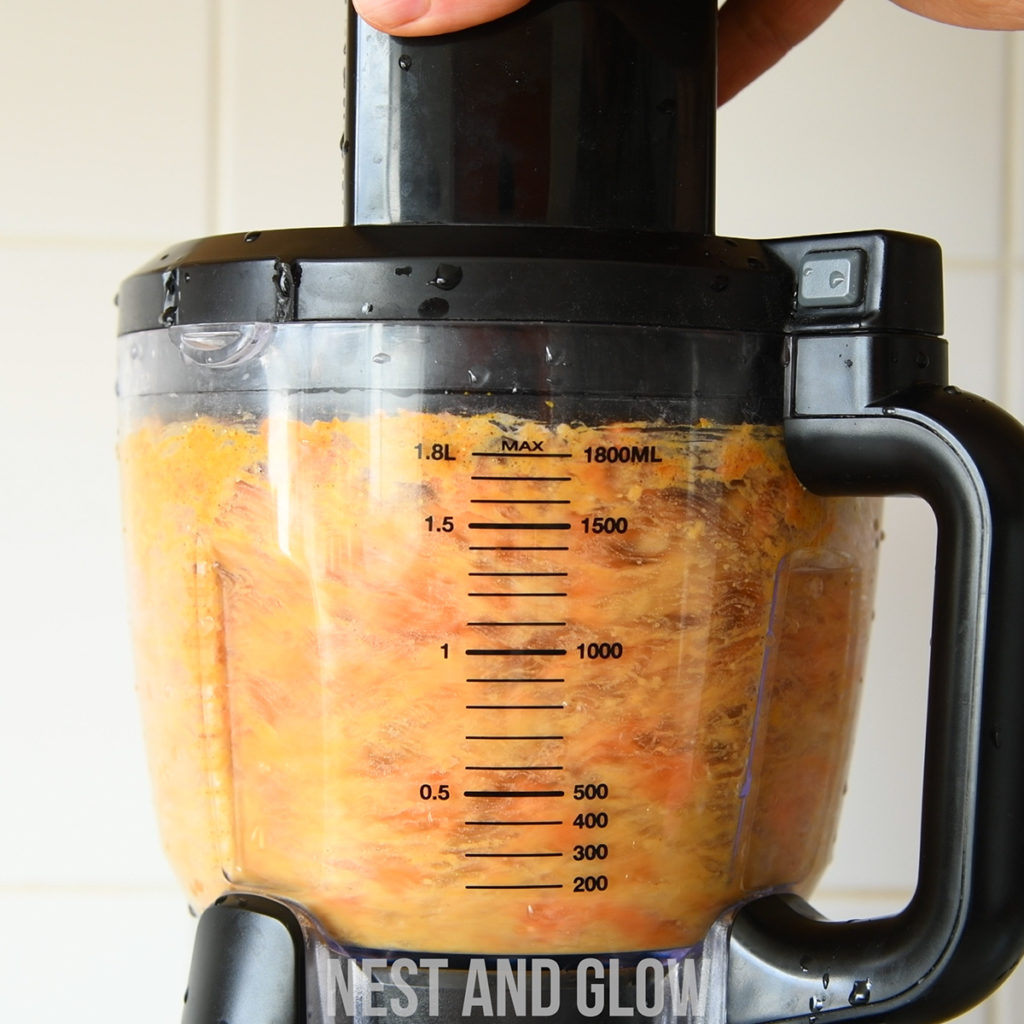 No water is added to the carrot cake hummus as two carrots give enough moisture to make a thick dip.
This hummus is perfect in the centre of oats in the morning. Or like all of my healthy sweet hummus recipes, it's great just with a spoon!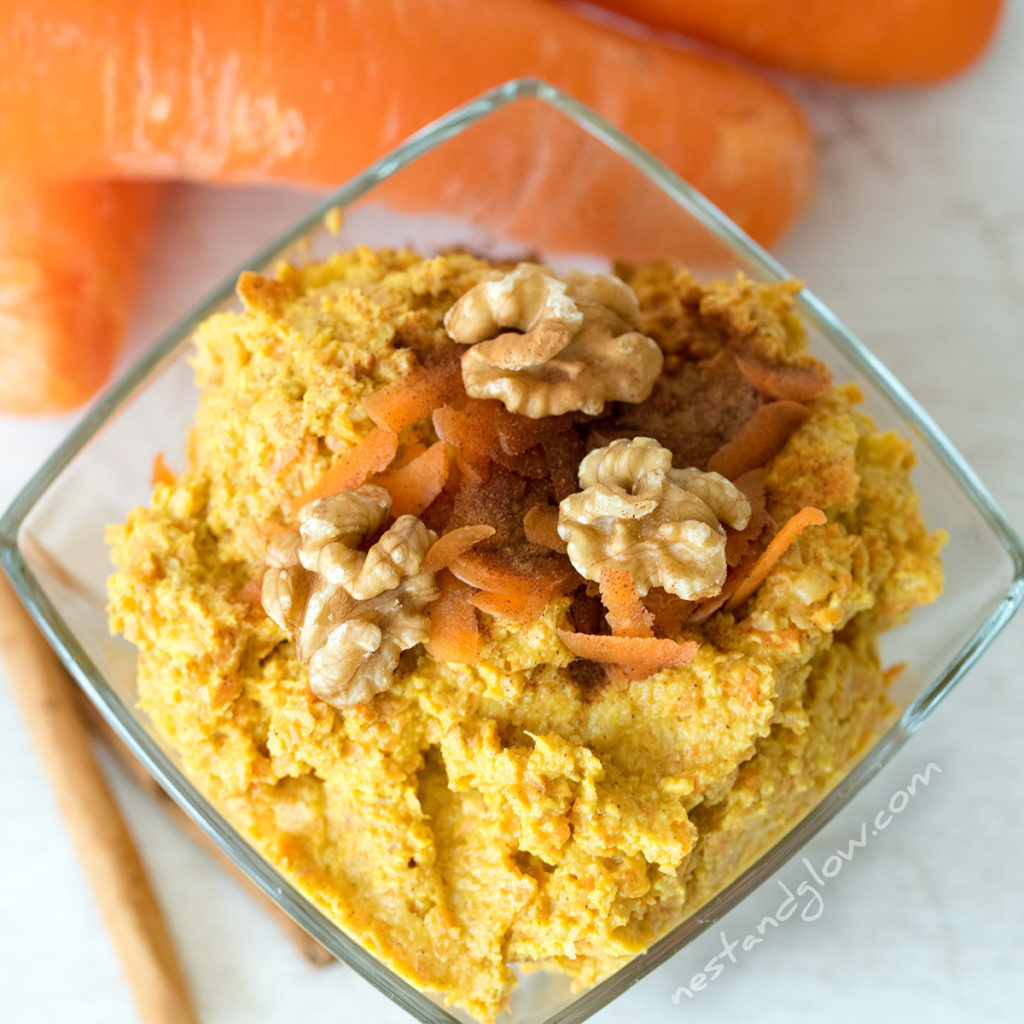 The sweetener used in the sweet hummus recipe is agave nectar, just because it has a very mild colour. But you can use your favourite natural sweetener in this recipe.
If you want to make your own sweetener check out my recipe for date syrup. It's the healthiest natural sweetener there is out there as it retains all of the fibre of the fruit so the natural sugars are absorbed slowly. Also it's loaded with nutrition.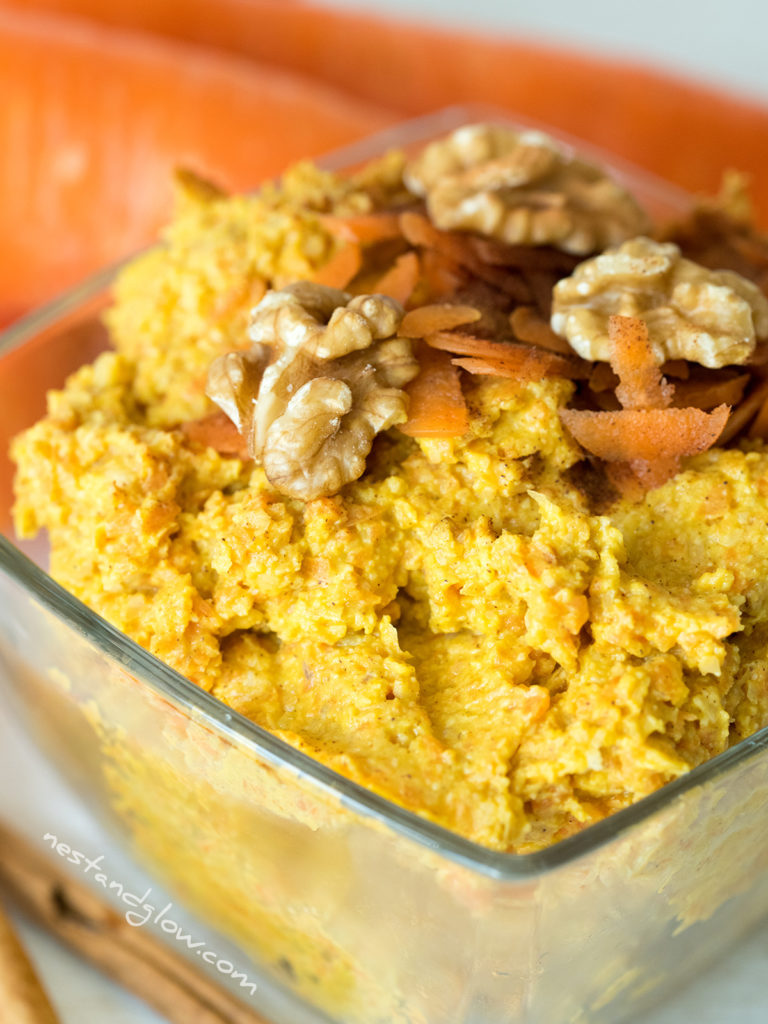 Some people might be put off by the idea of sweet hummus as they picture it tasting like garlic and lemon. However sweet hummus just uses the chickpeas and sesame from hummus and replaces all the other savoury items with sweet.
I love this carrot cake hummus as a late night snack when I want something sweet and fulfilling. I love it on my 3 ingredient buckwheat bread as the nutty texture works so well and makes a high protein and fibre snack.
Yield: 8 servings
Carrot Cake Hummus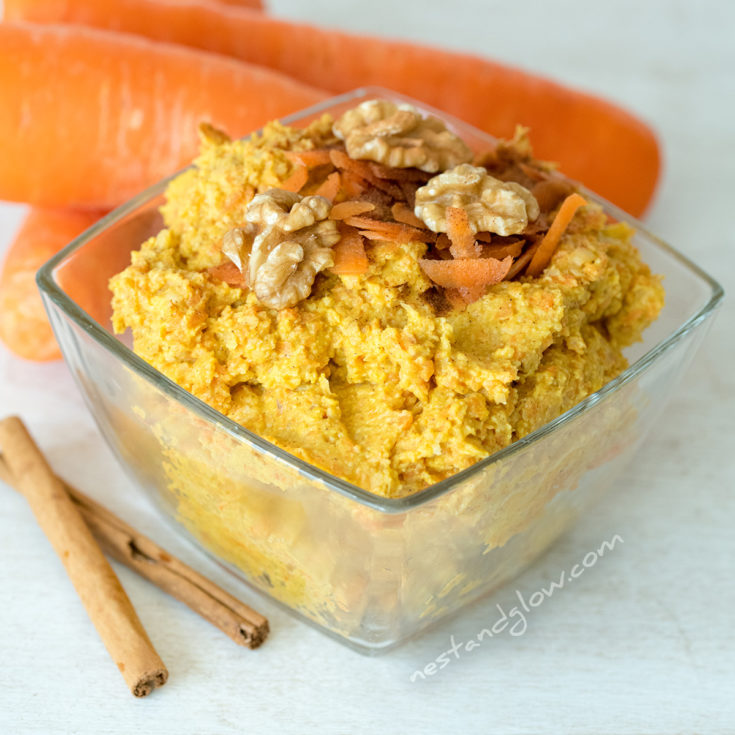 Carrot cake hummus is made from a blend of spices that perfectly complement sweet carrots and creamy chickpeas. Sweetened naturally without any refined sugar and loaded in nutrition. This dessert hummus has no added oil and is suitable for whole food healthy diets as it just contains whole plant based ingredients.

Prep Time 5 minutes

Total Time 5 minutes
Ingredients
1 can 400g Chickpeas
2 medium Carrots
2 tbsp Ground Sesame Seeds
1/2 cup / 75g Walnuts
1/2 tsp Turmeric
1/2 tsp Nutmeg
1/2 tsp Cinnamon
1/2 tsp Allspice
4 tbsp Sweetener like maple syrup or agave nectar
3 tbsp Coconut Cream
1 tsp Vanilla
Instructions
Blend everything together in a food processor until combined. You can leave behind some carrots and walnuts as a garnish if you want.
Add some water if the mixture is too thick or more coconut cream to make creamier.
Taste the carrot cake hummus and adjust the spices and sweetness to suit you
Garnish with some grated carrot, walnuts and spices if you like.
Enjoy the sweet carrot cake hummus within 3 days and keep in the fridge.
Nutrition Information
Yield
8
Serving Size
1
Amount Per Serving Calories 199Total Fat 10gSaturated Fat 2gTrans Fat 0gUnsaturated Fat 7gCholesterol 0mgSodium 14mgCarbohydrates 24gFiber 5gSugar 9gProtein 6g

If you like the taste of carrots in a dessert do read my raw carrot cake balls and my carrot pumpkin seed milk recipes!
Carrot Cake Balls Recipe