Easy to make dairy-free cashew based cheese with marmite yeast extract. This healthy nut cheese can be made in just a few minutes. It uses the natural seaweed extract agar agar to set into a firm slicable block. Suitable for vegan, plant-based, oil-free, dairy-free and general unprocessed natural diets.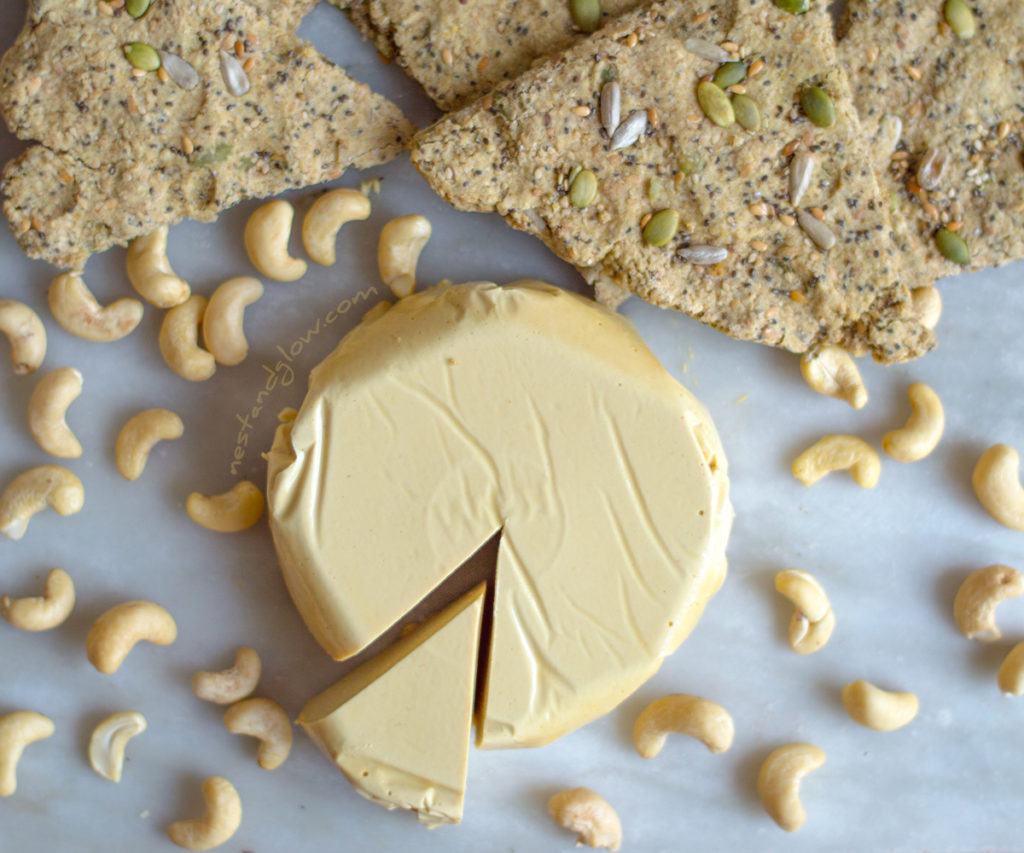 Most shop bought vegan cheeses are full of unhealthy fats (often unethical palm oil) and low in protein. This nut cheese contains only the heart-healthy fats from whole cashew nuts and is high in protein. It grates, slices and can be browned under the grill. Nutritional yeast and marmite/yeast extract mean that this vegan cheese contains all B vitamins including the elusive B12.
Marmite Cashew Cheese Video Recipe
This cheese is sweet, salty, nutty with a cheesy taste. It can be grated or sliced and is perfect for a cheese board or in burgers. If you are using it in a recipe that is cooked it's best to make the cashew sauce. See my cashew mozzarella pizza or sunflower cheese and tomato potato bake recipe for a rough idea of how this.
It's very important to constantly stir the agar agar mixture when is simmering so that none sticks to the bottom. I only ever use agar agar powder as it's the most potent. If you use the bars or flakes you need to add two to three times more. Agar agar can be bought quite inexpensively from Asian shops or online.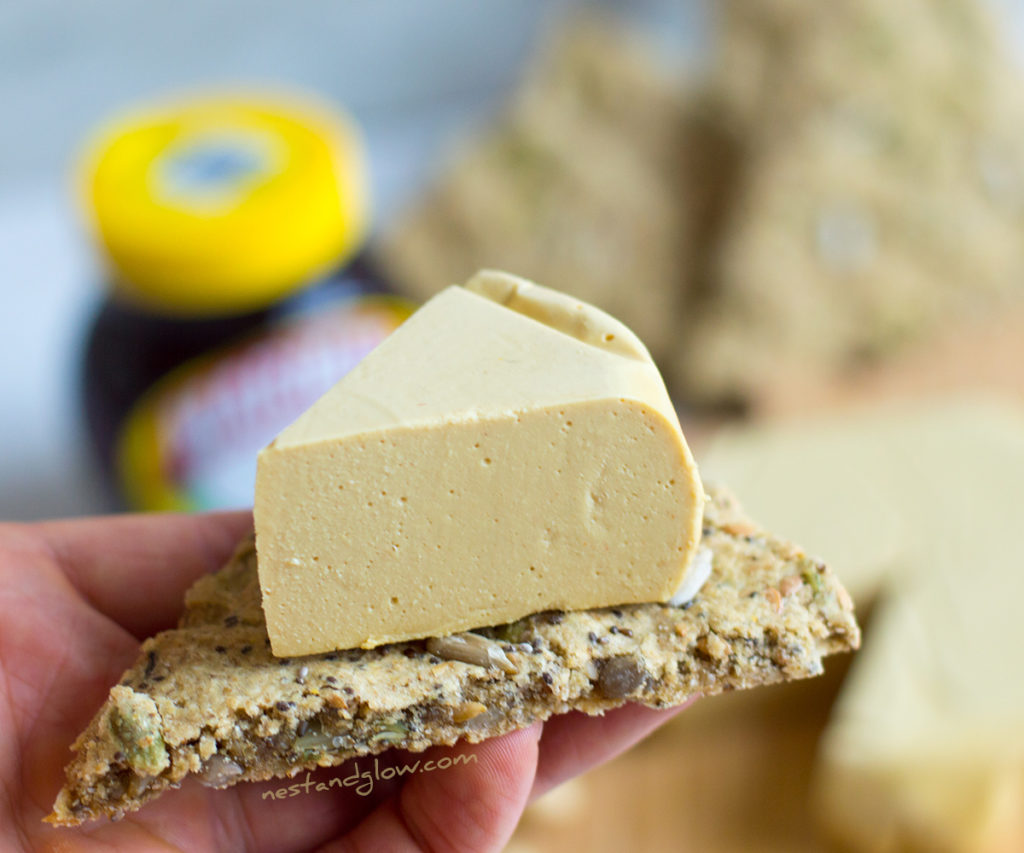 One of my favourite snacks is marmite, nutritional yeast and cashews with a splash of apple cider vinegar. If you don't have time to make this cheese then just try mixing these in a bowl for a very moreish snack.
Cashew nuts as unlike other nuts don't need to be soaked to make them more bioavailable or easier to blend. Even just a 600w blender is powerful enough to make a smooth cashew mixture with unsoaked cashews. The best type of blender to use is a small bullet/jug type as they are very effective at blending a small amount.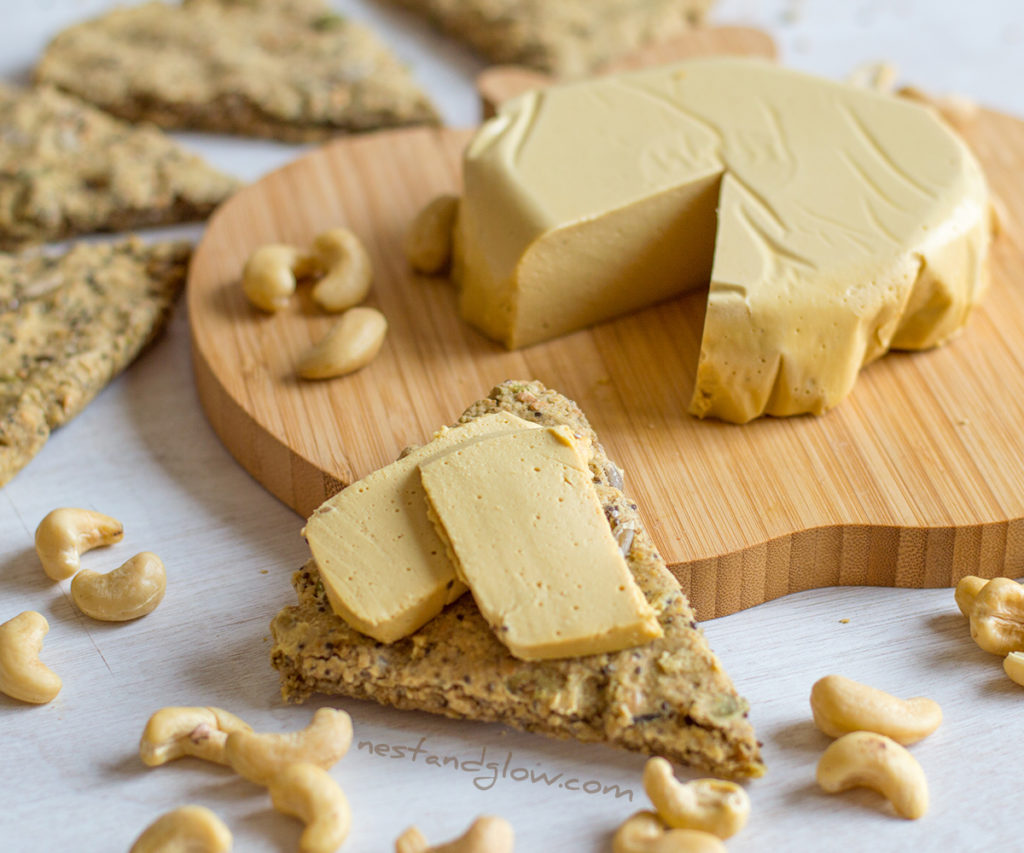 This cheese can be made without the nutritional yeast. I was originally going to make a cheese just using the marmite for the cheesy nutty without nutritional yeast but the two types of yeast, despite having unfortunate names, complement each other very well.
A 4″ pan lined with greaseproof paper was used to make the cheese wheel. The paper isn't necessary but it does make taking the cheese very easy and gives a great ripple look to the cheese. If the cheese is just set in a normal bowl it will look like my sprouted sunflower seed cheese.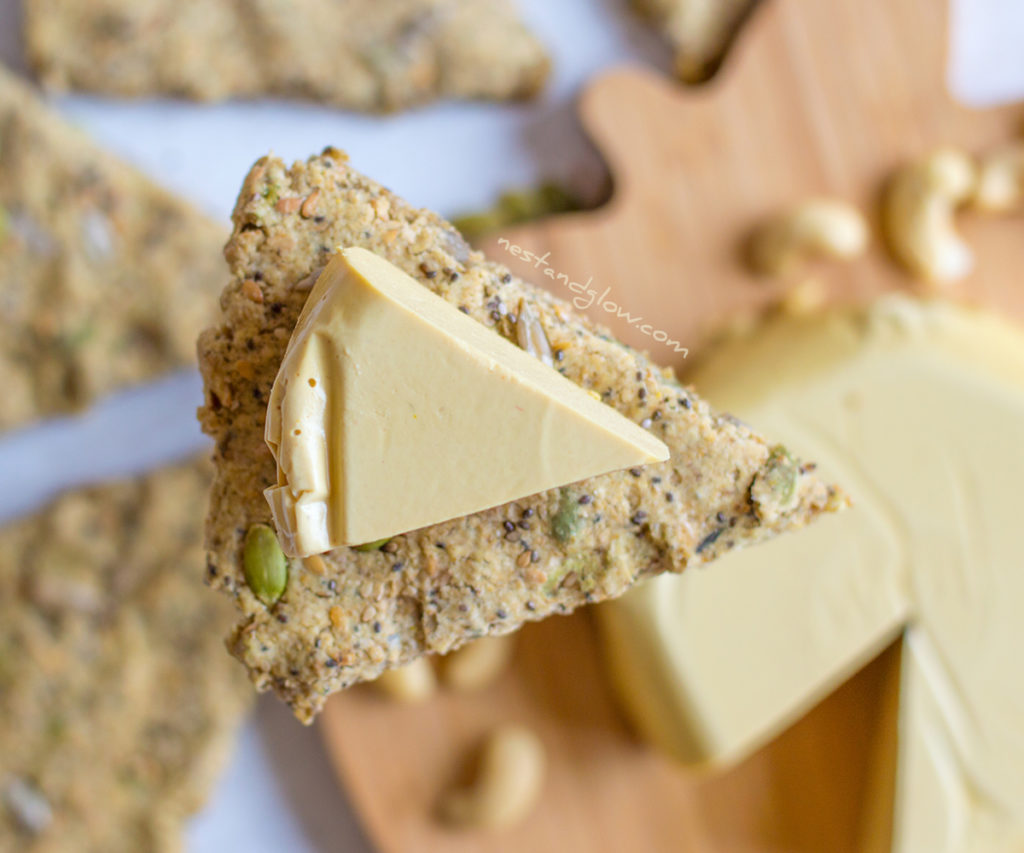 Yeast Extract and Marmite
Marmite is a type of yeast extract spread that is popular in the UK. You can replace this with any other yeast extract. These spreads are often fortified to contain many vitamins and minerals such as B12 and folic acid. While yeast extract isn't Paleo many people on a paleo diet do eat it as it's only consumed in small amounts and contains vitamins and minerals.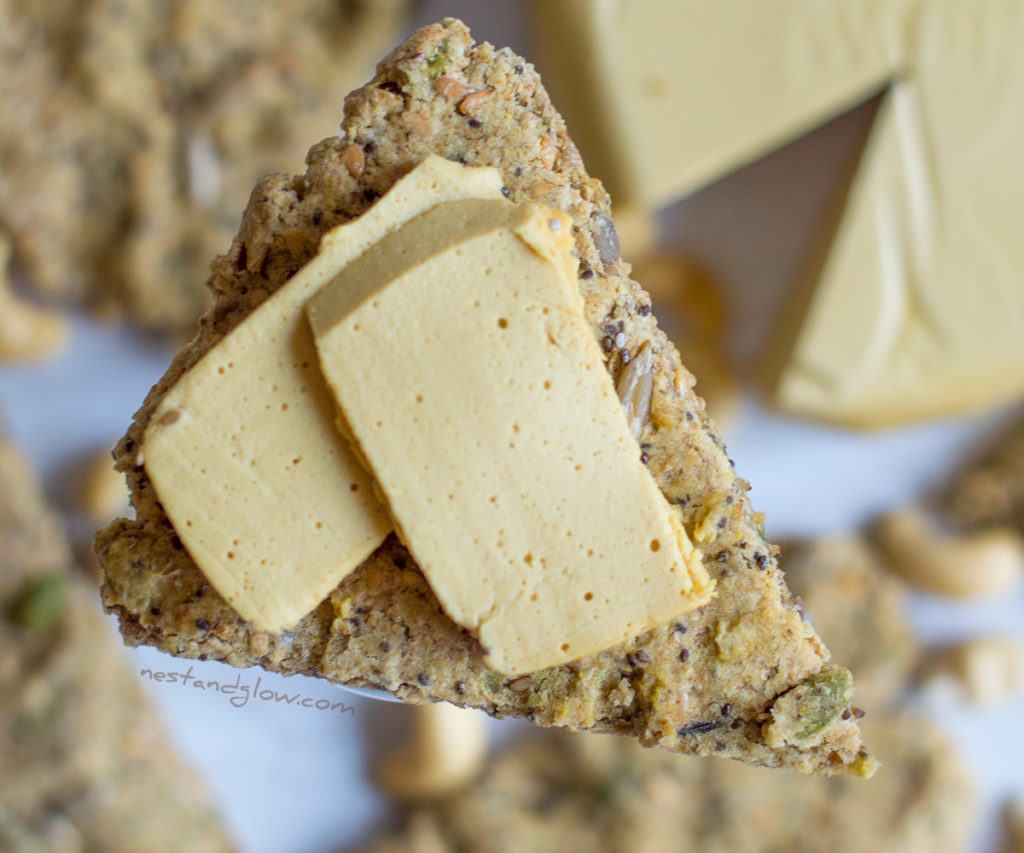 Yield: 1 vegan cheese
Marmite Cashew Cheese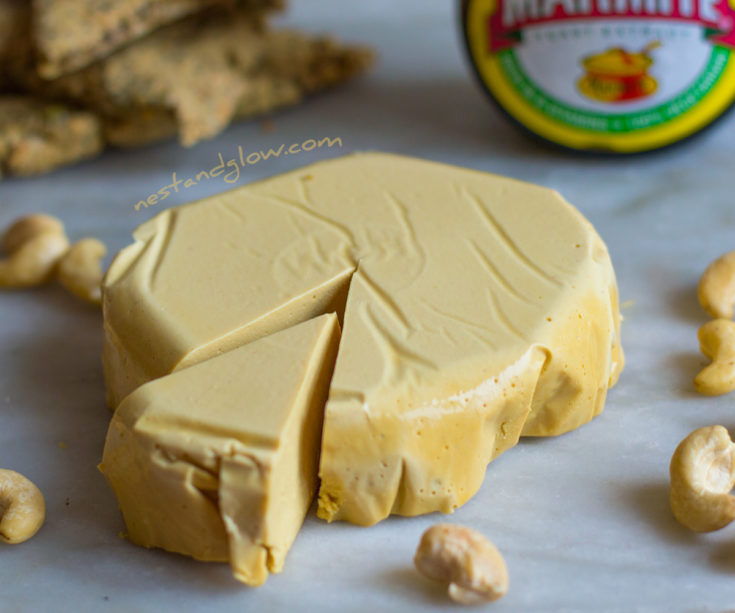 Easy to make dairy-free cashew based cheese with marmite yeast extract. This healthy nut cheese can be made in just a few minutes.
Ingredients
1 cup / 150g Cashew nuts
1 tbsp Marmite yeast extract
½ cup / 40g Nutritional yeast
1 tbsp Apple cider vinegar
1 tbsp Maple syrup
2 cloves Garlic
¼ tsp Turmeric
¼ tsp Cayenne pepper
1½ cups / 350ml Water
1 tbsp Agar agar
Instructions
Place half the water and all the other ingredients (apart from the agar agar) into a small blender and blend until smooth.
Bring the other half of the water to a simmer, sprinkle on the agar agar and simmer for 5 mins while stirring constantly.
Take the pan off the heat stir in the cashew mixture and pour into a dish to set.
Chill the vegan cheese in the fridge for about 2 hours and it will be set.
Enjoy this nut cheese within 5 days and keep in the fridge.
Nutrition Information
Yield
10
Serving Size
1
Amount Per Serving
Calories

111
Total Fat

7g
Saturated Fat

1g
Trans Fat

0g
Unsaturated Fat

5g
Cholesterol

0mg
Sodium

161mg
Carbohydrates

9g
Fiber

2g
Sugar

2g
Protein

5g
The oatcakes in the photos and video are my five seed oat cakes recipe. They are made using gluten-free oats without any added oil.